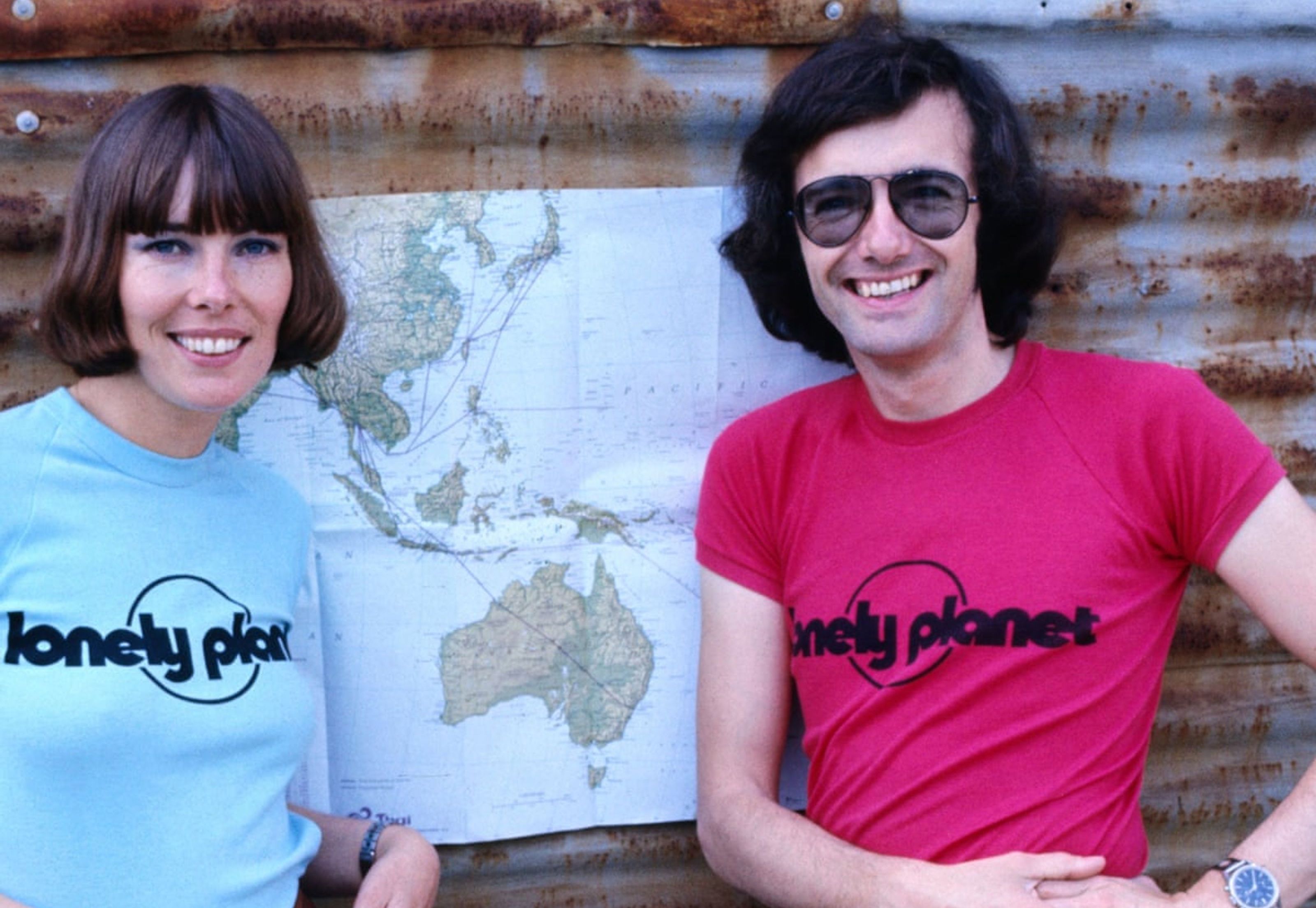 By Wilson da Silva
IT'S NOT your average publishing house. And its owners are not your average publishing types either. Yet Lonely Planet is one of the most successful stories of the Australian publishing industry, growing from a backyard concern in 1973 into a corporation that spans four countries and produces nine out of every 10 books for export.
It has 190 titles whose quirky and personal nature has a cult following with backpackers. They are so popular they may even make or break a country — as the United Kingdom discovered earlier this year with the publication of the less-than-charitable comments in the company's 1995 guidebook on Britain.
"Oh, it was a beat-up," chuckles Tony Wheeler, founder and co-owner or Lonely Planet, who is a former Briton. "I think the book was quite affectionate about Britain. They quoted selectively [and] it made a good story. You know — it was bad enough for an Australian to be criticising Britain, but people who are British and become Australian — that's 10 times worse. I was a traitor."
Published in February, the guidebook kicked up a storm in Britain, with its occasional references to the country as wet, expensive and un-friendly, with over-priced hotels and a class-war mentality.
The British papers howled in protest, calling the book "unjustified and unfair", and even the normally liberal if staid Guardian called it "rude". In Nottingham, which did not fare well in the book, the local newspaper called the company "a shallow Mickey Mouse operation". The Labour Opposition quoted it in Parliament, blaming the Conservative Government's cutbacks to tourist authorities for so "endangering the £33 billion tourist industry".
Wheeler laughs at the incident: it got his company some great publicity. In March, he and one of the Australian authors of the book flew to the United Kingdom, accepting a challenge by The Daily Mirror and the mayor of the seaside English resort of Blackpool to come see just how "wrong" they were. They weren't persuaded.
"I spent a chilly Sunday in March racing around Blackpool, meeting a seaside landlady, losing money at fun-fairs, riding every sort of roller-coaster," he says. "It was fun, I had a good day. But I don't think it's the reason people come to Britain."
Wheeler is a fast talker, often brimming with enthusiasm. He's a bespectacled millionaire in jeans and collar-less shirt who likes to scuba dive. By nature, chatty, he speaks with a jovial voice that is often interspersed with his easy-going smile, but always gives you the impression he is restless. Maybe restless to travel. He certainly does a lot of that.
He just returned from two weeks in China with wife and business partner Maureen and their two children, daughter Tashi, 14, and son Kieran, 12. Already this year the family has holidayed in India, and Wheeler spent five weeks travelling through the United States, Britain and France on business. In a few weeks, the couple will leave for a tour of the US and Latin Ameri-ca, and in October will take the children on a holiday walking around the Swiss Alps.
That's fairly much the picture every year — lots of travel, and a bit of trouble separating business from pleasure. With a schedule like this, you would think that there are few places left for the Wheelers to visit. Not so, they say.
"There's lots of places," he says. "The more places you go to, the more you find you haven't been to. I've been to very few countries in Africa, only a few places in South America. There are loads of places I've got to go to. I could keep going for the rest of my life."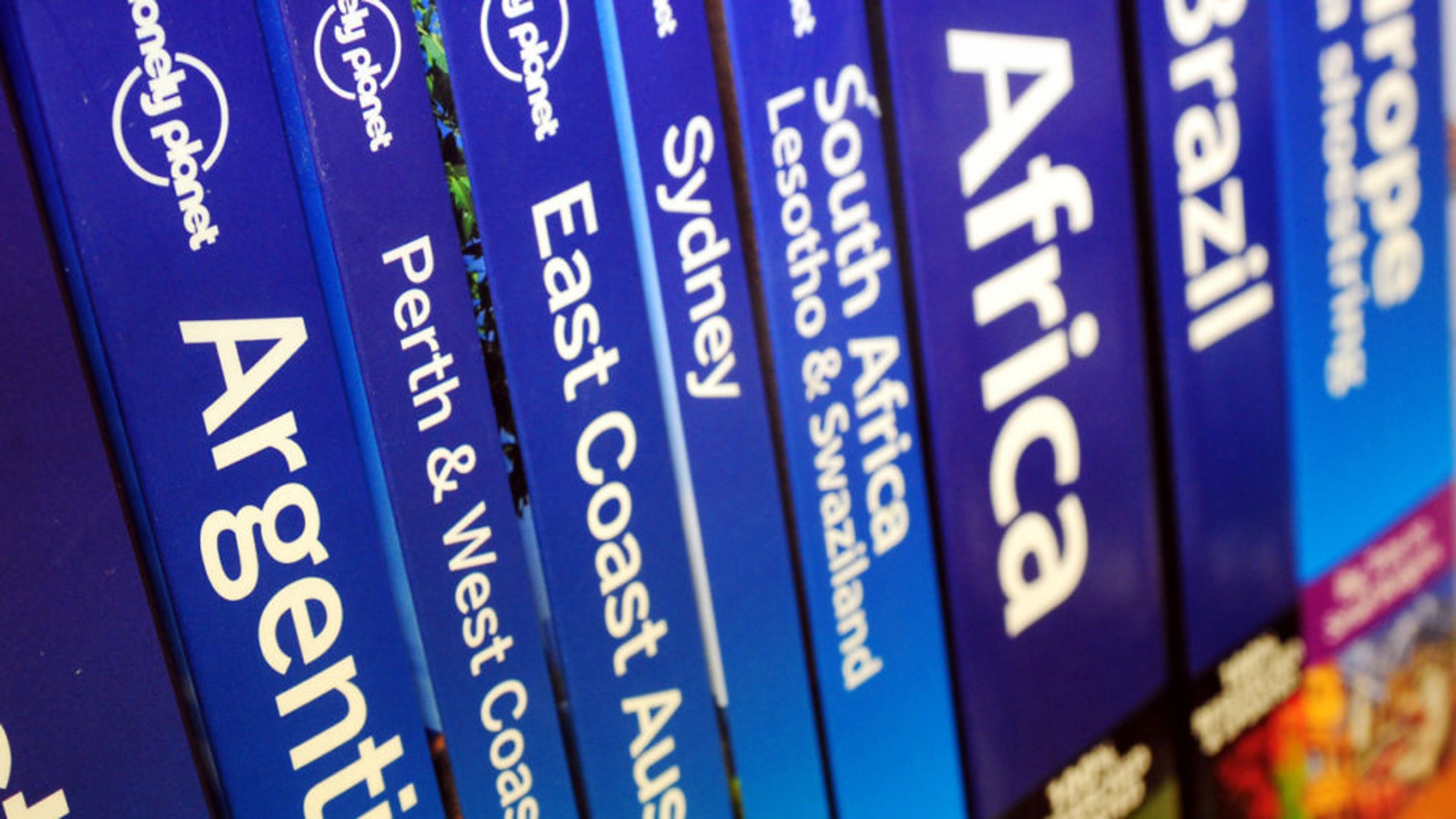 There are more than 100 people employed here, more than half involved in editorial production with another 75 off-site writers working as freelancer. The company has another 30 staff in San Francisco, and six each in Paris and London.
"Tony is totally an ideas man," says Steve Hibbard, general manager of finance and an American convert to the way Lonely Planet does business. "He's the classic entrepreneur who comes back from a trip and says, 'We gotta do atlases, we gotta do maps.' It's part of our job description to chase around after him and figure which of these ideas are realistic and either make them happen or tell him why it's not going to happen this year."
It's been more than 20 years since Wheeler met Maureen three days after she moved to London from Belfast. They met on a bench in Regent's Park, and married a year later. After completing a master's degree from the London Business School in 1972, Wheeler forsook a job at Ford, packed his bags with Maureen and left to see the world.
They bought a beat-up van, packed backpacks and $2000 in savings, and drove across Europe and the Middle East to Afghanistan. There they sold the van and continued on by train, boat, bus, rickshaw or hitch-hiking until they reached Sydney, managing to cover the distance on an average of $8 a day. They had spent a year travelling, arriving next to penniless, and had to sell their camera to survive.
WHEELER soon landed a marketing job in pharmaceuticals in Sydney, planning to earn enough to pay for the trip back to Britain. But as the couple told friends of their travel adventures, they came across the same question: "How did you do it?" In 1973, they decided to answer it with the self-published Across Asia on the Cheap. It was written at a kitchen table and collated, trimmed and stapled by hand. Spending their savings, they printed 1500 copies of the 96-page "down to earth" travel guide. The inexpensive book became an instant bestseller in Australia, going into reprint and selling 8500 copies.
It didn't make them rich, but made them enough money to plough back in to what they loved to do: travel.
Eighteen months in South East Asia later produced their second guide, South East Asia on a Shoestring, strapped together in a backstreet Chinese hotel in Singapore in 1975. With its distinctive bright cover, it was quickly dubbed the "yellow bible" by backpackers around the world and sold more than half-a-million copies, going into eight printings.
Over the next few years the publishing upstart — owned by the Wheelers and a travelling friend — produced "shoestring" guides for Hong Kong, Nepal, Australia and Papua New Guinea. Other books were prepared and published, and sold through booksellers in Australia and independent distributors in Britain and the US. Through the "street cred" of word-of-mouth among travellers, its guides sold and sold, and the company grew rapidly.
These days Lonely Planet is a $17.6 million corporate empire with travel books, walking guides, atlases and language phrasebooks, including some of the more unusual tongues such as Quechua, Swahili, Nepali and Egyptian Arabic. These now include compact disc and audio tape versions, soon to be released.
The company has been growing at 25 per cent a year for the past three years, and continues to expand. It has been largely recession-proof, although sales did slow during the Gulf War as travel took a nose-dive. But the market soon picked up again, and is booming.
"Independent travel is just growing in leaps and bounds," says Hibbard. "Most of our problems are problems people would like to have — keeping up with our own growth, which is all good stuff. But it's pretty fast growth to be continuous."
Now, the future is even brighter — after years of development, it is expanding its presence and taking on new media.
This year, it is preparing to launch Lonely Planet as a television series in Australia. Produced in association with Pilot Productions, a London-based company run by two Australian expatriates, each half-hour episode tries to emulate the "independent traveller" feel that has become its trademark in guidebooks.
Episodes concentrate on a particular country, following a presenter as he or she boards a train, buys food at a local market, bunks down in a cheap hotel or converses with the locals in a mountain village.
It is narrated by the lone presenter in the same conversational tone as the guidebooks, dispensing travel tips and cultural observations equally as the camera follows them on their travels.
Production standards are high, but the series is not afraid of mixing hand-held Video 8 footage taken by the presenter, in a "reality TV" style, along with scenic vistas from atop moving trains and helicopters.
"What they try to do is capture the spirit in the travelling, but also have a narrative behind it that is informative," says Rob Flynn, one of the editors of Lonely Planet.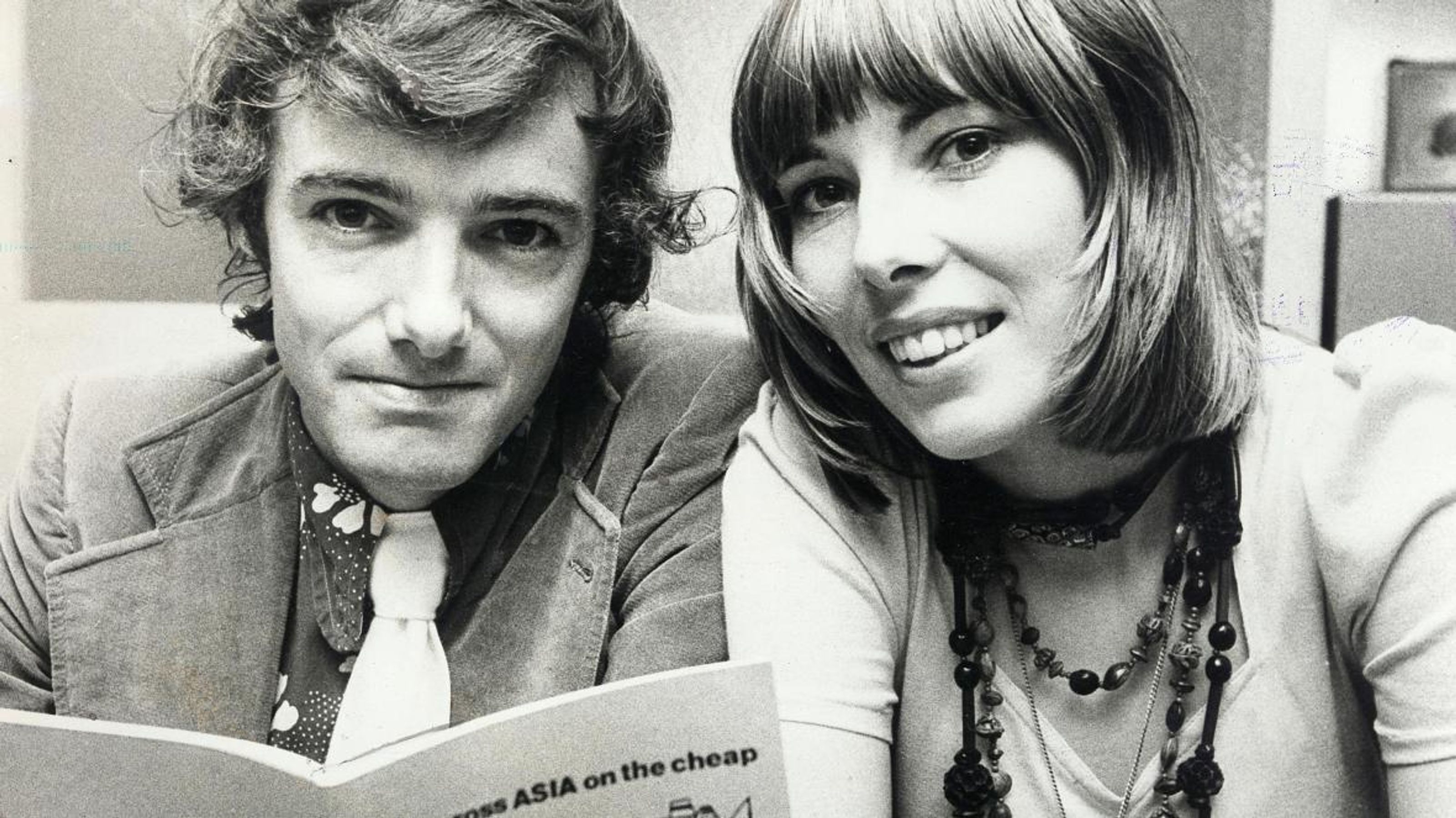 "We're at an interesting point in the company's history," says Richard Everist, general manager of publishing. "We're no longer a small boutique publisher. We've actually got to the ability to do a number of projects that have all been talked about in the past . . . We can actually pick up and run with them now. And we've got the management structure in place for what we anticipate to be a major growth phase."
In the past few months, Lonely Planet has taken a leap into the Internet, establishing an interactive and lavishly designed presence on the World Wide Web. Travellers can dial in and get the latest health warnings and profiles on countries — including colour maps, pictures, statistics, travel tips and letters from Lonely Planet users, all hidden (as "hypertext") behind the maps and accessible through a click of the computer mouse.
"WE HAVE all this fantastic information resource ... and there's other ways that such information can be put to use," says Flynn, who is heading the publisher's launch into the information superhighway. "With the Web, we're producing travel companions to the guidebooks, to keep them up to date. It's maximising value from what we already have ... [or] reach the reader with recent information that didn't make the guidebook."
Hibbard agrees. "Part of this new media push is partly because we have good people in here with good ideas, but partly because that's just what is sweeping publishers along. Our competitor three years from now may be someone we don't know about now, someone who may be running a satellite business or something.
"I don't think people have their minds around how this is going to work yet. We're still largely linear thinkers — research the book, print it and get it out. We're all still learning what it means to be more interactive."
The company sees the coverage of media brought about by the digital revolution as an opportunity for a content provider like Lonely Planet, which has a good reputation and a loyal following and can use this to bring customers to its other products. And it will open up doors for the company.
"Taking on these projects are things we believe will feed back into the core business," says Everist. "I'm prepared to bet that having developed our expertise in map making and phrasebooks and audio ... will probably be able to feed into a product of some kind in the future, whether it be a CD-ROM or something else."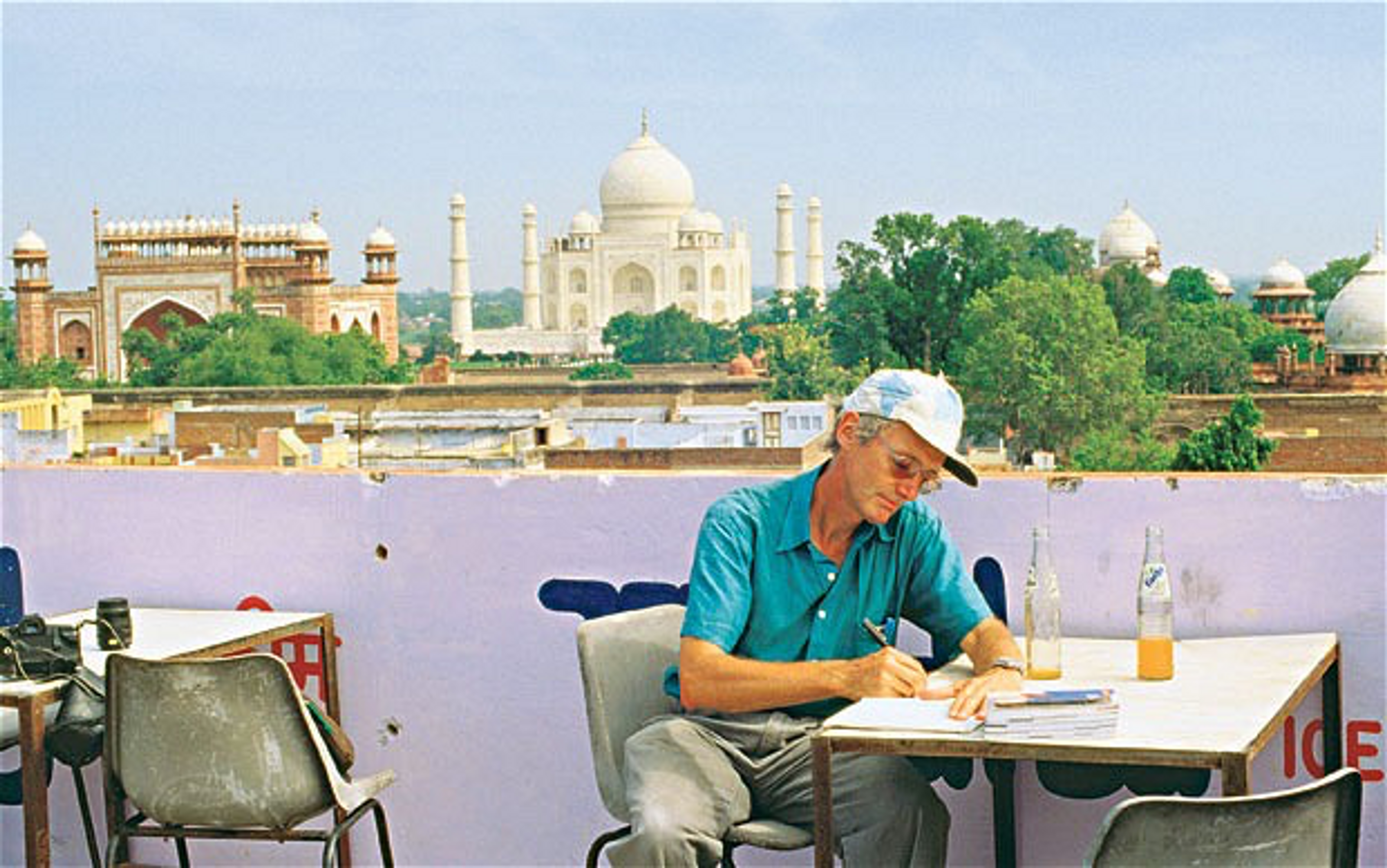 As if the challenge of the information superhighway isn't enough for the Wheelers, the family is preparing to move to France next year. But only for 12 months. They would like to tackle the foreign language market in earnest: although they now publish 28 books in French, they have few competitors.
Wheeler expects the company to be making more money from French sales than they make domestically in Australia within a year, and then perhaps look to other language markets. Thanks to co-publishing deals, Lonely Planet guides already ap-pear in seven other languages. There's the German market, which "is phenomenal in size but cut-throat,"says Wheeler. And there may be opportunities in Japan, where independent travel is developing fast among youngsters.
For the moment, though, the French assault is next. Or the extended French holiday, as the case may be.
"There's lots of excuses to do it, but mostly because it'll be fun," says Wheeler. "The kids are at an age where they could deal with the shock. And we just love to travel."