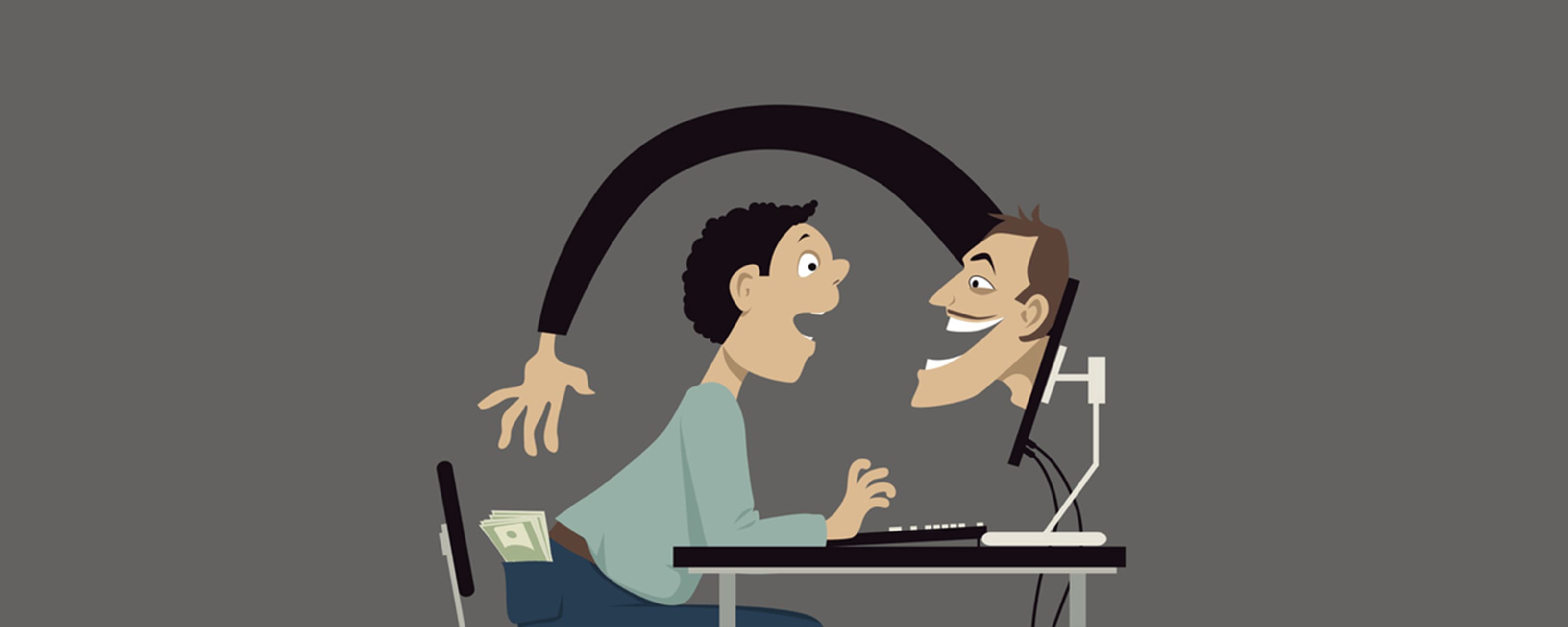 By WILSON da SILVA
IT HAD to happen. The carpetbaggers have invaded the Net. Cyberspace, it would seem, is now crawling with scam artists, swindlers, flimflam men, blacklegs, shysters and purveyors of shonky schemes.
Take the case of Augustine Delgado. With partners Libby Gustine Welch and Donald R. Grant, Delgado is accused of having duped 15,400 Internet users in 63 countries into sending hundreds of dollars each to a rural address in the US state of Washington.
"What if you paid ... $250 a month which produced a minimum of $5250 income each month for you, while you simply watched?" said one of the many messages posted across a number of Internet newsgroups (or billboards) by the trio's small firm, Fortuna Alliance.
Thousands took the bait. The victims included 2220 New Zealanders and 1560 Australians, ranking second and third respectively in the scam-takers' stakes. Each paid between $US250 and $US1750 to join the pyramid scheme, believing claims that members could eventually just sit back and receive over $US5000 per month in "profits" after inducing others to "enrol". Fortuna used snazzy, professional-looking websites.
They sent glossy brochures and other promotional material, advising "members" how to set up their own Web sites to recruit others to join the pyramid.
As far as investigators from the US Federal Trade Commission can tell, Fortuna opened for business on the Net with its first newsgroup public posting in December 1995. By 24 May this year, when US District Judge Walter McGovern issued warrant C96-0799-D in Seattle - freezing bank accounts and assets of the company and authorising a raid - the trio had amassed at least $US8 million.
Only $US2 million was ever found in Fortuna's American bank accounts, and those of the three main accused; about $US6 million had been transferred to accounts in the tiny Caribbean island-state of Antigua and Barbuda.
So, for the first time in its history, the US consumer and anti-monopolies authority engaged lawyers in another country: solicitors in Antigua as well as London barristers specialising in British-based Caribbean law. They obtained a court order freezing Fortuna's accounts at the Swiss American Bank of Antigua.
But due to secrecy provisions of local banking laws, investigators do not know how much money is in the accounts. In addition, after days of sorting through the contents of the raid, investigators believe that another $US2 million may have been spirited offshore by the trio.
Lawyers for the trio applied to the courts to have the injunctions lifted, saying the courts were impeding the operation of a legitimate business.
They lost. Soon after, the Federal Trade Commission (FTC) alleges that the trio opened a number of new bank accounts overseas and wired money out of the country. So on 12 June this year, the commission again went to court and obtained arrest warrants for Delgado, Welch and Grant. Not that this would have much effect: by this time, lawyers for Fortuna informed the investigators that their clients were now residing in the tiny Central American nation of Belize.
Welcome to the new age of the big swindle. The medium may be different, the delivery may be high-tech, but the cons are the same tried-and-true low-brow swindles you'll find in any carpetbaggers' kit: from "get rich quick!" schemes to too-good-to-be-true "investment opportunities".
"This brand new, high-tech scam is as old as Methuselah," said Jodie Bernstein, director of the FTC's Bureau of Consumer Protection. "Behind all the techno-jargon and the mathematical mumbo-jumbo, this is just an elaborate, electronic version of a chain letter. Early entrants may make some money, but eventually, the pyramids collapse and most of the 'members' are left holding the bag."
The Fortuna scam is the biggest on the Internet - so far. And the speed with which the scheme amassed the amounts has left authorities open-mouthed.
"It's certainly possible to make a very small company - one that's essentially operating out of someone's garage - look very large once you put them on Internet," Charles Harwood, the Seattle-based regional director of the FTC, told The Age. "On the Internet, Fortuna looks just like IBM."
Harwood's goal is to recover all of the money and return it to the hapless victims. But he's not optimistic. Although the arrest orders are hanging over the fugitive trio, the warrants are not enforceable unless the three are on American soil. If they never return, there is little else the authorities can do; the FTC has neither the resources nor the mandate to chase the culprits. And although the trio are barred from operating in the United States, there's nothing to stop the scam from reappearing on the Net.
In fact, Harwood knows that Fortuna has since reappeared in other Web sites and may still be operating.
"It's the cyberspace version of the itinerant trader, who appears at your door, offers all these wonderful things, takes your money and disappears," said Neil Lawson, Commissioner for Consumer Affairs in Queensland.
Lawson, whose office received complaints from Fortuna victims in the state when it was pulled off the air by the FTC, has been in contact with the investigators. He says that there is little his office can do. And it is not the first scam of the Net to hit Australians.
"The sort of complaints we're getting are about how something's represented over the Internet," he said. "And if someone misrepresents a product or engages in fraudulent activity, they can be fairly hard to find. They can come on the Internet fairly readily and disappear."
Although the most successful - for its creators at least - scam of the Net, Fortuna has not been the only one. Law enforcement officials in the US began coming across swindles as early as 1994. FTC officials now estimate that consumers lose tens of millions of dollars to Net scams every year.
Last month, the FTC and law enforcement officials in the United States launched Operation Missed Fortune, a massive crackdown against Net scamsters. Seventy-five court orders were executed in 25 American states.
Scams included "get-rick-quick" self-employment businesses, work-at-home offers, pyramid schemes, as well as pre-packaged small business offers involving everything from vending machine fraud to sophisticated "work-from-home" medical billing services.
Most scams targeted the victims of corporate downsizing, promising people with retrenchment packages "proven" and "lucrative" opportunities to "be your own boss". They charged up-front fees ranging from US$30 to tens of thousands of dollars. In one scheme, a victim lost more than $US70,000; others have lost as much as $US40,000 each.
Consumer groups are noticing an upsurge, too. Since the US National Consumer League launched Internet Fraud Watch, they have been inundated with stories of scams. Pyramid schemes topped the list, followed by bogus Internet-related services, such as consultants designing websites or setting up Internet access accounts, who demand payment and vanish.
There have been sellers of computer equipment, who promise huge discounts on memory chips or other equipment, then deliver hardware of lower quality, or not at all. Fraudulent business opportunities, offering sky-high profitability, ranked fourth, followed by shonky work-at-home offers with modern twist: instead of addressing cards or stuffing envelopes, buyers were told they can make hundreds of dollars a month converting graphic and photo files or doing word processing.
And it's not just the wannabe end of town that is trying its luck on the Net: two weeks ago, the Securities & Exchange Commission (SEC) - which polices American high finance and the investment community - brought its first case against a publicly-traded company for fraud in cyberspace.
A federal judge froze the assets of the chairman of a maker of video-conferencing equipment, Systems of Excellence, based in Virginia. The SEC charged that the company's chairman, Charles Huttoe, "secretly distributed millions of SoE shares to his family members and corporations, manipulated the market by issuing false favorable information concerning SoE and its business, and then sold the shares into the inflated market."
It said the company also posted false press releases on its Web site and bribed the owners of an Internet newsletter SGA Goldstar, to talk up the shares. Huttoe and his partners allegedly made more than $US10 million out the scheme. Systems of Excellence has said it is cooperating with the SEC investigation.
While it was the first time a Net scam involved a traded company, the SEC has already shut down seven corporate scams in the past year, including one in which a promoter sought investment in a fictitious coconut plantation in Costa Rica, claiming the money would be about as safe as a bank certificate of deposit, "but with a better interest rate".
The SEC has had to create a special team to deal with Net scams. "We anticipate that we will be addressing this kind of conduct on the Internet more frequently," says Erich Schwartz, assistant director of enforcement at the SEC.
But it's the high-tech telephone call-back scams that have the potential to catch a lot of people unawares. You don't even have to be on the Net.
There are three ways of being taken in: via e-mail, pager, or via a message left on your answering machine or voicemail. In the e-mail version, you receive an "urgent" message from what appears to be a legitimate company demanding you settle an overdue account. It provides a telephone number for queries.
Or you receive a message on your answering machine, voicemail or pager, asking you to call what looks like a number in the United States (often with an 809 prefix). The reason varies: to receive information about a family member who is ill, to tell you someone has been arrested or died, that you have won a prize, or - as in the email version - demanding you settle an account. When you call the number, you get a recorded message.
In each case, you are induced - without knowing it - into calling a number that will charge you up to $30 a minute. Sometimes the person who answers the phone will speak broken English and pretend not to understand.
Whatever the ruse, the idea is to keep you on the phone as long as possible as the charges mount.
The 809 area code - used by most of the recent scams - looks like a US code (requiring a "1" in front of it), but is actually in the Bahamas.
Since 809 is not in the United States, it is not covered by American regulations of such pay-per-call numbers, which require that callers be warned of charges when calling the number. There is also no requirement for a time period during which you can terminate the call without being charged.
The only way to avoid the scam is not to call an overseas number unless you know what the calls is about.
Internet Fraud Watch can be reached by e-mail at nfic@internetmci.com, or found on the Web at http://www.fraud.org
THE THREE TYPES OF SCAMS ON THE NET
The Pyramid
Usually begins with lines like: "How To Make Big Money From Your Home Computer!!!". In reality, such offers are an electronic version of "pyramid" scams, in which participants make money solely by recruiting new participants. This type of fraud is perfect for the Net, since scamsters can send messages to thousands or millions instantaneously. The schemes soon collapse when no new "investors" can be found.
The Risk-free Fraud
Offer "Exciting, Low-Risk Investment Opportunities" to participate in exotic-sounding investments, such as cable projects, prime bank securities and eel farms. Promoters misrepresent the risk by comparing their offer to something safe, like bank certificates of deposit. Often, an investment product does not even exist.
The "Pump and Dump" Scam
Messages are posted online urging readers to buy shares in a company that is poised for rapid growth, or sell out of one that is headed for disaster. Scamsters claim to have inside information, or claim to use a combination of economic and stock market data to pick the right shares. In reality, the promoter may be an insider who stands to gain by selling shares after the stock price is pumped up by gullible investors, or a "short seller" who stands to gain if the price plunges. This ploy is often used on little-known, thinly-traded stocks.
Source: US Securities and Exchange Commission