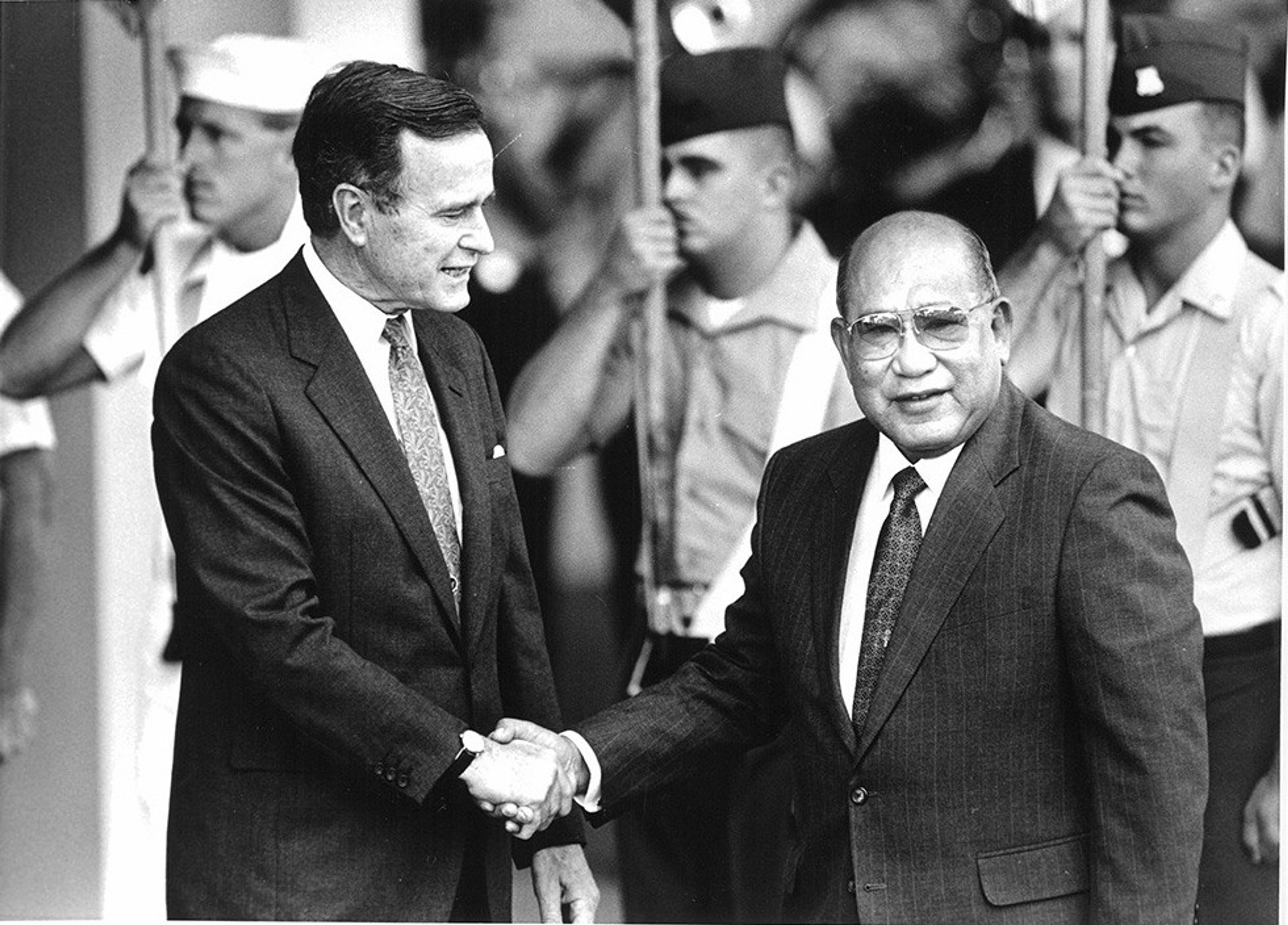 By Wilson da Silva
HONOLULU – U.S. President George Bush won friends at his first Pacific summit but failed to convince them that burning American chemical weapons was safe for the environment.
"You have by this one single act begun to replenish the pool of goodwill that had been drying up since the last war," Cook Islands Prime Minister Geoffrey Arama Henry told Bush.
TD But leaders of 11 Pacific nations at Saturday's summit left unconvinced that plans to burn 100,000 chemical weapons en route from Germany under a U.S.-Soviet agreement presented no danger.
The U.S. incinerator on Johnston Island, about 1,200 km (720 miles) southwest of Honolulu, began in June burning some World War One and Two chemical weapons.
Bush said the United States had "no plans to use Johnston Atoll for any other chemical munitions purpose, or as a hazardous waste disposal site".
Pacific leaders said they felt Bush understood their concern but had given them no guarantees.
A July meeting of the South Pacific Forum, the area's top body, had urged the United States to dismantle the facility once the weapons were destroyed.
Weapons of mass destruction within the region worry nations of the Pacific, once rocked by U.S. experimental atomic blasts and with France still conducting underground nuclear tests.
Bush was on easier ground when he discussed trade and development. He promised to boost trade and cultural initiatives and announced that Washington would provide 300 million dollars in new development funds.
"We are fast approaching a new era in the Century of the Pacific," Bush said on opening the meeting. "This summit is intended to underscore my interest in making sure that I know you personally and understand your views and concerns."
Most notable of the initiatives was the establishment of a joint commission of senior officials from the United States and the Pacific to meet annually and discuss regional issues.
Pacific leaders said they hoped the commission would grow into a ministerial forum and later become an annual summit.
The prime ministers and presidents of Papua New Guinea, Kiribati, Nauru, Fiji, the Marshall Islands, Micronesia, Tuvalu, Western Samoa and the Cook Islands attended the summit.
Tonga and the Solomon Islands were represented by their foreign minister and deputy premier
respectively. Vanuatu and Niue declined to attend.
They represented a majority of the 21 political entities – eight of which are dependencies of France, the United States and New Zealand – among the 10,000 Pacific islands.
Bush called the region "an aquatic continent" and said the future of the United States lay with the Pacific.
Washington has in the past decade upgraded contacts and tried to recapture the goodwill left after World War Two in which 300,000 Americans were killed in the Pacific theatre.
In 1983 Washington abandoned claims to a number of islands and signed friendship treaties with Tuvalu, Kiribati and the Cook Islands.
In 1988 it ratified a fishing treaty, agreeing to pay 10 million dollars a year to fish for tuna in the region.
The United States sees itself as a full member of the community because of its Pacific state of Hawaii and its dependencies of Guam, American Samoa, Belau and the North Mariana Islands.
"He came with no agenda and said he wanted a free-flowing exchange of ideas between him and ourselves, which was exactly the kind of agenda we wanted," said the Cook Islands' Henry.
"This is the way we in the Pacific prefer to discuss matters. Two hours certainly is not enough time for the kind of concerns that exist. But I think we've come away from this summit a lot happier than we were before we came here."