Opportunities abound for budding entrepreneurs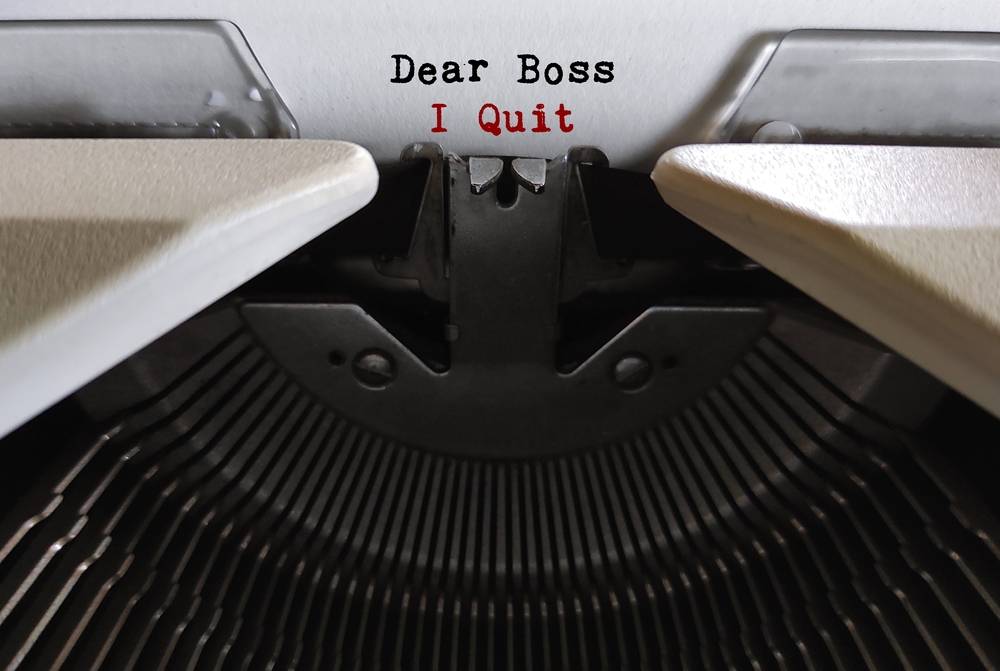 The Great Resignation. The Big Quit. Americans Are on the Move.
The Great Resignation is upon us. People are quitting their jobs in droves. For brick-and-mortar antiques dealers, that means short-staffed stores and overworked owners.
Does it seem to you that no one wants to work?
You may have noticed "Help Wanted" signs all over your town. I've certainly seen them in mine. Lines are longer at grocery stores. Wait times are longer in restaurants. Appointments with service providers are harder to get.
Four million people quit their jobs in July 2021, according to the U.S. Bureau of Labor Statistics. This equals a quit rate of about 3%, the highest recorded in the past twenty years.
Don't Blame the Great Resignation on COVID-19
Covid has undoubtedly contributed to the Big Quit. But, workers' moods have shifted in the past two years. They have become more reflective about their work and their lives. Their innate dissatisfaction with commuting and corporate life has grown.
A 2021 ReadWrite.com survey reports that "Only 4% of knowledge workers said traditional benefits like health insurance and 401(k)s are reasons they prefer full-time employment. Instead, greater freedom to choose when and how much they work is of greater importance to them in a job. Surprisingly, many do not see full-time employment as more secure than independent freelance work."
Prudential Insurance found that "One in three American workers would not want to work for an employer that required them to be onsite full time." Further, the survey revealed that "One-quarter of workers plan on looking for a new job when the threat of the pandemic decreases."
This mindset isn't limited to America. For example, Microsoft's 2021 Work Trend Index indicates that 41% of the global workforce is likely to consider leaving their current place of employment within the next year.
Many workers enjoy working from home. They can pursue hobbies and reconnect with their families. Some have re-examined a lifelong dream of owning their own business.
Others acted on their dream and launched a business.
Business Startups Surged in 2021
Despite COVID-19 and a severe economic downturn, business startups grew from 3.5 million in 2019 to 4.4 million in 2020. That's a 24% increase, the largest on record. And, those numbers are growing. In the first quarter of 2021, 1.36 million new companies were started.
For entrepreneurs, The Great Resignation means an abundance of opportunity. Unfortunately, the Big Quit has created a minor crisis among American businesses. The Prudential survey mentioned above anticipates a "war for talent." Prudential vice chair Rob Falzon admitted, "If there's one thing that keeps me up at night, it's the talent flight risk."
Companies still have work to do and commitments to keep. If they can't hire employees for their work, they must look to freelancers. Websites like Freelancer, Upwork, Fiverr, and Guru are thriving. Businesses cry out for skilled workers like writers, programmers, consultants, marketers, graphic designers, web developers, and more.
Not everyone has in-demand skills. But everyone has a dream. Many have found their dreams fulfilled by becoming online sellers.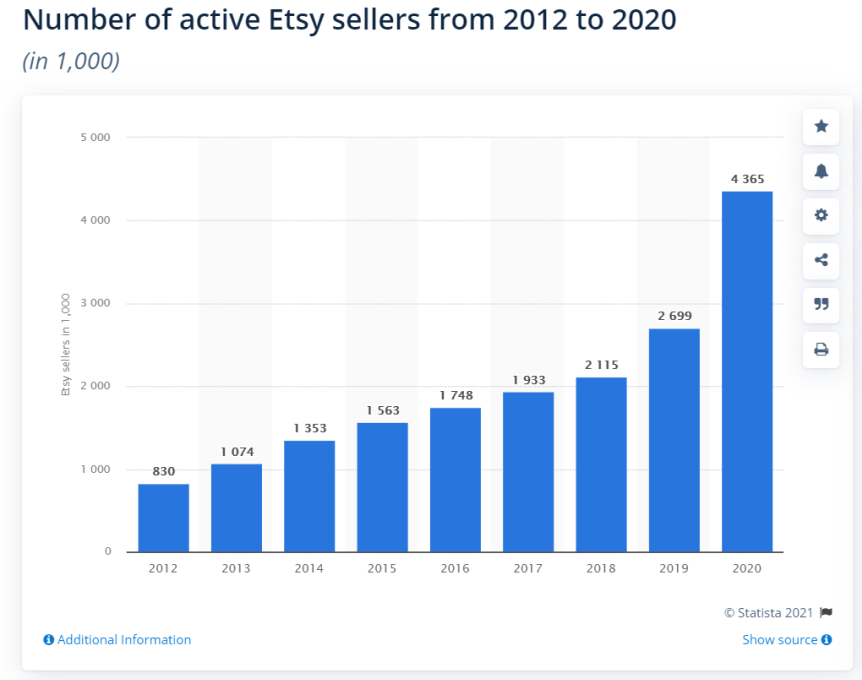 Antiques and Vintage Sales are Booming
eCommerce is a vital part of the retail landscape. The number of online buyers and sellers increases each year. In 2020, two-billion-plus people bought goods or services online, and e-retail sales surpassed $4.2 trillion worldwide.
But, offline retailers still dominate the retail landscape. The U.S. Census Bureau reported in August 2021 that the "resale industry in the U.S. [has] annual revenues of approximately $17.5 billion including revenue from [brick-and-mortar] antique stores, which are 13% of their statistics. ThredUP, an online resale marketplace, pegs the total resale market in 2018 at $24 billion … predicting it will reach $64 billion by 2028."
The stigma of buying used merchandise doesn't exist anymore. Vintage and antique goods are now trendy. The antiques search engine Barnebys notes that young people are choosing to buy pre-owned furniture for their homes. There are huge markets for vintage clothing, accessories, household decorative and repurposed items, tools, and collectibles.
Why the Great Resignation Boosts the Antiques Business
For most of the 20th century, it was tough to get into the antiques business. You needed to know about glass, and advertising, and furniture styles, plus ceramics, art, books, and a lot more. You needed to know selling prices, and how much to pay when you buy something. You needed to be an expert.
That's not so in the 21st century. Today, the barriers to entry into the antiques and vintage business are low. You don't need special skills, training, or licenses. Anyone can sell online.
Of course, I don't want to diminish the value of training and experience. I'm a licensed auctioneer and trained appraiser, and I appreciate the value of my years spent in those pursuits.
Nevertheless, in 2021 it's a different world. Anyone with online access, a camera, and a bit of ambition can develop a side hustle that provides a healthy income. Many even make a living at it. There are four components of this new opportunity. Together, they produce a compelling case for why there are so many new antiques and collectibles dealers. They are:
Data Levels the Playing Field
No longer must dealers have in-depth knowledge, an extensive library, and years of experience to run a profitable antiques business. Virtually everything an entrepreneur needs to know can be found online. Pricing and research databases like WorthPoint.com enable antiques enthusiasts to search millions of items aggregated from hundreds of auction houses and online sellers. Sellers of consumer goods and commodities can explore eBay's Sold and Completed Items. Don't know what an item is? Snap a picture and run it through Google's Image Search.
Inventory Is Abundant
Pause for a moment and look around you. Is there a lot of stuff? How many items—furniture, clothing, kitchenware, and so on—are in your home? 300? 1,000? 10,000? Many more, I assure you.
Joshua Becker wrote in becomingminimalist.com that the average American household contains over 300,000 items (as reported in the L.A. Times). A few other shocking statistics:
The average American home has tripled in size over the past 50 years. (NPR)
Despite having bigger houses and more stuff, 1 in 10 Americans rents offsite storage. (N.Y. Times Magazine)
The United States has more than 50,000 storage facilities—more than five times the number of Starbucks. (Self Storage Assocciation).
Resale inventory is abundant because homeowners churn the goods in their homes. Out with the old, in with the new. Plus, according to the U.S. Census Bureau, America is "aging out." So as Boomers die and their estates are liquidated, there will be a vast amount of estate goods hitting the resale market.
Low Startup Costs
Most types of vintage sales businesses can be started on a shoestring. You don't need a brick-and-mortar store, employees, or a large advertising budget. If you are operating as a sole proprietor, all you need is a business checking account. Then, of course, you'll need inventory to sell. But, many new sellers begin with items they have around the house.
Initially, online marketplaces will charge per-sale fees. These are variable expenses; they rise and fall according to your gross sales. If you don't sell anything, you don't owe any fees. Costs vary by marketplace.
It's outside the scope of this column to detail how to start up a new business. However, countless books and websites are dedicated to the subject. For the particulars of launching your particular idea, google startup <business category>.
High Product Markups
Many retailers double an item's buying cost to arrive at a selling price. Some antiques dealers do this as well. But, what you pay for an item has nothing to do with how much you sell it for. It's not unusual to sell items found at yard sales, auctions, and estate sales for five to ten times what you paid for them. For some categories, even more.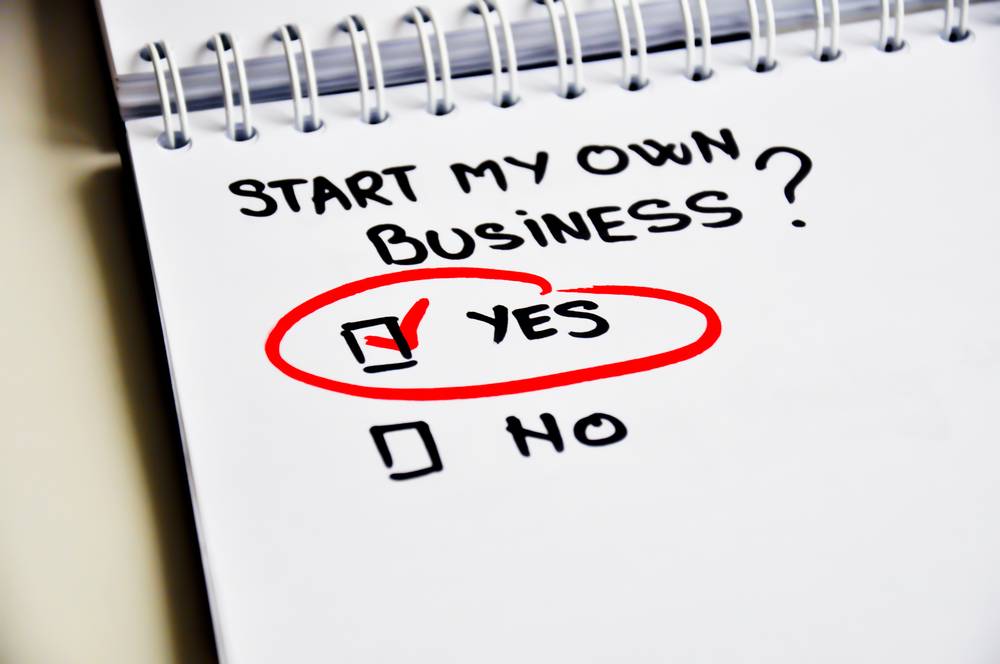 What Opportunities Exist for New Dealers?
Short of opening a brick-and-mortar store (which I don't recommend for startups), three common approaches for launching an antiques and vintage business are:
Focus on wholesale picking. You will sell directly to dealers or at venues frequented by dealers (like flea markets).
Establish an antique mall booth. Mall booths enable you to sell directly in multiple markets. Most malls offer monthly leases, so you can leave without penalty if a location doesn't work out. Malls also provide payment systems, checkout clerks, utilities, and are great places to store a growing inventory.
The Great Resignation Is a Wake-Up Call
Small business is the backbone of the U.S. economy. 2021 has been a wake-up call for budding entrepreneurs. Americans are increasingly reclaiming their lives and careers by following their dreams and starting new businesses. This trend won't change any time soon. That's the way it is—it's the New Normal.
Wayne Jordan is WorthPoint's Senior Editor. He is the author of four books: The Business of Antiques published by Krause Books, Antique Mall Profits for Dealers and Dabblers, Consignment Gold Rush: the Ultimate Startup Guide, and Relocate for Less published by Learning Curve Books. He is a regular contributor to a variety of antiques trade publications. He blogs at sellmoreantiques.net.
WorthPoint—Discover. Value. Preserve