The bidding stood at $16,800 until the last few seconds of the eBay auction. Then, auction sniping software kicked in. Within seconds, the bidding soared to over $30,000. The final selling price of the item was just over $37,000.
What was it that caused all the fuss? An old shellac 78 RPM record by Tommy Johnson on the Paramount label, released about 1930. The winning bidder, noted collector John Tefteller, drove from his home in Oregon all the way to South Carolina to pick up his win, dubbed "The World's Most Expensive 78."
The lesson to be learned? Perhaps auction-goers, estate executors, antiques, and thrift shop scourers should think twice before passing up a box lot full of old 78s. Says Tefteller of his win:
"The seller… found the record some years back at an estate sale. He absolutely did not realize what he had and how rare it was until he put it on eBay. Within the first few hours of being listed on the auction site, another collector tried to stop the sale by offering the seller $4,000 for the record. Fortunately, he let the auction proceed and I was able to win it in the final moments."
Not all 78s are rare and collectible, though. Just like stamps and coins, there are many available and most are worth pocket change at best. How, then, can one quickly assess the contents of such box lots to see if there might be gold among the shellac?
With the right approach—says Tom Roberts, noted Harlem-Stride style pianist, music historian, and 78s collector—an experienced eye can make short work of assessing a stack of old 78s. In a conversation earlier this week, Tom shared his methodology with me.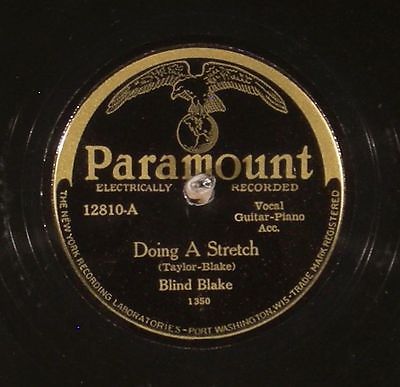 Start with the Labels
Begin by sorting for labels. Roberts says he favors early jazz, blues, ethnic, and hillbilly. At the close of the First World War, rural Southerners (black and white) migrated north to find jobs. Gramophones, Victrolas, and radios were bought by the thousands, and record companies saw profit in marketing "back-home sounds" to these groups. "Race" music (as jazz and blues were then called), ethnic and Hillbilly music became the stock-in-trade of early labels such as Paramount, Okeh, Vocalion, Black Patti, Emerson, and Black Swan. Even the industry giant Columbia entered the race-and-ethnic record arena, featuring such artists as Louis Armstrong, Bessie Smith, and Fiddlin' Charlie Bowman. Columbia designated each genre of music with a different color label, and Roberts knows which color is most likely to contain the music he's interested in.
A record label may also give clues as to when a particular record was made. Unless you have a great memory, though, you'll need a record field guide or a smartphone with a good broadband connection; there have been literally thousands of record labels, more than 100 for Columbia 78s alone. "Fortunately, there are label guides to 78s all over the Internet and you can probably find what you're looking for within a few minutes," said Roberts. "I've found the guide at 78rpmrecord.com to be helpful; their home page proclaims 'View Thousands of Labels.'"
But some basic labeling facts may help you date a record. For example, some labels may read "Electrically Recorded." Electrical recording is a technique developed by engineers at Western Electric in the early 1920s in which a microphone and vacuum-tube amplifier were used to transmit sound to an electromagnetic recording head. Prior to that time, a recording was done acoustically by transmitting sound through a horn to a diaphragm that vibrated a record-cutting stylus. Electrical recording was considered to be an important technological breakthrough so, for a time, all the record companies that used the technique advertised it clearly on their record labels. If you find a record that proclaims "Electrically Recorded" you probably have a record that dates to the late 1920s to early '30s.
According to Roberts, here's where it helps to know something about the genre of music you are collecting. For example, most folks know who Louis Armstrong is, but few know that Armstrong played in King Oliver's Creole Jazz band as a young man. Further, the complexities of recording contracts caused many performers to work under pseudonyms. Author Allan Sutton, in his book "A Guide to Pseudonyms on American Recordings, 1892-1942," reveals more than 3,000 pseudonyms used by session musicians in the early 20th century. Louis Armstrong performed under the pseudonym Ted Shawne, while Fats Waller took the name Flip Wallace. Recordings by Duke Ellington and his Cotton Club Orchestra are to be found under 22 different pseudonyms.
Don't Recognize the Artist? Good!
If he finds labels of interest, Roberts sorts again by artist. "Chances are, if you've heard of the artist, the record isn't worth much, he quipped. "If you're looking at dance-band records by Artie Shaw, Glenn Miller or Benny Goodman, pop records by Perry Como or Patti Page, or country records by Eddy Arnold, Hank Snow, Red Foley and the like, you're looking at records that were produced in huge numbers that are neither rare nor collectible."
Serious collectors of 78s will be appalled at my wrapping this article up at this point; there's so much more to cover! Collectors want to know a record's series number, catalog number, and all the details of its provenance. But this isn't an article on "how to collect 78s." Instead, it's meant to give those with no knowledge of 78s a little something to go by when sorting through a box of records at an estate sale.
For those who are intrigued by the thought of collecting 78s, a good place to start is Joe Lauro's Old78s.com. In the meantime, happy picking!
Wayne Jordan is a Virginia-licensed auctioneer, Certified Personal Property Appraiser and Accredited Business Broker. He has held the professional designations of Certified Estate Specialist; Accredited Auctioneer of Real Estate; Certified Auction Specialist, Residential Real Estate and Accredited Business Broker. He also has held state licenses in Real Estate and Insurance. Wayne is a regular columnist for Antique Trader Magazine, a WorthPoint Worthologist (appraiser) and the author of two books.