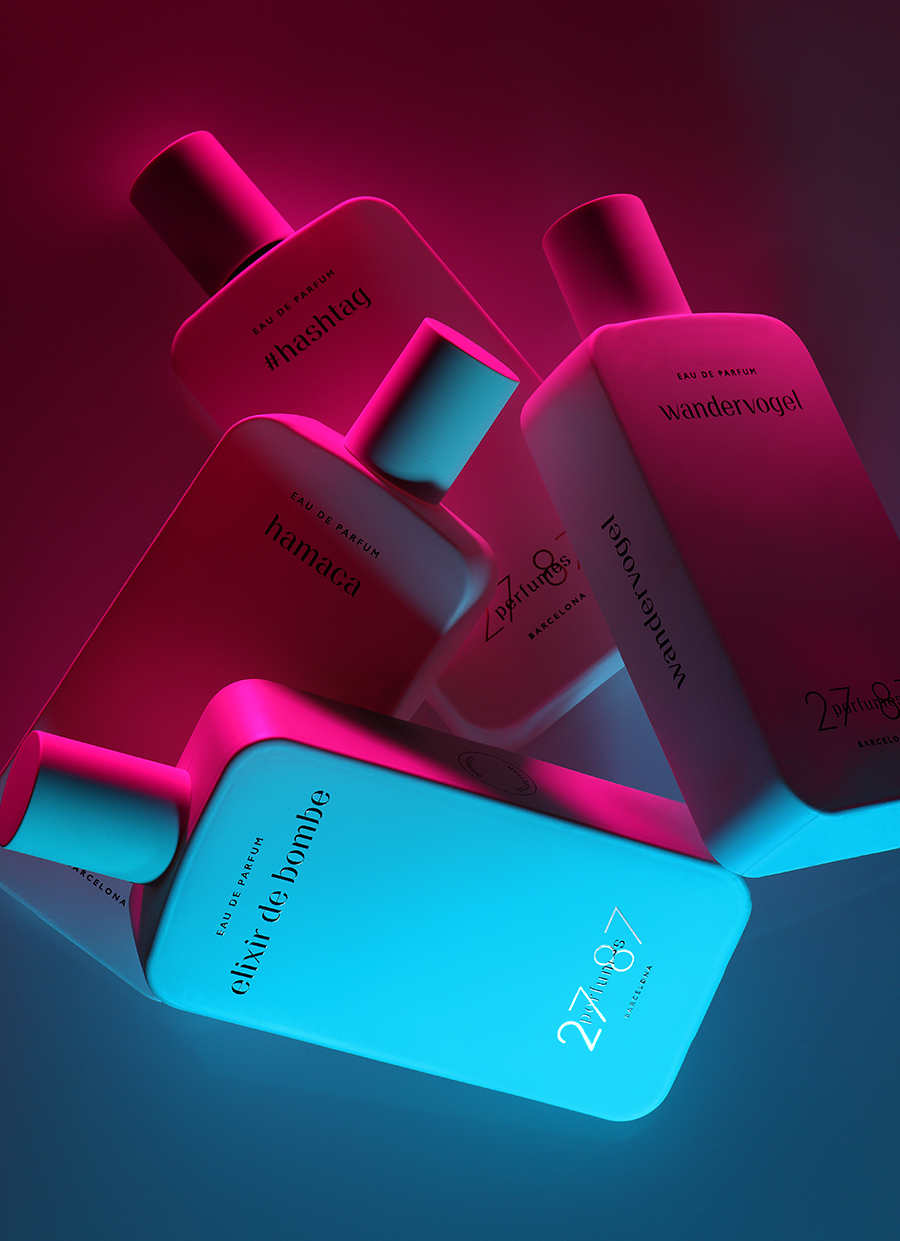 Like its fresh white minimalist bottles (somehow reminiscent of an iPhone, and which wouldn't look out of place in a laboratory), the Barcelona-based perfume house 27 87 has a thoroughly modern approach to our olfactory senses. A tribute to the "the first generation to come of age in the 21st century", it celebrates the tech savviness, interconnection, social awareness and fearlessness of the peers of its founder, Romy Kowalewski (whose birthdate is reflected in the name of the brand). Its unisex scents are presented in 87ml measures – yes, that number again – or in a Discovery Kit of four 2ml phials, which is how I came to catch a whiff of the entire quartet.
Now, although I'm a self-confessed perfume slut, it's not often that I fall instantly for a scent that's new to me, but 27 87's #hashtag had me at inhale-o, and I've worn it every day since I tried it. On my skin, its top notes of violet leaves and, in particular, aldehydes come through instantly – clean, clear and slightly metallic (rather like its mirrored box, which is perhaps a symbol of the selfie-obsessed generation), it initially reminds me of Serge Lutens' Laine de Verre (a real favourite for spring/summer) – and is perfectly "crisp" on a hot day. As it settles into mid notes of iris and frankincense, #hashtag becomes more complex, finally ushering in more earthy base notes of cedarwood and musk – spot-on for the changing mood of a hot night. Its staying power is great too: I can still smell it on my skin the following day. In truth, I suspect #hashtag is not aimed at an old bird like me – it's in the Next Generation Collection, and carries the ditty "Blog, tweet, regram. Life today is the story we tell. #hashtag is the story we smell" on its packaging. But I like to break the fragrance rules as much as any Millennial, so I'll continue to wear my new-found eau de parfum for the foreseeable future.
That's not to say I don't like the other 27 87 scents – far from it. There are three so far, all in those pristine white bottles but each ith their own box design: the utterly delicious Hamaca, which on me smells like a beach holiday in a bottle (salt, coconut, sandalwood and vanilla coming through strongly); the globetrotting and sea- and spa-vibed Wandervogel (minty, somehow sandy and salty); and finally, the divine Elixir de Bombe (tangerine, red pepper, raspberry, leather and caramel), which to me simply smells of lip-smacking naughtiness. Spritz it and see!
2787perfumes.com Each eau de parfum costs €145 for 87ml, including shipping within Europe