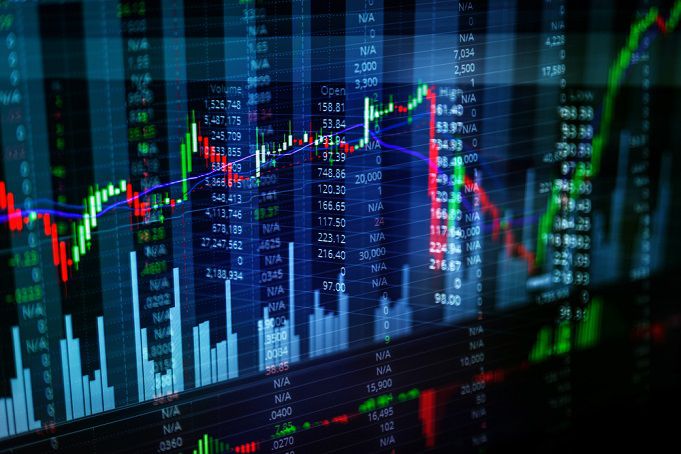 MetaStock can identify more than 30 candle patterns on a chart, giving you advice on how to interpret and use them. A Metastock R/T subscription is $100/month; data feeds are additional. MetaStock connects via API to online brokers.
NinjaTrader
NinjaTrader offers a trading environment that you can use to build, test, and simulate a trading system for equities, forex, and futures before investing real money in a live market. NinjaTrader itself is free to use for advanced charting, backtesting, and trade simulation, but there are fees for some indicators built by third-party developers.
You'll find 100+ technical indicators in the basic package, plus fundamentals, charting, trade journaling, and research tools.
Via API, you can bolt NinjaTrader onto TD Ameritrade, Interactive Brokers, FXCM, and others, or trade using NinjaTrader's own brokerage service.
Slope of Hope
Slope of Hope was founded in 2005 after creator and perma-bear Tim Knight sold his charting site, Prophet.net, to TD Ameritrade, to share charts and trading experiences with a few of his fans. It is now a destination for technical analysis, trading ideas, charts, and discussions with traders of all stripes.
Many of the features, including a very powerful technical charting package, are free to use, and rival the capabilities of much more expensive sites. A key feature of SlopeCharts is SlopeRules, which lets you create and test a trading system using technical rules. Drag and drop the rules you'd like to use on a chart and test them, then set up an alert to let you know when the conditions have been met.
An integrated virtual trading system is available that starts off with an account with $100,000 to help you learn how to hone your trading skills. Options traders will find some terrific analytical tools.
Premium membership levels ($14.95–$79.95 per month, two months free with an annual subscription) offer access to additional data, powerful options analysis, and access to exclusive trading ideas.
Slope has launched native mobile apps for iOS and Android devices, allowing access to all posts and a subset of the tools from the website.
StockCharts
StockCharts allows you to create intraday, daily, weekly, monthly, quarterly, and yearly price charts, point & figure charts, seasonality charts, relative rotation graphs, and more. They have the ability to have 10 different ticker symbols on the same chart, and real-time data coverage for a number of cryptocurrencies, including Bitcoin, Ethereum, XRP, Litecoin, and Bitcoin Cash.
The ability to do technical analysis on cryptocurrencies is relatively unique. You can use a limited set of features for free; monthly subscription plans that allow additional technical studies and more historical data range from $14.95–$39.95.
TC2000
TC2000 is also a venerable name in the technical analysis world and was formerly known as TeleChart. Version 20 has Windows, Mac, mobile, and web platforms available, plus you can connect directly to Interactive Brokers to place trades through TC2000 Brokerage. TC2000 combines charting, stock and option screening, and trading features, and you can use the practice version for free.
You'll need the Gold or Platinum level subscription ($29.99–$89.98 per month) to use the scanners; Platinum subscriptions allow you to scan the market for specific conditions on any date that has available data, just to get an idea of how well a custom indicator you may be building will work. Data feeds incur additional charges.
Ticker Tocker
Ticker Tocker, launched in 2018, offers users a wide variety of trading services, including education, research, and automated trading resources.
You can follow other members who are signed in as Leaders or use the strategy creation tools to generate your own trading system. You can backtest the strategies you've created with historical data to see how they would have performed. The charting system built-in allows you to overlay price charts with technical indicators.
The site also includes Ticker Tocker's in-platform and syndicated trading TV channel, Ticker Tocker TV. The platform is compatible with brokers including Interactive Brokers, E*TRADE, TD Ameritrade, Tradier, Fidelity Investments, and TradeStation.
You can join and use many of the features at no charge, though there are fees for premium services and access to experts.
Trade Ideas
Trade Ideas launched in 2003, counts among its subscribers investors, traders, and market professionals. The system has 310 alerts and 253 filters that include technical, social media, and other non-structured data sets and identifies short-term and swing trading opportunities.
Subscribers can also create their own formulas as indicators and build custom, dynamically updating watch lists and real-time alerts. These trading systems can then be back-tested and traded in a simulated trading environment.
Premium plan subscribers with connected Interactive Brokers accounts can send live trades via the Trade Ideas platform. The Trade Ideas platform links with most trading and charting platforms. The majority of Trade Ideas subscribers now leverage TI's HOLLY AI, an artificially intelligent trading assistant to identify trades derived from continually optimized strategies that are demonstrating a consistent performance edge in the market.
Trade Ideas is downloadable to Windows platforms and also offers a web version for access on any device. A standard subscription is $118 per month ($1068 per year), while the premium services are $228 monthly ($2,228 per year).
TradingView
TradingView has over 100 indicators combined with intelligent drawing tools that cover global stocks, currencies, and cryptocurrencies.
The proprietary Pine Script language lets you change existing indicators or create anything from scratch. The public script library contains thousands of scripts published by other TradingView members.
You can use a limited set of features for free; subscriptions with access to additional features and data are $14.95–$59.95 per month. There's a paper trading system built-in, or you can link TradingView to a brokerage account with several brokers, including TradeStation.
TrendSpider
Founded in 2016, TrendSpider has an impressive array of technical analysis tools designed to help you find, plan, and time your trades with greater efficiency and precision.
You can generate dynamic watch lists using the Market Scanner, which can search across time frames ranging from 1 minute to 1 month. There are several dozen scanners built-in, or you can design your own. Real-time market data and 20+ years of historical data are included at no extra charge.
The platform is web-based, with your customizations stored in the cloud. The charting package includes the ability to backtest (for Advanced and Elite customers) the strategies you've created.
Subscriptions range from $44-131 per month, with discounts for prepaid annual plans.