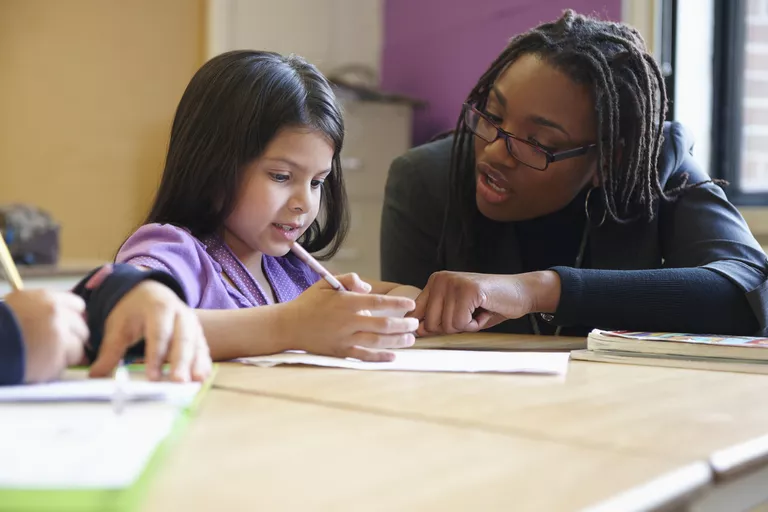 What Is a Paraprofessional?
A paraprofessional is a specially trained, credentialed educational worker who supports students in school under the supervision of a teacher. Your child may notice this type of aide in their classroom or be assigned to individually engage with a paraprofessional as part of an Individualized Education Plan (IEP).
A paraprofessional may be referred to as a paraeducator, special education paraprofessional, teaching assistant, instructional assistant, or ed tech. Informally, they may be called a parapro or para.
What Paraprofessionals Do
Paraeducators have a diverse set of skills they bring to schools. They take on various responsibilities to help students who need support.
Instruction
Paraprofessionals may provide one-on-one instructional assistance for a student while the teacher is explaining a lesson or after it has been taught. They can encourage students with social difficulties or disabilities to speak up in class when they have the correct answer to a question.
Paraeducators can also help to execute or reinforce lesson plans to small groups of children. This enables a teacher to focus on other activities with students who are learning at different levels. Parapros may help teachers organize materials for students, too.
In addition to working inside the classroom, paraprofessionals are versatile and may offer instructional support in a school computer lab, library, or media center. Teaching assistants can be found in both general and special education classrooms. They may be assigned to a specific class or they may work in several different ones.
Behavior
A paraprofessional can have a great impact on a student's behavior, particularly if they help a child with a behavior intervention plan (BIP). This plan is put in place for students who need positive enforcement to maximize their ability to learn and reduce disruptive or inappropriate behavior.1
Depending on the child's needs, paras may provide coping strategies for difficult behavior. For example, they can guide calming breathing techniques for a student who has trouble regulating emotions and disrupts the classroom with angry outbursts. They may encourage positive behavior like note-taking during a lesson or redirect a child who is engaging in off-task behavior like looking at their phone instead of paying attention.2
Paraprofessionals may also document student behavior to aid with BIP assessments. By getting to know a child's individual behavioral needs, paras can even offer teachers insight as to how to best interact with their students.
Language
An instructional assistant may act as a translator in the classroom. They may be bilingual and able to speak with English language learner students in their native language to assist with reading, math, science, or any other assignments. Help may look like speaking quiz questions aloud in a child's native language or ensuring a homework assignment is correctly written down.
Paraprofessionals may be asked to interpret for parents of students during functions like open houses, as well. They could even help with parent-teacher phone conversations.
Physical Assistance
For children with physical challenges, the paraprofessional can assist with feeding and using the bathroom. They might help transport a child in a wheelchair or a student who is prone to wandering to get around the school. Paraprofessionals can keep an eye on students who experience seizures, too.
Paraprofessional Training and Specialities
In 2015, the federal legislation governing elementary and secondary public schools was changed from the No Child Left Behind Act (NCLB) to the Every Student Succeeds Act (ESSA).3 Qualifications for paraprofessionals defined in NCLB remain the same in the ESSA.
Paraprofessionals must:
Possess a high school diploma or equivalent
Have at least two years of college studies, have an associate's degree, or have passed an assessment with standards set by the state in which they plan to work
Ideally, paraprofessionals should both be good at working with children and also enjoy working with them. Paraeducators need to maintain a positive and encouraging attitude.
Although not required, there are certificate programs available that teach paraprofessionals about crisis intervention along with programs that can further their knowledge of special education needs. Such programs may be found online or through resources provided by the paraeducator's school district.
Working With Your Child's Paraprofessional
Paraprofessionals must be able to work with parents to learn about their child's abilities and interests, as well as the best ways to assist them. If you are considering the use of a one-on-one paraprofessional for your child, your child will be evaluated by the school or a private agency of your choosing. This evaluation is used to help determine whether there is a need for a paraprofessional during the development of your child's IEP.4
If an IEP is already in place and being reassessed, you may choose to have your child's current paraprofessional attend IEP meetings.
Parent-para communication is determined by the individual school district. Some schools encourage direct communication, whereas others prefer a child's teacher relays any input from the paraprofessional to parents.
Potential Challenges
When the paraprofessional-student dynamic is not working to its full potential, there are a few reasons why this could be the case.
Some scenarios to consider are:
The paraeducator is being pressed into service to do school administrative jobs outside of their role, taking away valuable classroom time.
The paraprofessional is being asked by their teacher or school staff to do tasks they are not allowed to do. For example, paraprofessionals should not be left alone in a classroom without a teacher or work lunch duty.5
The student may feel singled out or ostracized because they have the attention of a teacher's aide, unlike their peers, which can lead to poor social interaction.
The student may not get as much one-on-one time with the teacher as they would have without an ed tech.2
The teaching assistant is not empowering the student to obtain answers or demonstrating how to learn on their own. Instead, they are doing all of the work for the student. In other words, the student may be heavily relying on the parapro without gaining the skills they need to be more independent, which is the ultimate goal for the child.
Frequently Asked Questions
What is a special education paraprofessional?
A special education paraprofessional is a person who works in a classroom setting, under the supervision of a teacher, to provide extra instructional, linguistic, or behavioral support. They may teach students with special needs one-on-one or in a group.
What is a crisis paraprofessional?
A crisis paraprofessional is someone who has had additional training to be helpful in crisis situations, such as when a student poses a risk to themselves or others in the classroom. This could involve unwanted behavior like hitting and require de-escalation techniques in which the crisis paraprofessional has been trained.
What is the difference between a paraprofessional and a teacher?
The primary difference between a paraprofessional and a teacher is that while both work in the classroom, paraprofessionals do not lead lessons for the class and they are required to be supervised by a teacher.
A Word From Verywell
Having a certified, enthusiastic paraprofessional can make an enormous difference in the efficiency of your child's classroom and the implementation of your child's IEP. They can be a vital part of a student's educational team, possibly even providing one-on-one assistance.
Knowing what a paraeducator does and doesn't do should put your mind at ease if you need to request one for your child. Ultimately, a para should be able to help your child learn and be more independent as time goes by. Your child's IEP may even include steps to take in order to fade out the support of an aide as their independence grows.