By Swarnima Bhattacharya:
Showbiz is unable to make up its mind about gender, or more accurately, "women's empowerment"— as it has come to be known in 'femvertising' circles.
From time to time, feminists draw some hope and comfort from ads such as Jabong's, celebrating gender-fluidity or Myntra's, depicting a non-heteronormative romantic relationship. We cheer these small joys for days, and write about it exploring various angles. But before long, we are confronted once again with the brazen sexism and lack of reflection that ails the advertising industry.
I came across the utterly distasteful Jack & Jones ad featuring Ranveer Singh, boldly looking down from one of the several billboards across the country. I squirmed at the testosterone-dripping, rather predatory visual message of the ad. Decades of Rupa banyan ads have given us a good-feel of male machismo, enough for a lifetime. How long must we milk that cow? It did not help, that I saw the Jack & Jones on the very day Times of India sat down to celebrate International Men's Day— an occasion, as they admit, of reprieve from the toils of navigating the terrors of Feminazism.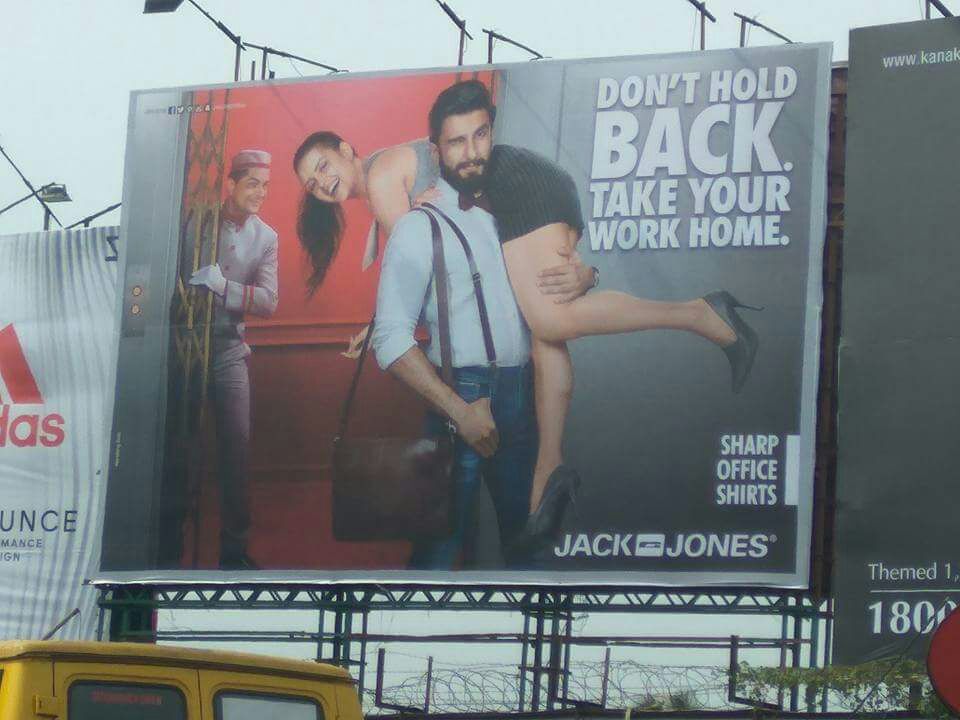 The advertisement bravely exhorts its primarily cis-hetero male clientele— "Don't hold back. Take your work home." Ranveer, in keeping with this carefully cultivated "stud" persona, looks dapper in rugged jeans, a slick shirt and smart suspenders. And of course he has a female co-worker slung rather effortlessly on his broad, brawny shoulders. The woman's sartorial identity is nothing more than a very short skirt. Obviously. Oh, and Ranveer is winking at us. There's also a gleeful lift boy peeping in for good measure. Because why leave the bros out of the fun?
Objectification of the woman, normalisation of sexual harassment at the workplace, and yet another self-congratulatory, nonchalant display of misogyny— we women can't catch a break. My temper was high, cuss words were at the tip of my tongue and a supportive community of feminists was close at hand. And of course there was Twitter. After a spirited discussion with fellow feminists, we did what we do best— call out sexism publicly and uninhibitedly. We tweeted a photo of the billboard, spotted in Mumbai, condemning Jack & Jones for propagating a sexist message.
Several complaints were made to the Advertising Standards Council of India (ASCI), reporting the objectionable ad and requesting them to take note. Several retweets and a weekend later, Jack & Jones decide to comment.
True to the nature of several such "apologies," the response maintained that they "didn't intend to offend anyone". And that is where danger always lurks— in the garb of a good joke, aka "locker room talk". While several people called them out on their lame duck apology, we decided not to withdraw the complaint, which is still under consideration.
An acknowledgement from the company, no matter how inadequate, was welcome. It will only encourage us to protest loudly against other such sexisms — by writing, ranting, collaborating and just a dash of sad humour.
On November 25, Ranveer Singh in an interview with Times Now has apologised for the ad. He said: "We got it wrong on one of the billboards and I'm sorry this happened. We've rectified it by having that hoarding taken down ASAP everywhere from over 30 cities overnight. I treat all women with utmost respect, professionally and personally."