As the internet erupted over young Dangal actor Zaira Wasim's very public "confession and apology", the illusion of fiction around the actor wore off.
She hardly resembled the gutsy character of Geeta Phogat she played in the film. Zaira was just a vulnerable teenager confronting the ugly forces of fundamentalism and rank sexism - often not mutually exclusive.
The complicated relationship between the Kashmiri people and the state, and its impact on the youth, was on ample display as young Zaira faced a strong backlash for having met Jammu and Kashmir chief minister Mehbooba Mufti - who was dubbed a "mass murderer" by a Twittizen.
But it was also clear that a professional woman could never free herself of the burden of communal honour - something she deftly managed as a sportsperson in her film.
Playing the character of the young Geeta Phogat, Zaira garnered applause every time she took on an opponent, especially a boy. She shed gendered stereotypes, and not just with the physical act of cutting her hair.
She also rose above the culinary tradition and beliefs of her family by eating chicken, purely to do better at her sport. But in real life, sexist judgments and the dismissal of talent were all too present.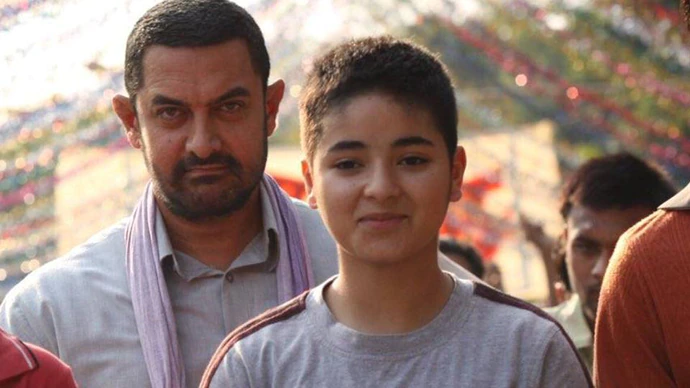 She said she is no role model, and is not even proud of what she has done - divesting herself of due credit for her accomplishment in order to satisfy a paternalistic fundamentalist frenzy.
This is unfortunately something that we see played out in Dangal as well, where Geeta seemed to be almost punished with a string of international defeats as soon as she left home and applied a dash of nail paint.
Despite the film's many high points, this part did not sit well with many young women who aspire for autonomy.
One Twitter post to Zaira declared sanctimoniously: "Presently she is good but in future she'll turn either into a model or a porn".
Therefore, the gendered underpinning of the way we view and represent professional women is not lost on anyone. Like cricketer Mohammad Kaif asked recently, would the same things be said to the likes of Salman Khan and Shah Rukh Khan? Male allies are few, but always welcome.
Dangal, though guilty of a faint but ever-present paternalism, was a marvellous display of a young girl wrestling not just in the rink but also against various traditional systems of oppression.
She is taught by her father to be more than just a medal tally, to rise above the nationalistic framework and win gold for herself.
Unfortunately, Zaira seems to be battling the weight of conflicted expectations she battled against on screen.
The stark contrast between Zaira Wasim's onscreen persona and her lived reality not only reflects the complicated conflicts of Kashmiri youth, but also drives home the message of her movie more poignantly.
It also shows us just how far we are from achieving in life the ideals we loudly cheer for in movies.