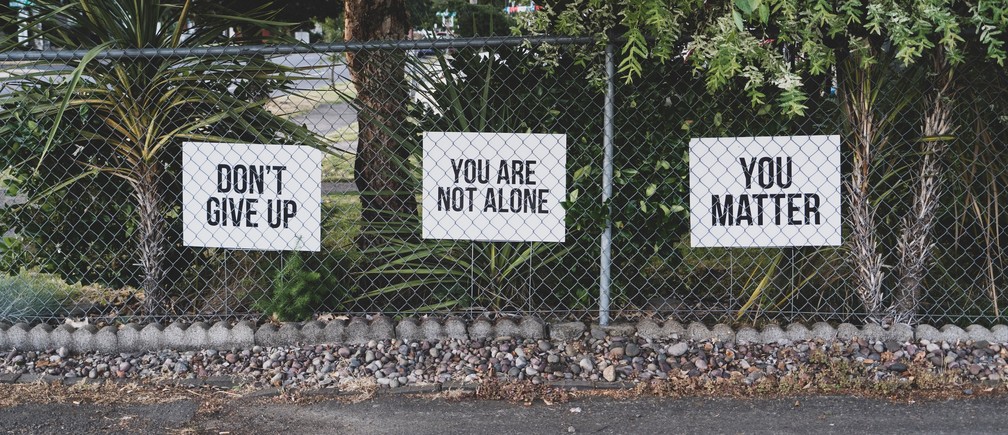 COVID-19 has exacerbated an already grim mental health picture around the world.
As such, governments must build mental health into their policy responses to the pandemic.
Here are the areas on which they should focus.
It is estimated that globally over 450 million people suffer from mental ill health. Mental, neurological and substance use disorders make up 10% of the global burden of disease - and an estimated one-third of all people with a mental health disorder have never sought treatment.
These statistics, however, are from the pre-COVID era.
Ciano Aydin, a Dutch philosopher, describes trauma as something that "violates" the familiar and expected, and plummets people into "a state of extreme confusion and uncertainty." The COVID-19 outbreak has done just that for an extended period of time, exacerbating the already grim mental health situation around the world.
The pandemic has been characterized by confusion, fear of infection, death, economic losses, truncated plans for study and growth, loneliness, worry for loved ones, pervasive uncertainty - and the resilience of the human spirit. It is this resilience, and support for mental health and wellbeing, that must now be encoded in our systems and policies. Doing so will determine our long-term wellbeing.
The consequences of the pandemic will leave a mark long after national lockdowns have been relaxed. The evidence is already coming in; According to data from Google, searches for the term "stress" have increased significantly in India since the country imposed a nationwide lockdown. One recent survey found that 61% of Indians have reported an increased toll on their mental health due to the lockdown and COVID-19 uncertainty.
This global health crisis will soon be followed by a mental health crisis. Governments must take this opportunity to respond by encoding mental health in their policy frameworks in two ways: by improving their approach towards mental health services, and improving public attitudes towards mental health.
Improving attitudes
It is important to identify the multiple stressors generated by the pandemic and to prepare workplaces, schools, governments and civil society to deal with this crisis.
1. Dispelling stigma: Depression affects around 264 million people worldwide and suicide is the second leading cause of death in young people aged 15 to 29. Compassion and empathy must be woven into all services that interact with them, such as the police and district-level authorities. Messages of resilience and preparedness by heads of state must be tempered with acknowledgement of the prevailing grief and confusion. State messaging must focus on approaches with proven results on improving mental health outcomes, such as community activities.
2. Government and policy: The first and one of the simplest ways to combat a nationwide crisis is to expand the services currently being offered by governments. Inclusive and empathetic mental health systems must be put in place and inserted into public health policy. Most governments have launched helplines and awareness campaigns; however, they will need to expand in scope and size as more people reach out for help. Telemedicine technology should be part of this response. Governments must also allocate a rehabilitation budget for front-line health workers and people providing essential services, battling stigma and infection risk over several months.
3. Resources: According to the UN, countries earmark less than 1% of their healthcare budget for mental health. By changing this equation, governments have it in their power to encourage more conversation and improve health-seeking behaviours.
4. Specialized solutions: Half of Chinese healthcare workers have reported suffering from depression; in Canada, the figure is 47%. Basic measures can be put in place to improve access to mental health services, such training primary and frontline healthcare workers in mental health first aid. Students across the world have also been affected - in Italy and Spain, parents have reported that 77% of children are having trouble concentrating. The Indian government's Manodarpan initiative offers psycho-social support to students, teachers and families for their mental health and emotional well-being.
How to boost mental health services:
1. TeleHealth: Tapping into the potential of telehealth, will be extremely important for frontline healthcare workers, who will need continued psychosocial support. It is important to recognize that the national gestures of gratitude act as positive reinforcement, but more long-lasting measures need to be put in place for counselling, expression of grief, and unpacking the strain of the past months. Telehealth can assist the elderly who are currently alone.
2. Focus on under-resourced communities: Daily wage workers and other people in under-resourced communities often live in cramped, unsanitary spaces with dwindling and halted employment opportunities. This has been accompanied by increased levels of domestic violence; it has been predicted that 31 million additional cases of domestic violence will be reported globally if the lockdowns continue for another six months. Millions of disenfranchised people in countries like India are dealing with grief and chaos without access to services such as teletherapy. Using community radio, television, mass SMS and WhatsApp will help reach those who cannot access therapy online, and cannot meet counsellors in community spaces. Government messaging on mental health and wellbeing and community outreach in major news dailies, especially those circulating in regional languages, will also multiply the numbers reached.
3. Workplace interventions: In one recent survey, 54% of people who have suffered a job loss or an income loss reported a negative impact on their mental health. Systems must now be reoriented to new financial realities and attempts must be made to address anxieties about pay cuts and job losses. This pandemic is an opportunity to formalise the prioritization of mental health at workplaces, too. Recognizing that an employee's mental health is essential and undertaking concomitant measures can form a part of the workplace's mental health policy. Organizations which develop these essentials early on will be identified as more employee-centric than others.
The pandemic has changed how we respond to situations and highlighted the need for innovation in the delivery of mental health services. The time has now come for governments to prepare for the lingering effects of the outbreak, extensive lockdowns, disruption, disease and isolation.