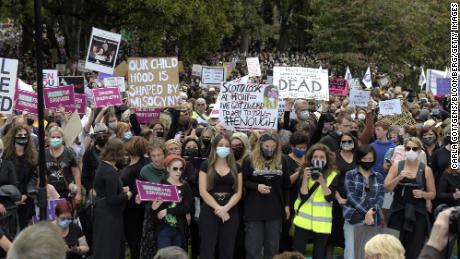 Susan Harris Rimmer is the Director of the Griffith University Policy Innovation Hub and a human rights lawyer in Brisbane, Australia. She is a co-convenor of the Griffith Gender Equality Research Network, a Fulbright Scholar and a Top Innovator with the World Economic Forum Uplink Climate Justice Challenge. The views expressed in this commentary are her own. Read more opinion at CNN.
(CNN)When I travel abroad, the only reference point most people have for Australian politics is the now-legendary misogyny speech by the first and only female Prime Minister Julia Gillard in 2012.
In her blistering 15-minute takedown of then-opposition leader Tony Abbott, Gillard raised her outstretched hand towards the grinning Abbott and said, "I will not be lectured about sexism and misogyny by this man. I will not ... Not now, not ever."
The 10th anniversary of this speech will be commemorated in October this year and has turned up in popular culture everywhere from contemporary dance to tea towels and TikTok routines.
But has anything improved for Australian women in that decade, or even since the last election in 2019?
Australians will go to the polls Saturday in the shadow of sexual harassment scandals that have rocked Parliament, barely any visibility of female leaders from either major party, and seemingly not much concern to woo the female vote.
The two lead candidates -- Prime Minister Scott Morrison of the center-right Liberals and Anthony Albanese of the center-left Labor -- are both Sydney men in their 50s, fairly blokey types, though with markedly different worldviews and class backgrounds.
Both men are vying for the top job at a moment when scrutiny of Australia's macho political environment has never been stronger. But the second Leaders Debate last week, where the two men shouted over each other and ignored the younger female moderator, felt like a step backward to the 1950s.
Australia's Parliament has long struggled with a reputation as a boozy boys club. And last year's revelation of the alleged rape of staffer Brittany Higgins by a colleague inside Parliament House itself in 2019, including an inadequate response from her employers, seemed to bear that out. The man accused of raping Higgins is pleading not guilty to the charge, and will stand trial in June.
The incident inspired mass marches by women across Australia, which Prime Minister Morrison refused to attend, and began a shift in women's voting intentions away from his ruling Liberal-National coalition as captured by polls.
Later that year, a review conducted by Sex Discrimination Commissioner Kate Jenkins found that one in three staff parliamentary staffers had experienced sexual harassment.
The tumult of 2021 was reflected in Australia's sliding global ranking on gender equality. In the World Economic Forum's Global Gender Gap Index, Australia fell from 15th place in 2006, to 50th in 2021.
Unlike other Western nations, Australia has no Equality Act like the one in the UK (and no charter of rights), no Standing Committee on the Status of Women like Canada, no White House Gender Policy Council.
The extremely informal nature of Australian democracy, both in discourse and the types of structures in Parliament, creates a kind of "mate-ocracy." Australia has an elite upper class of powerful men that presents itself as egalitarian in style -- but not in substance.
The mining sector, big banks, Murdoch press, military and parliamentary power brokers together promote a facade of informal inclusion -- that in fact keeps masculine privilege unchallenged.
Indeed, gender politics researcher Sonya Palmieri has identified the narrow reliance in federal politics on two dominant political leadership styles -- the "larrikin" and the "aggressor" -- both reserved for hypermasculine leaders.
This kind of "win at all costs" culture fueled the experiences of female parliamentarians and staffers describing animal noises when they rise to speak, groping, exclusion and bullying in the Jenkins review, along with threats of violence. Speaking about the Women's March, the Prime Minister shocked many by saying it was a "triumph of democracy" that the marchers were not "met with bullets."
Others, like political scientist Anne Tiernan, situate this sexism as part of a broader threat to democracy from incivility and dwindling habits of collaboration, that we also saw in former President Donald Trump's America and now in Prime Minister Boris Johnson's UK.
But this election also brings a new phenomenon in Australian politics -- "teal" independents, so-called after their unique shade of Liberal blue and environmentalist Greens, crowdfunded by Climate 200.
The rise of these professional women running on a gender, climate and integrity platform against more progressive Liberals in inner-city seats, is turning a spotlight on gender equality on the conservative side of politics.
This will be the first election where voters have the chance to judge Morrison's handling of parliamentary scandals, and the first since strict Covid-19 lockdowns underlined the burden on women in the home.
Morrison is the son of a policeman, born in 1968 in Bronte, a wealthy eastern beach suburb of Sydney. He is a dedicated Pentecostal Christian, who regularly cites his wife, Jenny.
He worships at an American-style mega-church that has close ties to the global Pentecostal Hillsong community movement. The very tough former immigration minister and treasurer was a surprise candidate for prime minister in 2018 and won the 2019 "miracle" election.
His primary campaigning style is focused on "tradies" (electricians, plumbers, builders and carpenters), visiting infrastructure projects wearing hi-vis vests and an avuncular manner.
As Prime Minister, Morrison's gender record has faced criticism as he chose to protect colleagues Alan Tudge and Christian Porter from serious allegations, and took a very long time to respond to the Higgins case. Both Tudge and Porter deny the allegations.
Morrison was also accused of bullying former CEO of Australia Post Christina Holgate and Liberal colleague Julia Banks, who wrote a book about her treatment. Morrison rejected the claims.
In policy terms too, federal budgets and tax reforms have favored wealthy men and ignored most women.
Facing Morrison is Labor opposition leader Albanese -- a former deputy prime minister in the Gillard government with a starkly different background.
Albanese was born in Western Sydney to a single mother and grew up on welfare and in public housing before going to university and getting into student politics.
Although best known for infrastructure policy, he has been a longtime supporter of the gay community and progressive gender policies, particularly closing the gender pay gap and support pay rises for workers in low paid industries dominated by women.
When it comes to female representation in the major parties, Labor introduced an affirmative action quota in 1994 and is now close to 50% representation. In contrast, the Liberal-National coalition, which has been in government for nine years, has only 25% women, and these numbers are behind Australia's falling diversity rankings.
Meanwhile, both major parties are still running most of their female candidates in unwinnable seats. Of the female candidates running for the coalition, 20% are contesting seats considered to be safe in the hands of the opposition, compared with the 46% of men who are set to be elected. For the Labor Party, the numbers are slightly better, with 24% of female candidates contesting safe seats, compared with 33% of male candidates.
Looking more closely at their policies, neither has a gender equality platform as detailed as the Greens, who are led by Adam Bandt, a former labor lawyer comfortable with conflict, albeit with a more genteel style.
Minor parties are expected to do well in this election with a record share of the primary vote and an influence on preference flows that could decide several seats in the cities.
So, with everything to play for this week, where is the pitch to Australia's female voters? For too long, the Australian Parliament has been run like private gentleman's clubs of yesteryear with a culture that prioritizes protection for the powerful over professionalism for all.
This election might be the final straw for that culture.