At Pecan, we can't help but have opinions about the best way to bring the power of predictive analytics to your business. But we realize that no one solution is right for every team and its goals.
And, of course, there's no predetermined method for adopting predictive analytics that has shown itself to be universally applicable today. Should you hire a platoon of data scientists who could attack your business challenges with Python? Or should you find a fit-for-purpose software platform that's designed to provide actionable predictions that match your key KPIs?
We know this is a complex decision, and Pecan is here to help.
We've created an in-depth, hands-on guide to lead you and fellow stakeholders through gathering information and making decisions about your predictive analytics strategy. You'll find questions for evaluating the overall "build vs. buy" decision, collecting necessary information and perspectives from various stakeholders, and assessing different platforms and vendors.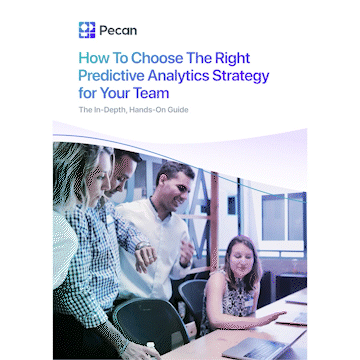 This is no ordinary, skimpy PDF that you'll save to your desktop and forget to read. Instead, this is a substantial-yet-friendly workbook that invites participation from all relevant stakeholders and teams – from data, IT and finance to marketing and sales ops. You can grab the guide in its Google Sheet format — easily shareable with collaborators with just a click, or downloadable in Excel, if that's your jam. Or, if you prefer, download the pretty PDF format and feast your eyes on the useful details within.
Whatever you choose, we're confident that exploring your options with this guide will lead you to the right path for your predictive analytics journey.
Not sure this is right for you? Get a taste below of what's inside the guide. Here's a sampling of topics you should align on with your stakeholders when making this important decision. You may uncover new perspectives, requirements and considerations.
Questions to Ask Stakeholders to Plan Predictive Analytics Adoption
1. Primary Questions of Concern
What are the main business challenges you and other stakeholders hope to address with data? For example, you may have key KPIs that matter most to you and your team, such as customer churn, demand forecasts, customer lifetime value, and more. Formulating these questions is important before pursuing the questions below with the relevant stakeholders. What is your current approach to using data for this business process? How do you envision your future approach to using data — and the positive business impact it will provide?
Who to ask: dependent on organization/position
2. Available Data
Where can you find the data related to your main KPIs of concern? Relevant data may be in more than one place and can be combined in the analytics process. Does it live in cloud or on-prem databases? In CRM and/or finance systems? How easily can you get access to the data? Do you have people in place who will be able to assist with this process? Will it require a lengthy integration process or can the data be connected to fairly seamlessly?Who to ask: IT, data engineering, marketing ops, sales ops
3. Integrating and Acting on Prediction Data
Typically, once predictions are generated in the analytics process, they need to be reintegrated into the business's normal workflows in some way. What will you do with the prediction data? How can you incorporate it into your existing data repositories and key business tools? Do you know what actions you will take on predictions? For example, if you are seeking to reduce customer churn, how will you intervene with a customer who is predicted to be likely to churn? If you are predicting customer lifetime value, what will you do with information about customers predicted to be high value? And in any use case, how will you know if your efforts are succeeding? Identify the metrics that will determine success.Who to ask: IT, data engineering, marketing ops, sales ops
4. Data Security
What regulations (such as GDPR) apply to your company's data? Are there internal data sharing controls or special concerns about personal information (PII) that you or others should consider as part of your analytics work?
Who to ask: IT, data engineering, marketing ops, sales ops
5. Expected ROI
Assuming you got useful results connected to your primary KPIs of concern, what do you expect your predictive analytics project to provide in terms of quantifiable ROI? With a team of data scientists, it can be difficult to know precisely when and what results will be provided, especially if their time and effort is in demand from many parts of the business. This uncertainty can make it hard to calculate the ROI of their work. Automated tools may not be as deeply customizable, but they can often provide results rapidly and even calculate and report the estimated ROI for you.
Who to ask: dependent on organization/position (e.g., finance, sales)
Did that whet your appetite for more guidance through the decision-making process? There's much, much more in our guide "How to Choose the Right Predictive Analytics Strategy for Your Team." We have no doubt you'll find this guide useful.
If you're looking for the right predictive analytics solution for your team, maybe you've found it! Pecan automates the predictive analytics process, without needing data scientists. If you'd like to assess your predictive readiness, request a use-case consultation. We'll help you find the best way to get future-ready.