App developers everywhere felt hamstrung when Apple implemented its App Tracking Transparency (ATT) framework, which requires users to consent to share the Identifier for Advertisers (IDFA).
While early estimates were dire, forecasting that only 6% of users would consent, recent data reveals that 3 in 10 users of gaming apps have consented so far to use IDFA. Still, that leaves 70% of players largely unknown to game developers. And that's the highest opt-in rate of any app vertical. Consent is even less common among users of health and fitness apps (11% of users), fintech apps (11%), and entertainment apps (14%).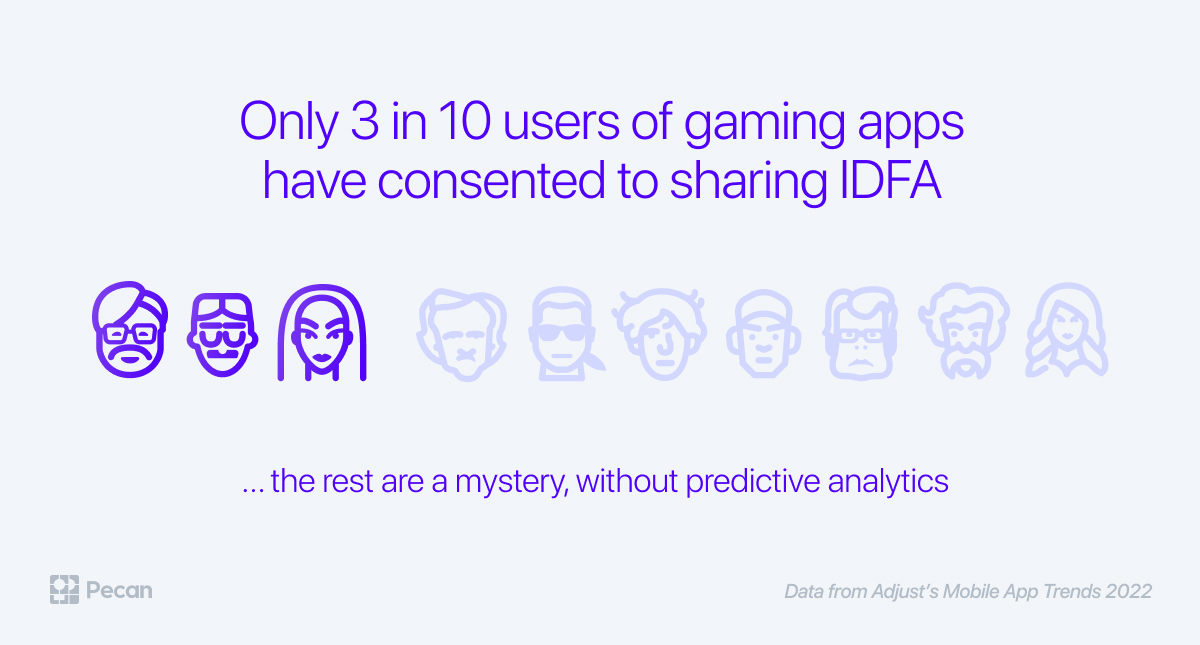 Fortunately, there's a way to work around this mystery and gain certainty about your users. Without IDFA consent, individual-level data is limited, but that limited data still holds fantastic potential when it's used by predictive analytics, revealing likely future user behavior and determining pLTV.
Equipped with that foresight into your users' intentions, you can design more effective approaches to campaign optimization and craft exciting, highly precise in-app experiences.
We've got a great resource that explains how this process works: our "How Predictive Analytics Can Help Ease the Pain of SKAdNetwork Limitations" guide. The guide explores the following:
what data is available with SKAdNetwork;
common misconceptions about using the conversion value effectively;
a thorough explanation of how predictive analytics can reveal the likely future of each of your users, based on their early activities
What are the limitations of the conversion value?
The key limitations to the conversion value feature in SKAdNetwork are: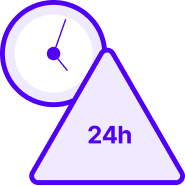 Poor Timing
The biggest downside to the conversion value is that the advertised app receives the conversion value up to 24 hours after a user installs and opens the app. As you know, most of the monetization from in-app purchases occurs after the first 24 hours – and sometimes long after – so this data is not as informative or useful.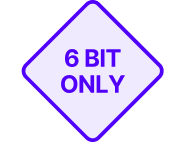 Limited Information
Conversion value data is limited to 6 bits. This limit means there are only 64 possible conversion value options. While developers are free to choose whatever metric they want to measure, their choices are constrained.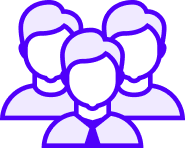 Aggregate Information Only
The information provided by the conversion value is only on the aggregate level. There is no user-level information. It's not possible to track individual actions and glean crucial information about the quality of the user and every conversion that takes place throughout the customer lifecycle. The data provided is only surface level, i.e., how many people downloaded an app as a result of a specific campaign – but there is no detail about individuals.
Still have questions about how predictive analytics could maximize your app's revenue potential? Don't hesitate to reach out to Pecan for support! We're so excited about the opportunities of predictive analytics for app publishers, and we want to help you achieve new heights with foresight.
Pecan is here to help you find the right applications of predictive analytics for your business, without data scientists. Don't hesitate to reach out if you'd like to assess your predictive readiness with a quick, easy use-case consultation. We'll help you find the best way to get future-ready.