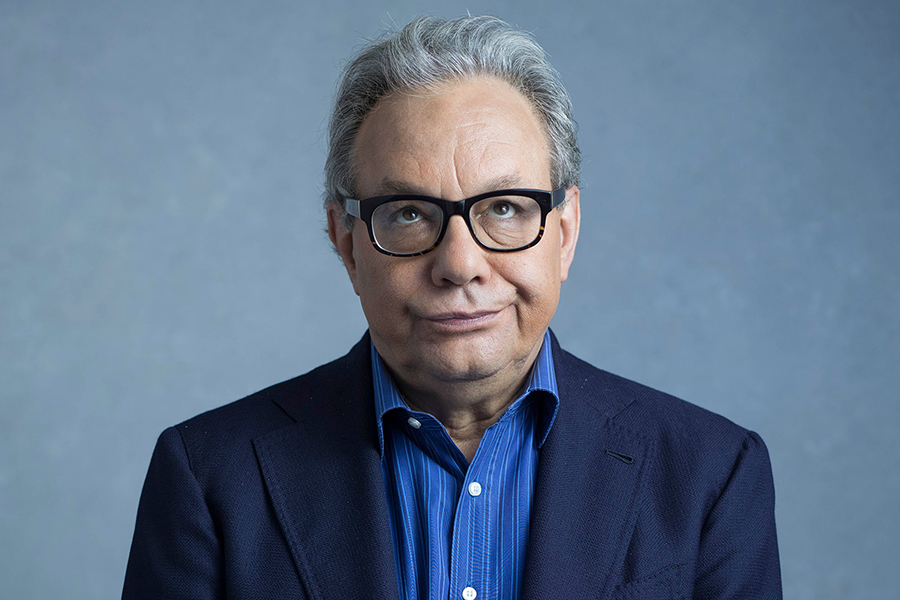 When you say, "How are you?" to most people, you expect to hear a perfunctory (and usually dishonest) reply like, "Fine."
In most instances, you don't really want to hear more than this.
Anybody who says, "How are you?" to comedian Lewis Black has to know that they are goading him a little.
I must admit that I was goading him a little.
"Delightful," he answered. "Every day is a huge delight. I awaken each morning to a big rainbow at the end of which is a whole new pot of gold."
If you know Black's work, you can accurately imagine the tone he used to deliver this.
Black is so closely identified with anger that when Pete Docter was looking for someone to portray an anthropomorphic version of that emotion in the Pixar movie, "Inside Out," he had only one man in mind.
Yet the truth about Black, who will perform at the Embassy Theatre on Sept. 25, is more complicated.
Black started out as a playwright. For 14 years, he was the playwright in residence at the West Bank Cafe Downstairs Theater Bar in Hell's Kitchen.
The West Bank Cafe Downstairs Theater Bar was not an immediate success, although it still exists (under a different, and shorter, name).
If the West Bank had been more lucrative, Black said that he still might primarily be a playwright today.
But stand-up comedy, in which Black had always dabbled, proved to be a more-than-viable backup plan.
There was a steep learning curve involved, however.
"There are a lot of people who say. 'I think I am funny,'" Black said, in a phone interview. "And they mean funny while sitting around a bar somewhere. People said that about me. But the difference between a comic and that person is the three feet that separates the table from the stage. It's really that three feet.
"I kind of walked that three feet," he said, "but I couldn't do what I did at the table."
Black said it took him ten years to feel comfortable on stage.
A fellow comedian named Dan Ballard is responsible for the Lewis Black persona we know and love today.
"He came up to me after my act one night and said, 'I am screaming my act and there is no reason why I should be screaming. You're the one who is actually angry. You should be screaming.'
"He said, 'Get back on stage and scream your act.'" Black recalled. "I did and it changed everything."
It is a testament to the gulf between Lewis Black, the character, and Lewis Black, the person, that the man is still a little shocked and more than a little amused by one of the more bizarre aspects of his fame.
"People come up to me and say, 'Could I have a picture of you giving me the finger?'" Black said. "Or 'Could you call my brother and tell him to go (expletive) himself?'
Black said that when he asks people if they want "(Expletive) you!" added to his autograph, they usually respond, pleasantly, "Of course."
"If I had known that getting two degrees in theater would lead to becoming the "(Expletive) You Guy'…" he said, "It really shows you that a college education teaches you nothing."
In recent years, however, Black has toned down the actual screaming, if not the anger.
"It's because I am tuckered out," he said. "No, part of the reason is that I discovered silence. I got comfortable enough to allow the silence to work for me."
Black's audience trusts him enough by now that the comic feels free to bring half-developed ideas to the stage and develop them live.
He calls it "writing on stage."
Black isn't entirely joking about being tuckered out. He said his pre-pandemic plan was to retire at 75 (He is currently 74). But the psychological and financial toll of the pandemic was such that this retirement plan was retired.
There are people who thrived in pandemic isolation. Black was not one of these.
He did, however, start a podcast called Lewis Black's Rantcast.
Most people start podcasts because they are excited about the medium and feel like they can bring something unique to it.
Black was not excited about the medium and wasn't sure what he was bringing to the medium even as he brought it.
"I did not want to do it, but I was going out of my (expletive) mind," he said.
Black said his thoughts do not immediately emerge from his mouth as entertainment, so podcasting may not be something he was born to do.
"My audience has a high threshold for pain," he said. "It is only now, after almost 100 episodes, that I'm getting closer to kind of being comfortable sitting here in what appears to be a cable access studio, ranting like a lunatic. I might as well be in a cave with a drum."
One relatively recent addition to his comic repertoire is the reading of other people's rants.
It grew out of Q&A sessions, he said. His fans have extraordinary tales to tell and they often understand how to write for his voice better than some "Daily Show" writers.
Black said he is not good at working the social media angle of his business, so reading other people's rants is his way of connecting with fans.
The things that are exciting Black most these days are happening off stage.
UNC-Chapel Hill University Libraries recently asked Black to donate his "papers" to the school. This archive includes plays, scripts and materials from his comedy career.
"You collect all this stuff," Black said, "you keep it in boxes and every so often you think, 'What sort of ego must a person possess to think that any of this (expletive) merits preservation?'"
One practical reason Black had for keeping everything was that he thought it could fuel some post-comedy writing projects.
"So the good news is that I no longer have to pay for storage," he said. "Because I literally had a storage unit. The bad news is that now I have to go down to Chapel Hill to look at my (expletive)."
Black hopes to one day teach at the school, although not full-time.
"I have always wanted a relationship with the university," he said.
And even though Black left playwriting behind several decades ago, the plays haven't gotten the message, apparently.
In truth, Black has an agent for his plays. He says at least two of his plays are as timely as ever.
One of them he describes as "like 'The Philadelphia Story' although not as good as 'The Philadelphia Story.'"
"It kind of takes the attack of, 'This is the wedding day and the ex-boyfriend shows up,'" Black said. "I just saw it in the state of Maryland, about an hour from where I grew up. Community theaters have been doing it, but professional theaters aren't paying attention to it.
"I wish I could do another rewrite of it," he said. "Because I don't think it's as funny as it could be."
Closer to home (our home not his), Black is chairman of the board of the prospective Kurt Vonnegut Museum and Library in Indianapolis.
"They made me chairman of the board," he said. "I told them, 'I'll do it as long as I don't go to jail.' I am not sure what it all means, but I am thrilled to do whatever I can.
"They've done a hell of a job so far," Black said, "They're really gathering momentum."
Reading Vonnegut's "Cat's Cradle" was a life-changing experience for Black when he was 15.
"I'd had this sense of, 'Everybody's acting as if this all makes sense,' Black said, referring to life as he saw it at that age. "He was the first writer who spoke to me in terms of 'There is a greater reality.'"
7:30 pm, September 25, $29 to &60, 125 W. Jefferson Boulevard, 260.424.6287, fwembassytheatre.org/2022/03/21/lewis-black-off-the-rails-tour-comes-to-fort-wayne-coming-to-the-embassy-theatre-september-25-2022
Lewis Black
Cary Elwes
Boxmasters