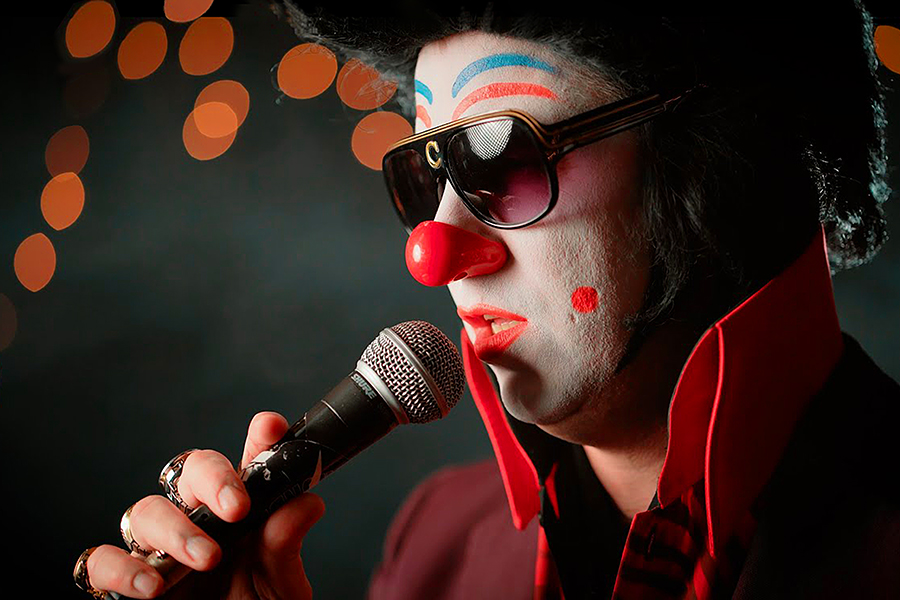 In 2006, Mike Leahy was the front man for the psychobilly band called 7 Shot Screamers.
Doing something with your life like being the frontman for a psychobilly band called the 7 Shot Screamers is never not interesting and adventurous.
What it isn't always is lucrative.
So Leahy started looking for ways to supplement his income. He thought about dressing up as a clown or as Elvis Presley and hiring himself out for events.
"I thought I could perform at nursing homes or store openings," Leahy said in a phone interview with Fort Wayne Magazine. "Things I could do anonymously."
But something unforeseen happened on the way to remunerative anonymity: Fame.
These days, Leahy plays a character named Clownvis Presley. If you have never heard of Clownvis Presley, you might assume that the character is the result of someone combining Elvis impersonation with the clown arts.
But Leahy does not impersonate Elvis and he has never been, by his own admission, a good clown.
"I can't control it at this point," Leahy said. "I can't go back and try to make it make more sense."
Leahy's Clownvis Presley will perform at the Brass Rail at 9 p.m. on June 11.
So if Leahy doesn't try to personify Elvis onstage and if he doesn't juggle, ride a unicycle or make balloon animals, what does he do?
"I really know how to quantify it," Leahy said. "It's just really fun. Everybody is always laughing and having fun. I sing, I always bring some kind of magic trick. I wouldn't call it stand-up, but a lot of the joy, I think, comes from laughing between the songs. But my songs are all absurd. Some of them are real upbeat and some of them are ballads and crooners. I try to span the emotions. I make the show that I want to see. It's a fast-moving, fun show."
The popularity of Clownvis Presley exploded during the pandemic. It also exploded because of the pandemic. Robbed of in-person shows by COVID-19, Leahy decided to start going live on several social media channels every night.
He had no plan and no video skills.
"My technology was super limited," he said. "But I had always loved the idea of going live and I had done it sporadically over the previous ten years. I never really caught any traction with it, but I had a lot of fun."
Leahy said he started "by himself" that first night. He is still by himself. Then again, he isn't.
To date, there have been more than 200 episodes of "Clownvis to the Rescue" and Leahy hasn't been alone for a long time.
The show now has a hefty cast of regular and recurring characters, only one of which (the guy cited in the title) is human.
What "Clownvis to the Rescue" has evolved into is something very much along the lines of one of the greatest children's programs of all time: "Pee Wee's Playhouse."
It is a 90-minute show that streams live on YouTube two nights a week and features aliens, robots, anthropomorphic animals, skits, games, contests, songs, rants, shaggy dog stories, faux feuds, bogus meltdowns, weird obsessions, boozy bonhomie and many running jokes that will be impenetrable to anyone who has only watched a couple of episodes.
"Clownvis to the Rescue" isn't a children's show, but neither was "Pee Wee's Playhouse," really.
At heart, they are both "children of all ages" shows – they call to that part of us that still wants to play in the sandbox, if that part hasn't been thoroughly cauterized by adulthood.
Like "Pee Wee's Playhouse," "Clownvis to the Rescue" is both sweet-natured and deeply strange.
When you watch "Clownvis to the Rescue," you just naturally assume that what you're seeing is something that must have existed in Leahy's imagination for quite some time before the public got a glimpse of it.
But Leahy insists that none of what has transpired on the show was in his brain prior to its debut.
Like some of the best hosts of variety and talk shows, Leahy is gifted at free association, and he uses the show to give his imagination an unfiltered airing.
"Clownvis to the Rescue" is broadcast from a full studio now, but Leahy still says, "I don't know how I learned any of this."
In the YouTube comments section during shows, fans share Clownvis arcana and exchange the texting-equivalent of secret handshakes.
The progression of the thing has been quite a surprise to Leahy.
"I didn't know that a community could kind of organize itself online like it did," he said. "I never saw that. It's just been real organic and it's come together in such a nice way. I love it."
"Clownvis to the Rescue" was meant to end when the pandemic eased off enough for Leahy to resume touring, but it's here to stay, he said.
"As much as I love performing live, this gives me endless amounts of creativity," Leahy said. "I'm able to open up so much more and throw so many more ideas out there. When I'm in a town for one night, I want to stick to what I know is gonna work and what's gonna make everybody laugh and happy. But on the show, things can manifest themselves. I can talk about Crocs or about something that's just kind of funny to me. (These thoughts) can manifest themselves into these little nuggets of joy."
Leahy said he has done two live shows where he brought out the cast of the web show, but he doesn't think he will make a habit of that.
"It's a real undertaking," he said. "Because Brainina is a full-sized robot. It's difficult to take that on the road."
There is also the bewilderment factor to consider, Leahy said.
"I feel like if you haven't seen the internet show and then you see these robots and monkeys and (expletive) on stage, you'll go, 'What is this?' As if I am not confusing enough when I am up there by myself." $9, 9 pm, 1121 Broadway, 260.267.5303, brassrailfw.com