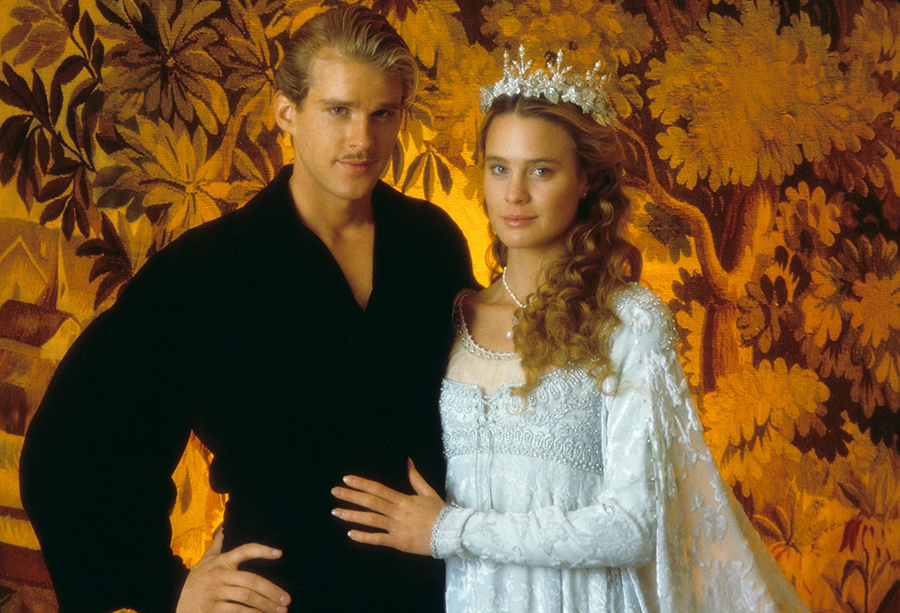 For many years now, actor Cary Elwes has been touring the country with a copy of his film, "The Princess Bride."
After screenings, Elwes sits down on stage for a Q & A.
This will happen in Fort Wayne at the Embassy Theatre on Friday.
It would be natural to assume that Elwes has seen "The Princess Bride" hundreds of times, but this is not the case. He has only seen it all the way through three times.
"I generally try not to watch that or anything I do," he said in a phone interview with Fort Wayne magazine. "It only frustrates me because all I can see are my mistakes."
If you love Elwes and "The Princess Bride," a good thing to do (in addition to attending Friday's event) is to read the actor's memoir about the making of the film, "As You Wish: Inconceivable Tales from the Making of The Princess Bride."
It is free of salaciousness, but has many surprises. I won't spoil them here, but what astonished me was how desperately worried so many of the film's fine actors were that they were doing a terrible job and were about to be fired.
"I was certainly giving off the impression to the filmmakers that I was confident," Elwes said. "But I had many moments of insecurity, especially after I broke my toe."
Let's save that story for Friday.
The warmest and most affecting passages in the book (not to mention, some of the funniest) are devoted to the late Andre the Giant.
Elwes struck up a friendship with Andre that lasted beyond the shooting of the film.
"He was extremely gentle," Elwes said. "At the time, the term 'gentle giant' really did apply to him. "He was very gracious, very polite, very friendly and open. He always had a smile on his face. And so I warmed to him quite naturally and I actually got to know him very well over the course of making the picture."
Considering how confident Elwes' performance in the film seems to us, it is amazing to consider that it was his first major role in an American film.
Elwes has since performed in more than 100 films, but he says that "The Princess Bride" is still his favorite acting experience to date.
Westley in "The Princess Bride" is the role for which he is most widely known. Some actors dislike being closely associated with iconic characters (Alec Guinness, for example), but Elwes is not one of these.
"First of all, I was a huge fan of all the filmmakers involved," he said. "Bill Goldman, our writer. Norman Lear, our producer. Rob Reiner, our director. I knew we were in for something special. When you have that kind of a team on board, it's going to be unique. And when the film finally became embraced by so many people, I was obviously delighted. Because you're lucky as an actor to have to have your work resonate with anyone. And this seems to have resonated off the charts."
As beloved as the film is today, it is easy to forget that it was not a hit when it was first released. Many critics loved it, but the studio did not know how to market it, Elwes said. Potential moviegoers were as confused by the studio's marketing efforts as the studio was and stayed away.
The film subsequently became a hit in the secondary market known as home video. "The Princess Bride" owes its success to VHS, the streaming service of the late '80s.
William Goldman said many times before his death that he was working on a sequel to "The Princess Bride" called "Buttercup's Baby."
Anniversary editions of "The Princess Bride" novel feature a "sample chapter" from the sequel.
But many pundits have wondered whether Goldman was playing an elaborate prank on us, that he had never worked seriously on a sequel.
Elwes insists that the sequel was real.
"There was a lot of pressure on Bill even before the film was made to write a sequel to the book," he said. "He talked about it at the anniversary, when we held a screening at Lincoln Center. He mentioned that he had tried really hard to write it. And Bill turned himself into a pretzel if he couldn't figure out a plot of a character.
"He said, 'I just couldn't lick it,'" Elwes said. "When he couldn't figure out how to make 'Buttercup's Baby' work, he just packed it up and put it away."
Film studios are famous for exploiting their intellectual property in any and all ways it may be profitably exploited, so it was inevitable that rumors of a "Princess Bride" reboot would surface eventually.
This happened last fall. Elwes' Twitter reply was the best of the many protestations.
"There's a shortage of perfect movies in this world," he wrote. "It would be a pity to damage this one."
"That got a good response," Elwes said of the tweet. "The only reason to remake a film is that they had a good idea but there was something flawed in the execution."
I told Elwes I thought "The Princess Bride" would still be avidly watched 100 years from now, just as "The Wizard of Oz" is still avidly watched 80 years after its release.
"Well, from your lips, Steve," Elwes replied, referencing the idiom, "From your lips to God's ears."
I don't know much about God, but it's a fair bet that He or She is a "Princess Bride" fan.
"The Princess Bride: An Inconceivable Evening with Cary Elwes" – 7:30 pm Friday, $15 to $150, 125 W. Jefferson Boulevard, 260.424.6287, fwembassytheatre.org/events/the-princess-bride-an-inconceivable-evening-with-cary-elwes