It's no catastrophe, but Tom Hooper's adaptation isn't quite up to scratch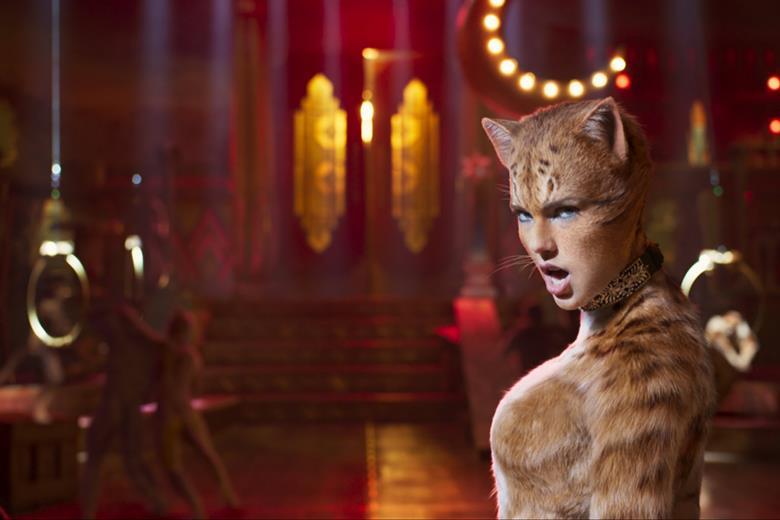 Dir: Tom Hooper. US. 2019. 110 mins.
Well, look what the holidays dragged in….Cats wants to be a big, bold, fantasy musical for the whole family, with splashy spectacle for the kids and familiar stars for their parents; think The Greatest Showman, but with whiskers. Universal even seems to be pursuing the same marketing strategy, opening the picture in the US, Canada and the UK on December 20 without a big awards push (the film didn't even screen for top end-of-year critics groups), focusing instead on its pure commercial appeal. Yet, as its release expands over the next few weeks, it's unlikely to leave fans purring with satisfaction.
Idris Elba glowers handsomely as the perfidious Macavity, but his villain remains a simple creature of mere unmotivated malice.
Badly cast, broadly directed, and hampered by a book that hasn't aged well since the musical's 1981 West End debut, it's hard to imagine just who this film's target audience is. The millions of adults who embraced it on stage for its wild theatricality aren't going to be impressed by CGI fur (and computer-assisted choreography). And teens going solely for guest star Taylor Swift should be warned: it's a very long wait for her big number.
Director Tom Hooper's mis-steps begin with his actors. As Victoria, our feline ingénue, newcomer Francesca Hayward of the Royal Ballet is lithe and lovely but her performer's bag of tricks consists of a few very nice extensions and one expression – expectant. (Perhaps like the rest of us she's merely waiting, hopefully, for things to pick up.) Her leading man – Laurie Davidson, as Mr. Mistoffelees – fails to exhibit any real connection with her, or charisma of his own, as do many others in the supporting cast.
Other, more famous performers are merely wasted. Idris Elba glowers handsomely as the perfidious Macavity, but his villain remains a simple creature of mere unmotivated malice. As the woeful Grizabella – another vaguely inexplicable character – Jennifer Hudson gets to belt the lugubrious 'Memory' but little else. Only Ian McKellen shines as Gus, a draggle-tailed old habitué of the theatre.
But then there's little even these veterans can do with the material, a plotless pastiche of musical styles – a little R&B here, some Puccini-esque warbling there – that never rises above the level of revue. First, the cats introduce themselves in song, one by one, to Victoria. Then they take turns performing for Judi Dench's Old Deuteronomy, a mysteriously Godlike figure who promises to send one of them to heaven. Why she looks like the Cowardly Lion is anyone's guess, but The Wizard of Oz is only one of Hooper's peculiar borrowings. (A magical hot-air balloon will show up later, too.) Also vaguely unsettling is his lazy stereotyping of his actors, in which fat people are foolish but funny, old people are adorable and wise, and black people are either scary or sad.
There are some bright spots, beyond Elba, Hudson and McKellen. The production design, by Eve Stewart, is really quite wonderful, a fanciful recreation of pre-war London with plenty of jokes hidden among the signage, like posters for The Cat and the Canary. The music is occasionally charming, and there's genuine affection in the way Dench looks at her old theatre pal McKellen, as he wistfully recalls a life on the boards.
But Hayward remains a blank, and Hooper's idea of humor is childish at best (not one, but two portly men take blows to the crotch). And even with trims, the musical's pacing is still dreadful, with every character taking their inevitable turn in the spotlight and then – just when you thought things had wrapped up – Dench returning for her own pointless song. It's almost hard to remember now. Was this hit always this odd? This endless? Years ago, after the show had settled into its Broadway run, it began blanketing local television with advertising. "Now and forever," the narrator intoned. At the time, with the musical breaking box-office records, it sounded like a promise. Watching the movie now, it seems like a threat. This Cats may not really have nine lives. But it feels like it.
Production companies: Working Title Films, Amblin Entertainment, Perfect World Pictures, Monumental Pictures, The Really Useful Group
Worldwide distribution: Universal Pictures
Producers: Tim Bevan, Eric Fellner, Debra Hayward, Tom Hooper,
Screenplay: Lee Hall, Tom Hooper, based on the Andrew Lloyd Webber musical, inspired by "Old Possum's Book of Practical Cats" by T.S. Eliot
Production design: Eve Stewart
Editing: Melanie Oliver
Cinematography: Christopher Ross
Music: Andrew Lloyd Webber
Main cast: Idris Elba, Jennifer Hudson, Taylor Swift, Judi Dench, James Corden