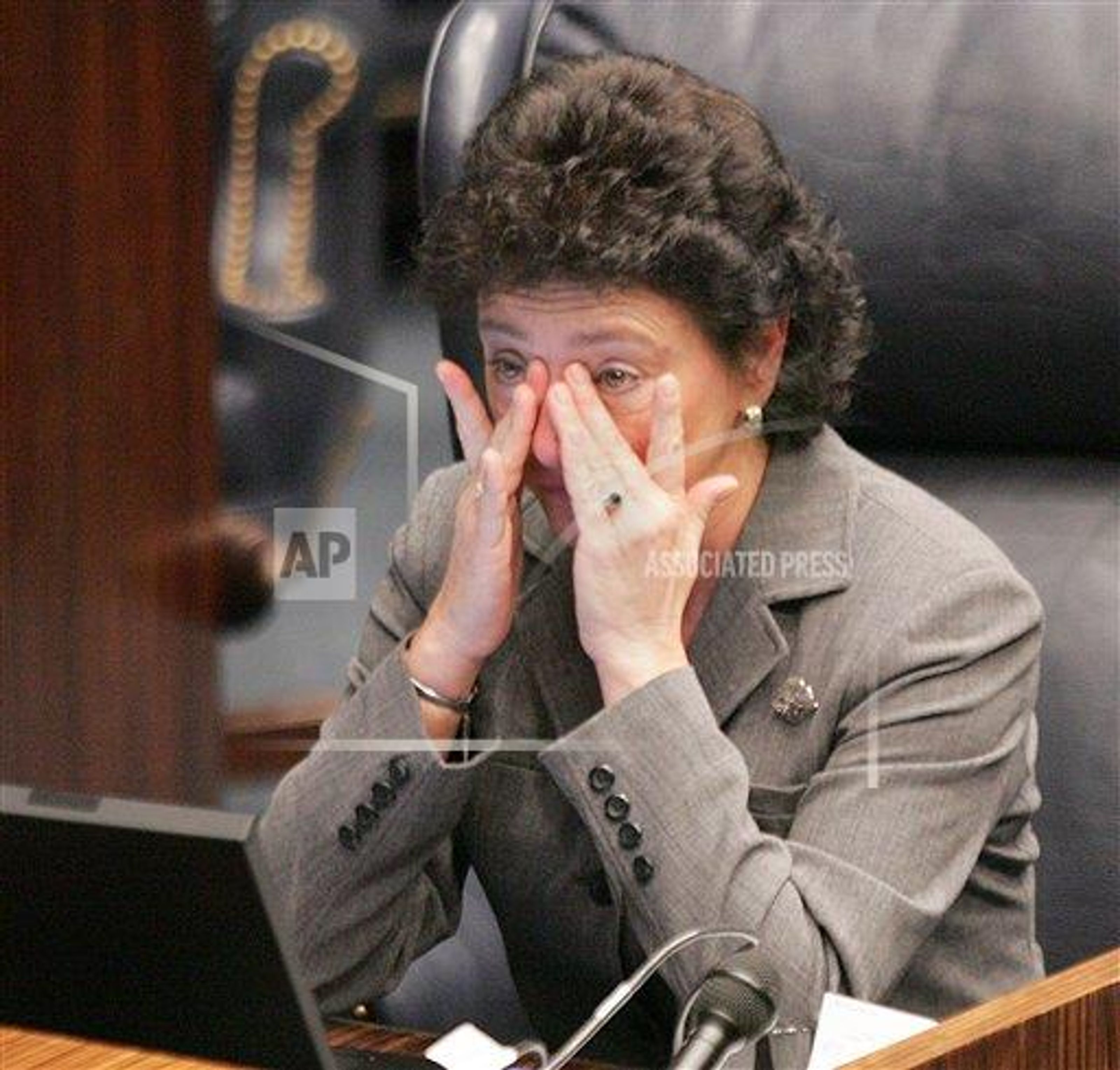 TALLAHASSEE, Fla. (AP) _ She's known for her sharp wit and no-nonsense tone, but when Sen. Nancy Argenziano took the floor after a week of closed-door negotiations and tense debate over legislation meant to keep Terri Schiavo alive, she wept.
"I believe keeping someone from getting to heaven is the wrong thing to do," she said Friday, handkerchief in hand, as she explained why she couldn't vote to prolong the brain-damaged woman's life.
It was the peak of an emotional week for lawmakers, as each chamber debated the delicate legislation and senior statesmen worked late into the night in a failed attempt to build consensus behind measures that could have prevented the removal of Schiavo's feeding tube.
Without legislative intervention, the feeding tube was removed Friday against the wishes of Schiavo's parents. Her husband said she wouldn't want to be kept alive artificially and her right-to-die battle has captured worldwide attention.
Some legislators accused the state of starving the disabled to death. Others painfully remembered their own decision to withhold food and water from loved ones who were already fading away, and said the government had no place intruding on such a private moment.
"This is a family matter," said Rep. Anne Gannon, who said she denied extreme measures for her husband before he died of a brain tumor just four months ago. "This is between a husband and a wife."
Nine Senate Republicans effectively blocked any intervention from the state Legislature when they joined with Democrats to defeat a version of the bill Thursday night and vowed to block any other legislation that would intervene in the brain-damaged woman's death.
Sen. Daniel Webster, a usually mild-mannered Republican from Winter Garden, pleaded for a last-minute reversal Friday, waving a new $100 bill at his colleagues then dropping it on the Senate floor.
"Put it on the floor, smash on it a little bit, now it's all dirty and soiled and it's wadded up. You know what? It's still worth $100," he said. "Some of our lives are like crisp $100 bills. Some lives are a little crumpled up. Some lives are soiled and it may not be the life that we'd like to have. But there's life."
Webster, who sponsored the Senate bill, said he still held hope that his colleagues would intervene before Schiavo dies.
The heightened emotion was a far cry from the Legislature's usual dry work, said Argenziano, who said she'd received threatening calls and said the issue was "tearing colleagues apart."
There was "heavy rhetoric about killing people," said Gannon, still recovering from her husband's death. She told legislators the House measure meant to keep Schiavo alive would have forced her husband to undergo surgery to insert a feeding tube against his will.
"At some point you have to consider quality of life," said Gannon, D-Delray Beach. "Everybody sitting in that chamber has never ever gone through that experience."
But any argument that Terri Schiavo would be better off if permitted to die was an affront to another lawmaker, whose adopted son is blind and brain-damaged from being shaken as an infant.
"His life in most cultures would not have been valued. No one would have reached out to him," said Rep. Dennis Baxley, an Ocala Republican and the House bill's sponsor. "We must give someone the opportunity to contribute to life in whatever way they can."
He said he felt a personal connection to Terri Schiavo's parents and their heartbreaking struggle.
"I see the enduring love of a mother and father," he said. "It's just mom and dad saying we will never ever ever let you go."