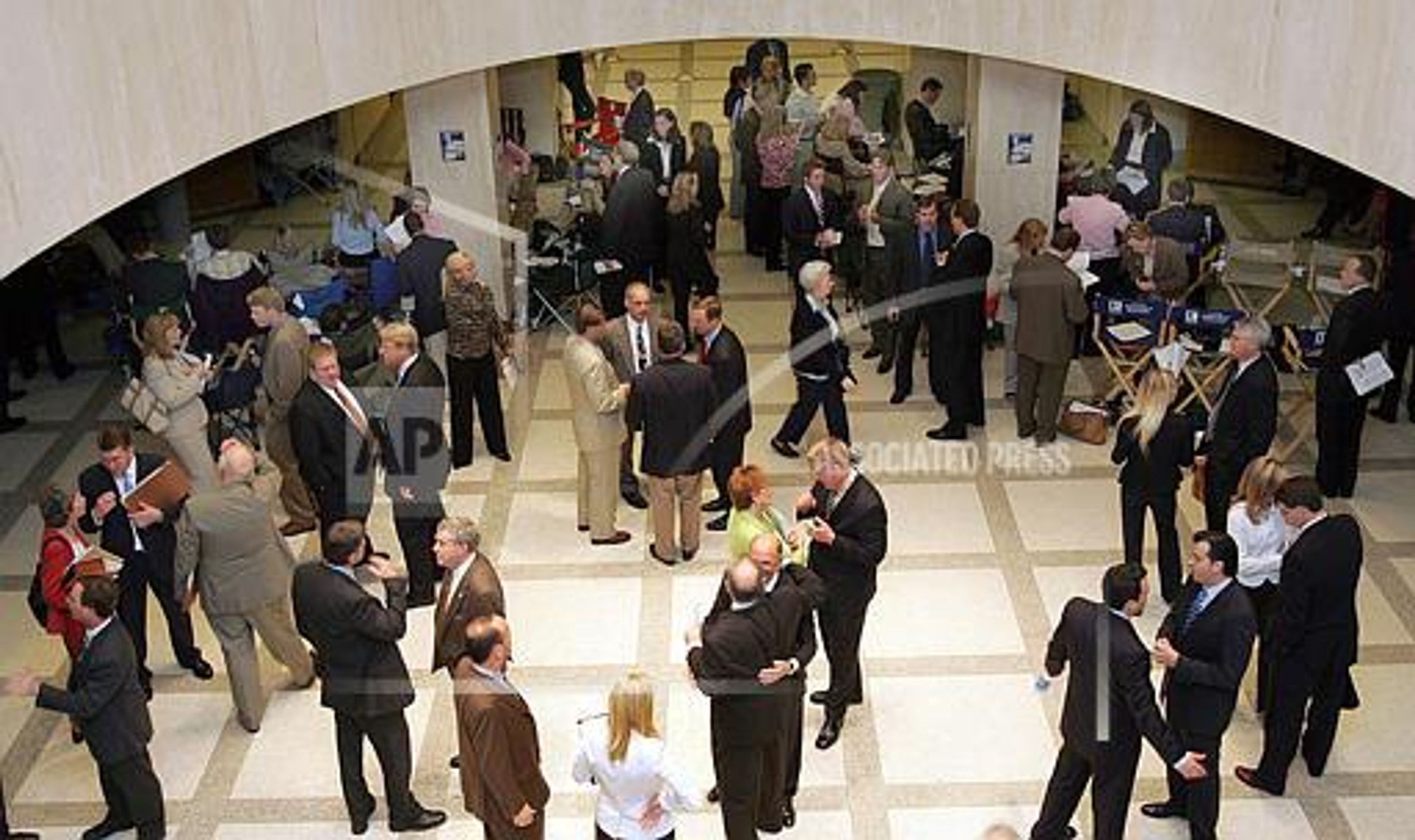 TALLAHASSEE, Fla. (AP) _ State lawmakers who sit for hours voting for bill after bill in the final days of the legislative session have become players of sorts in their own particular game _ with their own spectators.
Lobbyists have converged on the rotunda between the House and Senate chambers _ setting up nylon folding chairs in rows on the white glossy tiles and filling the cavernous space with chatter, gossip and political analysis so loud it hurts.
"When you go home ... your ears will ring," said Tammy Perdue, who slipped out of black heels to stand in stocking feet after following developments from the atrium for some 10 hours.
For Perdue, who represents businesses that want to limit lawsuits, the mix of tailgate party and boardroom meeting provides a thrill.
"On Friday night when it's over, you feel like you've been on a cruise and a roller coaster," she said.
In a year when Senate President Tom Lee has focused on limiting the lobbyists' power, proposing legislation that would make them report how much money they spend on individual legislators, the crowd outside his chamber's doors has an additional stake in the proceedings.
"That's where the real power in the Capitol lies," said Ben Wilcox, executive director of the open government group Common Cause Florida, of the lobbying corps in the rotunda. "The public's interests are not weighed as heavily as the special interests at this point in the process."
Still, Wilcox himself is a lobbyist. The paid advocates, who represent groups ranging from pharmaceutical companies to environmentalists, play a significant role _ often writing the bills that make their way to the floor.
As bills are amended and votes are tallied, the men and women following it all on giant monitors in the rotunda send e-mails and make phone calls, urging lawmakers to change measures or simply support their cause.
Gov. Jeb Bush made an appearance in the packed rotunda Thursday, stopping to shake hands with lobbyists representing the Florida Marlins baseball team and nursing homes, among others.
Wilcox believes the lobbyists pushing the bills often understand them better than the lawmakers sponsoring them. And Perdue says their law degrees and training make lobbyists ideal choices for drafting state laws.
"We're lawyers. We've studied the law," she said. "We have a perspective that an elected legislator that's not an attorney might not have."
The whole process is more transparent now than in decades past, said Ed Jaffry, who's been holding vigil outside the chambers in the session's final week almost every year since 1961.
Jaffry, 75, who now represents nurses and pharmacists, remembers when lobbyists had to scramble to get ahold of one of just two or three public copies of proposed laws.
He recalled having to rely on personal contacts to find out the location of meetings between lawmakers, since there was no posted schedule.
Even though the legislative process has grown more transparent, Jaffry said he still supports Lee's efforts at regulation.
"I don't know if they have a right to know what I'm doing, but the people have a right to know what their elected officials are doing," he said.
Without expensive gifts and freebie dinners, he said, good lobbyists can still convince lawmakers to help their clients.
"There's always a way," he said.