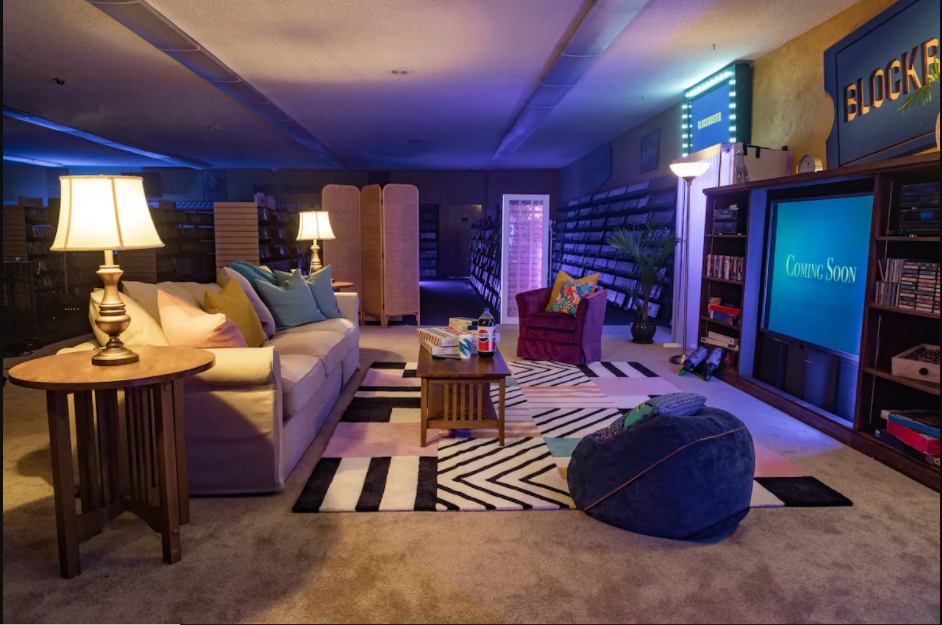 For three nights this September, the world's last Blockbuster video is renting their store through Airbnb. The store is located in Bend, Oregon and the sleepover is limited to local households.
"Although Bend is best known for its pristine forests and majestic mountain views, the Blockbuster store is another source of pride in town. The crisp (and yes, rainy) Pacific Northwest weather is the perfect setting to curl up with a classic movie and relive '90s memories," according to the Airbnb listing.
Four guests may enjoy a 90s themed living room, access to films on VHS using the store's retro VHS player, and snacks such as popcorn. The cost is just $4 per night which store manager Sandi Harding notes costs just "a penny more than what you would spend for a new release."
With respect to social distancing guidelines, the sleepover is available to Deschutes County quarantine pods consisting of four individuals. Bookings open August 17, and the space is available for three individual, one-night reservations on September 18, 19 and 20.
Harding says: "Our Blockbuster store is open because of the incredible local community in Bend, and we've been grateful to have the support of those beyond our town as the coronavirus pandemic has impacted our business. To celebrate and pay it forward in this tradition of support, Airbnb will make a donation to the Humane Society of Central Oregon, a longtime partner of ours."
"I've seen the highs and lows of this business, but nothing can replace going to the store with loved ones to browse the shelves and find a movie that suits whatever mood you're in. Not much has changed at our store — not even our prices — and that's just how we like it!"
The Last Blockbuster is also the subject for a 2020 documentary film featuring Harding and commentators like Kevin Smith. In 2004, there were 9,000 Blockbuster Video Stores in the U.S..