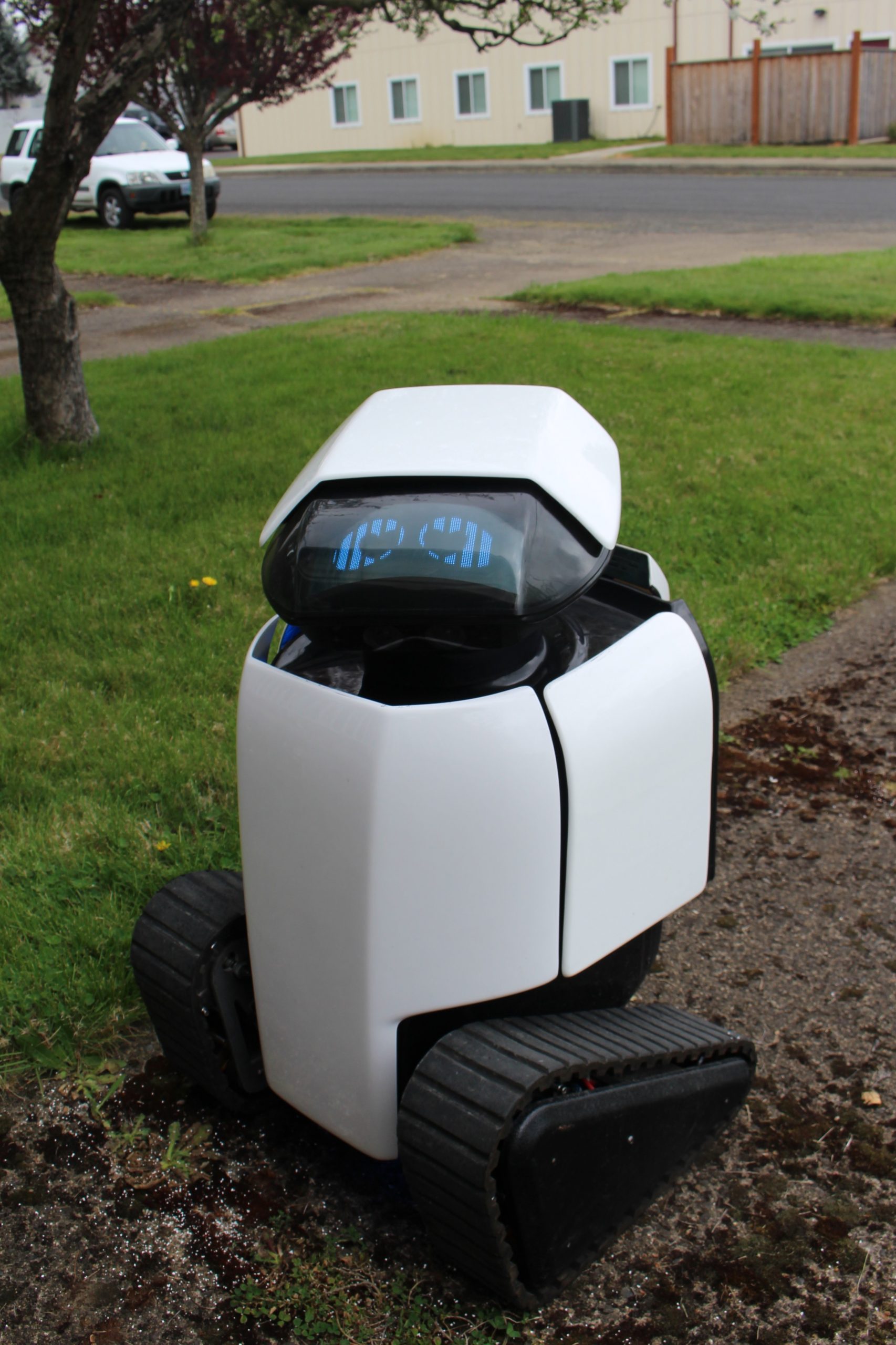 Philomath residents are possibly among the first in the world to receive their food deliveries from a robot.
Dax is a three foot tall, semi-autonomous service robot who has the ability to keep food hot or cold. Currently, Dax is making free deliveries for businesses and individuals in Philomath within a specific delivery area.
The delivery area is between north 11th and north 8th Streets, from Applegate to Houser Lane. The route now includes daily expansions.
"It just seemed like the world was finally ready to meet its first robot [food delivery] helper," said Kevin Sullivan, Chief Executive Officer at Nova Dynamics. "We had sidewalks, and lithium batteries, and AI… why not put it all together so I could get a sandwich without getting in a car?"
The name Dax "sounded like a dog's name," Sullivan explained, "and Dax is supposed to be like a helpful dog. It was also somewhat inspired by Dex's Diner [in Star Wars]."
In 2016, a report by McKinsey & Co predicted that by 2025 around 80 percent of "last mile" deliveries will be made by robots and self-driving vehicles. The work that Nova Dynamics, LLC is doing with Dax brings that possibility closer to reality.

Dax has been spotted and photographed around Philomath and Corvallis for a few years, and Nova Dynamics started creating the robot five years ago.
With the COVID-19 outbreak, more people are depending on delivery services, so Dax has been even more active in Philomath.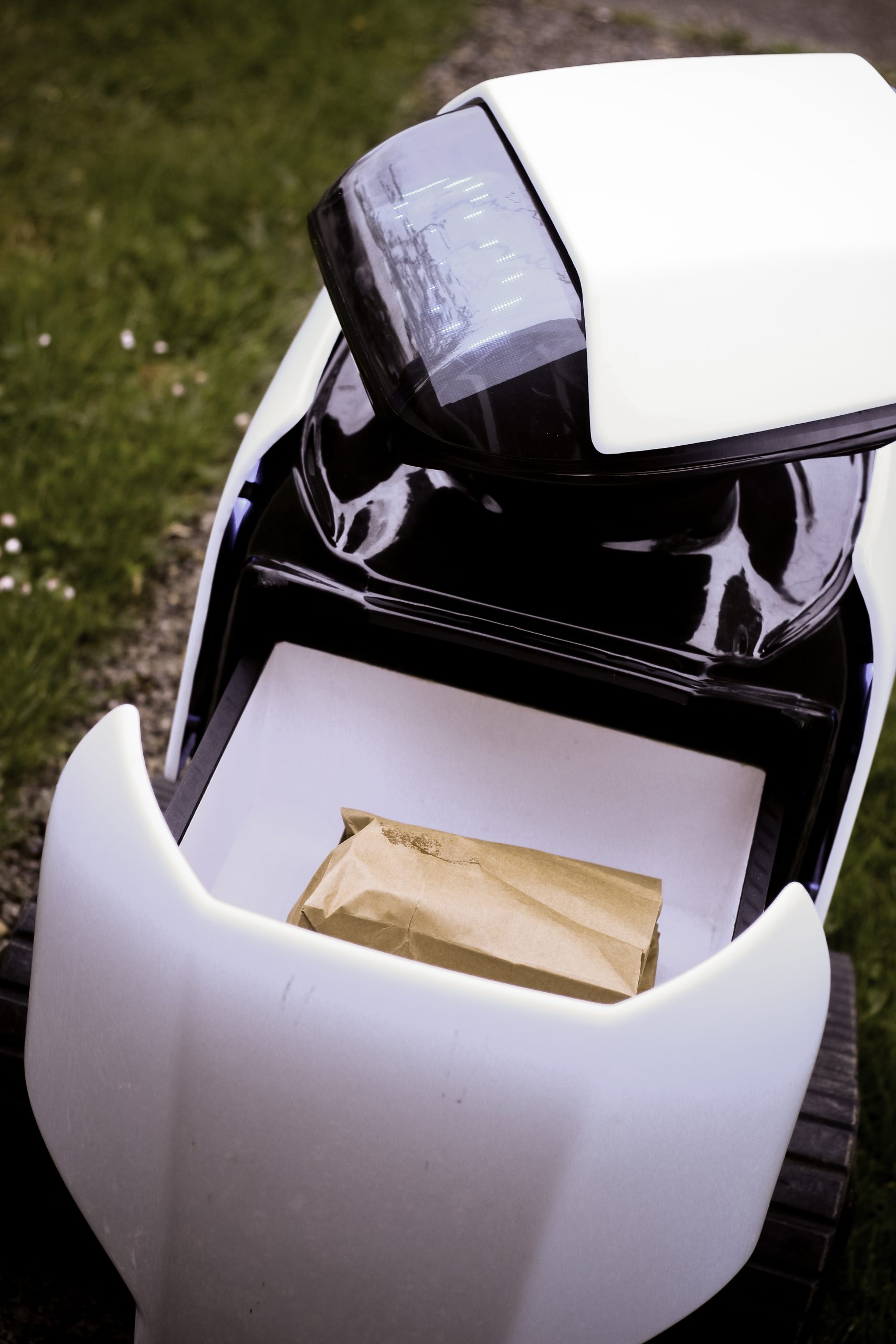 "Dax has been doing deliveries for the local restaurants and businesses for free," explained Sullivan. "We're trying to help people that need or want to stay home because of Covid."
According to Dax's website, the robot can travel up to five kilometers or a little over three miles. Its pace is similar to a human's brisk walking pace of 12 kilometers per hour (nearly seven and a half miles per hour). He can deliver items that fit within his 13-by-13-inch delivery drawer and keep them hot or cold.
"He's able to carry up to three medium sized pizzas and can keep them warm up to 160F," said Sullivan.
Robots like Dax may be able to help small, local businesses compete with some of the e-commerce giants and national chains. Using Dax, small businesses can offer next-hour delivery within a local area. Dax can operate in rain or snow as well.
The Philomath City Council gave Nova Dynamics permission to allow Dax to make deliveries and travel semi-autonomously in town, according to Oregon Business magazine. Dax is considered a pedestrian, not a vehicle, and was designed to share roads and sidewalks with other pedestrians, cyclists, and motorists. Sullivan said the team consulted with parents and people with disabilities to figure out how Dax can safely share the sidewalks with pedestrians.
Dax has a neck so he can look around in different directions similar to a human. In especially congested situations, Dax can contact an operator for assistance navigating.
Nova Dynamics, LLC improved Dax over the years through trial and error. For example, the first generation camera made everything look pink, so the company ended up manufacturing the camera in house to ensure Dax can see traffic coming from a considerable distance and perform other intended functions.
"The whole process has been one of learning," said Sullivan.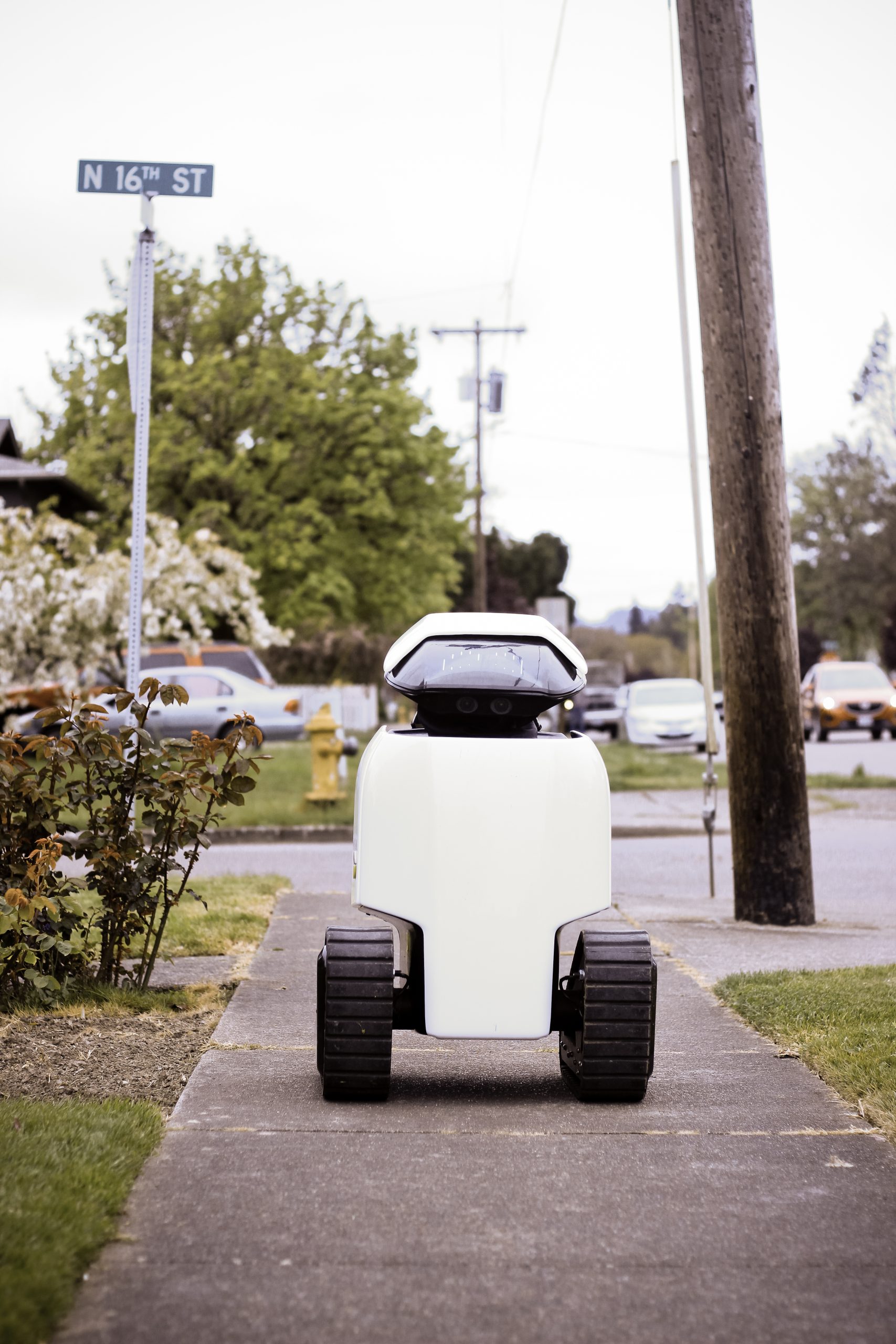 Overall, people have been excited to see Dax in Philomath. Perhaps this isn't surprising in a town named after Philosophy and Mathematics.
Sullivan said members of the public take "lots of cool pictures and videos" when they encounter Dax. "So far there's been only a positive reception."
Sullivan added that people are often surprised to see that Dax has a range of expressions and can communicate emotion through mannerisms. For example, Dax can make eye contact then look away to indicate he is not a threat.
Dax can do more than deliveries. According to its website, "Dax can perform a number of functions specific to different industries and research projects. He can deliver things, he can monitor public spaces, he can survey crops, trails, or infrastructure. He is really only limited by his owner's ability to imagine new jobs for him."
For Philomath resident's interested in free delivery, visit Dax's Facebook page for current details and instructions. Text 541-403-8791 between 8:00 a.m. and 12:30 p.m. Mon-Fri to check Dax's schedule for the day.
Photos and video were contributed by Dax's team at Nova Dynamics, LLC.
By Samantha Sied