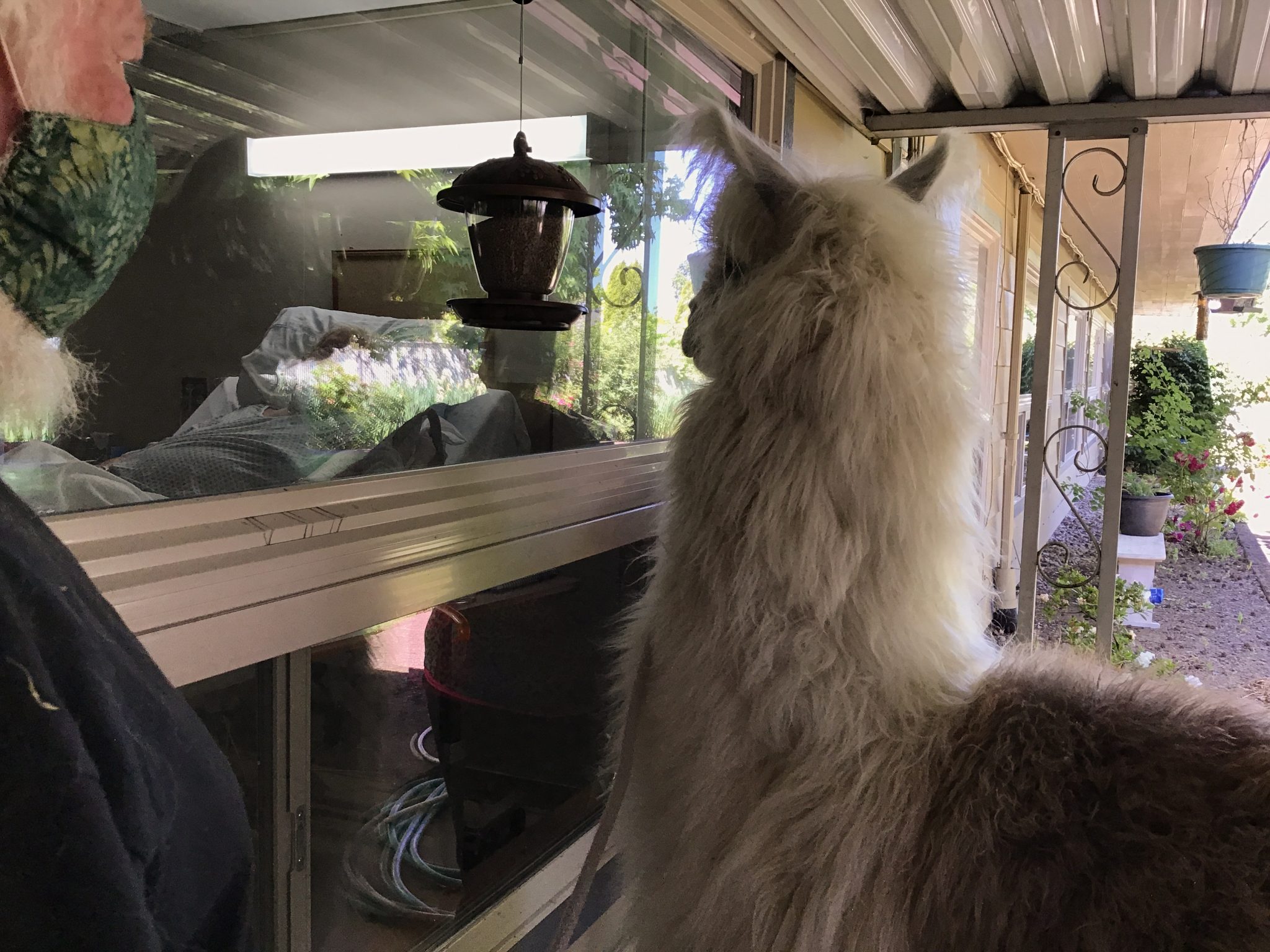 Caesar the No Drama Llama is many things to many people. He is a therapy llama, a llamactivist, a school educator, and an internet celebrity. Juggling all these roles keeps Caesar and his human team busy.
Caesar's human counterpart, farmer and activist Larry McCool owns the Mystic Llama Farm in Jefferson, Oregon. McCool is a Hewlett-Packard retiree with an impressive resume including previous work with Greenpeace in Salem and as a founding member of the Llama Fiber Cooperative of North America.
He described Caesar's human fans as a mix of "lovers" and "believers." Lovers refers to fans who are familiar with Caesar as the huggable, friendly llama who visits nursing homes, schools, and community events, but who may or may not align with McCool's social and political views. Believers refers to those who share some of McCool's vision and are engaged in the activist community.
Caesar the Community Llama Ambassador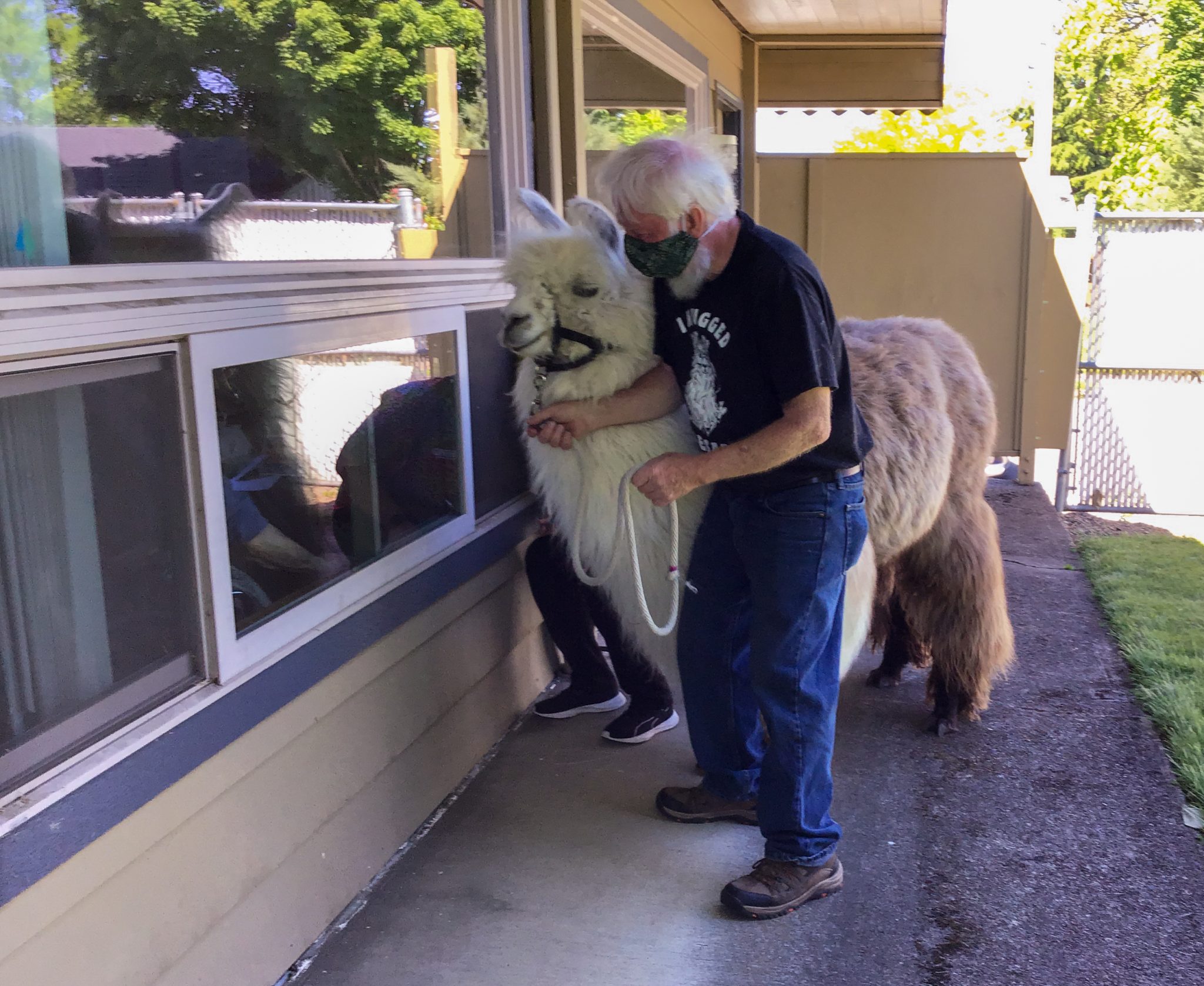 At around five years old, Caesar is expected to live for up to 20 years. His role as a therapy and community llama began at around two years old.
Contrary to popular rumor, llamas do not typically spit at people or act aggressively, said McCool. Spitting is a defense mechanism for llamas. Typically, they spit at other llamas, potential predators, or others who make them feel threatened. McCool explained that none of the 15-20 llamas on his farm have ever spit at him.
"Similar to dogs," said McCool. "All dogs can bite, but not all dogs do bite."
While McCool's llamas are calm and curious, they are often a little reserved with humans, especially those they don't know. Early on, McCool noticed that young Caesar was unusually friendly and affectionate with humans. He sought and received permission to walk Caesar in downtown Salem, Corvallis, Albany, and Portland. Caesar was very friendly and calm as people hugged him or posed for selfies.
Caesar also started visiting classrooms, nursing homes, birthday parties, and community events, like blood drives. McCool asked hosts to make a donation to a charitable organization.
"I will pretty much drop whatever I am doing to make someone's day better."
In response to the COVID-19 shutdown, McCool pivoted to more socially distanced ways for Caesar to engage with people.
One of Team Caesar's new projects is a series of video shout-outs to people who are celebrating milestones like birthdays, graduation, anniversaries, or even the birth of a child. He originally started doing this for kids who are not able to have a birthday party due to social distancing. So far, he has posted over 300 video shout-outs on Caesar the No Drama Llama's Facebook page.
"It just seems like people are missing out on a lot of things in life. And I think we can do this and make their day better," said McCool.
For those who are interested in requesting a shout out, visit the Caesar the No Drama Llama Facebook page or fill out this request form.
Caesar the Therapy Llama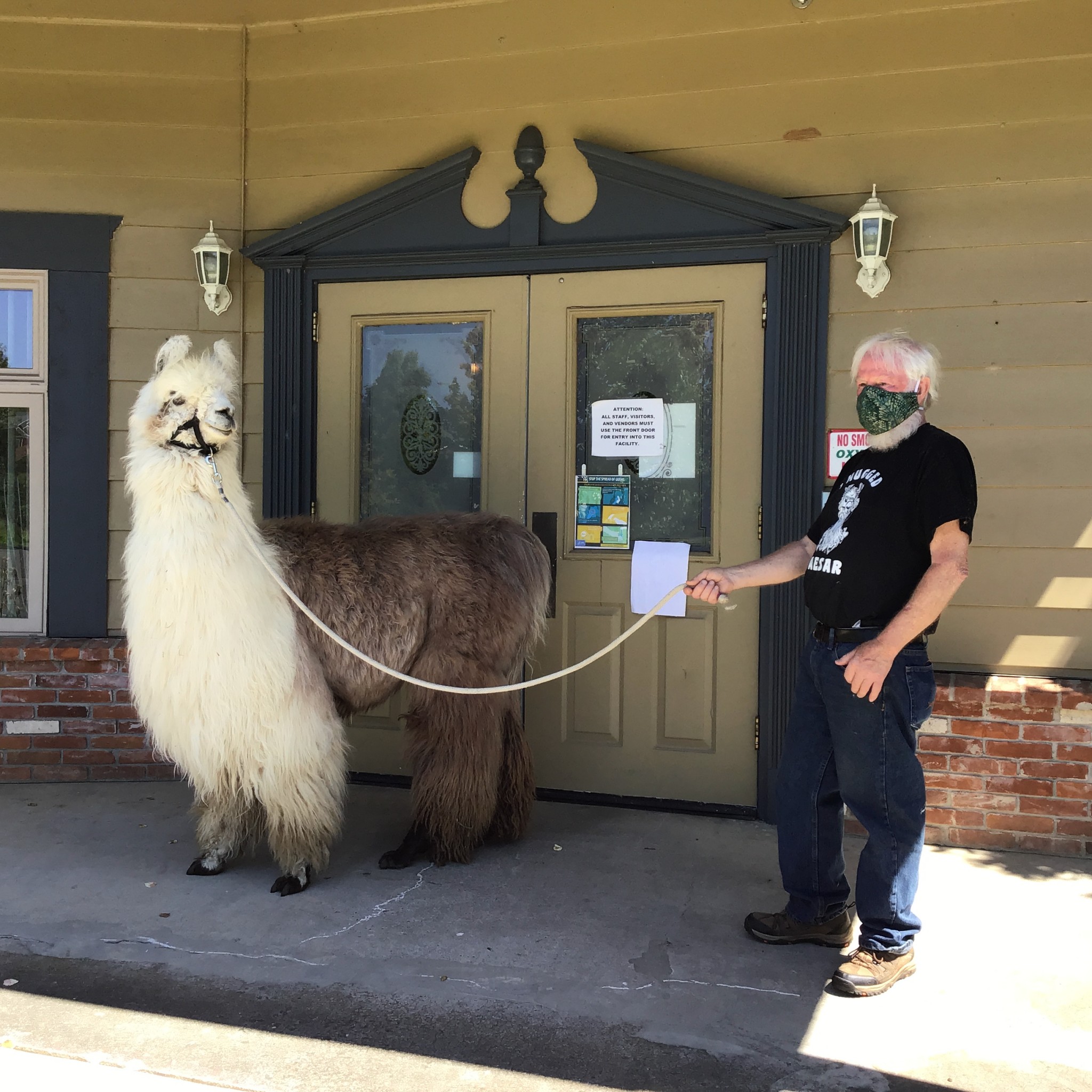 Caesar and McCool regularly visit senior care homes, going room to room to see each interested resident. Due to COVID-19, McCool got the idea to try outdoor "walkabouts" where he and Caesar visit residents through their closed windows. So far, they have visited about 15 homes with more visits scheduled.
"It just seemed like it was a safe way to give the residents something to look forward to," said McCool.
During one such visit to the Corvallis Manor, McCool shared fun facts about llamas and took time to chat with those he visited, as Caesar gazed through the windows and occasionally took a break to nibble on the grass. Before and after, staff members lined up to meet Caesar and pose for photos with him.
To request a Care Home Walkabout, reach out through Caesar's Facebook page or use their request form.
Caesar the Educator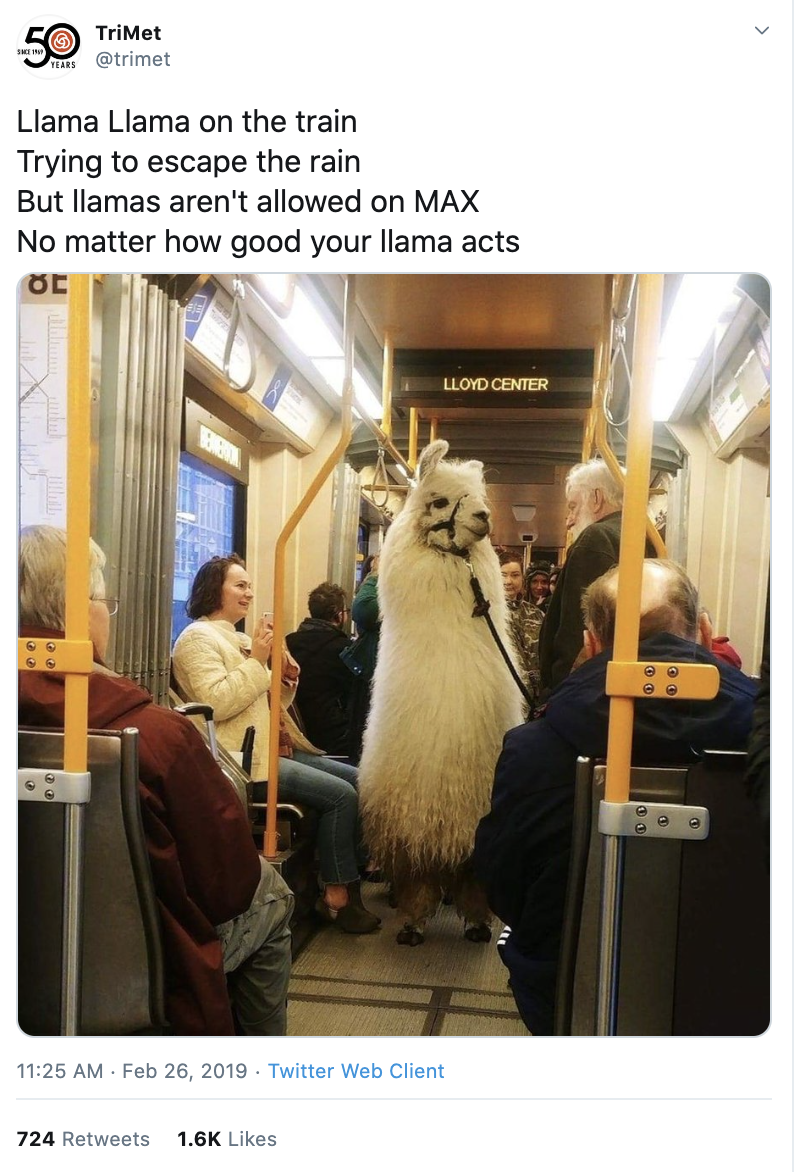 McCool, Caesar, and other llamas at Mystic Llama Farm regularly visit school classrooms. While lesser known as the activism and public appearances, the work is just as important to Team Caesar.
Depending on the age of the students, McCool shares information on llamas and on South America, where llamas come from.
With school closures related to COVID-19, McCool moved to offering virtual classroom visits wherein students meet Caesar and the other llamas through Zoom.
"Caesar pops up on the screen and I get to hear the giggles and the laughs and the eews and ahs from the kids," said McCool. "That kind of makes it worth it, that's the fun thing. When they are in class, having a llama show up is kind of a sweet treat for them."
One fun fact the kids love is when McCool tells them that llamas have three stomachs.
Teachers from throughout Oregon and other states sign up for virtual classroom visits. Some cities and states he virtually visited include Toronto, Chicago, Maryland, New Jersey, and Florida. So far, they have done around 40 virtual classroom visits over the past couple of months.
Teachers may request a virtual classroom visit through Caesar's Facebook page or the Zoom event request form.
Caesar has a younger herdmate named Midnight who is also unusually friendly. McCool hopes to start bringing Midnight to events later in 2020, as he may also become a therapy and community llama.
Caesar the Internet Celebrity and Llamactivist
Caesar's rise to internet fame skyrocketed after he rode the Max train in February 2019. McCool recalled how he brought Caesar to Wizard World Comic Con at the Oregon Convention Center. McCool parked his truck and trailer by the Lloyd Center, and rather than walk 11 blocks in the rain, he spontaneously decided to ride the Max.
Their presence caused a buzz and passengers came from other cars to take photographs. One of those images was published in the Oregonian and caught worldwide attention. The story was picked up by Fox News, CNN, the London Times, and other outlets in 30 different countries.
TriMet even tweeted the photo along with a poem: "Llama llama on the train / Trying to escape the rain / But llamas aren't allowed on Max / No matter how good your llama acts."
McCool agreed to follow Max policies and no longer take Caesar on the train. Although Caesar already had friends and fans, that Max ride gave him a new level of notoriety.
McCool strives to use Caesar's platform to amplify causes that he believes in. When Caesar joined recent marches in honor of George Floyd and Black Lives Matter, participants posted photos and videos on social media, and local and national media took notice.
Some fans expressed concern over Caesar's safety. McCool explained that he would not get involved in anything he didn't think had "the potential" for a positive outcome. He also would not put Caesar in a situation where he would be in danger or a danger to others, and would remove Caesar from any situation that started to take a negative turn. With over 50 years of activism experience, McCool has participated in countless peaceful protests, rallies, and marches.
How Llamactivism Started
Like any celebrity, Caesar has a team of people who help him do what he does. Team Caesar is unsurprisingly made up of activists with a shared passion for social justice and the environment.
Ariel Knox is Caesar's social media director and event scheduler, handling a lot of Team Caesar's media requests. Knox and McCool met while volunteering for Bill Burgess' campaign for County Commissioner. She immediately made a joke about the No Drama Llama – a rhyming play on President Obama's nickname "No Drama Obama."
She jokingly suggested that Caesar should "endorse" Burgess. McCool agreed, but said he needed help with a Facebook page for Caesar. Caesar later appeared at voter registration drives and other events. At some point, they met Oregon Governor Kate Brown, who posed for a photograph with Caesar, and llamactivism kept growing.
"I am humbled and awed by the work Team Caesar has done and the impact we've been able to have on a multitude of fronts," said Knox. "To be able to have an opportunity to bring so many smiles to so many faces, to harness the attention Caesar draws to such vital issues in our community and nation is a privilege. I could have never predicted that meeting a man with a llama on a sidewalk would change my life and many others, yet here we are."
More on McCool
In addition to driving Caesar all across the Willamette Valley for events and visits, McCool spends two hours grooming Caesar for his public appearances and Zoom meetings. He brushes him and blow-dries his hair using a specialized blow dryer.
Since llamas prefer cooler temperatures, McCool runs misters on very hot days to help his llamas escape the heat. In addition to basking in the mist on sunny days, Caesar occasionally rolls in the dust, so maintaining his signature fluffy white hair is the result of regular bathing and grooming.
In addition to his activism, McCool is a Hewlett-Packard retiree and founder of a large national llama fiber cooperative. In 2003, McCool and his wife Lee were researching where they could sell their llama hair and found limited options.
"I started asking, what am I going to do with all this hair," McCool explained. "I could sell it to a few spinners and weavers, but there was no commercial value for llama hair."
McCool networked with other llama farmers which resulted in forming a member-owned co–op in 2005 which includes 15 Oregon llama farms. Over time, The Llama Fiber Cooperative membership grew and expanded throughout North America and now includes 140 farms in 22 states and Canada.
Virtually identical to alpaca hair, llama hair is hollow, which makes it lightweight yet warmer than wool since it offers better insulation. Llama hair is also hypoallergenic and very soft – as anyone who has stroked Caesar knows.
The Llama Fiber Cooperative holds sorting events where the hair is graded and collected into five colors and three grades. They also commission products like rugs, blankets, socks, and hats which are made in the US using fibers from the collective member's farms. You can find their items for sale at the co-op's website.
By Samantha Sied