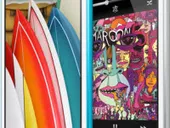 What started as the iPhone's thinner twin travelled a long slow road to irrelevance.
Across iPhone, iPad and Mac, Apple showed how its silicon had enabled it to flex product lines and design a breakthrough desktop.
Apple keeping even an old iPhone SE in its lineup would represent an upgrade over the last surviving product to bear the iPod brand.
MacOS holds MacBook Pros back from many highly-anticipated gaming titles. A new version of GeForce Now, however, could deliver that experience.
The iPad upgrades that Apple unveiled at its September event go a long way toward solving their long-running value disparity.
Building on a long run at Best Buy, Apple's dedicated space at the mass merchant gives many of its most important products the Apple Store experience shine.
At WWDC, Apple's smartphone received the lion's share of AI-driven features while the iPad and Mac improvements focused more on user interface refinement and tighter ecosystem integration.
Qualcomm Snapdragon Sound will pit premium audio brands against smartphone brands as both seek to capture the experience Apple has set with iPhone and Airpods.
What Apple's magnetic charging attachment can draw upon in iPhone volume and focus makes up for its lack of flexibility,
2020 closed some of Apple's longest story arcs, and started new ones.