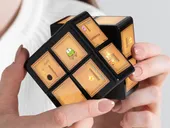 A host of startups are preparing devices that add touchscreens to dice, board games, and a twisting puzzle cube, seeking to blend the best of physical play with the flexibility of a console.
The demise of the Google(x) moonshot leaves the future of stratospheric internet access in doubt.
SeeDevice says that its technology can dramatically outperform today's best DSLRs, lets autonomous cars see obstacles faster, and even indicates blood content through the skin.
The convenience chain may have some breathing room when it comes to facing the Amazon threat, but its smartphone-based scanning option is a modest response.
The company improved its hit-and-miss home console record with the Switch while the Switch Lite is heir to its portable device legacy. With those products covering the range of console gaming settings, Nintendo will have to push something aside as it considers future consoles.
A convergence of technologies is paving the way for Apple to take AR out of the phone and put it in front of your eyes. While that would curtail HoloLens reach, Microsoft won't be shedding many tears.
The new capabilities of HoloLens 2 reinforce Microsoft's leadership position in a pillar of computing's future. The company's steadfast focus on enterprise productivity, though, may leave it vulnerable as mixed reality becomes more mainstream.
TVs and smartphones can benefit from flexible displays. But there's no sign yet of the tech bringing PCs to a new plateau of mobility.
The monochrome, sunlight-readable displays remain largely synonymous with e-readers, but they're moving into other devices large and small.
The precise system of describing location is assisting efforts ranging from humanitarian aid to luxury vehicle navigation.