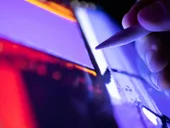 Tablets and digital pens have created a golden age for one of personal computing's most humble applications. Will AI end it?
Even a tablet-focused update from Google can do only so much to help Android tablets emerge from the shadow of the iPad and other competition.
The latest Pro android slates from the category stalwarts include some impressive features, including a few that one-up the iPad.
Whether designed to optimize or eliminate screen time, many gadgets designed for little ones can be a big help for adults as well.
The Universal Stylus Initiative has gotten off to a slow start as Microsoft, Samsung, and Apple have advanced their own digital writing implements. But the group is counting on the support of Google and major PC brands to make up for lost time.
The new offerings leverage mature desktop operating systems to compete on flexibility and value.
As iPad displays have grown, they have mastered displaying more information and more simultaneous apps. But throw the wrong iPhone app into the mix and the iPad still takes the same hands-off approach it offered at its debut, offering no way to rotate such apps without rotating the device. It's not a pretty portrait.
They don't offer face-scanning authentication, integrated pens or USB-C, but basic Android 2-in-1s from retro brands such as Packard Bell and Walmart's house brand Onn can competently address many people's needs.
The seventh generation of Apple's pioneering tablet brings its size and input options in line with its more expensive alternatives. Its optimized operating system makes it more competitive with both low-cost Windows laptops and Microsoft's Surface Go.
Once seen as a way for a wide range of tech companies to answer the iPad, Android tablets are now offered by only a handful of brands. But even as Google has walked away from them, they still have a home in retail.