EDITOR'S PICK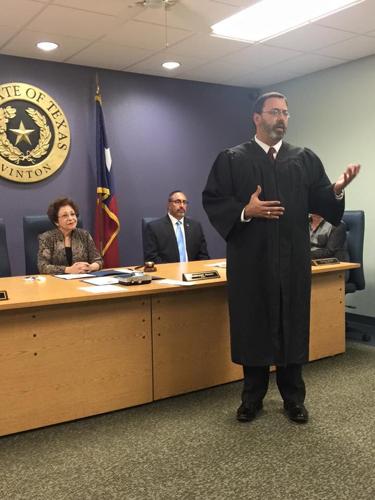 By Reyes Mata / El Paso Inc. Oct 16, 2022 Updated Oct 17, 2022 0
The relationship of Rosa Maria Valdez Garcia and Alexander Gerhard Hoffmann Roth – a Walmart shooting victim -- has come under question by the El Paso District Attorney's Office.
In the aftermath of the 2019 mass shooting, Valdez Garcia has regularly identified herself as the widow of Hoffmann Roth.
An Oct. 6 "Report of Ad Litem" written by El Paso attorney Justin Underwood, the court-appointed attorney for Valdez Garcia, also states that "Mrs. Valdez Garcia is the widow of Alexander Gerhard Hoffmann" but the DA's office claims that the two were divorced in November 2001.
"The inference from this is that she has been misrepresenting her marital status since Mr. Hoffmann's death," Curtis Cox, assistant district attorney, said in his response to the ad litem report.
Underwood states in his report that questioning the widow status of Valdez Garcia is "a ridiculous accusation which the Tribunal Superior de Justicia Chihuahua has already addressed," but he offered no specific evidence in his ad litem filing.
Several sources who spoke on condition of anonymity stated that the recent public rift between Vinton Municipal Court Judge Roger Rodriguez and Valdez Garcia emerged when Rodriguez expressed doubts that she could legally claim to be the widow of Hoffmann, which records show she divorced more than 20 years ago.
An official Mexican document secured by El Paso Inc. from the Civil Registry of the State of Chihuahua states that Rosa Maria Valdez Garcia and Alexander Gerhard Hoffmann Roth divorced in Mexico on Nov. 22, 2001.
Jessica Kludt, an El Paso probate attorney, said that affirming a widow status sometimes is not easy, but that it is customary to honor divorces from other countries.
"If there is a divorce decree, then likely the theory that she is going to be resting her widow's status on is common law marriage," she said. "Generally, this kind of thing is kicked to the probate court to be determined."
Whether Valdez Garcia is the legal widow or not would have implications in receiving monetary benefits from the Walmart shooting, including the civil trial against Walmart that cannot begin until the state and federal criminal trials are resolved.
Kludt said that benefits are traditionally released only to people who can legally prove they are heirs to the estates of the person who died.
The questioning and discussion of Valdez Garcia's relationship with Hoffmann is just another piece in this puzzling case.
A widening circle of testimonies and court decisions has been eroding the credibility of the El Paso District Attorney's office – including Underwood's seemingly damning ad litem report filed this month.
But the DA's latest response and new evidence reveal a more complex picture of the unfolding drama.
Also included in Underwood's report is a series of scathing accusations against District Attorney Yvonne Rosales, ADA Curtis Cox and Rodriguez.
Rosales and Cox have been engaged in public legal jousting with Underwood over a court-imposed gag order for the Walmart shooting case, while Rodriguez has been a peculiar presence, acting as an adviser of sorts to the DA's office from the perimeter.
Valdez Garcia provided statements for Underwood's Oct. 6 report describing the fear she says she has of Rosales, Cox and Rodriguez.
Underwood stated in his report that Valdez Garcia and her two adult sons, Alexander Hoffmann and Thomas Hoffmann, "have repeatedly told me that they are terrified" of Rosales, Cox and Rodriguez. "[T]hey are in constant fear of retaliation by the District Attorney's office and Roger Rodriguez."
The Oct. 6 report also contains transcriptions of alleged recorded conversations between the Valdez family, Rodriguez and his wife, identified in the report as Anne Rodriguez. The recordings – which, if real, may indicate an effort to induce the violation of a gag order – have not been accepted as genuine by the DA's office.
But a few months ago, Valdez Garcia was making similar allegations – against State District Judge Sam Medrano.
Medrano is presiding over the case against Patrick Crusius, the accused El Paso Walmart mass shooter, who has been indicted in the Texas capital murder case.
Crusius is also charged with 90 federal crimes, 45 of them hate crimes.
Shortly after a July 1 hearing where Medrano criticized Rosales for what he said was a spurious email to the press and for inactivity in the state's Walmart trial, Valdez Garcia appears to have sent a complaint against Medrano to the State Commission on Judicial Conduct in Washington.
"Judge Medrano's attack on Ms. Rosales was terrifying. He made me feel unsafe and scared that he would attack us next," stated a commission's internal complaint form, which had a signature of "Rosa Ma. Valdez," who identified herself as the "wife of Gerhard Alexander Hoffmann Murdered Victim," and was notarized on July 6.
Another notarized letter purportedly signed by Valdez Garcia was included in the DA's Oct. 11 response to Underwood's ad litem report. This letter, which was addressed to Rosales, stated that Medrano "clearly attacked you [Rosales] and attempted to humiliate you in front of the media." The letter also urged Rosales "to please take the legal steps necessary to remove the judge."
Cox, in the state's response to Underwood's report, wrote that "[t]hese communications executed by notary … demonstrate that Rosa Maria Valdez Garcia was a willing participant in complaining about the conduct of Judge Medrano, contrary to assertions that she was an unwilling, unknowing pawn in someone else's game."
The delay of the criminal Walmart trial – now three years and two months since the 2019 massacre -- is becoming increasingly noticeable, locally and nationally. Most notable to some is that the federal courts appear poised to try the Walmart case before the DA, representing the state of Texas.
"That is very unique because usually the feds will defer to the state prosecution and let the state prosecute the case," said Kenneth Williams, a law professor at South Texas College of Law in Houston, who specializes in capital punishment and criminal law. "It is a respect, we call it comity, it is a courtesy toward the state proceedings, and so you allow the state to go first" as an acknowledgment that the crime occurred in the state and should preferably be tried in that state, he said.