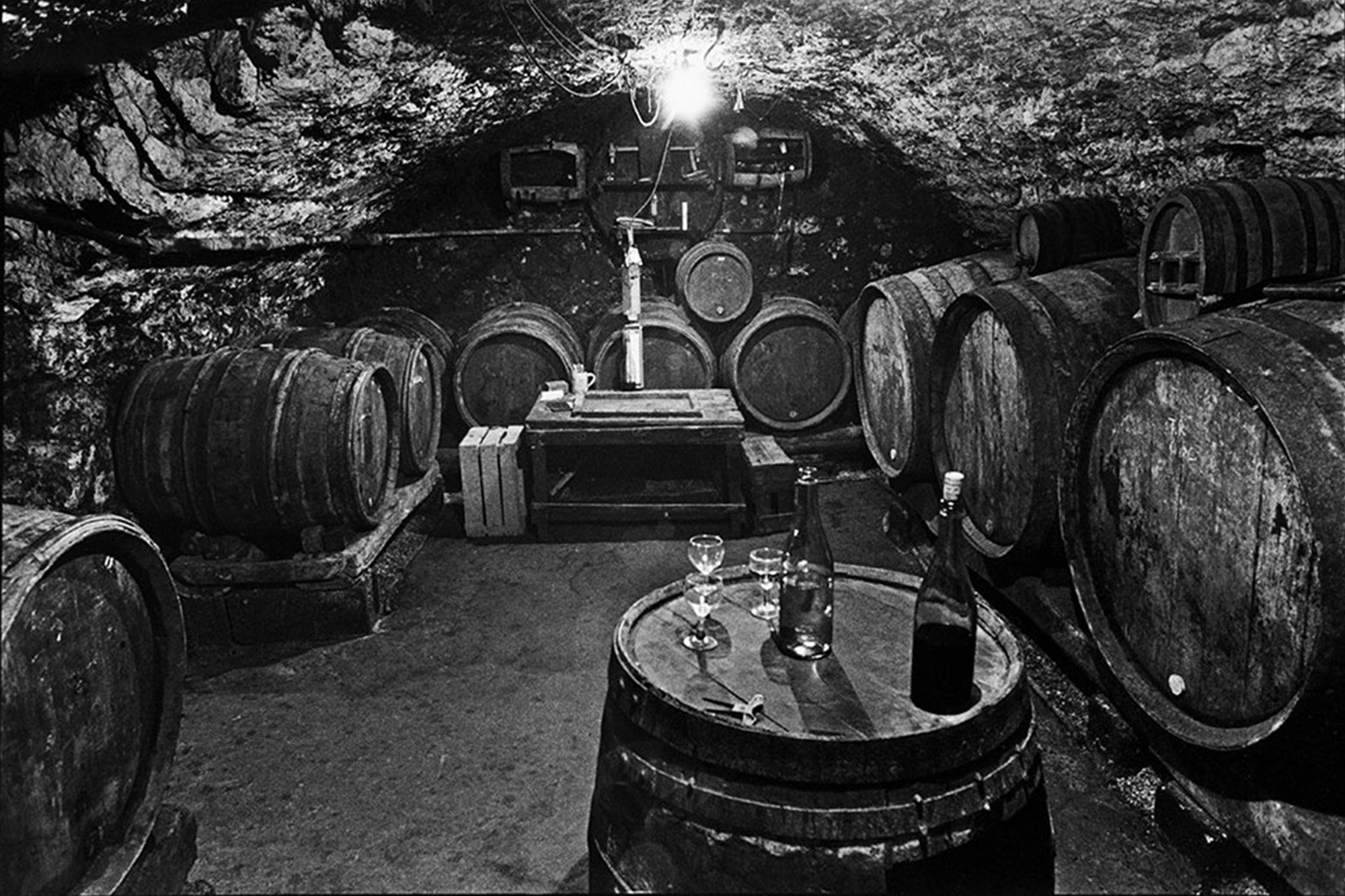 Who understands restaurant wine lists? Even after writing wine lists for a living since 1978, I have to confess wondering if I ever got it right.
Especially after opening an issue of the nation's best selling, and most influential, wine magazine to read about the latest "Grand Award Winners": one restaurant after another, recognized for carrying a minimum of 1500 wines. But it's not just sheer size that makes a wine list "grand," I read (with a non-winner's sour-grapish perspective), it's also the content: multiple vintages of Pétrus and Margaux, the requisite DRCs, the "cult" Californians like Screaming Eagle, Harlan and Araujo, and the usual litany of Gaja and Guigal, Dalla Valle and d'Yquem, Grace Family and Grange Hermitage, Comte de Vogué and Vega Sicilia. Nothing wrong with all this, of course. More power to the great, and rare, "power" wines of the world.
But if you line up all these Grand Award winning wine lists in a row, it all becomes perfectly clear what is required to do to achieve grandness: you must carry exactly the same wines that all the other award winners carry on their wine lists, and lots of them. It doesn't matter if your cuisine is French or Chinese, if you're a steakhouse or a vegetarian restaurant, or what region of the U.S. or world you identify with. The object is to list as many of the same wines as possible, individuality be damned.
Who established these standards? Do they really reflect the wine consuming public's expectations? Is this some kind of conspiracy — a tyranny of a few journalists?
Personally, I think we did this to ourselves. Consumers, restaurateurs, producers, writers, publishers and all — we each played a part. We can't blame magazines, after all, because they only write what most of us want to read. Wineries produce the kinds of wines that critics like, but critics give the highest scores to wines that consumers, retailers and restaurants seem to want most. The reality is that most of us are more easily swayed by quantity rather than quality; just as we are impressed more by well-hung, as opposed to well-matched, qualities in a wine.
I have my own hang-ups. In fact, I can't seem to extricate myself from the school of thought (is it the old school or new school?) that wine lists should be selected to enhance the overall dining experience; things like the cooking style of the chef, sauces and foodstuffs, seasonings and seasons, not to mention setting, theme, décor, price points, and community expectations. If wines with big names, high scores and lofty rankings fit in with this, all the better. But do they?
Some twenty five years ago Robert Mondavi began to travel around the country telling everyone who would listen that the industry must produce wines that blend seamlessly with food. What a wonderful thing this was — what he and Magrit discovered during their frequent visits to Europe, the physical and spiritual home of fine wine. So how in the world did bigger ever become better, or at least more important than affinity between wine and food?
Meanwhile, over the years I took comfort in many a word written by Kermit Lynch, wine importer extraordinaire. Read the way he once wrote about the taste of Cassis, a Southern French white wine made from the Marsanne grape, planted in vineyards scrubbed daily by mistral, and spilling literally out into the Mediterranean:
. . . the Marsanne gives its honey with a smell of the sea (l'iode, as the French say) -- Vines were not planted at Cassis to receive high scores. Cassis was and is a fishing port where the people of Marseilles like to play on weekends. Vines were planted in order to have something to drink with the local catch. Seafood. Cassis. It's a natural.
I can dig it, Kermit, but what do we do in our restaurants when we recommend Cassis, or a lemony light Picpoul blanc, an adventurous Albariño, or some other eminently worthy white wine to go with our seafood appetizers, and our guests peer over the wine list and ask, "Don't you have Screaming Eagle?"
I admit to being among those who, refusing to give in to Screaming Eagle compulsions, long ago resigned themselves to never receiving a Grand Award. But I just don't think a handful of contrarians, fools that we are, can do it alone: that is, bring some semblance of order and common sense to this standard of quality we seem to have hoisted upon ourselves. Even if we wanted it, not everyone can carry Screaming Eagle because only a few hundred bottles are made every year. This is besides the point that it certainly isn't appropriate for every restaurant's cuisine, theme or price points.
Which is not to say that Screaming Eagle isn't cool. It's way cool because it's unusually good. But "cool" also means making a difference, or doing things with an almost unconscious sense of individuality. In early 2001 I was lucky to attend a pre-opening dinner at Bacar, a sophisticated 21st century "restaurant and wine salon" put together in San Francisco by wine maven Debbie Zachareas and chef Arnold Wong. The menu was courageous in its originality, challenging Bay Area guests to rethink even their own, well evolved expectations of what constitutes great wine and great regional cuisine:
Fresh poached Hog Island oyster on half shells with herbed tomato concasee

Billcart-Salmon "Brut Reserve," Mareuil-sur-Ay
Chèvre flan with petite frisee salad and truffle oil

Bastianich Tocai Friulano "Plus" Collio 1998
Applewood smoked Chilean sea bass with brunoise of cucumber and citrus nage

Marc Colin Meursault "Narvaux" 1998
Mascarpone polenta and grilled trumpet mushrooms in Zinfandel jus

Feliciano Gialdi Riserva Oro Giornico Merlot, Ticino, Switzerland 1997
Black mission fig and roasted chestnut stuffed quail with sautéed dino kale

Château Soussans Margaux 1996
New Zealand lamb chop with olive oil crushed fingers and mint rosemary sauce

Bodegas Montecillo Rioja Reserva 1995
Rocche dei Manzoni "Bricco Manzoni" (Nebbiolo/Barbera) 1995
Mascarpone panna cotta with huckleberry compote

Forteto della Luja "Piasa San Maurizio" Moscato d'Asti 1999
Molten chocolate banana calzone with chantilly cream

Orosz Gabor Tokaji Aszu 6 Puttonyos, Mad, Hungary 1993
While not perfect, each of the matches achieved something either satisfying or surprising. I found minerality rather than racy acidity played up by the combination of chèvre flan and Tocai. I loved the merging of soft, liquid components in the polenta and Merlot; and the sweetness in the quail with fig somehow seemed to smooth over the tannins in the Margaux, bringing out the gently sweet nature of this dry red.
In less imaginative hands, the selections might have been more predictable — Sauvignon Blanc rather than Tocai, Chianti Classico rather than Swiss Merlot, Zinfandel rather than Margaux, and so on down the line. But by being unorthodox, Zachareas and Wong have announced that they are "Bacar," and not EOS, Rubicon, Lespinasse, Le Bernardin, Charlie Trotter's or Slanted Door. I love that in a restaurant.
Just as I love what Kermit Lynch finds in Cassis, the way Germans feel about their Rieslings with sausages, and what Oregonians do with their open fire planked salmon and Pinot noir. Finding cool and sensible food and wine matches doesn't seem to be a problem in special places, given natural dispensations. So if the ultimate experience of fine wine is in special settings, with specific foods, why is it that so few restaurants bother to put descriptions or food recommendations on their wine lists to try to encourage that?
In every restaurant there is probably at least one wine that is dynamite with at least one dish. The chefs, managers, servers or sommeliers know about it, and are only too anxious to share — you must have this, and you must have that. Imagine if wine lists were completely stacked with wines not meant to stand alone, but to be consumed with specialties of the house. If this makes sense, why the compulsion to build wine lists that include every item in the Oxford Companion to Wine, as if this shotgun approach will unerringly effect memorable food and wine matches? Why are small wine lists, chosen to match food rather than make an impression, considered second rate — acceptable, but ultimately unworthy of a "Grand Award?"
So many questions, so little time. Perhaps that time isn't right. Not in this day and age when restaurant wine cellars are being built into glass towers, and dishes erected with a wham! and a bam! I once happened to remark to a Bay Area distributor that I was pretty happy with the variety in one of my wine lists; and he politely responded, "Ah, but I see you do not have a Washington State Merlot or Cabernet, and with the quality coming out of there today you really should be carrying one, two, if not three or four of them."
This, of course, was a very good point except for the most important factor of all: I could find no compelling culinary reason to carry a Washington State Merlot or Cabernet. In fact, carrying wines only because they are good, or even great, is probably how the obsession with big wine lists came about. You must have this and you must have that — not for customers to actually drink, but just to see on your wine list. Come to think of it, this is probably why so many restaurants need sommeliers (even if they don't have one) — to help guests sort through all the useless stuff in order to find one wine, among the thousands, that truly suits their needs. But what a shame if this is the job of sommeliers: bonafide shit shovelers.
Makes me wanna holler, hold up both my hands. Or else grab all my winemaker, supplier and distributor friends by the lapels and ask them: When was the last time you sat down with a restaurant wine buyer and actually talked about the sensory qualities of a wine (not the Parker rating, the fermentation temperatures, barrel regime, etc.) and how these qualities might fit in with specific dishes? How the taste of a wine, not its score or reputation, is bound to impress. Not in a while, I bet. Most distributors and suppliers I have met over the years never bothered to dine in my restaurants, or study my menu. And when they did come to lunch, they usually brought their own bottles, naturally expecting everything they order to match perfectly with their wine. We could be serving monkey brains and termite mounds for all they care.
So here's my modest proposal: Instead of bowing to the conventional wisdom of what constitutes good wine, and great wine lists, why don't we collectively decide that the best place to start is with wines that fit a menu? And take it from there. That way, at least most restaurateurs will no longer feel inadequate because they don't have Screaming Eagle, Petrus, or even the best and latest from Washington State.
The worse that can happen? Wine lists with more variety and individuality as opposed to sameness. Guests dining safely under the assumption that no matter what they pick off a wine list, it will go great with their food, because some self-respecting sommelier or restaurateur made sure of that long before they walked in. And finally, sommeliers and servers living happily ever after, sharing those magical, serendipitous moments everyone loves in a restaurant: when everything comes together in a sensory experience.
What a concept — and what a pipe dream!