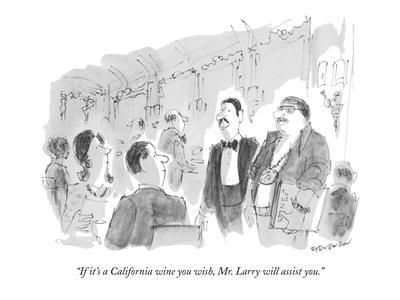 If, like me, you have always been impressed by restaurateur Danny Meyer's success with guest response cards – which, in Setting the Table, he says truly helps "connect the dots" between operations and customer needs – it might make sense to stop and take a good, hard look at what people really think about the way we sell wine in restaurants.

Recently in Wine 2.0™, one of the more popular wine social networking sites populated primarily by wine enthusiasts, I posted a question that generated over seventy responses: What's your biggest pet peeve about drinking wine in restaurants?
The main thing about these replies is that they bring up issues we've always been aware of. None of the comments come as a surprise, and the fact that they persist is more an indication of how much of the restaurant industry prefers to stick their head in the sand. As if the problems will go away by themselves.
Compiled in Zagat style bites, these comments should give you an idea of the feelings of discontent that are out there:

Wine Prices: Pricing, pricing, pricing – is a list a museum or sales tool?... I have had the opportunity to travel across the U.S. and eat out in the finest restaurants, but it is always appalling when wine lists are overpriced – restaurants who "get it" give value to their customer base and drive additional wine sales and repeat customers… excessively high 3 x retail prices are bad enough, but I've seen 4 x retail, which is just silly…. trying to augment the lost income on food items by jacking up the vino… gouging customers with 400% markups over retail – come on!

Wine Selections: The kind of wine list where it is obvious they are being fed by a very large distributor that shall remain nameless… generic lists at restaurants that should know better – I want to see that you put some thought going into your selections and that they go with your food, not that you let a distributor sell you all wines they have the best deals on so that your markup can go even higher… Franco-centric wine lists outside of France, brand-centric wines everywhere else, and New World cheap-and-cheerful wine lists really bug me (would people get over their fascination with Bordeaux and Burgundy and learn that there is so much more out there?... I'd like to see more BRAVE sommeliers and restaurant owners who include food-friendly wines of Austria and Portugal.

Big Lists: A big chunky list is just an ego boost for the restaurant to say how much money they have to throw around – a fun, pioneering wine list that doesn't take itself seriously would have my vote.

Wine List Descriptions: Wine lists that focus on knowledge of an in-house wine person at the cost of intimidating paying guests… getting more direction on the wine list – most of the time I would appreciate more information… I like lists that give me a little hint of what I'm in for when I get the wine, just in case the staff isn't up on their research… wine lists need to have tasting notes or it becomes a great crap shoot, and who likes crap shoots with expensive wines on important occasions?

Wine Glasses: Cheap glassware… clunky glassware that can be used as a club… even in the middle of California's wine regions there are small restaurants that serve every wine in this half sized glass – this drives me nuts!... wines served in a glass that comes straight from a dishwasher – meaning the glass is hot, and the wine ends up like grapey tea (this is happened to me more than once, and waiters look at me like I'm a lunatic for sending the wine back…)… Riedel's restaurant range isn't that expensive, is versatile and quite sturdy (and I'm sure other manufacturers have similar) – why more restaurants don't use them is beyond me… it's so lame when restaurants serve in "table glasses" (i.e. crappy Ikea cups…) and say "they do this in Italy."

Wines by the Glass: Over-priced commercial wines (i.e. supermarket) in crappy glasses… corked or oxidized wines in wine bars (can't they check before serving?)… restaurants that have sold their soul to the "by-the-glass" demon (by offering only) Beringer, Robert Mondavi, White Zinfandel from Sutter Home, and sparkling by Cook's… restaurants that pour from a bottle having no idea how long it's been open or if it's been stored correctly…. when you buy a nice glass, and it tastes like a bottle has been open a week and a half.

Serving Temperatures: "More annoying is when the temperature is way too warm on reds and too cold on whites – ugh… I hate it when restaurants serve red wine too warm… reds too warm is worse than whites too cold… nothing like a nice red that tastes like it's been stored just above the exhaust fan above the bar's ice maker.

Wine/Food Suggestions: I wish more restaurants would offer wine suggestions with their menu items – it surprises me how few restaurants take this extra step… large, unfocused wine lists that don't pair with food menus.

Pouring: Staff overfilling the glass… I hate it when they fill your glass too full, so you can't properly swirl.

Servers: I hate arrogant or condescending wait staff… my pet peeve is a bit feminist, but they always pour the taste to the man – why doesn't my opinion matter because I'm a woman?... it bugs me when the waitress cannot pronounce Chianti… I understand I'm 23 and that many people my age don't know wine, but a condescending stare is unnecessary when I ask for a wine list because the wait staff hasn't given it to me (reminds me of a time when I ordered a Dry Creek Zinfandel and the somm looked at me and said, "you know it's not pink, don't you?)… the bait-and-switch – you see a nice bottle from a great vintage at a reasonable price, but the server brings you either a different (almost always poorer) vintage, or a different bottle entirely, and says "it's really the same"… poor training by the management – I don't blame servers who haven't been trained, but once in a New York restaurant I was brought back the wrong brand, and then wrong vintage, by a server THREE times in a row!

Sommeliers: A wine steward who poo-poos a wine you brought or tells you he disagrees with your selection… sommelier hard-sells… someone pointing you to a plus-$200 bottle when they have no indication you are remotely in that price range.