Educate, don't celebrate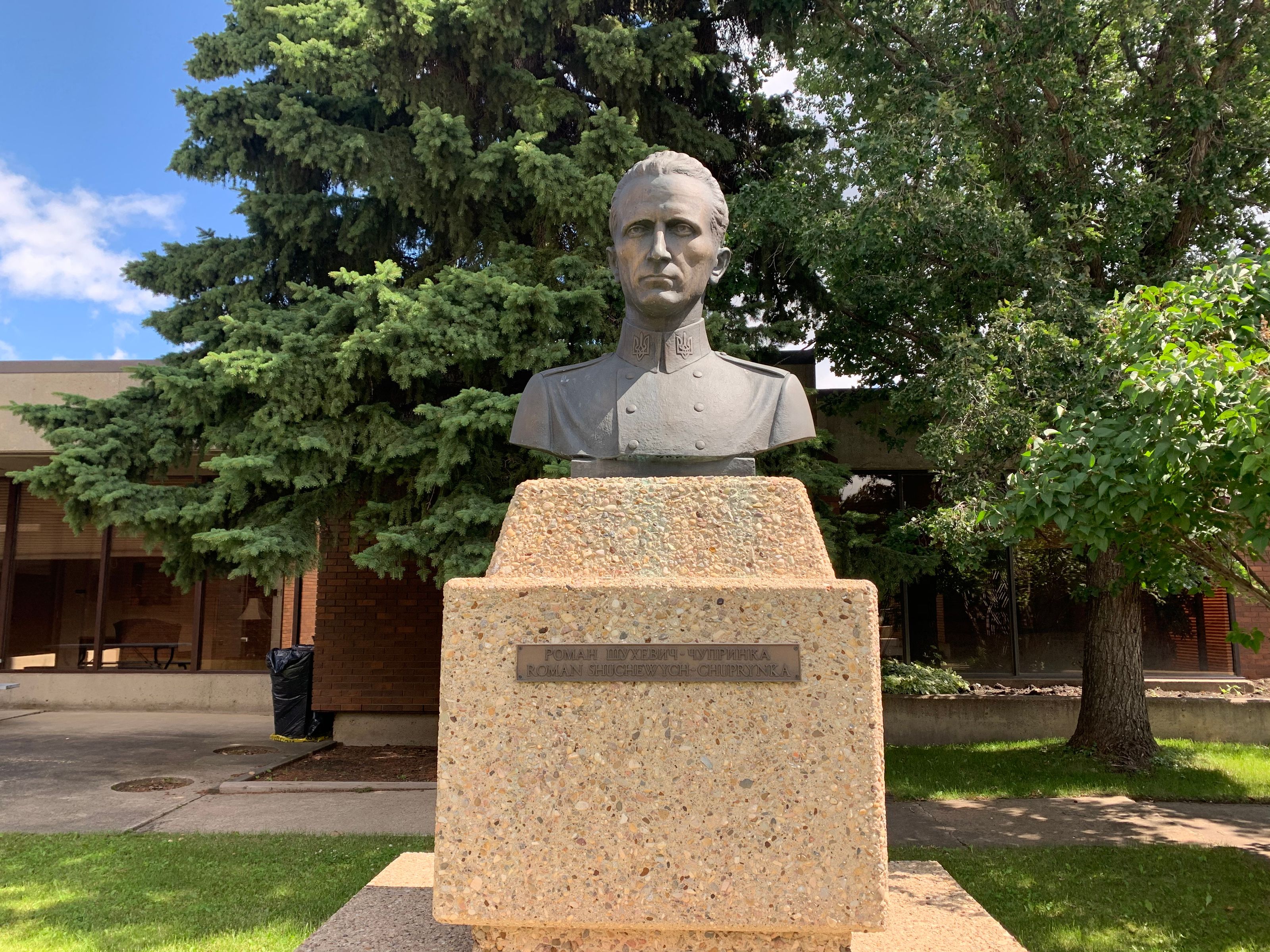 By Paula E. Kirman
Over the past few weeks, activists around the world have dismembered, smeared, and toppled monuments to figures with morally and ideologically checkered pasts, renewing heated conversations about the historical implications of excising statues and place names honouring people once celebrated, but now viewed as problematic.
Edmonton is also reckoning with its past. In recent weeks, a neighbourhood association in the city's west end initiated a campaign calling upon the city to initiate an inclusive community process to rename their district, which is named after Frank Oliver, an early twentieth-century federal cabinet minister known for anti-Indigenous, anti-Black, and anti-immigrant policies.
But there are other problematic place names and monuments in Edmonton. One of them is a bust of Roman Shukhevych, located at the entrance of the Ukrainian Youth Unity Complex in the city's north end. Shukhevych was supreme commander of the Ukrainian Insurgent Army (UPA) during World War II and held leadership positions in the Organization of Ukrainian Nationalists. While viewed as a hero by Ukrainian nationalists for his anti-Soviet posture, Shukhevych shared the Nazi ideology and was responsible for commanding troops that committed massacres with the goal of creating an ethnically "pure" Ukraine free of Poles, Jews, and many others during the Holocaust.
I first heard of Shukhevych in 2017, when I was approached by Adam Bentley, an Edmonton-based filmmaker, to collaborate on a documentary about yet another monument to Ukrainian nationalists in the city. A major connection to my spiritual heritage as a Jewish person is tikkun olam (healing/repairing the world). I am also a working artist always seeking opportunities to incorporate my activism with my practice - both faith and artistic - so I was intrigued by the opportunity.
Bentley, a fellow Jewish filmmaker, had discovered a monument in St. Michael's Cemetery in north Edmonton. The English and Ukrainian plaques on the monument pay tribute to seven battalions who fought in World War II, including the UPA, Ukrainian National Army (UNA), and 14th Waffen SS Galicia Division, which was renamed the 1st Ukrainian Division shortly before the end of WWII. The latter division collaborated with the Nazis in their failed pursuit of Ukrainian independence against the Soviet Union, participating in massacres of Jews, Poles, Russians, and Ukrainians with communist sympathies. Our 2019 short film, A Monumental Secret, delved into the contentious nature of this monument through the narrative of two friends grappling with their knowledge of the monument's history. During my work on the film, which features interviews with Drs. Per Anders Rudling and John-Paul Himka, two prominent academics who have studied the Ukrainian far right, Shukhevych's name came up more than a few times.
The film and my activism around the Shukhevych bust has generated its share of controversy in Edmonton. While the film has been officially selected for three Ukrainian film festivals, in Lviv, Bobritsa, and Kyiv, it has been rejected from a number of local Edmonton film festivals, despite funding from the Edmonton Arts Council.
Following an episode about the monument on a local progressive politics podcast in October 2019, then a subsequent article in the Alberta Jewish News, a local Ukrainian journalist lashed out with angry emails and phone calls. More recent media responses from representatives of the Youth Unity Complex emphasize that Shukhevych represents freedom to the Ukrainian community, and anything else is just Russian propaganda intended to divide ethnic communities. Indeed, in 2017 Russia's embassy to Canada had been tweeting about the Shukhevych monument, as well as the one in St. Michael's Cemetery.
But attacking the source does not make the message untrue.
There seems to be an ever-growing crescendo of awareness about controversial Edmonton monuments that have sat hidden in plain sight for decades. However, no one in Edmonton should feel comfortable with a monument to a Nazi collaborator in their city. Surprisingly, the Jewish Federation of Edmonton did not issue a statement on the status when I contacted the organization for comment in late 2019.
The statue may be on private property, giving the impression it is for private recognition, but that argument is not valid for two reasons. One, we all live on stolen Indigenous land. Moreover, the bust (along with the St. Michael's Cemetery monument) was erected with the help of public funds in the mid-1970s, from programs designed to promote multiculturalism in Canada. Second, a statue of a Nazi collaborator responsible for hundreds of thousands of deaths to achieve "ethnic purity" is not appropriate anywhere. I am a Jewish person with ancestors from Ukraine; a statue to someone involved in the genocide of my people is deeply hurtful and unacceptable.
It is difficult when someone viewed by a community as a hero turns out to be flawed. The truth can hurt, but it should not be ignored. Denying the truth in this instance is a form of Holocaust denial. A statue is an image that may be silent, but the message that it—and the views of the people who blindly support it—can communicate, speaks volumes about the values that the community espouses.
At the same time, removing a statue does not erase a person from history. Not telling the whole truth about a historical figure is what erases history—and what dooms us to risk repeating its mistakes. The accomplishments and achievements of someone can still be taught without putting someone up on a pedestal. The future of these problematic monuments is up to the communities in which they sit. These communities must search their souls to realize what these statues, having sat untouched for so long, say about their core values, and on what side of history they want to sit.
Paula E. Kirman lives in Edmonton, Alberta. She is a writer, editor, filmmaker, photographer, musician, and community organizer. Her website is WordsPicturesMusic.com. You can also follow her on social media: @apaulagetics.
This article was originally published by the Canadian Jewish Record in July of 2020.