(Bloomberg Businessweek) -- Dusting off old board games or buying new ones over the past year in your effort to avoid watching Bridgerton, you might have noticed something about Catan, Pandemic, Game of Thrones, Ticket to Ride, Specter Ops, Agricola, 7 Wonders, and Lord of the Rings. If you'd bought them a decade ago, they would have come from a half-dozen producers. Today, those titles are made by a single company: Asmodee Holding.
Like the Monopoly player who never rolls doubles or lands on Free Parking but suddenly has hotels on Boardwalk and Park Place, the company has quietly bought up game studios and distribution licenses. Asmodee, based just outside Paris, owns about a dozen game publishers and has more than 750 employees, with operations in scores of countries. The company declined to provide financial information or make any executives available for comment, but press reports say its revenue topped €550 million ($650 million) in 2019. That's up from €442 million in 2017 and €125 million just four years before that, according to Eurazeo, a private equity fund that owned Asmodee from 2014 to 2018.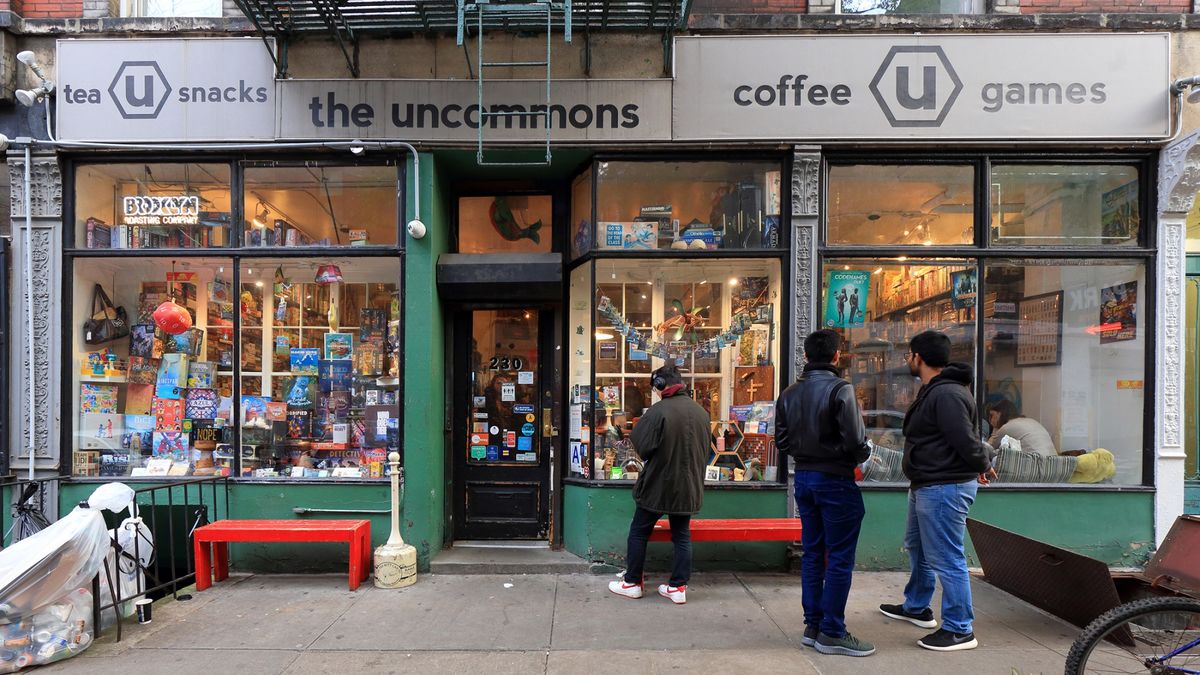 Makers of games have benefited from millennials' pursuit of old-school authenticity, the growth of board game cafes, and—over the past year—Covid-19 lockdowns. Industry revenue climbed about 10% annually in the 2010s, then grew at twice that pace last year thanks to booming sales to people stuck at home, according to Ample Market Research. By 2026, Ample predicts, revenue will jump an additional 80% to $30 billion. Toymaker Hasbro—owner of Parker Bros., which publishes Monopoly, Clue, Risk, Scrabble, and dozens of others—leads global sales, but Asmodee is becoming a dominant force in increasingly popular European-style strategy games.
Many board game enthusiasts insist creativity has suffered under Asmodee. Owners of game stores in three U.S. states say prices are up and customer support has suffered. Gregory Cohen, owner of Lofty Pursuits, a game store and soda fountain in Tallahassee, Florida, says recent changes in processing fees, shipping charges, and discounts have almost eliminated any profit he makes on Asmodee's titles. "They're asking me to basically make no money to carry their product," he says.
And instead of original titles with new characters, settings, and situations, the emphasis has shifted to licenses of Hollywood franchises such as Marvel superheroes and Star Wars, and spinoffs of existing fare: Ticket to Ride now comes in 28 versions, and Catan has dozens. Fantasy Flight Games, a Minnesota studio that Asmodee purchased in 2014, made its name with the smash-hit Twilight Imperium. Today the studio focuses on derivative games rather than new titles; none of the 19 upcoming releases listed on its website are original. "I can't think of a single Asmodee game of A-list caliber, like Catan or Ticket to Ride, coming after they bought a studio," says Robert Cron, co-owner of the GameHaus Café in Glendale, Calif.
The move away from fresh content was frustrating for Heiko Eller-Bilz, owner of German developer Heidelbär Games—the studio arm of a company that Asmodee acquired in 2017. Asmodee had assured Eller-Bilz that nothing would change, but soon his shop and others under the French company were told to slow development of original games. "There was no plan," says Eller-Bilz, who repurchased the creative part of the business in 2019. "It was a disaster."
French military veteran Marc Nunès started Asmodee in 1995 with role-playing games similar to Dungeons & Dragons. His plan was to publish his own games and distribute titles developed by others, but role-playing didn't offer much of a market, Nunès told French newspaper L'Express in 2012. So he added other types of tabletop games including those with specialized cards, such as Uno, and dice, like Hasbro's Yahtzee. In 1998, Asmodee acquired the rights to Jungle Speed, a card game that went on to sell 4 million copies just in France. In 2007, Nunès and his partners sold about two-thirds of the company to Paris-based private equity shop Montefiore Investment for €40 million-€50 million, according to French business daily Les Echos. In 2014, Eurazeo bought 83.5% of Asmodee, valuing the company at €143 million, then sold its stake to PAI Partners four years later for a reported €836 million.
The changes in ownership haven't put the brakes on Asmodee's roll-up strategy, with the company acquiring at least three studios and buying distribution rights to games from several others since the PAI takeover. In February, Asmodee purchased Board Game Arena, an online platform for tabletop games. And in March it took over Plan B Group, maker of Azul, which has sold more than 2 million copies and won the 2018 Spiel des Jahres, the Oscar of the games world. Asmodee has "continued to pick up the best of the best," says André Boulay, co-owner of A2Z Science & Learning Toy Store in Northampton, Mass. "They've monopolized the big-name strategy games."