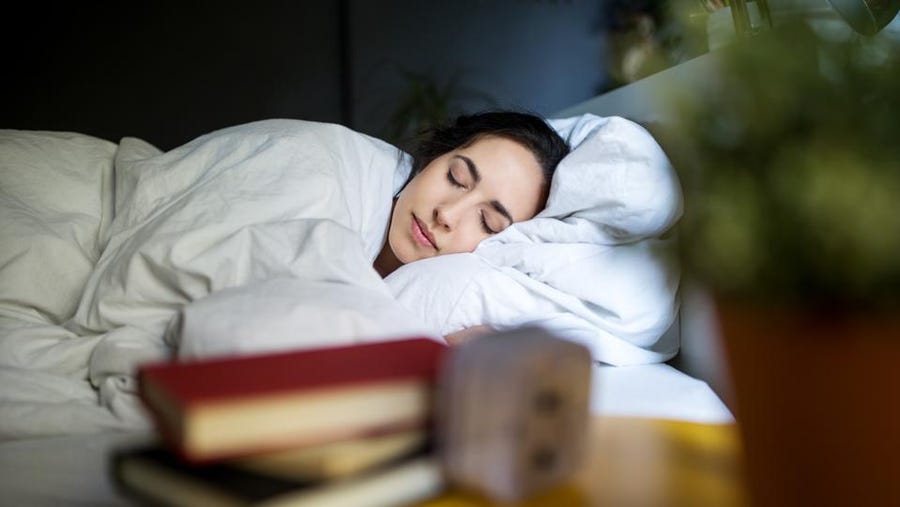 Dreaming of falling asleep more easily? You're not alone. One-third of Americans report not getting the recommended amount of seven hours of sleep a night, according to the Centers for Disease Control and Prevention (CDC)[1]. And for some portion of this group, it's because they're tossing and turning when they'd rather be snoozing.
"It happens to pretty much everyone at some point," says David T. Plante, M.D., Ph.D., psychiatrist and medical director of the Wisconsin Institute for Sleep and Consciousness at the University of Wisconsin-Madison in Madison, Wisconsin. But that doesn't make the struggle to figure out how to fall asleep any less aggravating.
Here are some science-backed reasons why you're having a hard time falling asleep—and what you can do about it.
Why Can't I Fall Asleep?
If you're having trouble falling asleep, it's often due to a mixture of behavioral and biological factors, says Dr. Plante. While sleep issues vary from person to person, the 3P Model is widely accepted among the professional medical community as a means of understanding why many of us have trouble falling asleep at night, according to Dr. Plante.
Those three "P's" are:
Predisposing factors. While there aren't specific genes that cause insomnia, says Dr. Plante, some of us may be predisposed to having trouble falling or staying asleep.
Precipitating factors. A stressful event, such as the death of a loved one, a health crisis, an exam or a deadline can be a precipitating factor causing a few nights of insomnia in a row.
Perpetuating factors. Once an acute stressor is gone, you might inadvertently start to engage in certain behaviors that perpetuate your insomnia—such as worrying about how tired you'll be if you have trouble falling asleep once again or getting into bed too early in hopes of getting more sleep—only to toss and turn.
The good news is, there's a lot you can do to fall asleep faster at night.
Stick to a consistent sleep-wake schedule
Our biology—and our circadian rhythms in particular—dictate when we fall asleep.
Your circadian rhythm is the 24-hour cycle that determines the timing of hormonal fluctuations, as well as variations in alertness and body temperature, that essentially tell your body when to sleep and when to rise.
Because of your circadian rhythm, if you haven't been awake long enough (generally 16 hours), you won't be able to fall asleep, no matter how relaxed you are at bedtime. If you try to fall asleep earlier than usual in anticipation of an early meeting, for example, you're likely to toss and turn until your body has accumulated enough sleep debt, or hours since you last slept, to fall asleep. Doing your best to go to sleep and rise at the same time each day, including weekends, will set you up to fall asleep quickly and easily.
"Setting your wake time is a cue to your body about when you should be awake and when you should be asleep," says Molly Atwood, Ph.D., assistant professor of psychiatry at Johns Hopkins University School of Medicine in Baltimore. "It will also help other parts of your day fall into a regular routine."
Don't Look at Screens Before Bedtime
Screens emit blue light, "the specific frequency of light that most profoundly impacts the communication to our bodies of what time of day it is," says Dr. Plante. Screens, therefore, can trick our brains into thinking it's morning, interfering with the biological processes that bring on sleep. Instead, darkness signals a part of our brain to produce melatonin, a hormone produced by the pineal gland, which helps us fall asleep.
Indeed, according to a 2014 study, people who read on blue light-emitting devices before bed took significantly longer to fall asleep than those who read a printed book[2].
While some of us can fall asleep to a Friends rerun and enjoy high-quality slumber all night long, this isn't the case for everyone. If you struggle to fall asleep, Dr. Plante suggests not looking at screens—including laptops, televisions, tablets and phones—starting ideally after dinner, but at least an hour before you want to fall asleep.
A 2017 metastudy found the "overwhelming majority" of research shows that caffeine has a significant effect on the time it takes to fall asleep[3].
"The half-life of caffeine, which is the time it takes for it to reach half its potency, has been reported as four to five hours when modest amounts have been consumed, and it is even longer after higher levels of intake," says Dr. Atwood. "Therefore, sleep experts recommend that you limit your caffeine intake to the equivalent of no more than three cups of coffee per day and that you do not consume caffeine after lunch."
If falling asleep is an issue, make sure you're done with your coffee, tea or energy drinks before noon.
Get Your Exercise (But Get it Early)
In general, exercise promotes falling asleep easily and contributes to high-quality slumber—as long as you don't do it too close to bedtime, says Dr. Plante. "You don't want to run five miles and hop [right] into bed at night because your body needs to calm down."
Exercise can increase your core body temperature, adds Dr. Atwood, which increases your alertness, making it hard to relax enough to fall asleep.
A 2020 Journal of Health Psychology study of nearly 1,000 women found that exercising in the evening was associated with later bedtimes, poorer sleep quality and lower sleep efficiency compared to exercising in the morning[4].
So while exercise is great for your health, Dr. Plante suggests completing your workout at least three to four hours before bedtime.
Don't Drink Alcohol in the Evening
Alcohol has a sedating effect, which is why many people who have trouble falling asleep use it to self-medicate. But using alcohol to bring on sleep tends to backfire, as the sedating effect wears off quickly. This keeps you from getting the deep, high-quality N3 and REM sleep stages that allows you to feel refreshed in the morning. Plus it's a diuretic, which means you're likely to wake in the middle of the night to use the bathroom. "[Alcohol] ends up being quite a net negative," says Dr. Plante.
A 2013 metastudy of more than 100 peer-reviewed studies found any amount of alcohol was associated with decreased time to fall asleep, as well as increased disruption of the second half of sleep. While low and moderate amounts of alcohol had no clear effect on REM sleep in the first half of the night, at higher doses, there was clear association with REM sleep reduction[5].
Cutback Coach uses a psychology-based approach to help you drink more mindfully. Get a custom plan based on your current drinking habits and goals, then daily text messages help you track progress and stay on target.
Get Out of Bed
Although it sounds counterintuitive, Dr. Plante says giving up the fight to fall asleep is often one of the most effective tactics. Instead of tossing and turning and staring at the clock, he suggests getting out of bed and doing something relaxing, like reading under low light or "whatever it might be to help you feel drowsy," then going back to bed, and repeating as needed until you fall asleep. The goal is to distract yourself from your anxiety, whether it's life stress or simply the nerves that come with having issues falling asleep.
Research backs this up. A 2015 Sleep Medicine study found that the heart rate variability that occurs with stress was associated with an increased risk of sleep disturbances[6].
Many people turn to natural sleep aids for relief. Dr. Plante suggests talking to your doctor to see if medication is the right option for you. But for most people, he says, modifying your daily habits can make a huge impact.
Footnotes
Forbes Health adheres to strict editorial integrity standards. To the best of our knowledge, all content is accurate as of the date posted, though offers contained herein may no longer be available. The opinions expressed are the author's alone and have not been provided, approved or otherwise endorsed by our advertisers.