Sciatica hasn't stopped Liz McDonough, but it has forced this endurance athlete to modify her training and listen to her body.
Liz McDonough is the kind of person who finds a way to get things done. The first time I met her for a road bike ride in 2006 she had an infant, a full-time job, and (not surprisingly) a huge sleep debt. I was quite possibly in the best shape of my life. Yet for over 50 miles, I hung on for dear life just to keep Liz's rear wheel in view.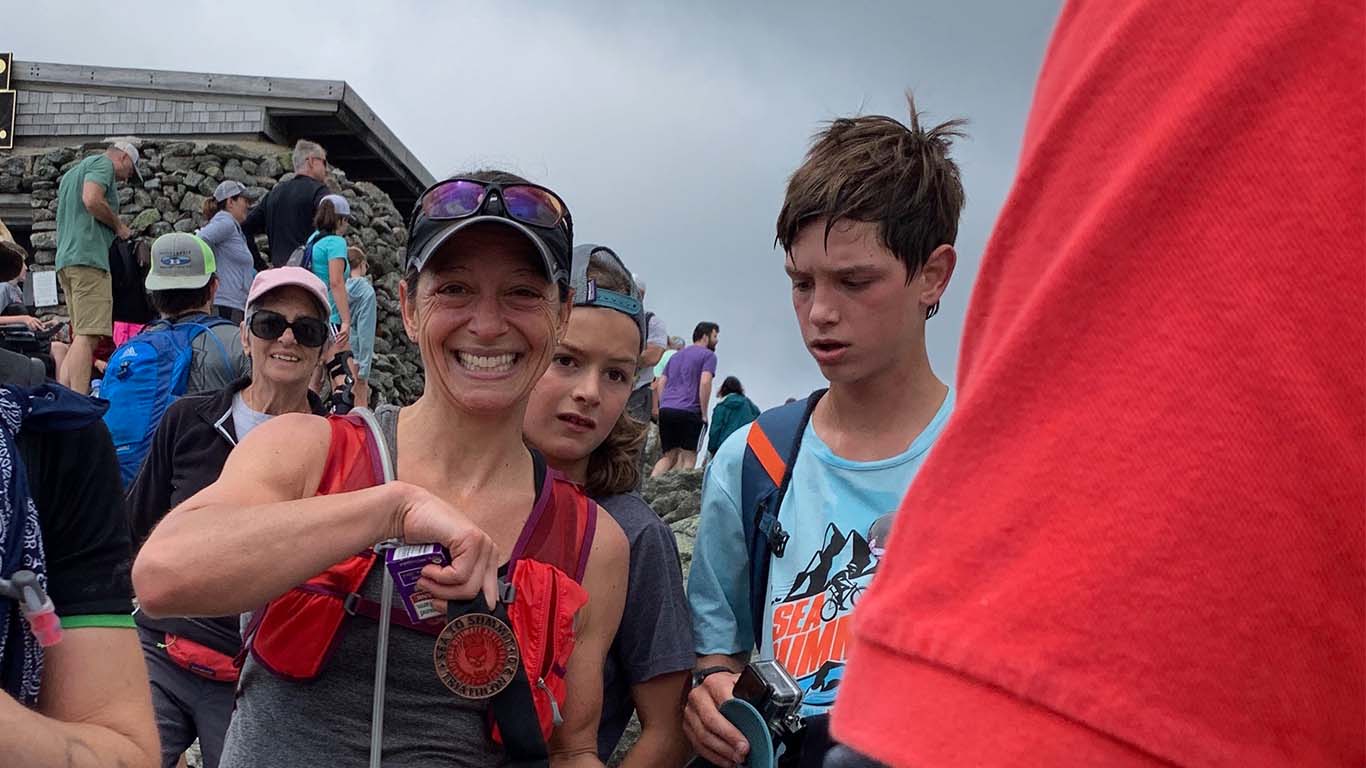 Then 30, the Rhode-Island based lighting specification sales representative had a mild case of sciatica that would eventually worsen. Just weeks away from the endurance event she'd been dreaming of for years, she was wracked with agonizing pain that, at times, made it impossible to even stand up straight.
Determined to finish what she'd started, she toed the line at Ironman Lake Placid with optimism and a supply of painkillers. That was enough to get her through 140.6 miles of swimming, biking, and running. But afterward, she knew she'd have to make some changes if she wanted to remain active.
Today, despite her diagnosis she remains a competitive endurance athlete — with help from new habits and a major mindset shift
Liz, now 45 and the mother of two boys, grew up as one of three kids in an active family in rural upstate New York. There, she did gymnastics, participating in every event, from elementary school through high school. She recalls training and competing on wrestling mats rather than the type of mat traditionally used for the high impact of gymnastics. She tells SpineUniverse, "I always thought that that's what started it."
After playing softball throughout high school and college, she became an avid runner. Following graduation in 1997, her first job took her to Manchester, New Hampshire. To meet people, she joined the local running club. In the fall of 1998 she ran the New York City Marathon, which would be the first marathon of several she'd run over the next couple of years.
This was when she started to feel the first twinges of sciatica. It wasn't painful, Liz remembers. "It was more like, I go to take my shoes off or put them on and I'd be like, 'Boy, I feel something.'" At the time, she never imagined that mild discomfort would force her to find a new athletic outlet.
By 2000, as she increased her mileage and intensity in preparation for the Boston Marathon, the twinges forced her to pay attention. In hindsight, Liz wishes she'd listened to her body and taken more days off rather than "just doing the push, push, push." As a goal-driven person, it was just easier for her to keep going, even when her body was telling her to back off.
At that point she was experiencing pain while putting her shoes on before she even hit the pavement. She saw a physical therapist who gave her a home exercise program and a suggestion: Incorporate low-impact cross-training into her routine.
Two years later, Liz admits she'd largely abandoned the home exercise program. But with a diagnosis of sciatica and an L4-L5 disc herniation, she knew she'd have to redefine herself as an athlete; being a distance runner just wasn't sustainable.
So she threw herself into road cycling and swimming and entered her first sprint triathlon. Though she was initially overwhelmed by the idea of learning two new sports, she was happy "at least doing something [active]," she says.
Never one for half measures, Liz was soon covering greater distances. In 2006, at a half Ironman triathlon that drew competitors from all over New England, she won her age group, finishing among the top ten women overall. It was less than a year after she'd given birth to her first child and only her second attempt at the distance (1.2-mile swim, a 56-mile bike, and a 13.1-mile run).
Buoyed by her success, she trained for and completed the New York City Marathon in the fall of 2006 before diving headfirst into training for an Ironman triathlon. The Ironman, comprised of a 2.4 mile swim, 112-mile bike, and a 26.2-mile run, tests every athlete's mental and physical endurance. But for Liz, there was an extra challenge: managing her sciatica.
Juggling a full-time sales position, motherhood, and a triathlon training schedule that often demanded up to 20 hours per week took its toll. For months, Liz got by on six hours of sleep per night, often waking as early as 4 am to work so she could take time for a mid-day training ride.
About six weeks before Ironman Lake Placid, her sciatica started to affect not just her training but her everyday life. She recalls standing up from a banquette after a business lunch with clients and crying because the pain was so intense. The light twinge had turned into a shooting pain that extended from her low back down her leg. She was fitter than ever, yet she had to hobble out of the restaurant, hunched over because it hurt too much standing up straight.
Liz originally hoped to do well enough at Ironman Lake Placid to qualify for the Ironman World Championships in Hawaii. But weeks out from the race, she had to adjust her expectations. Now her goal was just to finish.
Cortisone injections and physical therapy helped take the edge off before the race. Painkillers helped her manage her symptoms on the course. Having sacrificed so much just to get to the start line, Liz says, "At that point I was like, 'I'll do whatever it takes to do this.'"
Looking back, she has some clarity. "It was definitely from overtraining. There is no doubt," Liz says. Overtraining on top of her biomechanics, which she says included the weak glutes and tight hips that are common among many runners, as well as a weak low back, created a perfect storm.
In the wake of that Ironman, she focused solely on swimming, the only sport she could do without pain. She also focused on core work (lots of planks, but no crunches), foam rolling, and stretching. And although she experienced a sciatica flare in 2009 after delivering her second son, she's been largely pain-free since then.
Today, she embraces new athletic pursuits — and a very different approach to her workouts. To address her weaknesses, she does a strength and conditioning workout twice a week. She also does exercises that target her weaknesses no less than three times a week. That includes planks (but no crunches), lumbar extensor moves like Supermans, and "alphabet" exercises with resistance bands or her TRX to strengthen her upper back. And depending on the season, you can find her mountain biking or road biking at least two or three times a week.
Perhaps most importantly, despite being a self-professed rule follower, Liz now gives herself permission to take an easy day or a day off when she needs it. Re-training herself to listen to her body rather than adhering to a rigid training plan hasn't come easily to Liz. With
a degree in ceramic engineering and an MBA, she thrives on structure.
But with her new mindset, she's been able to accomplish her athletic goals while keeping her sciatica symptoms at bay. In 2019 Liz tackled the Sea to Summit, a grueling endurance event that requires participants to participate in a qualifying event just to register.
The mountainous course straddles the New Hampshire/ Maine border and consists of a 1.5-mile open water swim, followed by a 91-95 mile bike ride (racers can choose their route), and finally a five-mile run/climb up Mt. Washington. At 44, Liz was the third woman to cross the finish line.
Currently, when she's not busy working and coaching her teenage son's mountain biking team, she's training for her own goals. Summer 2021, Liz has her sights on two mountain bike events: an 80-mile organized ride which extends from Rhode Island's northern border to the state's southern tip and a 33-mile race known as Hell's Half Acre.
How she'll train will depend on how her body responds. If there's one thing Liz has learned since her diagnosis, it's to pay attention to her sciatica instead of her ego.