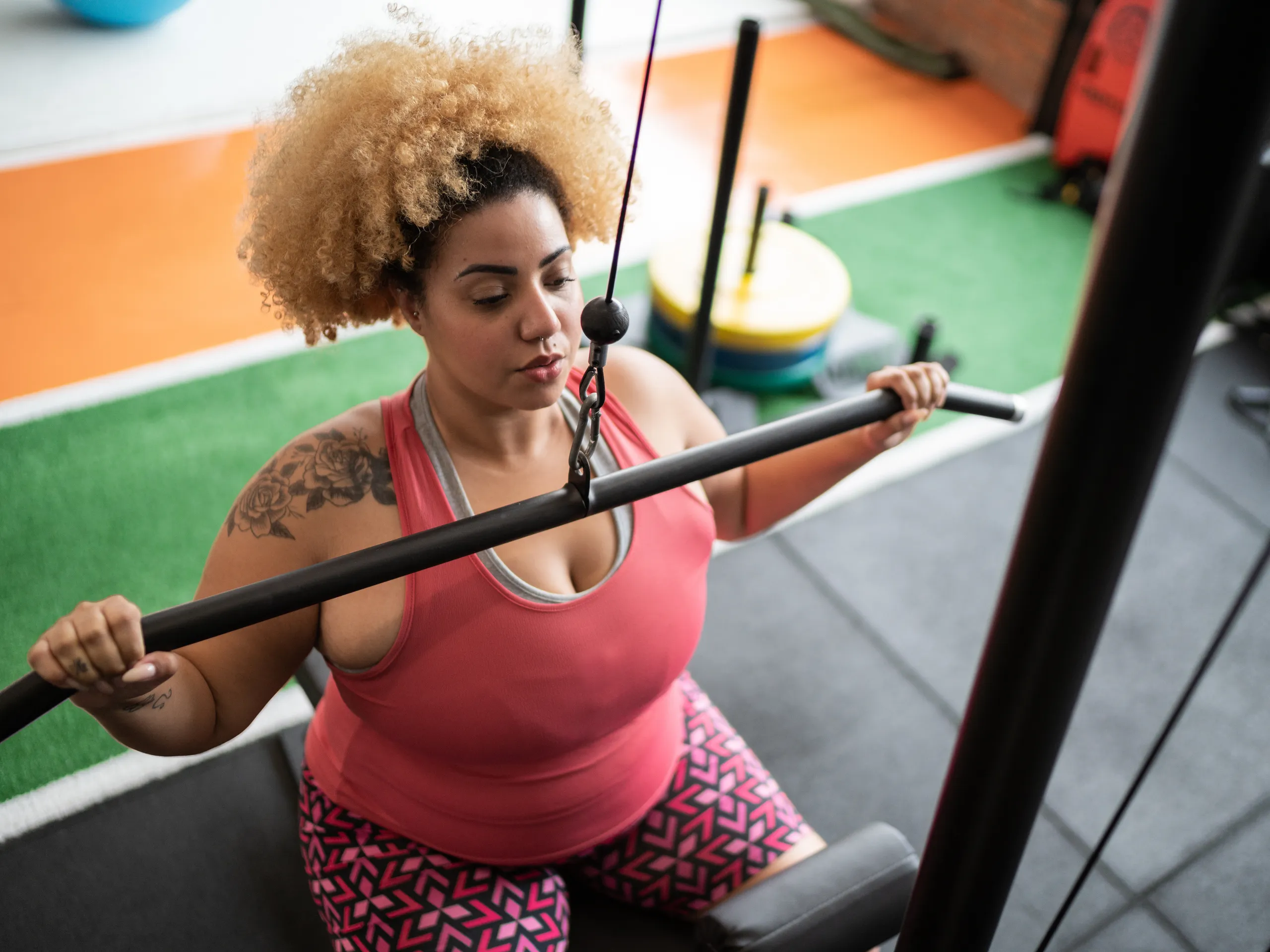 The fitness world can feel intimidating for anyone. But as folks in larger bodies know all too well, it can often be exclusive, unwelcoming, or even unsafe.
Diet culture is largely to blame, Nancy Ellis-Ordway, Ph.D., LCSW, a Jefferson City, Missouri, psychotherapist specializing in eating disorders and weight stigma, and author of Thrive at Any Weight, tells SELF. It can work its way into physical spaces, like gyms and studios, where fitness instructors can rely on harmful, body-based "motivation" to encourage their class to work hard (say, by implying that the work they're putting in "earns" them dessert later). The message: "You don't want to look like me,'" Dr. Ellis-Ordway says. It shows up in stores, where finding proper exercise clothing in larger sizes is nearly impossible—and expensive. And it's also pervasive outside dedicated "fitness spaces," too, which can lead to the same feelings of alienation from outdoor activities like hiking, running, and cycling.
"When [people] in larger bodies exercise outside and are visible, there's an awful lot of people who seem to feel entitled to make a comment about it," Dr. Ellis-Ordway says. This is especially true for women and other marginalized genders.
As SELF explored in our Future of Fitness package, the fitness world has a lot of work to do in terms of being a welcome, inclusive space for all bodies. While we need a solution from the institution as a whole, many larger-bodied exercisers are taking it upon themselves in the meantime to navigate the fitness world to make their own space. We spoke to eight larger-bodied exercisers to find out what helped them find their niche in the fitness arena. Here's what they said.
1. Research fitness spaces for diverse representation.
"Sometimes, as a Black superheavyweight lifter, people assume I'm incredibly strong, both because of racial stereotypes and because of the 'mass moves mass' theory. I've also had people assume I'm not good, fast, or technical because I'm fat. Trying to find the balance between self-protection for my actual needs, while also pushing myself as an athlete has been a really interesting journey as a fat Black woman.
I can't stress enough how important it is to research fitness spaces before you show up for a workout. Researching a place or an environment helps me get back some of the control that racism, queerphobia, and fatphobia take from me.
I look for representation. If they're showing bigger bodies on their social media, is it part of a weight loss challenge? If I were to get injured, can I trust that I will be treated with dignity as a fat person? Maybe the space appears safe for women, but not necessarily Black queer women. Maybe the gym looks awesome but a thin blue line flag is hanging from the rafters. Maybe they blacked out their Instagram feed last June for a day, but have done nothing else to address white supremacy. I need to know that every part of me will be taken care of in my fitness environment.
Going to places where I am celebrated, coached as an individual, and affirmed helps mitigate a lot of the issues I've faced in the fitness world. And while I'm actively working to create welcoming conditions for others, there's still a lot of work to be done." —Amanda Gilliam
2. Find a trainer who mirrors your philosophy on weight and bodies.
"Initially, the gym was very intimidating. Being surrounded by people whose bodies didn't look remotely like mine and who looked like they'd been going to the gym for years, I was uncomfortable asking for advice or for assistance with the machines and equipment. I found myself making excuses not to go.
Then I found a queer personal trainer whose philosophy on weight and bodies was similar to mine; we worked on strength and endurance goals that had nothing to do with weight loss. He helped familiarize me with the equipment and served as a 'buddy.' Focusing on conversing with him and enjoying the time I had to work out without paying attention to the people around me helped me get over the intimidation factor.
Eventually, I realized people around me didn't really care what I was doing. Plus, they were friendlier than I'd given them credit for. I got to know the people who worked out at the same time as me, and we'd smile at one another and say hello. It turned out, a lot of folks were happy to have a conversation. And if they weren't, it was because they weren't there to talk to anybody; they just wanted to do their workout." —Chaya Milchtein
3. Don't wait for the perfect situation to begin working out.
"I feel like every larger woman who has been picked on for her weight all her life has the same story to tell. We've all had to learn to ignore the looks and the comments, or the person trying (and failing) to hide their cellphone as they hoped to get a video funny enough to go viral of the fat chick chug-a-lugging on the stationary bike.
But remember that the perfect time to workout out is right now, even if the circumstances aren't perfect. You don't need to be in head-to-toe Lululemon. Throw on a T-shirt and some shorts and go for a walk. If walking in public gives you anxiety, walk circles around your house. Don't feel comfortable at the gym either? Grab a couple water bottles or canned veggies and find a beginner workout video to do at home.
Some days, I still feel like I don't belong, despite completing a bunch of marathons, a half Ironman, and zooming past skinny people toward the finish line. But reminding myself of how much better I feel now that I've been working toward my athletic goals helps me ignore the things that make me feel excluded." —Allison Cassatta
4. Create your own community.
"As a fat cyclist, the biggest issues I've run into have all been around clothing, feeling othered, or unintentionally left out from the group. For example, I was recently considering joining a local team. And although there are many brands who now, in 2021, make extended sizing, their custom kits only went up to an XL. The message was subtle but clear: I'm not welcome.
However, I've had a lot of success with forming my own bike community and leading group rides on my own. I realized that there were a lot of other folks who felt left out—either because of their size, gender identity, or other reason—who were also looking for a welcoming community.
That said, no matter how much I change my attitude or how much our culture shifts the narrative toward accepting fat people, bicycling is inherently a sport with physical barriers. You need a bike and clothing. While some brands have definitely gotten better at making extended sizes, there is still a definite lack of clothing choices for larger riders, which inhibits and excludes a lot of riders." —Marley Blonsky
5. Remember, the unwelcoming spaces are the problem—not you.
"I've been fat for most of my life and have dealt with bullying from elementary school through adulthood. At 23, two women at my gym would consistently work out next to me and tell others it made them feel better about themselves because at least they weren't sweating as much as me. It got to the point where I eventually stopped going to the gym.
But the exclusion has also been subtle. The first time I walked into a yoga studio, I was asked if I was waiting for someone. The message was that I wasn't the type of person who attended classes there. On top of the weight stigma I experience, being non-binary, I'm often misgendered in gyms, which immediately puts me on edge and makes me feel unwelcome.
It helps to remember those spaces are the problem, not me. People who are secure and happy with themselves don't go out of their way to exclude others. This doesn't mean that it doesn't hurt, and you shouldn't be angry—but don't internalize it, because it isn't your weight to bear.
Realizing this changed the way I interact with the world. It isn't my job to impress or meet others' expectations, but to do what is safe and comfortable for me. I don't have to push myself into a pretzel during class to prove that I can belong there, I belong there because I am practicing ahimsa (to do no harm) and satya (truthfulness) in my yoga. If that isn't enough for the teacher, that isn't on me. This has allowed me to deepen my practice and find peace with where my mind and body are at." —Shannon Kaneshige
6. Conquer a big (non-weight loss) goal.
"For most of my life, my exercise goals revolved around weight loss. Running and kayaking were just a couple of the things I was putting off until I lost weight. I know many people won't even come to the gym until they lose weight. I get it. It's hard to feel welcome in a space when you don't see anyone who looks like you.
And on the rare occasion that you do? You may end up hearing them being talked about behind their back. I remember being in a boxing gym when, in the middle of class, a trainer yelled at another member, asking where her 'fat daughter' was. Although it wasn't directed at me, I felt so uncomfortable. It felt like he was saying, 'Hey, you fat person, you shouldn't be here,' and I wondered if that was how he referred to me behind my back. I didn't feel comfortable speaking up because I was afraid of making him angry.
After completing breast cancer treatment, I found a group of plus-size women who were hiking Mount Kilimanjaro. At that point, I had zero hiking experience. I wanted to do this, not to lose weight, but for myself. Completing that summit showed me that I can do anything. As long as I train and prepare, I don't have to be a certain size to accomplish a massive goal. I know that if that scene in the kickboxing class happened today, I'd have the confidence to speak up." —Bisa Myles
7. Trust in your capabilities and what you've already accomplished.
"I never thought I'd have a career in fitness. I love higher intensity classes, but I never saw people with bodies like mine lead those types of classes. The first time I ever had a curvier instructor was in a Zumba class, and I thought, okay, I guess this is the only type of class I can teach. When I did start teaching, it was with encouragement from some amazing mentors at my local YMCA, who said, 'We want people in the community to feel welcomed and see bodies like theirs teaching bootcamp, HIIT, and cycling.' Still, there are times when I walk into a room and people assume I'm there to take the class. People are often shocked at my experience and abilities.
One thing that's been hugely helpful is showing up in fitness spaces with a deep belief in myself. Yes, there are still obstacles and, no, I don't always feel welcome, but for the most part, I am beyond certain of my capabilities. When I walk into a room, people pick up on that. There's something really powerful about leaning into why you're here, what you can do, and knowing that you're bringing something so valuable to the table, regardless of your weight, shape, or size." —Kanoa Greene
8. Be the change you want to see.
"When I was training for my first 5K, I tried not to tell anyone because I was embarrassed, thinking people would laugh behind my back about the fat girl running. Up to that point, every trainer I encountered was focused on weight loss. And given the limited representation in the commercial fitness world of larger bodies doing athletic things, it's difficult for a plus-size person to feel welcomed and safe.
When someone found out about my upcoming race, the word spread, and one day a coworker came up to me and told me I was her hero. She'd always wanted to become a runner but thought it was out of reach. Seeing me run gave her permission to do it herself, and I realized that by hiding, I was actually doing others like me a disservice. That ultimately led me to create my coaching business.
Generally, the fitness industry still isn't accepting of fat bodies exercising, but as a running coach, I have the opportunity to create the space I've always wanted, one that's accepting of and welcoming to all bodies. As a running coach, I've heard so many stories from clients who tried to hire a coach or join a group running program and were told they'd have to lose weight in order to succeed. The women I work with have accomplished amazing things (many of them are ultra runners!) all while running in the types of bodies that are rarely featured in the mainstream running media." —Jill Angie
Responses have been edited for length and clarity