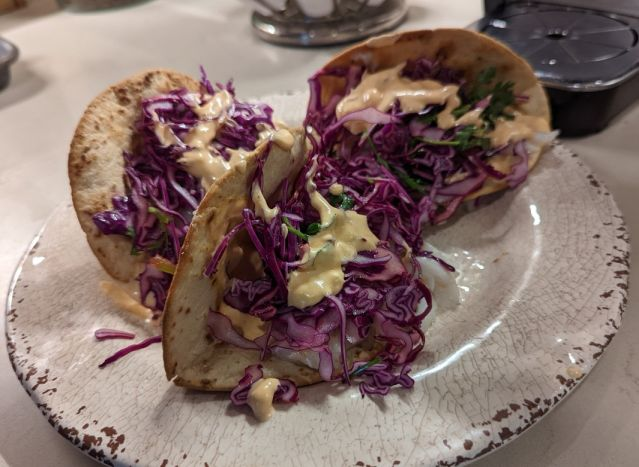 This take on fish tacos began when I watched an episode of Chef John in which he makes puffy fish tacos.
In the video, Chef John opines that a little more crunch could improve most fish tacos. I have made a lot of fish tacos at my house, and they are great, but I had to agree with him. Make some fish, prepare some slaw and toppings, then wrap it all in a hot or even charred tortilla and you have a good taco. But if there were just a little more crunch, it would be even better.
I can get crunch by deep frying my fish, and anything coated in batter and deep fried is great. But I make fish tacos far more often than I have the gumption to deep fry.
Chef John coats both sides of a six-inch diameter flour tortilla with a small amount of oil, places the fish on one side of the oiled tortilla, and puts the whole thing on parchment paper on a sheet pan in a 500 degree oven. In seven minutes, the fish is cooked and the tortilla is crispy but still bendable. Amazing. Bend the tortillas into a taco shape over the now-cooked fish, add toppings of your choice and you are ready.
The crisped tortilla doesn't add tons of crunch, but enough to make me go that route more and more often when I have a choice how I am going to prepare the tortilla.
One day I wanted to make shrimp tacos on the fly, but put the shrimp in the baked flour tortillas I had come to love. I like to cook shrimp for tacos and related dishes starting with a cold pan in which I place lightly oiled and spiced shrimp. Starting cold gets me a little browning without overcooking.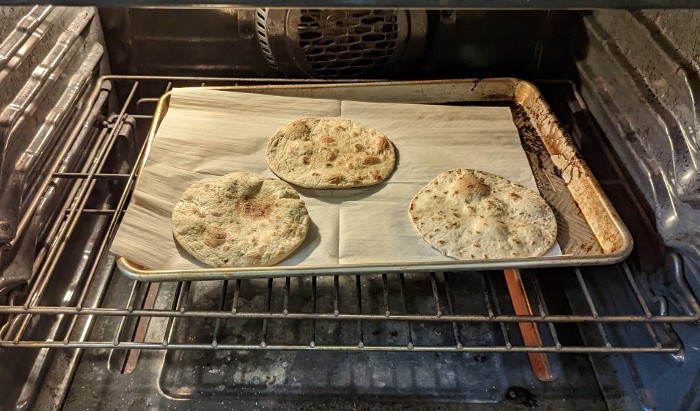 Because I didn't want to cook the shrimp on the tortilla the Chef John way, which I probably could have done, I oiled the flour tortillas and placed them flat on parchment in the 500 degree oven for six minutes while I finished up the shrimp. I checked them through the oven window periodically and if any of them were developing a giant bubble, I squashed it.
When the time was up, I took out the tortillas and folded them. Timing is important. Take them out too early and they won't be crisp. Let them stay too long and they will become too brittle to fold. Six minutes was right for me, but your experience may vary. I dropped the shrimp in the fold, then added the sauce and the slaw.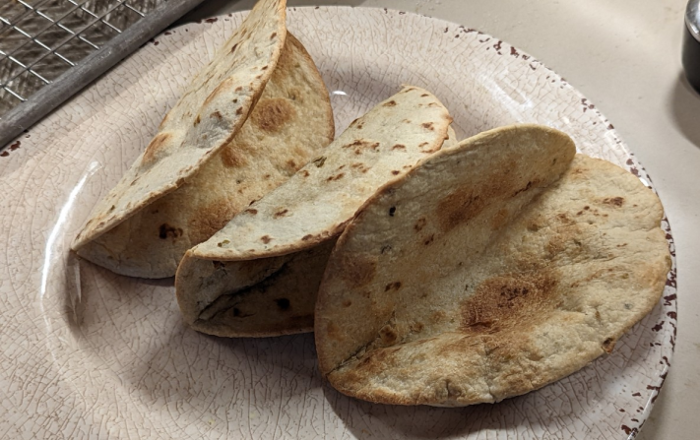 I have since done the same thing with cod. I baked the tortillas, folded them and then added the cod. The picture at the top of this article shows the cod tacos with a purple cabbage slaw, and a siracha-lime-mayo dressing. I mixed jalapenos and cilantro into the slaw at the last minute.
By the way, the slaw is quick for me because I have a Benriner mandolin and a cut proof glove. As I thin-slice the cabbage, I feel the glove occasionally catching on the razor-sharp blade. Without the glove, that would mean a trip to urgent care and stitches. I love the mandolin, but only with the glove.
A bit of salt and lime juice dropped on the cabbage ten minutes before serving softens up the slaw just fine.
Serve with additional sauce and lime on the side.
A Bonus Crunchy Idea for Midnight Non-Traditional Tex-Mex Snacks
Speaking of crunchy, I would like to put in a good word for pre-made hard tostado shells.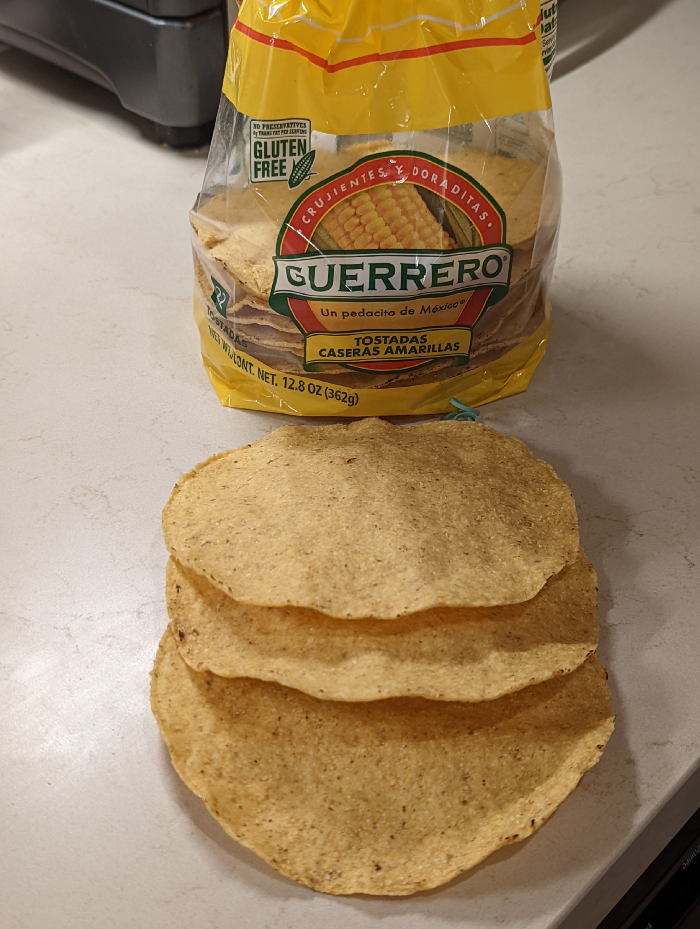 These things don't get enough love. Unlike pre-made crunchy taco shells, which never seem to work out for me, these tostado shells, after five minutes or less in a 350 degree oven are hot, crispy, delicious and ready for toppings. I top them with whatever I have.
To get the real Taco Bell feel, take the six-inch flour tortillas you are using for fish tacos, spread some refried beans, fresh or canned, on the flour tortilla, then top that with a hot crispy tostada shell. On top of the hard shell, add some cheese, salsa, sour cream and fresh stuff, and you have a delicious raft of Tex-Mex flavors with a perfect amount of crunch for a Friday night Netflix binge.