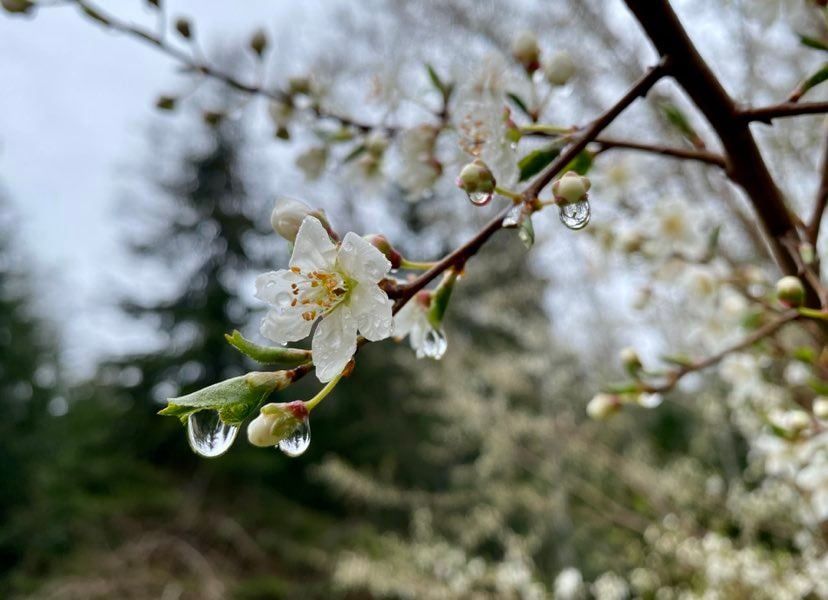 Spring is all about learning from observing the strength of growing things~ from watching the buds swell on plants, mentoring Indigenous youth reporters, planting kale, to cheering on my kids on their learning paths.
I had the opportunity to travel to Chief Drygeese territory, (Somba K'e, Yellowknife) with Reel Youth– helping with facilitating filmmaking workshops, where youth were learning to use their voices through film, youth bursting at the seams with power. February's the coldest month to travel there, my friends warned me. We arrived to -52 degrees with the windchill– but leaving a week later, temperatures had risen to 0. I left thinking of the impacts of climate change on all the beautiful places, with the youth's voices circling in my thoughts. The youth had shared stories of systemic racism, the weight of navigating inequities– and how the land heals.
These things move me to act, and as my favourite teacher at Emily Carr, Carel Moiseiwitsch once said, "Art is a good place to start." So keep your eyes out for stories from the north in Watershed Sentinel's next issue, and the youth's films! Acting comes with risk, and that's the feeling I had last week, holding my first manuscript, printed and ready to send out for input and feedback... so vulnerable. Combined with knowing it would never feel truly "finished," like a garden. But, sharing is what our voices are made for, so I sent it around to trusted mentors and dear ones.
Speaking of art and activism: Alanis Obomsawin's documentary short Bill Reid remembers, is a beautiful tribute to her friend's life, sharing his thoughts on artistry and activism. "As human beings, we require our sacred groves. They've always been part of almost every group of people, wherever they may live. There's something about the great trees, that seems to be necessary to the welfare of the human spirit," says Bill Reid. Trailer here.
Our youth, our lands, and our future– motivate me to continue in this work of interviewing, learning, and writing. Knowing there's always more to learn, I'm off to Florida for Poytner's Rising Newsroom Leaders week-long intensive. Growing and refining skills– to be shared. As Tanya Talaga says, "In Ojibwe and Cree culture, leadership didn't mean power, it meant caring."