Our editors independently research, test, and recommend the best products; you can learn more about our review process here. We may receive commissions on purchases made from our chosen links.
The Rundown
Finding the best headphones for your needs can be overwhelming, considering the sheer abundance of options available. While you're sure to find a pair of headphones with your listening preferences, style, and budget, you're also destined to find several models that fit the bill. Headphones come in a variety of prices, shapes, and sizes. To complicate things even further, you can find features such as noise cancellation, surround sound, waterproofing, built-in voice assistants, and more.
Headphones are an essential part of a person's electronic arsenal and have a variety of uses. Whether you're a traveler, music lover, audiobook listener, or podcast junky, there are headphones designed for many listening tastes. While listening, you have the choice to be wired to your device or take the wireless route.
Regardless of whether you prefer one over the other, technical specs such as frequency response and impedance heighten your listening experience more than you can imagine. The best pair of headphones for you will primarily depend on two things: your primary use for the headphones and your budget.
But don't fret; we've examined the headphone market based on factors including comfort, design, audio quality, battery life, and premium features. We've rounded up some of the best headphones currently available irrespective of your needs or price range.
Bose is well-known for its renowned noise cancellation technology. Whether in headphones, vehicles, home entertainment systems, or otherwise, Bose literally has you covered. The Bose QuietComfort 35 Series II, available in black or silver, are perfect for drowning out background noise. While the simply-designed headphones aren't the most beautifully sculpted, they're comfortable, and the quality is unmatched. Within the practical design, you're able to manage calls, access the built-in virtual assistant, and adjust the level of noise cancellation within the earcups.
Bose's highly functional headphones can last your entire workday and then some. Specifically, the headphones can last for 20 hours in wireless mode. You can also make calls while in wireless mode when the headphones are paired with your phone, thanks to the built-in microphone and its noise-rejecting technology.
The QuietComfort 35 II are equipped with a volume-optimized EQ for a consistent and balanced performance. The headphones' premium audio features eliminate outside elements so you're able to enjoy your podcast, music, or movie. Not to mention the fact that the QuietComfort 35 II are Alexa-enabled, allowing you to voice-control your music and get answers to questions as you would with the virtual assistant of your choosing. All of these perks come with a price tag of $300, so make sure you've saved up for these headphones.
Type: Over-ear | Connection Type: Bluetooth | ANC: Yes | Water/Sweat Resistant: No
"A well-designed pair of noise-cancelling Bluetooth headphones with excellent audio quality, a useful app, and the ability to interact with voice assistants. In addition to the extremely responsive digital assistant, the Bose QuietComfort 35 II's best features are the impeccable sound quality and market-leading noise canceling technology." — Don Reisinger, Product Tester
Sony's carefully crafted over-ear WH1000XM3 headphones have an ergonomic design that ensures you can wear them for hours in total comfort. In particular, the headphones are slim and lightweight, which reduces pressure on the ears. The WH1000XM3's headband was designed to snuggly fit the arch of the head. Sony also added extra padding to further support long-term wear.
While comfortable, these headphones aren't sweat or water-resistant, so you may not want to wear them to the gym. For travelers or those who are often on the go, the WH1000XM3 have a 30-hour battery life. If you're short on time, charging the headphones for 10 minutes will provide enough juice for your headphones to last up to 5 hours.
While you're enjoying the comfort of the WH1000XM3 headphones, you'll also enjoy their noise-cancelling capability. Seriously, you can drown out the sound of water cooler conversations to cars to planes. Equally as important as the sounds you're keeping out is the sound quality of the headphones. With impressive 40mm drivers and hi-res audio, Sony's WH1000XM3 headphones can make any kind of music sound great.
Type: Over-ear | Connection Type: Bluetooth | ANC: Yes | Water/Sweat Resistant: No
The Bose 700 headphones are stylish, noise-cancelling, and offer all the bells and whistles we've come to expect from Bose. Along with the QuietComfort 35 Series II, these headphones have the best noise cancellation technology on the market. The 700s' signature high-end soundstage projects through soft, leathery earcups that both look and feel premium. The speakers and earcups are joined by a stainless-steel headband.
The internal features of the 700s are just as notable as the external features. For example, Bose incorporates smart features such as a smart assistant call button and intuitive touch controls to expand capabilities beyond music playback.
The most prominent feature is the Bose AR. This protocol employs motion sensors to identify the angle of your head. After determining the precise angle, Bose AR pairs it with location data obtained via the Bose Sound app to augment the sound you're hearing. Though the protocol may seem complicated, it's effortless in practice. Depending on what apps you're using and what you're listening to, the technology can significantly enhance your listening experience.
Type: Over-ear | Connection Type: Bluetooth | ANC: Yes | Water/Sweat Resistant: Yes
Jabra, known for its high-caliber smartphone peripherals and Bluetooth headsets, narrowed its focus on Bluetooth headphones for recreational audio consumption, exemplified by the Elite 65t over-ear headphones. The Elite 65t provide quality audio for multimedia, and they're also ideal for phone calls. These over-ear headphones include a multi-microphone array perfect for work or personal conversations.
The Elite 65t's sound quality is evident with frequencies ranging from 10Hz to 20kHz. In addition to the audio specs, Jabra included SmartSound technology to power eight separate microphones. SmartSound optimizes sound response based on your environment. When the SmartSound technology is combined with the active noise-cancelling technology, the Elite 65ts produce cutting-edge isolation and beautiful sound response.
Navigating the headphones is seamless as a one-touch control summons the voice assistant of your choice. As if the specifications aren't impressive enough, the Elite 65t has 36-hour battery life, which is almost double that of some of the longest-lasting competitors. Considering the premium features of the Elite 85h, the headphones will cost you. A pair of these headphones will run you at least $200. Although not the most budget-friendly, the Elite 65t are of undeniable quality.
Type: Over-ear | Connection Type: Wireless, Bluetooth | ANC: Yes | Water/Sweat Resistant: Yes
Sony's WH-XB900Ns are bass-centric headphones with an incorporated "bass duct" that operates similar to a bass port on a more prominent speaker. The well-designed seal between the headphones' padding and your head in conjunction with the 1.57-inch drivers provides a lot of power on the bottom end of the spectrum. For instance, the spectrum spans from 20Hz to 20kHz. As such, you have complete coverage of the entire human hearing range, including the bottom end.
The 900Ns' modern feature stack is notable. Sony's headphones offer Bluetooth 5.0 for stability in connection and sound quality, Near Field Communications (NFC) for easy pairing with compatible devices, touch controls, and smart assistant compatibility. Depending on your usage, the headphones provide 30 hours of listening on a single charge.
Not only will it sound like you're in a recording studio, but the 900Ns are also easy on the eyes. The headphones have a sleek, modern appearance. Bearing in mind the sound quality, the headphones are expensive. If you're in the market for headphones that offer flawless, heavy bass along with premium features, Sony's 900Ns are your best bet.
Type: Over-ear | Connection Type: Bluetooth | ANC: Yes | Water/Sweat Resistant: No
Sennheiser's HD 599 headphones are beautifully designed, offering satin-textured ear cushions for extra comfort even after hours of wear. The headband is also well padded. As the cherry on top, the HD 599s are wrapped in premium leather for added quality. From a design standpoint alone, these headphones are worth every penny. Yet, the design features aren't the only first-class characteristics of the HD 599s.
The audio is just as good, if not better than their design. Sennheiser incorporated proprietary technology to deliver solid low ends, excellent mids, and richly-detailed highs. Not only do the HD 599s have a respectable range, but just enough bass is provided to complement the other audio components.
Since these headphones are wired, worrying about battery life is a thing of the past. Whenever you're ready, you just have to plug in the HD 599s and start listening. The only downside is that you'll be tethered to your device, as the headphones don't have wireless connectivity capacity. If you don't require a Bluetooth connection, keep in mind the HD 599s are compatible with 6.3mm/3.5mm jacks.
Type: Over-ear | Connection Type: Wired 6.3mm/3.5mm | ANC: No | Water/Sweat Resistant: No
Audio-Technica's ATH-M50x headphones were designed for studio monitoring purposes, yet are also ideal for casual use. Since the headphones were intended for studio use, it's safe to say the sound production is unrivaled. The proprietary 45mm large-aperture drivers are made from rare-earth magnets and copper-clad aluminum wire voice coils. Consequently, the headphones have superior audio quality over an extended frequency range.
The ATH-M50x feature a deep and accurate bass response, which also enhances sound quality for listeners. While the headphones don't offer active noise cancellation technology, the ATH-M50x's circumaural design contours provide improved noise isolation in various environments.
The headphones' design also allows for easy storage and portability. The 90-degree swiveling earcups are convenient for one-ear monitoring and collapsible construction. Since the headband and earpads are made from professional-grade material, the ATH-M50x are very durable, so the headphones will last through storage and traveling. Moreover, the headband and earpads are guaranteed to be comfortable for extended periods.
The headphones weigh in at roughly 10 ounces. Surprisingly, the ATH-M50x weight includes three interchangeable cables, two of which are straight and the other is coiled. To keep your headphones and cables are organized, the package comes with a protective carrying pouch and a 6.3mm screw-on adapter. For further protection, the ATH-M50x headphones are backed by a 2-year warranty.
Type: Over-ear | Connection Type: Bluetooth | ANC: No | Water/Sweat Resistant: No
"The ATH-M50x are industry-favorite studio headphones that work well for music producers, but also double as solid consumer, audiophile options. In addition to the audio quality, the headphones are extremely comfortable." — Jason Schneider, Product Tester
It's possible to get superior wireless headphones without breaking the bank with the Anker Soundcore Life Q30 headphones. The Q30 offer high-resolution audio and oversized 40mm dynamic drivers that provide a rich listening experience. Anker included multiple noise cancellation modes and hybrid noise cancellation technologies to maximize noise cancellation for various environments. For instance, if you're outside with vehicles, dogs barking, and birds chirping, the Q30 will adjust. Likewise, if you're indoors with the TV on, washer running, and kids playing in the background, the noise cancellation will work to filter out those noises, too.
The Q30 also feature a long battery life, making it one of the best batteries on the market. Precisely, you'll get up to 40 hours of playtime in noise-cancelling mode and up to 60 hours in standard mode. Not only can the Q30 hold an extremely long charge, but they also have a speedy charging time. With USB-C charging, five minutes of charge will give you four hours of playtime.
To tailor your headphones to your desired preferences, you can use the SoundCore app to adjust various settings. The lightweight, foldable, comfortable, and budget-friendly headset leaves little to be desired. The one disadvantage of the Q30 headphones is that the standard settings provided too much bass. However, you can adjust the bass settings and others using the SoundCore app.
Type: Over-ear | Connection Type: Bluetooth | ANC: Yes | Water/Sweat Resistant: No
"The Life Q30s offer a whopping 40 hours of listening time on a single charge, and that's even inclusive of using active noise cancellation. If you leave ANC off, Anker Soundcore promises you'll get closer to 60 hours of listening. While you're listening, you'll enjoy the cancellation technologies' ability to filter out almost anything" — Jason Schneider, Product Tester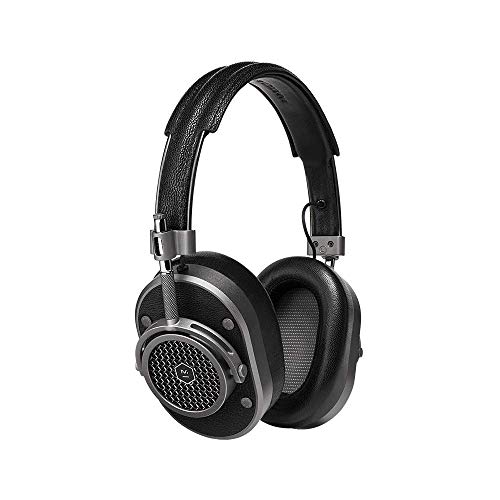 Master & Dynamic's MH40 Wireless headphones are some of the most attractive on the market. The headphones' body is made from anodized aluminum and coated canvas. Your ears have probably not known more comfort than the MH40s, as their memory foam earpads are wrapped in magnetic lambskin. Additionally, the headphones are available in many color schemes, such as silver metal/brown and gunmetal.
There's more to the MH40s, which weigh in at just under 10 ounces, than good looks. The headphones are designed with custom 40mm high-performance neodymium drivers that emit a superior, detailed sound signature. This is also evident with the MH40s' dual beam-forming microphone array that filters out ambient noise and improves call quality.
While known for being wireless headphones, you can use the MH40 headphones for wired listening as well. For example, the headphones' wireless connectivity is employed using Bluetooth 5.0 alongside aptX and SBC codecs. As far as the wired capacity, the headphones include a USB-C charging port with a USB-C to 3.5mm audio cable. Whether you're listening via wireless or wired connection, you'll enjoy a playback time of up to 18 hours, half of which takes just 30 minutes to charge.
Type: Over-ear | Connection Type: Wired 3.5mm | ANC: No | Water/Sweat Resistant: No
Final Verdict
Bose has been an industry leader for decades for a reason. The Bose QuietComfort 35 headphones (view at Amazon) are just one example of the brand's clean design, exceptional audio quality, and reliability. The QuietComfort 35 deliver the best all-around over-ear experience available. The headphones boast excellent noise-cancelling technology to enhance your listening experience.
If you're not sold on those, Sony's WH1000XM3 (view at Amazon) are probably your best bet. The high-quality headphones are incredibly comfortable to wear and produce impressive, accurate sound. Sony's headphones also provide 10 additional hours of battery life than the QuietComfort 35s.
How We Tested
Our expert testers and reviewers evaluate over-ear headphones the same way we evaluate most headphones, with a large focus on sound quality and comfort. We start by looking at the build material, fit, and comfort of the headphones, and try to judge their durability, waterproofing, and if they'd be comfortable to wear for hours at a time. In the case of Bluetooth headphones we also consider ease of pairing, range, and battery life as important factors.
The most important element we consider is sound quality. We look at frequency response, bass, and the overall audio profile by playing audiobooks, music, streaming shows, and playing games.If they support noise cancellation, we enable the feature and see how much noise they block out in loud environments. Finally, we compare each headphone and its price to a similar competitor to help make a final judgement. All of the over-ear headphones we review are purchased by Lifewire; none are provided by the manufacturer.
About Our Trusted Experts
Nicky LaMarco has been writing and editing for more than 15 years for consumer, trade, and technology publications about many topics including: antivirus, web hosting, backup software, and other technologies.
Don Reisinger is a tech journalist who's been covering the industry for top publications for more than 12 years. He specializes in consumer technology, including headphones and other wearables.
Jason Schneider has been covering tech and media for almost ten years, and is an expert in audio equipment and headphones. He's also written marketing copy for a number of industries, including e-commerce and consumer electronics.
Andy Zahn is a writer specializing in tech. He's reviewed cameras, weather stations, noise-cancelling headphones, and more for Lifewire.
FAQs
Which brand of headphones is best?
This depends on what you're looking for. Brands such as Beats, Bose, Sennheiser, and Jabra are known for creating quality headphones. You can find a good pair of headphones from other brands outside of these big-names, however, and it's a good idea to consider each model as an individual unit rather than sticking with one specific brand.
What's better, Bose or Beats?
Beats is often better for music playback with punchy bass, but Bose typically has better noise cancellation. It really depends on what you're looking for. Again, it's best to look at each specific model of headphones individually rather than looking at the brand as a whole.
How long should headphones last?
When properly cared for, a pair of headphones can last anywhere from three years to ten or more. If the manufacturer offers a longer warranty on their product, this is a good sign that they've built the model to last.
What to Look for in Over-Ear Headphones
Wireless or wired - Wireless headphones are an excellent option if you don't want to be bound to your phone, tablet, computer, or other devices. Wires can be messy and get in the way of your movements. Additionally, many modern smartphones don't include headphone jacks, so wireless headphones are a must for most. Even if your smartphone has a port for a headphone jack, you may need an adapter for your wired headphones to be compatible. However, wired headphones can be more reliable than wireless headphones, as wired headphones don't need their batteries continuously recharged.
Noise-cancelling - If you want to escape the world around you when you put on headphones, you need a pair with effective noise-cancelling technology. Active noise cancellation is ideal for those who travel on planes or work in busy environments. This technology can reduce or eliminate the noise around you, so you can focus on what you're listening to. Be sure to do your homework on the type of technology used, whether feedforward, feedback, or hybrid.
Materials - The quality of materials depends on the headphones' price tag. While some headphones are produced from plastic, others are made from metal or wood. Unsurprisingly, plastic headphones are typically less expensive than metal or wood and often weigh less. On the other hand, metal or wood construction can offer more stability, leading to a long-lasting pair of headphones, but they aren't as budget-friendly. You may want to try on a few pairs to determine what materials and contours feel most comfortable for you.