Our editors independently research, test, and recommend the best products; you can learn more about our review process here. We may receive commissions on purchases made from our chosen links.
The Rundown
While wireless microphones aren't capable of specific features that come with physical cable connections, they still have unmatched sound recording and amplification features. Although wireless mics work on either VHF or UHF signals, they still have quality sound characteristics. Battery-powered or not, wireless microphones are giving wired mics a run for their money.
It's necessary to clarify that wireless mics fulfill the basic requirements of microphones. Wireless microphones, like wired microphones, transmit a signal. Some microphones, wireless or wired, present issues with frequency selection.
We've researched the best wireless microphones to determine how stable and noise-free transmissions and signals are for wireless microphones. Are you ready to be free from cables and leads? We'll be the first to say that wireless microphones offer fewer drawbacks than wired mics.
Certain conveniences come along with wireless technology. It doesn't matter your purpose; there's a wireless microphone for any and every performance. Whether at a karaoke bar, church, or small home karaoke party, the best wireless system will give you peace of mind. In turn, you'll be able to focus on your speech or performance.
If one microphone can be a source of entertainment, then four microphones will undoubtedly be quadruple the fun. That's right, GTD's Audio G-380H VHF wireless microphone system comes with four handheld wireless mics. Whether you're performing solo or harmonizing with background singers, the system has you covered.
With these microphones, you don't have to worry about anybody overdoing their part as each channel has its own volume control. If you need to turn certain mics up or down, you're able to mix the sound just right.
The Audio G-380H VHF wireless microphone system is versatile in that the mics can be used for a karaoke party, band practice, or formal performance. The wireless microphones nestle neatly into the receiver, so storage and transportation are easy. Regardless of the purpose, the system costs just under $150, which is a great value considering four microphones are included in the system.
Frequency Response: 54Hz to 18KHz | Operating Range: 100 meters | Power Source: Batteries | Battery Life: 9 hours | Weight: 7 pounds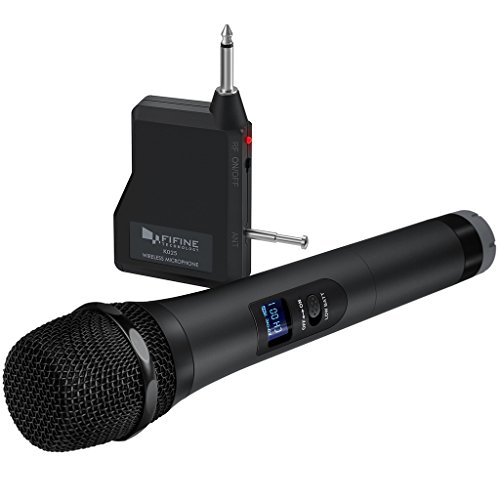 You don't have to spend an arm and leg for a handheld dynamic microphone that provides all the mobility and freedom you're craving for your karaoke nights. The FIFINE Handheld Dynamic Microphone costs less than what you would probably spend on a night out. For $30, you can purchase a microphone that will enhance your at-home karaoke night for years to come.
Don't let the budget-friendly price fool you into thinking the FIFINE isn't a quality handheld mic. The microphone has the UHF wireless capability for a strong, clear signal, excellent sound quality with less interference and fewer dropouts.
While you're able to perform in your living room, you can move the party to the backyard as the FIFINE has a range of over 80 feet and 20 selectable frequencies for interference-free performances. While performing your killer solo, you don't have to worry about your mic drying in the middle of your performance. A handy low-battery indicator on the receiver and microphone lets you know when you need to recharge.
Frequency Response: 50Hz to 18KHz | Operating Range: Over 24 meters | Power Source: Batteries | Battery Life: 4 hours | Weight: 0.7 pounds
If you're a semi-professional or professional, you're likely seeking premium specs and features for your microphone. The Shure SLX2/SM58, while pricey, is an expertly designed wireless microphone made for professional vocalists. The high-quality microphone even works for live events or studio recordings.
The SLX2/SM58 can accredit its sound quality to a number of factors. For example, the microphone has a highly effective, built-in spherical filter to minimize distracting wind and breath "pop" noises. A unidirectional pickup pattern is also incorporated into the microphone to isolate the primary sound source while minimizing unwanted background noise. The pattern's presence reduces and eliminates distracting feedback and distortion in the vocal track.
If the filter and patter weren't enough, the SLX2/SM58 includes a pneumatic shock-mount system to decrease handling noise. As a result, singers enjoy the ability to move and dance around freely without worrying about how it will impact their vocals. Even with the SLX2/SM58's impressive characteristics, the wireless microphone typically requires a stand to fully showcase its superiority.
Frequency Response: 45Hz to 15KHz | Operating Range: 100 meters | Power Source: Batteries | Battery Life: 8 hours | Weight: 1.44 pounds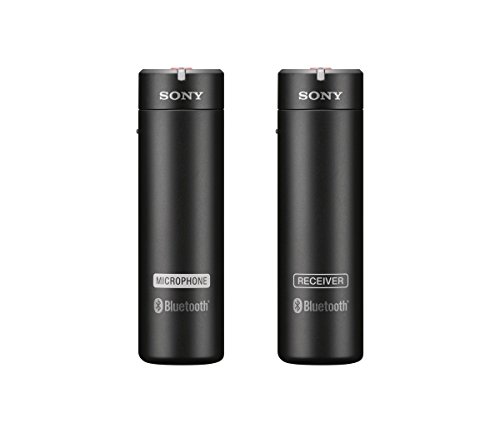 Wireless microphones are meant to be portable, but Sony's ECMAW4 takes "portable" to another level. This is a lavalier microphone, meaning you can wear it as an armband instead of clipping it on your clothes. You're sure to captivate your audience with something they've never seen before with the ECMAW4's sleek and unique design. As a performer, you'll be glad to know the microphone is compact, lightweight, and wearable.
In terms of performing, the ECMAW4 gives you unmatched freedom of movement with a range of up to 150 feet. Alongside the notable mobility, the microphone and receiver take AAA batteries, which speaks to its ease of use.
If you plan on using your microphone for more than karaoke, the ECMAW4 allows you to venture out. For instance, if you want to record your own videos or audio on the go, the receiver can be connected to an iPhone via an adapter. Moreover, the ECMAW4 comes with a recording cable, windscreen carrying pouch, armband, earphones, and an earphone hanger for traveling and organization.
Frequency Response: 300Hz to 9KHz | Operating Range: Approximately 50 meters | Power Source: Batteries | Battery Life: 2 hours | Weight: 0.65 pounds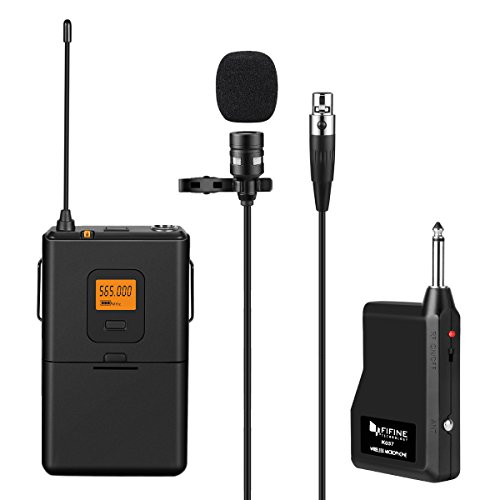 What's better than a wireless microphone? A wearable microphone. Specifically, a lavalier lapel microphone provides more freedom than most microphones. Depending on your performance style or which instrument you play, you may need to move in a totally uninhibited way. As such, you'll need more than your average wireless microphone, and you may prefer a hands-free, lavalier-style microphone.
The compact FIFINE Lavalier Lapel Microphone employs a body transmitter, meaning the mic clips somewhere on your clothing and you no longer have to worry about it while you perform. While the microphone is small, it's more than sufficient to provide a fantastic karaoke experience.
In addition to the microphone's flexibility, the Lavalier Lapel Microphone is affordable and can be used with smartphones using a simple adapter. The battery-powered microphone's capability to be paired with a 9V for the belt pack transmitter and AA battery for the 1/4-inch wireless transmitter speaks to its portability.
Frequency Response: 50Hz to 16KHz | Operating Range: 15 meters | Power Source: Batteries | Battery Life: 5 to 6 hours | Weight: 0.8 pounds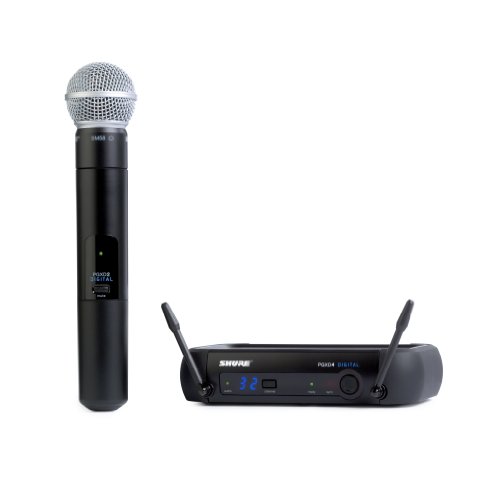 Shure is making its second appearance on the best wireless microphones list with the PGXD24/SM58-X8 Microphone System. The digital handheld wireless system with the SM58 vocal microphone provides the best professional quality out of all mics on the list.
The mic's quality is evident in its smooth frequency response, thanks to its vocal-tailored 50Hz to 15kHz range. And you can hear this quality near and far, considering the system has a 200-foot operating range. Furthermore, this system was designed with 24-bit/48kHz technology for incredibly accurate sound.
While performing, you probably won't even notice the mic as it's perfectly designed to fit in the performer's hand. The mic's durability may also surprise you. It incorporates a shock-mount system and steel mesh grille that can handle even the craziest karaoke nights and most extravagant performances.
Even with the bells and whistles, the PGXD24/SM58-X8 runs on standard AA batteries that provide at least eight hours of performance time. As the cherry on top, each microphone has a unique serial number to prevent fraud or loss. Consequently, you know you're getting an authentic Shure product with your wireless microphone purchase.
Frequency Response: 50Hz to 15KHz | Operating Range: 60 meters | Power Source: Batteries | Battery Life: 8 hours | Weight: 0.26 pounds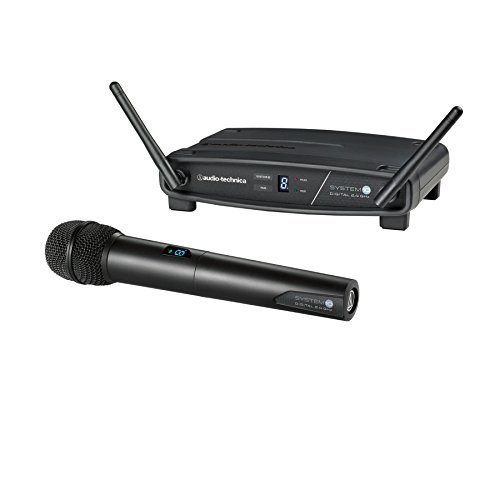 Audio Technica is one of the most notable brands in the professional audio industry, so it's no surprise the ATW-1102 is the professional runner-up on our list. The wireless microphone's 24-bit/48kHz system provides extraordinary sound quality. You can be assured your performance will exude a premium quality, unlike most other wireless microphones.
Audio-Technica's ATW-1102 wireless microphone operates between 2.4 GHz range. As such, you'll enjoy a performance completely free from TV/3G interference. Additionally, the microphone is supplied with automatic frequency selection that provides seamless, interference-free operation.
To supplement the ATW-1102's quality, the microphone's Plug & Play technology allows for ease of use and reliability in addition to its poised XLR and 1/4-inch output jacks with accompanying level control.
Frequency Response: 20Hz to 20KHz | Operating Range: 30 meters | Power Source: Batteries | Battery Life: 7 hours | Weight: 1 pound
Final Verdict
We recommend the GTD Audio G-380H VHF Wireless Microphone System (view at Amazon) as it provides unparalleled quality and allows multiple people to join in on the fun. The system is versatile and is easy on your pockets. Whether you're solo or performing in a group, you'll enjoy the sound quality and range.
As an alternative, you may want to consider the Sony ECMAW4 Wireless Microphone (view at Amazon). While less budget-friendly, Sony's exceptionally crafted microphone is portable, easy to use, and offers a far-reaching range. If you're performing on the go or are a dynamic performer, the Sony ECMAW4 is perfect for you.
About Our Trusted Experts
Nicky LaMarco has been writing and editing for more than 15 years for consumer, trade, and technology publications about many topics including: antivirus, web hosting, and backup software.
What to Look For in a Wireless Karaoke Microphone
Analog or digital - Do you need a wireless microphone system? If you're comparing sound quality, digital wireless microphone systems usually produce better audio than analog systems. Whether you're analyzing range or frequency, digital systems typically outperform analog systems. For example, analog systems compress and decompress audio signals before producing their output. On the other hand, digital systems operate, eliminating signal degradation with compressing and decompressing.
Durability – Do you plan on performing in your living room or on tour? Understandably, traveling can be tough on your microphone and supporting equipment. As a result, consider how rugged and reliable your microphone is before you purchase, according to your performance and travel needs.
Operating range – What does your audience look like? It will make a difference if you need a few hundred feet versus a couple thousand feet. Usually, wireless microphones have short operating distances, which typically present interference issues. Though short-range wireless systems don't generally transmit well through barriers such as walls, desks, doors, pulpits, or sound booths, they are still quality mics. While shopping, you'll want to look at microphones with UHF systems.