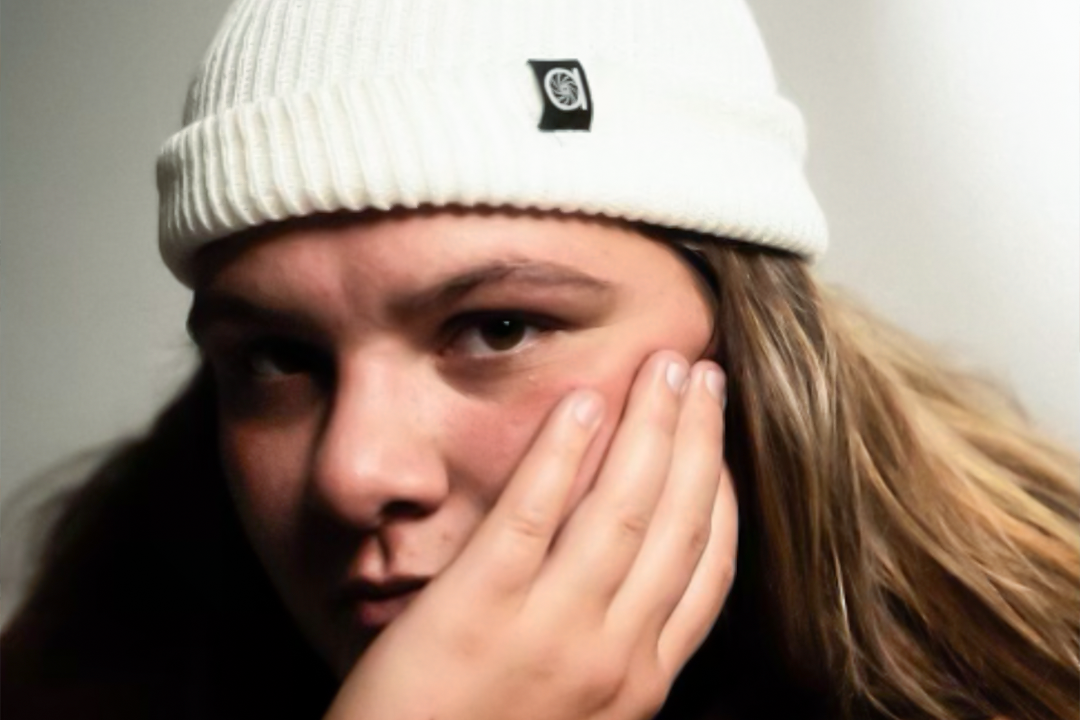 A
little before noon on a Wednesday back in October, the Syracuse women's lacrosse team warmed up to an array of pop hits inside the Ensley Athletic Center. Flo Rida, Shakira and Georgia Ku's vocals reverberated so loudly throughout the 87,000-square-foot facility it was difficult to hear someone standing only a few feet away.
The team's favorite artist, however, was within earshot, weaving in and out of the star drill around the 50-yard line. Attacker Kenzie Harris, a graduate student, said being a member of the team feels like having "33 built-in friends and fans."
Harris' music reaches a much larger and far wider audience.
The 22-year-old singer songwriter who seems to blend genres had more than 117,400 unique listeners spanning 144 countries on Spotify this year. Her single "Sober" accrued more than 100,000 streams in the first three months after its release. Another song titled "Fantasy" has surpassed 301,400 streams.
"I can't seem to find the seams of what I used to be / And who I'm trying to be now / I got lost in the cracks I've been tryna get back / But I lost my way somehow," Harris croons on the track that you might find yourself humming the rest of the day.
Harris' profile expanded last December after she took to Instagram to post a cover of "Lonely," Justin Bieber's second single from his sixth studio album. The pop icon had followed her a day earlier on the social media platform. The performance soared past 400,000 views as fans from around the world noted the uncanny resemblance in Harris' smooth tones.
Bieber echoed their sentiments.
"You have the voice of an angel," he told Harris on Instagram live.
"It was one of the coolest moments I think I'll ever have in my life," said Harris, who recalled jumping around her home in Rochester, New York, with her mother, Nancy Pavlock Swanson, after being alerted from a barrage of more than 100 texts that Bieber had shared her cover.
While Harris has largely kept lacrosse and music separate, despite a few requests from Syracuse's new head coach Kayla Treanor to sing on bus rides this fall, the two passions are intertwined. It was only after a series of injuries and a leave of absence from Syracuse during which she thought she'd never play again that Harris discovered her love for music and song writing.
Singing helped Harris chart her path back to the lacrosse field and her teammates. In the process, she also unwrapped her sense of self from the sport.
"I thought I was going to lose her numerous times," Pavlock Swanson said. "Finding music saved her."
"Finding music saved her."
— Nancy Pavlock Swanson, Harris' mother
H
arris cannot remember her life without lacrosse in it. Starting at age 2, she played catch in the backyard with her brother, Chris Swanson, who went on to play defense at Syracuse. Harris quickly demonstrated a preternatural creativity and began competing for Relentless Hustle, a club program founded by her father, Al Harris, a citizen of the Seneca Nation who carpeted their backyard in artificial turf, surrounded it in protective netting and erected a block wall for stick work.
Harris captained the Haudenosaunee Confederacy's U19 team when she was only 16. The first seventh-grader to start on the varsity team at Brighton High School, her 447 career points still rank second in New York Section V history.
But after tearing the ACL in her left knee during the first game of her senior season against Rush-Henrietta, Harris wasn't sure where to turn. Up to that point, lacrosse was her life.
"I felt like I lost myself because I didn't know what my identity was without it," she said. She almost failed out of Brighton that spring, started hanging around the wrong people and resorted to "bad coping mechanisms."
The injury and subsequent setbacks — she later tore her meniscus in the same knee — exacted as much a toll on her mental health as it did her physical ability. The No. 16 recruit in her class according to Inside Lacrosse, Harris believed she wasn't living up to expectations.
"This is done," she thought after she decided to take a leave of absence as a sophomore in 2018, a year after she redshirted. "There's no way I can come back from this."
The process of "slowly crawling my way out of that crumble," Harris said, started with writing. It offered an emotional outlet therapy could not. Harris had participated in chorus back in third grade and used to write rap lyrics, but she had no formal singing instruction. After she collaborated with Lucas Casey, a friend from high school, she released her first song on SoundCloud titled "Breathe Me In" on January 20, 2019.
"It's horrific, but it helped and I've grown a lot since then, thankfully," Harris said. "Instead of lashing out in a bad way, I could lash out through a song."
While lacrosse games always seemed to bring added pressure, Harris didn't experience the same nerves in the studio.
"It's just happiness," she said.
T
he same emotion crosses Harris' brother Jake's face whenever she sings to him. Jake, who is four years older than Harris, was born prematurely. Though he remains undiagnosed, he experiences agenesis of the corpus callosum — a rare congenital disorder characterized by a partial or complete absence of an area of the brain that connects the two cerebral hemispheres. He cannot speak and is confined to a wheelchair. He's fed through a gastronomy tube. His three favorite things, Pavlock Swanson said, are plastic bands, silk scarves and live music.
During her leave of absence from Syracuse, Harris often passed the time singing to Jake at the family's kitchen table with YouTube Beats playing in the background. She didn't know singing was "in her catalog" until she tried. "That's where it all started," she said.
In the past, Harris struggled to communicate with her brother. The moment she started singing to him, however, he opened up. "You can totally see what he's thinking and what he's feeling," she said. "It's the craziest thing ever."
"Her singing live to him just lights him up," Pavlock Swanson said. "There's not a lot that does."
Jake's smile is unmistakable. The day before Harris returned to school for the spring semester in 2021, she performed a cover of the Pretenders' 1994 ballad "Stand By You," sitting beside him. It's one of his favorite songs.
"Wow this is beautiful," Bieber commented on Instagram.
Jake continues to play a vital role in Harris's creative process. While at Syracuse, she'll often send new recordings of original songs and covers to her mother accompanied by a similar request: "Play this to Jake and see what he thinks."
"If he smiles and laughs, that's a good thing," Harris said. "If he does his spits, it's 'OK, we're gonna skip it.'"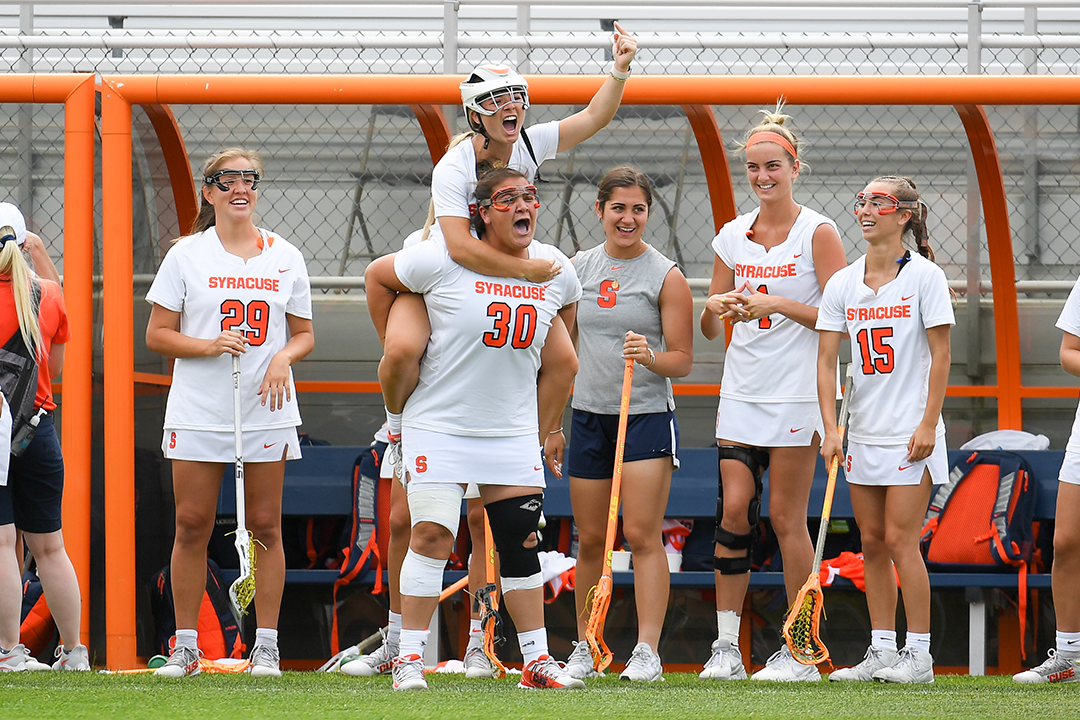 PHOTO BY RICH BARNES
H
arris played in nine games last season as the Orange's title run fell short in the NCAA championship game against Boston College. In 2020, she scored during the season opener against Canisius. It was her first lacrosse game in three years.
"Never thought I'd make it here," she captioned a video of the goal. Returning to the team reaffirmed her love for lacrosse.
For now, Harris continues to pursue her passion for music in her free time while prioritizing her commitment to Syracuse and completing her degree as a human development and family sciences major. She wants to finish what she started. She reinjured the ACL in her left knee this fall in a scrimmage against Penn State but will still serve important role this spring as the Orange aim for their first-ever NCAA championship.
At the practice back in October, Harris retrieved a chair for an injured teammate so she could sit closer to the action.
"She's kind of the mother of the team," Pavlock Swanson said.
At its last official gathering of the semester earlier this month, Syracuse piled into Benjamin's On Franklin in downtown Syracuse. Harris took the stage along with assistant coach Kenzie Kent's sister, Bailey, who's also a singer songwriter. The duo performed a few songs together, including Vance Joy's "Riptide," before Harris launched into three originals.
Her teammates knew all the words. Harris said they're always the first ones to congratulate her whenever she releases a new song. On that night, they shouted the chorus to "Sober" with such passion you would have thought it was a Taylor Swift concert.
In part because of the pandemic, it was Harris' first live performance.
"It was definitely an emotional day because that's her gift," fifth-year senior midfielder Sam Swart said. "I had goosebumps the entire time. It was absolutely beautiful and so amazing."
Looking back a year after the conversation with Bieber, what sticks out the most to Harris' mother are his words of encouragement. "You have a gift," he told Harris. "You need to share it with the world." Pavlock Swanson feels the same way.
"This is what she's meant to do," she said.
Harris knows how hard the music industry can be, so she doesn't want to bank on it as a career. Still, she'd like to give music her full attention after she graduates. Regardless of many people her songs reach, there will be an audience of one motivating her to stick with it.
"Even if nothing happens with music, I'm still always going to do it because it makes my bond with my brother just incredible," Harris said. "I wouldn't want to lose that."