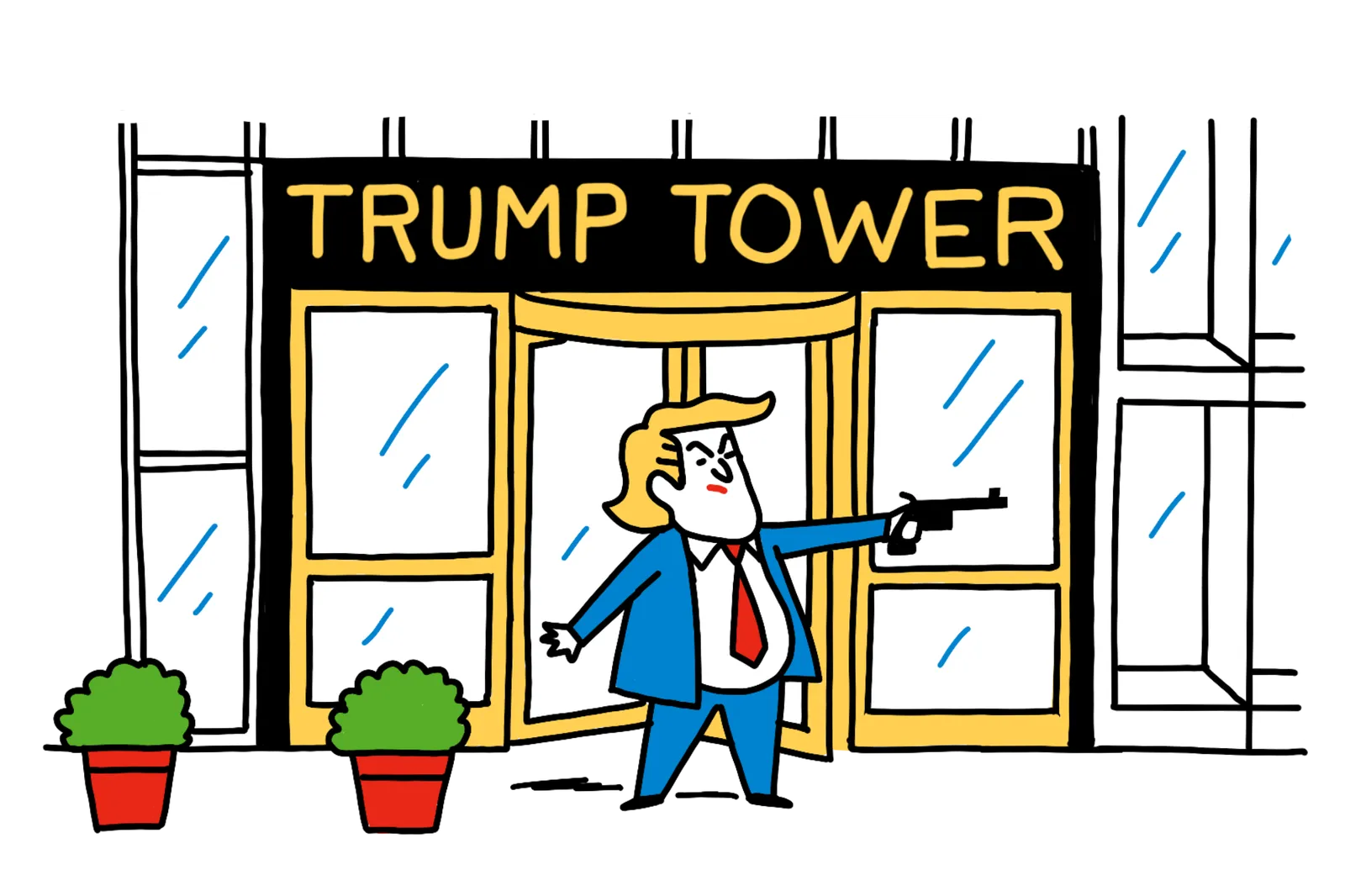 Plausible scenario:
Trump isn't happy unless he's humiliating someone so he'll claim that his sons are doing a terrible job running the Trump Organization, fire them both, and say he's stepping down to save the family empire.
Writer-enhanced scenario:
The Trump presidency should end like the soap opera it is. The final scene starts with Donald and Jared arguing in Trump Tower. Jared takes off, but Donald pursues. (They both just stand on the escalator then pick up the chase at the bottom.) Jared runs out of the building but before he can get far, Donald pulls out a gun. Just like he bragged, Donald's gonna shoot someone on Fifth Avenue . . . and it's gonna be his son-in-law. Donald squeezes the trigger. Suddenly out of the crowd, Ivanka throws herself in front of the bullet intended for her husband. Her father watches in horror as his daughter takes the hit. She crumples to the ground—dead (but still incredibly put together.) Donald falls to his knees and cries in despair. What twist of cruel fate allowed him to kill the one thing he kind of, sort of loved?!
Parting shot:
(a la Nixon's "You won't have Nixon to kick around anymore" in 1962) America—you blew it, losers.
Here are their answers: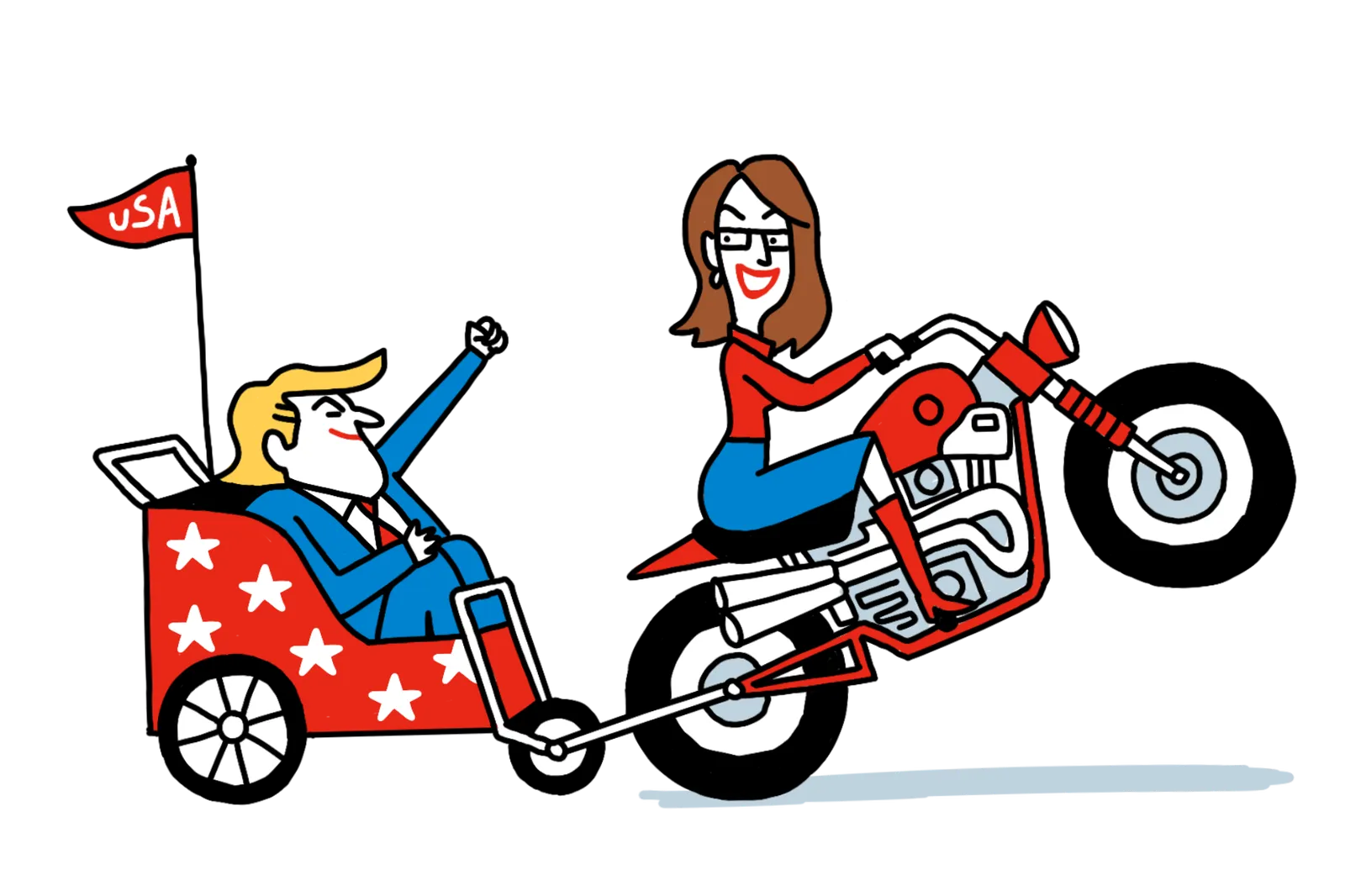 Plausible scenario:
I don't think he'll leave over collusion, conflicts of interest, or even the release of the pee-pee tape. (Although one can dream.) I think he will ultimately resign because the job is harder than he thought. He's discovering that he can't simply put a TRUMP sign on the White House and pretend to be president the way he puts one on a building and pretends to be a builder. He'll say something like, "Over the last nine months, I took a country where the streets were literally full of sewage and crime and people with accents and turned it into a paradise kingdom that rivals heaven itself. Better than heaven, because we all have guns. So tremendous is my creation that it basically runs itself. No president can rule for more than eight years, and I've already squozen a decade's worth of achievements into my first year—and it's not even Thanksgiving. So, I'm leaving office to spend more time with my son . . . (Melania whispers in his ear) Barron."
Writer-enhanced scenario:
Fade in: intelligence briefing. We are close on Trump's bloated, porcine face, the kind of face that would immediately disqualify a person from judging others' appearances. He yawns, wipes some KFC extra-crispy batter from his most northern chin. Then he gets an idea. A light-bulb moment. Not a bright light bulb—more like the bulb in that emergency flashlight you find buried in your junk drawer. He stands up and exclaims . . .
TRUMP: I quit.
INTELLIGENCE OFFICER: Wah wah wah wah wah?
TRUMP: I SAID, I QUIT!
He races out of the briefing room and makes his way outside, where we see a HELMETED FIGURE on a motorcycle.
TRUMP: I did it! I QUIT.
The helmeted figure takes off the helmet and we see SARAH PALIN
SARAH PALIN: Good boy. Hop on.
Trump hops on the back of the hog and the two quitters drive off into the sunset. FADE OUT:
Parting shot:
I'm moving outta here like a bitch.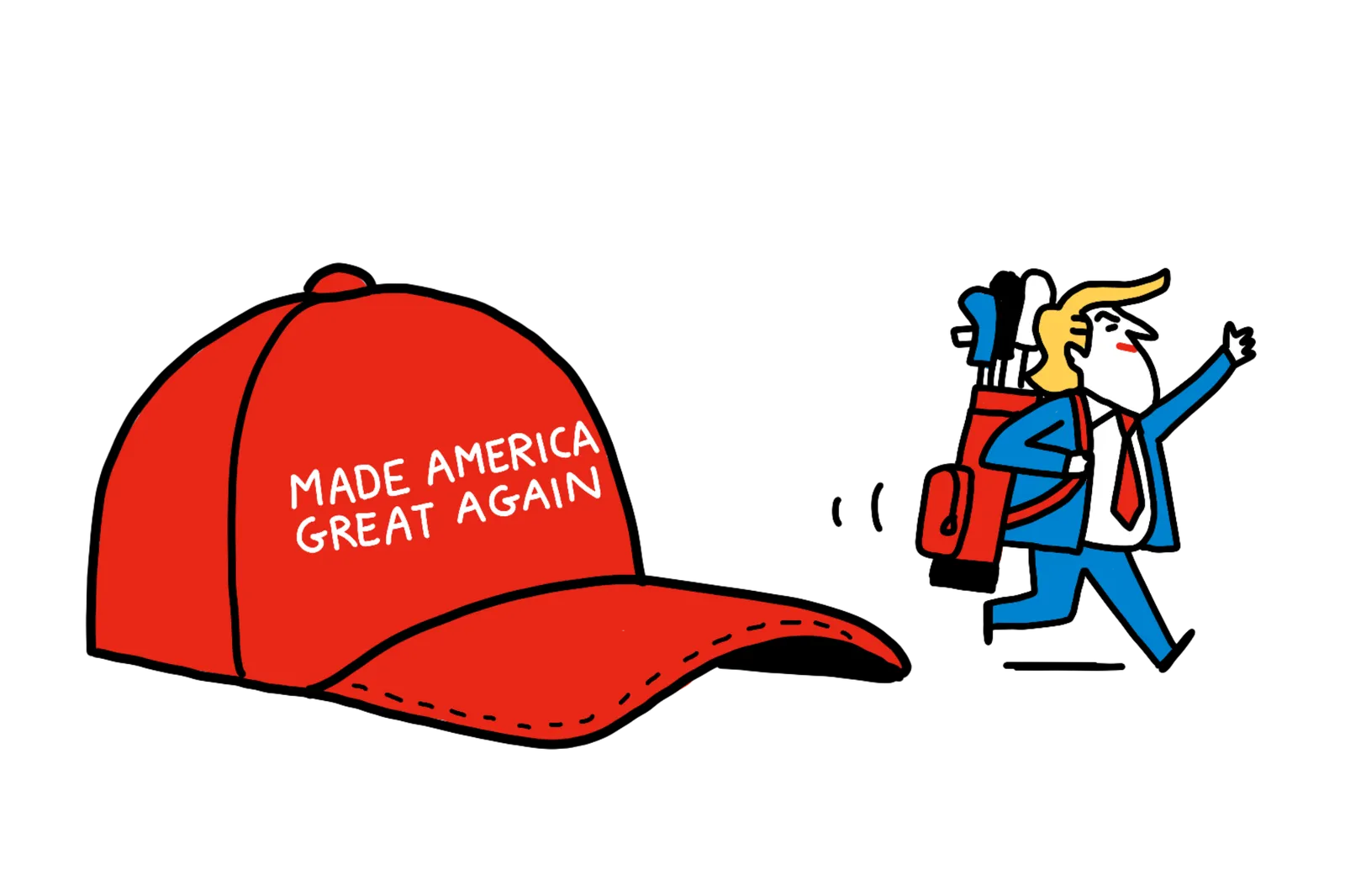 Plausible scenario:
Donald Trump will be impeached after evidence surfaces that he met with Russians clandestinely on multiple occasions specifically to sabotage Hillary's run for president. This will occur approximately one week before the election in 2020. By then, cities won't exist, and the average temperature in America will be 130 degrees Trump (the new nomenclature for Fahrenheit).
Writer-enhanced scenario:
Donald Trump will resign after a secret Russian sex tape surfaces, one that involves Trump sexually harassing his daughter Ivanka. He will then brag that he was the "fastest president ever," and that he can resign since he's brought back "all of the jobs. Literally all of them. Look at them—they're all back now." He will spend the rest of his days doing exactly what he did in the presidency, playing golf and pretending to drive fire trucks.
Parting shot:
"Ffffffffpllllplplplplplplplppppluuuuuuuuuuugggffffffff." (This is the sound of Donald Trump publicly shitting himself at a rally, then trying to cover his butt with Mike Pence's sweater, but the sweater isn't big enough to cover his big butt, so he slips and falls and can't get up 'cause he's covered in his own shit, so he's pulled off by the Secret Service, never to be seen again.)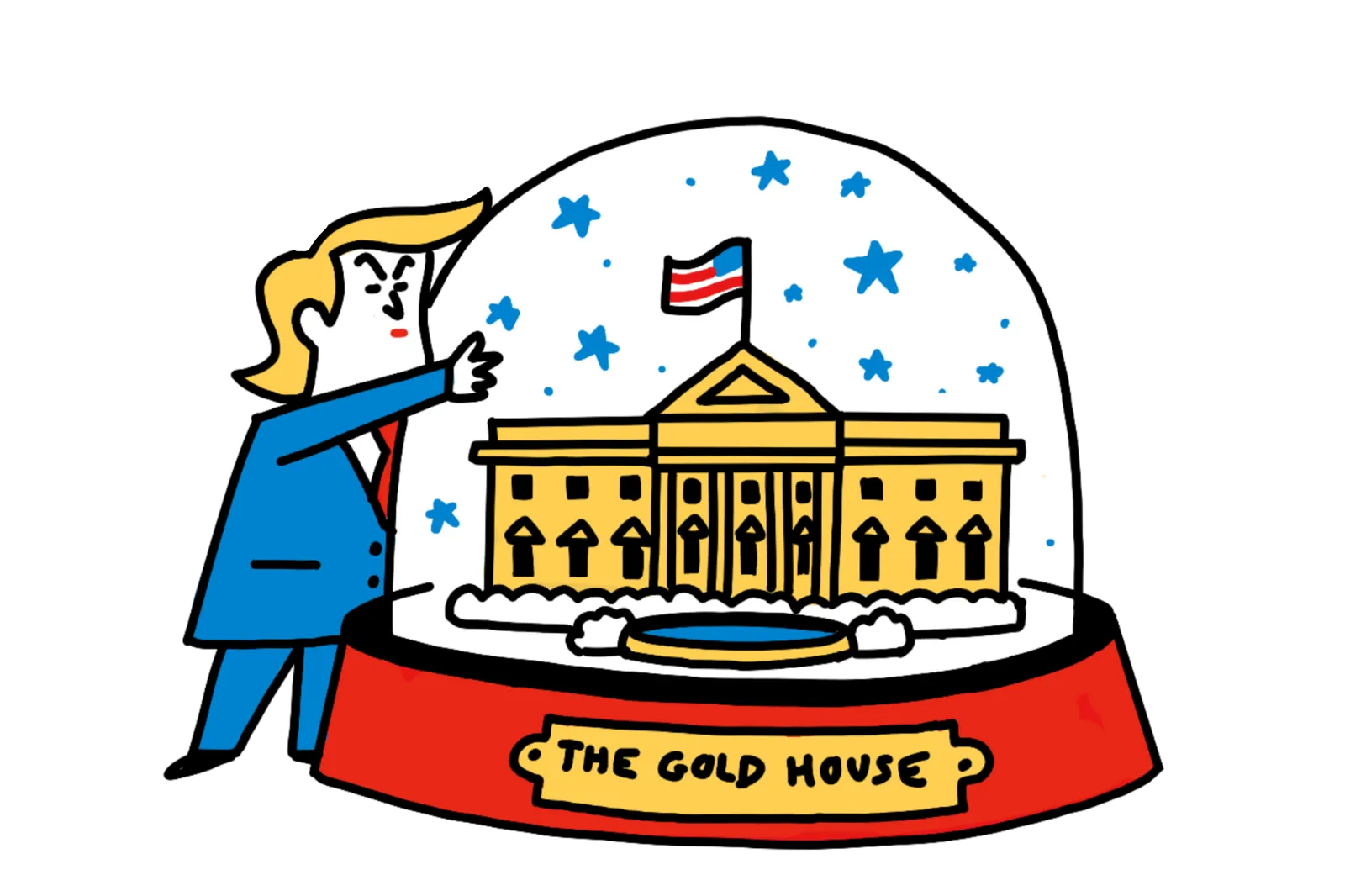 Plausible scenario:
I remember learning that when L. Ron Hubbard died, they announced to the rank-and-file Scientologists that he had merely "discarded his body" so he could continue his work on other planes of existence. I'm not being hyperbolic when I say I believe this is how Trump's impeachment and resignation will go. I think he'll call it something else, and Congress will happily play along. An impeachment will be called a "Constitutional Hearing," or a "Congressional Adjustment," or an "Unholy Witch Hunt." A resignation will be called an "Executive Realignment," or a "Presidential Ascension," or simply a "Nothingburger." So my most plausible scenario is that something happens that's not an impeachment, and he does something that's not a resignation. And he lives many more years acting like he is still president, and the whole country silently agrees to never talk about that one time we had a constitutional crisis and pretended we didn't.
Writer-enhanced scenario:
A second White House will be built a few blocks from the official White House, and Trump will stay there three days a week. This new White House will be a full replica, but five-times bigger and gold.
Parting shot:
This one's easy. The quote will be "I'm still president."
I mean, that's what the NYT headline will be. The full quote will not be so pithy.
"Am I resigning? No. Where did you hear that, by the way? That's, if you believe that, I'll sell you a bridge on top of the World Trade Center. Which, terrible deal by the way. Whoever built that, I like buildings that don't collapse, O.K.? Terrible deal. They got a lot of things (garbled). It's nuts. And I hear everyone asking "is he resigning, is he impeaching?" I'm not impeaching, O.K.? I'm president. They still call me president, don't they? Everybody calls me President Trump. You hear it everywhere you go, President Trump this, President Trump that, President Trump, I love you, President Trump, don't go. So I'm president. It's silly. It's dumb (garbled). Mike Pence is a helluva guy. Mike Pence, President Pence if you wanna call him that. Great guy, terrific guy. I also heard there's gonna be a new vice president, which you can do. A lot of people don't know that. You can bring the vice president up to president, I just learned this, a lot of people don't know. And then he can bring up a guy. I don't know who they'll choose, but it should be my daughter. Not the ugly one. (Large applause). No, come on. Come on. You're nasty. So I'm gonna travel and do great things. Dubai. Russia. China. And wherever I go, I'm the president there, too, they love me there and we're only gonna make it bigger. Maybe I'll do another TV show, would you like that? I'll do a TV show, "where's Hillary?" Has anyone seen her? She's gone, maybe she's in jail, I don't know. They tell me (garbled) and all of this and that. But she's not in jail and I'm gonna put her in jail. Maybe she's with ISIS (huge applause). I beat ISIS. ISIS is no longer a threat because of me. But they're still a threat and I'll continue to beat them. But as to the question, who's president? I'm president. They call Obama president and he was never even president. So believe me, I'm still president."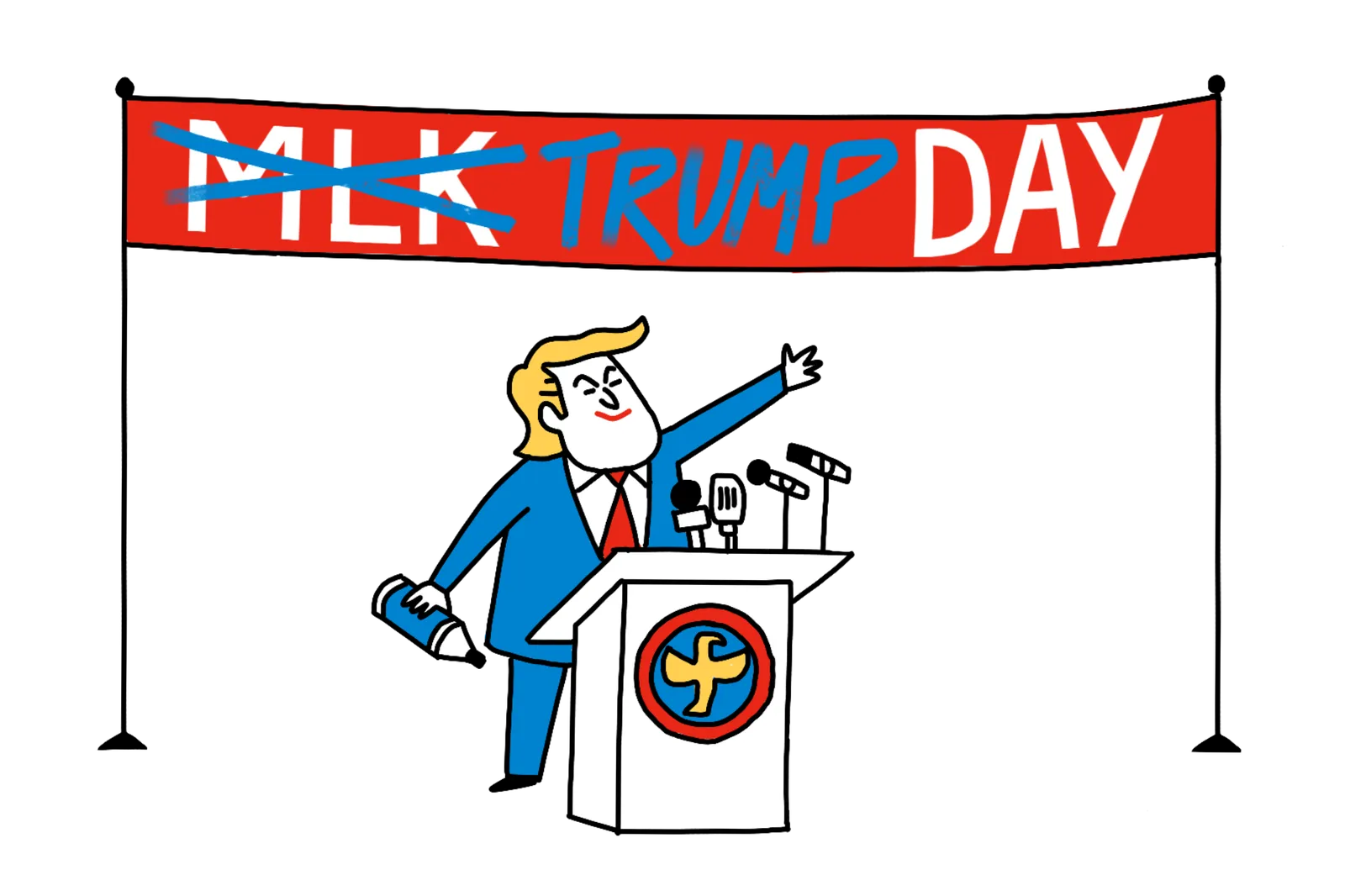 Plausible scenario:
At the height of his paranoia, Trump will start accusing everyone in his administration of plotting against him. He will openly start leaking damning audio tapes of his conversations with Bannon, Sessions, Kushner, et al. and fire them one by one until no one is left. He will then declare the government "illegitimate" and return to private business, where he can "truly make a difference." Oh, and he'll find a way to blame Obama for it all.
Writer-enhanced scenario:
Trump will spearhead the "New Civil Rights Movement" where he positions himself as this era's Martin Luther King Jr. for rich white men. He will lead protests of "poor" areas and host "sit-ins" on golf carts on the country's finest courses as his way of demanding more "white rights." Convinced his mission is accomplished after only two weeks of this campaign, he will rename Martin Luther King Jr. Day "Donald J. Trump Day."
Parting Shot:
I NEVER got credit for anything! I had women peeing on me WAY before R. Kelly!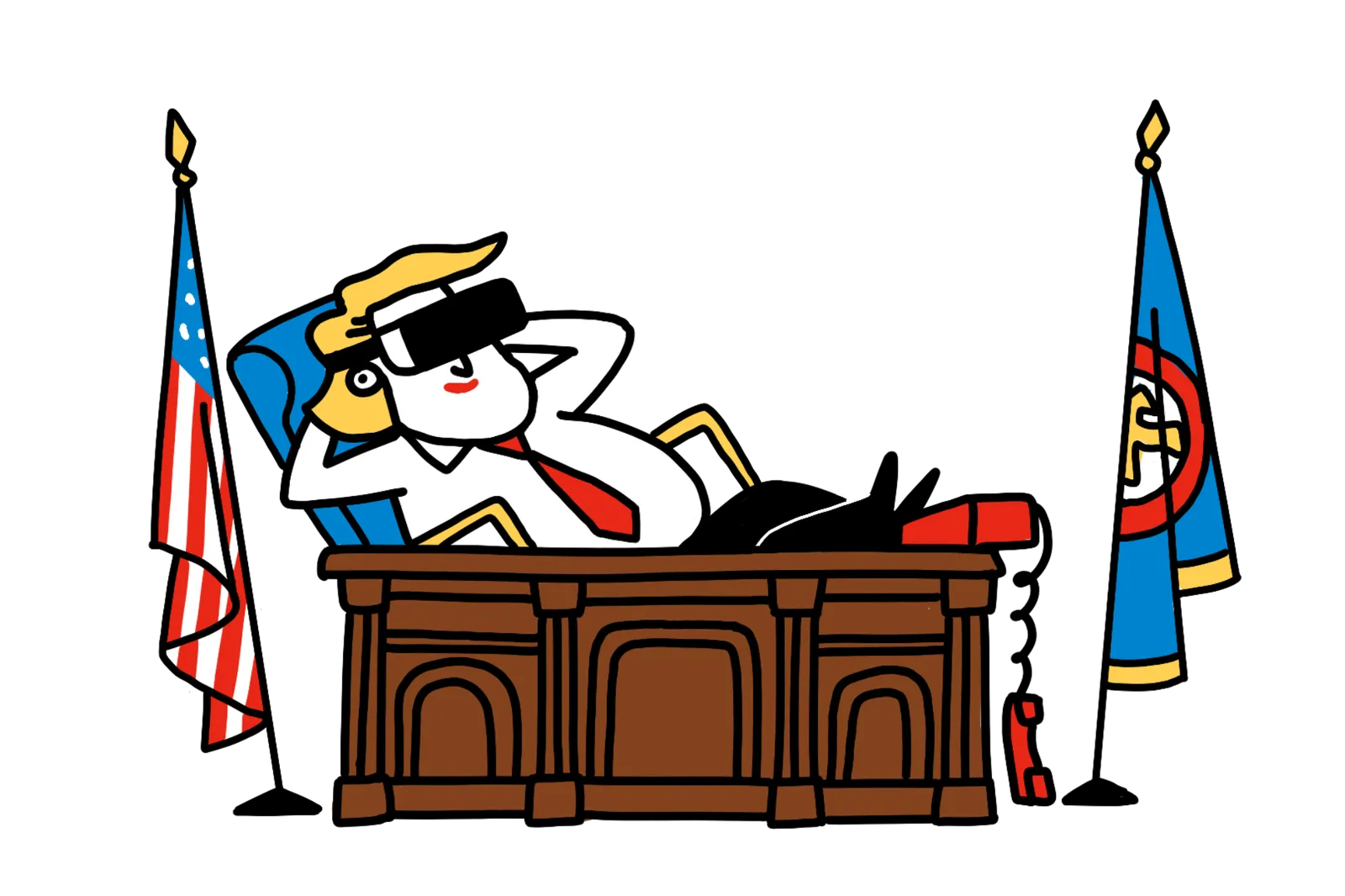 Plausible:
Trump will have to find a way to package his departure as a "win," which means deciding the game is over and he's walking away with the trophy. He'll declare that the whole "four-year thing" is an arbitrary number—after all, there's no set time frame for a C.E.O. to turn a company around, is there? And look—he did it quickly: he made America great in 16 months. Now that he's "won" at politics, it's time for him to give up his pro-bono work and go back to running his company (a company which, by the way, has tripled in value in the short 16 months he was the best president ever).
Writer-enhanced scenario:
Donald's day is slammed with meetings. Today it's Jesus, and Rambo, and early-1980's running-on-the-beach Bo Derek. Oh, and also Jamie Lee Curtis in that moment from Trading Places. Again. Followed by Hillary—coming to beg for a job—which he promises . . . and then rescinds. Again. And later? A rally! This one in the Grand Canyon—which he's packed beyond capacity (there's an overflow canyon—with a two-mile-long video screen—300 miles away at Bryce). As he flies there (he has his own wings now), he soars over Obama, who's giving a sparsely attended speech outside a Fotomat in Tonopah. Barack looks up in envy as Donald waves with giant hands. As he approaches the canyon, he can hear the crowds singing the "Make America Great" song and we:
PULL BACK TO REVEAL:
Donald has never left his desk. His V.R. headset is permanently affixed to his face. He is fed liquid Kentucky Fried Chicken through a Heparin Lock. "What's next?" he says. We don't see what he's seeing, but we DO see a big smile on his face. "I love you, too, dad." He smiles, a single tear rolling down his cheek. "I love you so, so, so much, too. What's next?" And now we:
PULL BACK FURTHER:
And realize that the desk is in fact in a giant plexiglass cube floating on a barge somewhere.
PULLING BACK EVEN FURTHER:
The barge is on a river flowing through a grayish, overcast city. Hard to know where we are, exactly, because the only signs are in Cyrillic.
Parting shot:
It will be something like: "Fine—if the Fake News won't let me tell the truth, we'll have our own REAL News." And thus begins TNN.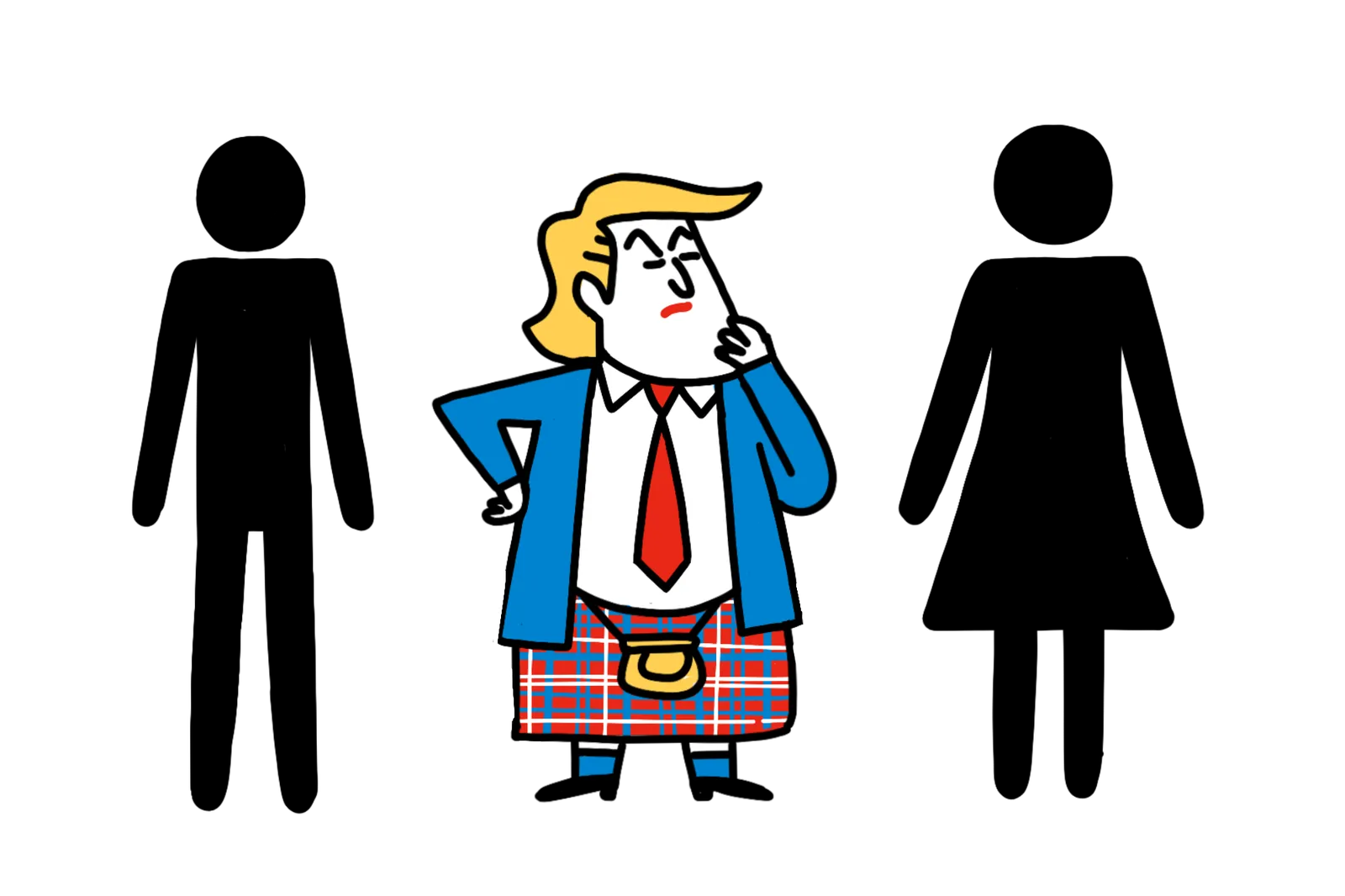 Plausible scenario:
The manner in which Trump leaves is not a big deal in his mind. I suspect he'll probably just get bored and stop showing up for work, moving into second-term Reagan, phone-it-in mode before the 2018 races.
Writer-enhanced scenario:
All White House staff members show up one morning wearing the exact same Claire Underwood pencil skirt but nobody's sure why. An expression of solidarity? Ambition? Overly effective Nair lobbyists? Following an awkwardly quiet morning briefing comes a bathroom break, at which point staffers are deadlocked in a Tarantino multi-gun standoff: who—who!—will enter which bathroom? In an unexpected turn of events, everyone chooses the wrong bathroom and everyone gets fired. Donald huffs in disgust, saying that Melania is hotter than any of them, and who needs this? If you want me I'll be in Scotland.
Parting shot:
Hey, Mike Pence—you won't see Melania wearing some spooky sister-wife dress.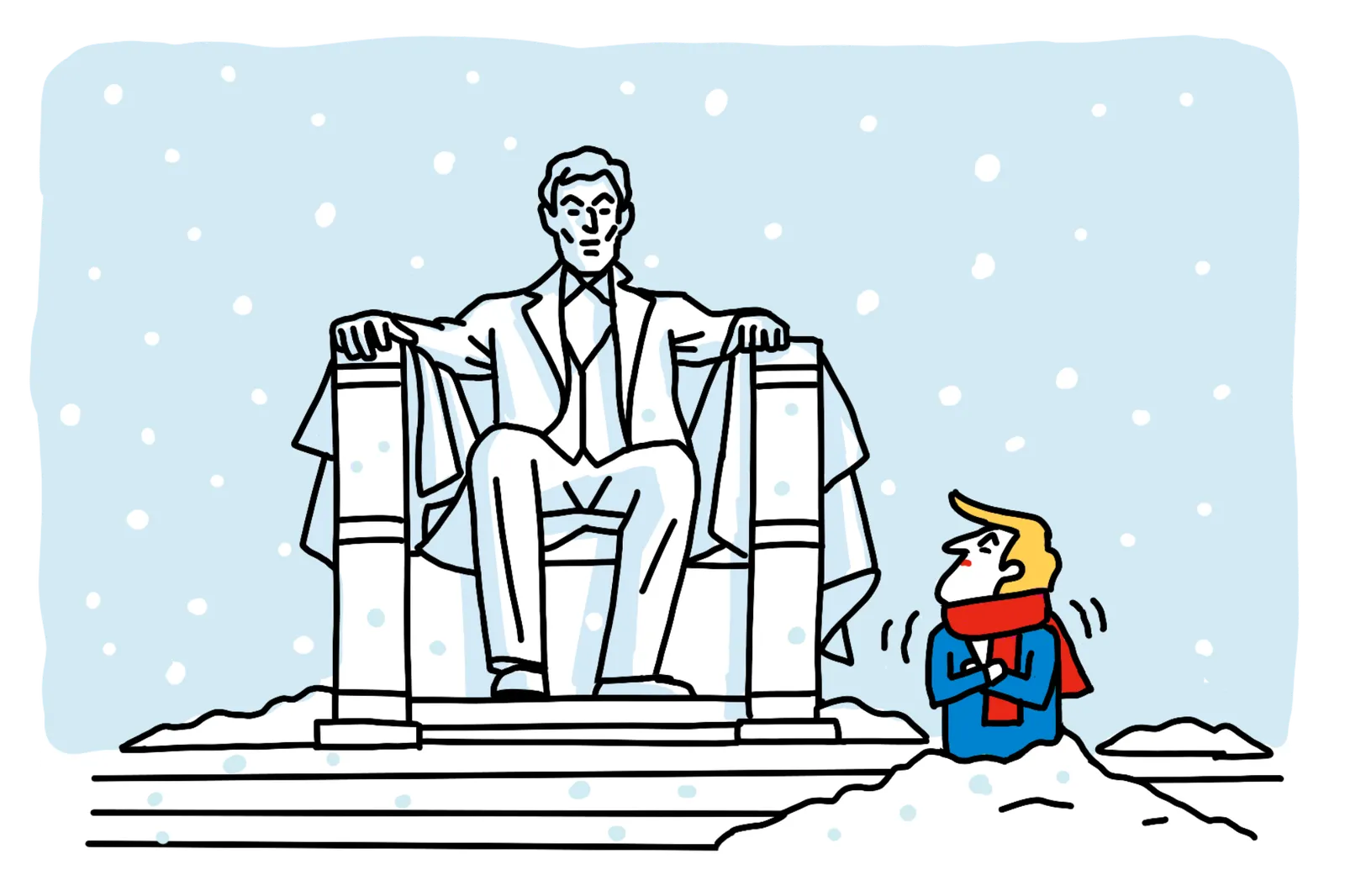 Plausible scenario:
When figuring out what he will say, you have to put yourself in the mind-set of a humiliated and rage-filled narcissist who has to retreat with his dignity intact but leave a wound. The real scenario, should it happen, will be, "I'm a billionaire. I didn't need this job. The only reason I took it was a mandate from my fans to Make America Great Again. The fake-news media, Hillary Clinton, and the Democrats who are all determined to ruin this country refused to let me. #Sad."
Writer-enhanced scenario:
Donald Trump is forced by a mysterious angel to look at what life in the United States would have been like if he'd never been born or been elected. Hillary would be in the White House; there is Medicare for everyone, and the economy is booming as the U.S. leads the fight against climate change. None of his horrible sons would have been born, so wild animals in Africa would be safe. Ivanka would be sitting in a tower in another dimension, sewing shoes by hand as she stares longingly at the moon and waits to be born to someone who had a profitable tech start-up. Kellyanne Conway would be hanging around the greenrooms of morning-talk shows, waiting for someone to drop out at the last minute so she could give horoscope predictions. Melania would be preparing for her wedding to Sumner Redstone. Donald is so moved that he begins to sob and calls a press conference. "My fellow Americans," he says, "I want to resign. I have been such a fool." Then he and his family go to work to preserve the environment and save endangered species. In the last frame, they'd all be standing in line to volunteer for the Peace Corps.
Parting shot:
Look, all I can say at this point is, and I'm leaving in a few minutes—but check my Twitter, and there will still be rallies. I can still hold my rallies, because as far as I know, we still have the First Amendment—they will be incredible rallies. My uncle was a great professor and scientist and engineer, Dr. John Trump at M.I.T.; good genes, very good genes, very smart. Wharton School of Finance. And if I was a liberal Democrat, they would say I'm one of the smartest people anywhere in the world—it's true!—but when you're a conservative Republican oh, do they do a number—but when you look at what's going on with the Persians who are great negotiators, the Iranians who are great negotiators, and the North Koreans who have tremendous rallies, they hold those placards up, we will have rallies and we will do placards. Our rallies will be better attended than Kim Jong Un, even when it's a birthday or an anniversary or whatever they do there. Wait and see.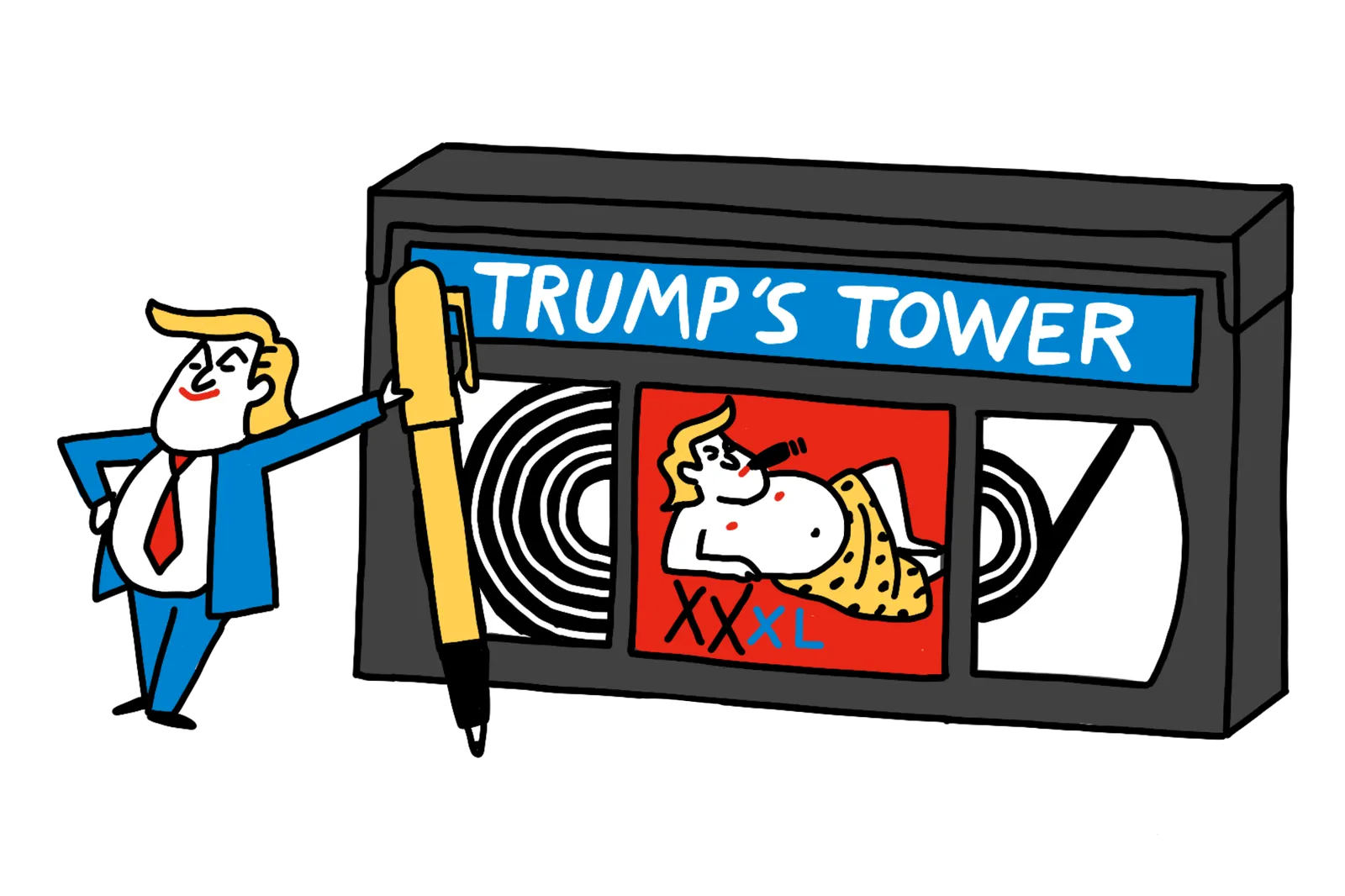 Plausible scenario:
Some version of "I have decided to resign because you're all losers, and I quit."
Writer-enhanced scenario:
Trump announces that he can no longer serve as president of the United States of America because the pee tape that the Failing New York Times has finally uncovered and released is "obviously doctored" to give him a "much, much smaller penis than the really, actually big, some say very big, strong penis that I actually have."
Parting shot:
I'm suing all of you. You, your families, your fucking pets . . .