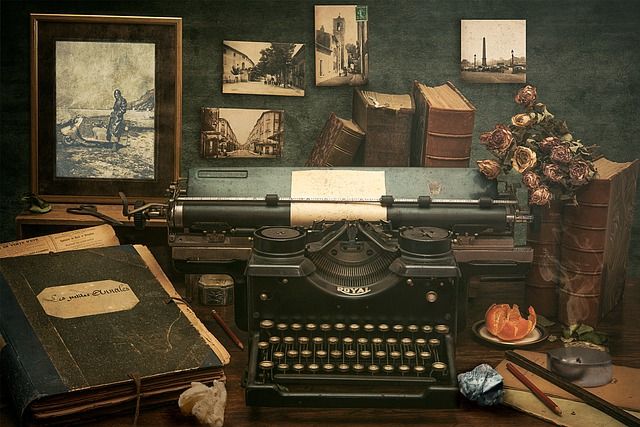 Well, not really, but it makes for an intriguing essay title.
In a recent essay, I mentioned that I had once appeared on Antiques Roadshow. A reader commented: "Michelle, you have teased us and now you must produce—what is your Antiques Roadshow experience?"
A couple of years ago the show filmed in San Diego. A coworker had been asked to attend the taping by a friend who had won two tickets to the show. The coworker was unable to go, knew that I loved the show, and asked her friend if I could have the ticket. Her friend said yes, so off we went. (In retrospect, that was incredibly generous of her friend. I can think of several people in my life who would have been outraged with me if I'd given away a ticket to Antiques Roadshow to a friend of a friend I'd never met.)
Allowed to bring two items, I brought an antique portable typewriter that had belonged to my grandfather and a silver salt-and-pepper set belonging to another coworker.
In line, my new friend (let's call her C) and I discovered the pettiness of some of the attendees. One elderly lady anxiously asked people if anyone had a spare ticket her friend could have. One lady did indeed have a spare but refused to give it up. She would sell it, but not give it away. Please remember that these were free tickets that had been distributed solely in order to keep the size of the crowds manageable. This lady had not paid for the ticket and shouldn't have attempted to scalp it. (And, by that point, she couldn't even have given it to a friend or family member who wasn't already at the event.) Fortunately, the elderly lady and her friend eventually found someone with a softer heart to give up a spare ticket.
We also discovered that some of the appraisers have more social skill than others. The first appraiser to whom C took her bird figurine was abrupt and dismissive. Another appraiser was much kinder; even though the figurine wasn't especially valuable, he was obviously more enthusiastic about it. The silver appraiser to whom I took my coworker's salt-and-pepper set was also abrasive, quickly glancing it over and barely registering that he heard the interesting story attached to the set I tried to tell him. (I realized later that I should have taken the set to the movie memorabilia table because that movie-related story was what could have made the set more valuable.) But the appraisers to whom I took my grandfather's typewriter—even though this was probably the tenth they'd seen that day—were helpful, interested, and personable.
In short, if you go, be aware that the personalities you see on television may not correspond to the personalities you meet on the set. All of them will sparkle in front of the cameras. If my experience is any indication, though, only some will take the time and care to make the experience fun for the vast majority who bring the boring or the inexpensive items.
Now, about that television appearance. C and I were waiting in line and noticed an appraisal going on nearby of sketches by the legendary Hollywood costume designer Edith Head. Over the noise I couldn't hear very well, but suddenly there was a reaction at the appraisal. This was obviously a "find." I asked C what they had said. "They're worth fifteen thousand dollars!" C exclaimed. Impressed, I said, "Wow!"
When the shows aired that fall, the Edith Head sketches made it on air. (Not all appraisals that are taped make the cut.) When the amount is mentioned, if you look in the background in the far-right of the screen, you can see a woman in blue mouthing the word "Wow!"
And that was my fifteen seconds of fame.
By the way, the typewriter was worth around seventy-five to one hundred dollars. No, it's not for sale.
(Image: Antique typewriter, Pixabay.)