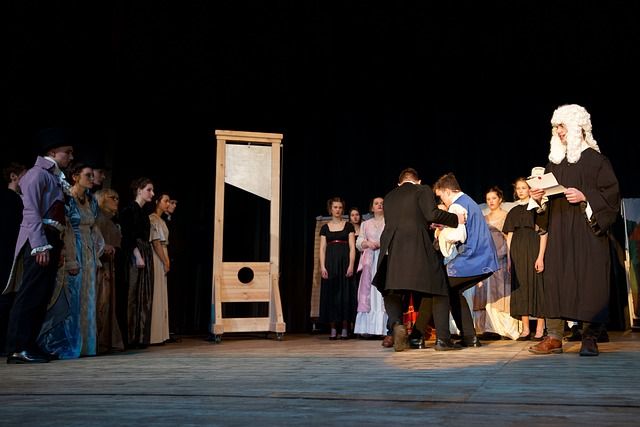 A priest, whom I refuse to give a link, used today's feast of the Carmelite Martyrs of Compiègne to speculate about "if I will have the strength of mind and will in that moment [of martyrdom] to sing."
Far be it from me to deny the mysterious movements of grace. It's entirely possible that men who spend much of their time blogging about all the traveling they do and all the food they eat, when they're not casting stones at people with whom they disagree on matters of religion and politics that is, might be strengthened by the Holy Spirit when the time comes to mount the steps of a modern guillotine and face death bravely. For the sake of their souls, I hope that's the case.
But, if so, it would be an extraordinary ("outside the ordinary") occurrence in the history of martyrdom. A lot of Catholics appreciate Flannery O'Connor's quip that "she could never be a saint, but she thought she could be a martyr if they killed her quick," but O'Connor was creating a story, not writing a guide to the spiritual life.
The fact is that martyrdom usually only comes after significant suffering that prepares the martyr to accept death bravely. In other words, grace builds on nature, as the philosophers would say. The Carmelites of Compiègne suffered significant hardships and imprisonment before it was time for them to ask their superior for permission to die. Other saints, such as St. Thomas More, willingly gave up much of what mattered to them in this world before accepting that they'd also have to give up their very lives.
St. Therese of Lisieux, who admired the Carmelites of Compiègne and wanted to be a martyr herself, recommended that "before dying by the sword, let us die by means of pin pricks." By "pin pricks" Therese was referring to the ordinary sufferings and self-denials that would prepare souls for the terror of martyrdom.
We rejoice in our sufferings, knowing that suffering produces endurance, and endurance produces character, and character produces hope, and hope does not disappoint us, because God's love has been poured into our hearts through the Holy Spirit which has been given to us (Rom. 5:3–5).
(Image: Stage production with prop guillotine, Pixabay.)