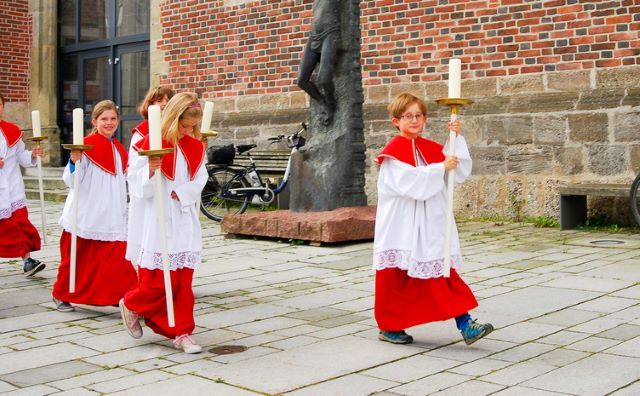 A few days before Christmas, Rachel Lu, writing in Crisis, published an essay titled "Girls Should Not Be 'Altar Servers.'" It received wide acclaim throughout the Catholic blogosphere, perhaps most prominently in a blog post by Fr. John Zuhlsdorf. The essay seems to be part of a new genre of essays by conservative Catholic women, in which they seek to demonstrate that not all Catholic women are progressive.
Other recent examples include Kendra Tierney's Q&A "Why My Daughters are Not Altar Servers" and Rebecca DeVendra's article for OnePeterFive, "Should Girls Serve at the Altar? A Former Altar Girl Weighs In." In that essay, DeVendra managed to exploit not only her Catholic-woman cred, but also her one-time altar service, to position herself as an authority on the matter. For the purpose of this article, I will focus on Rachel Lu's piece.
I wish I could say that Lu offers substantive points that require rebuttal. She does not. She offers exactly one point that could be considered strictly apologetic in its nature, and wraps it in 1,300 words of personal opinion laced with internalized sexism. Her one apologetics point:
In 1994, the Congregation for Divine Worship issued a letter officially specifying that it is licit for females to serve the altar in the role that has traditionally been known as "altar boy." Bishops were not bound to permit the practice, and a 2001 follow-up specified that pastors may also choose to reserve altar service to males within their own parishes. Nevertheless, the Church has specified that altar girls can exist within the Church.

The practice is permitted. That doesn't mean it's a good idea.
In other words, "Girls can be altar servers. But I don't think it's a good idea." That's it. The rest of the piece is Lu's opinion on what makes good liturgy, including her central observation that women are particularly bad at offering public worship to God (the word liturgy literally means "public religious worship"). Lu writes:
When men are in charge of liturgy, they generally favor austerity, solemnity and reverence. They are far more likely to have "high" religious sensibilities. When women claim a more central role, we frequently see a slide into lower and more culturally idiosyncratic practices. It generally starts with campy banners and popular-style hymnody, but may end with synthesizers and scantily-clad liturgical dancers. These liturgies are not beautiful or uplifting. They're more like a never-ending hug from a grasping, obsequious aunt.
The last point earned Lu a gold star from Fr. Z, who evidently was enchanted by the idea that an elderly female relative should be used to stand as an image of liturgies he despises. As a relevant aside, the most well-known image for grasping, obsequious characters was enshrined in the popular imagination by Charles Dickens, and Dickens imagined the kind of person who is grasping and obsequious to be a man.
The rest of Lu's essay contained acknowledgment of her own accomplishments, and those of women in her family, while at the same time making clear that she thinks "empowered person[s]" ought to "be content to leave certain tasks to others." Why? Because vocations are low, "altar-boy service is one of the best recruiting grounds for the priesthood," and "women are not eligible for this particular role [the priesthood]." Oh, and boys think girls are yucky, will not serve with girls, and we should accept such an alleged attitude from boys toward girls as "developmentally normal."
With all of that in mind, allow me to make a case for altar girls.
When did the practice of altar girls originate in the United States? You might think altar girls got their start in the 1970s, that time of all kinds of liturgical innovation following Vatican II. If so, you would be wrong. I'm grateful to Dr. Margaret Susan Thompson of Syracuse University, whose scholarship on the topic helped me immensely and who provided me with the following historical citations.
The service of girls at the altar in the U.S. can be traced back to the 1830s, when the Oblate Sisters of Providence, a community of African-American religious sisters founded in Baltimore in 1829, couldn't find white boys willing to serve at the altar during their liturgies. In response, the sisters trained their young female students to serve. Here are a couple of excerpts from the sisters' history:
[In 1834]: The services in the chapel were being carried out with more ceremony too, as the community grew. M. Joubert [chaplain] notes that on the Feast of the Patronage of St. Joseph, Mass was served for the first time by two children of the choir, and that a third carried the censor. These were girls (p. 69, emphasis added).

[At the Triduum, 1837]: Since what follows sounds so unusual, even to women of to-day, accustomed to many liberties their grandmothers did not have, I will give it in M. Joubert's own words. After the Sisters had returned to the choir, M. Joubert carried the ciborium to the repository and then, "he proceeded to strip the altar which was done by the girls while he read the usual psalms for the ceremony." There is no more mention of the girls taking so unusual a part in the ceremonies but "we observed the same ceremonies; the candles having been distributed beforehand," he tells us, so we feel sure the girls shared in the Good Friday and the Holy Saturday services as they did on Holy Thursday (p. 83, emphasis added).

[Source: Grace H. Sherwood, The Oblates' Hundred and One Years (Macmillan, 1931).]
When did the Vatican officially approve the service of women at the altar? On March 15, 1994, just two months before St. John Paul II would definitively slam the door on ordaining women to the priesthood (Ordinatio Sacerdotalis), the Congregation for Divine Worship and the Discipline of the Sacraments announced that the Vatican was permitting girls to serve at the altar. One year later, in an Angelus address titled "Enhance Women's Role in Church Life," John Paul stated:
Today I appeal to the whole Church community to be willing to foster feminine participation in every way in its internal life. ... [T]here are many women who have distinguished themselves in the Church's history by their holiness and hardworking ingenuity. The Church is increasingly aware of the need for enhancing their role. Within the great variety of different and complementary gifts that enrich ecclesial life, many important possibilities are open to them. The 1987 synod on the laity expressed precisely this need and asked that "without discrimination women should be participants in the life of the Church and also in consultation and the process of coming to decisions."

... I am thinking, for example, of theological teaching, the forms of liturgical ministry permitted, including service at the altar, pastoral and administrative councils, diocesan synods and particular councils, various ecclesial institutions, curias and ecclesiastical tribunals, many pastoral activities, including the new forms of participation in the care of parishes when there is a shortage of clergy, except for those tasks that belong properly to the priest [sections 1–2, emphases added].
It's possible for bishops and pastors to determine whether girls should serve in their areas, yes; it's even possible for parents to decide to not allow their daughters to serve. At the same time, it's also true that the Church permits the service of girls at the altar. That means Catholics should respect the rights of others, both clergy and laypeople, to make a different decision from theirs. In short, if you see an altar girl, it's best to assume she's serving with the licit permission of her bishop, pastor, and parents.
What about boys and girls serving together at the altar? Let's ask the questions of whether boys and girls can serve together at the altar, and whether boys should be urged to share this responsibility with girls.
I'm happy to grant that many priests first discern their vocation while serving at the altar. But I do have some questions. Does that necessarily mean that a boy who serves at the altar shouldn't be expected to share that experience with girls? Should a boy who refuses to serve at the altar because of girls be encouraged to continue in that attitude toward girls? Do we really want to draw our future priests from a pool of altar boys who refused to collaborate with girls in the Church's public worship?
Finally, why should girls be refused participation in altar service simply because they can't become priests? Doesn't altar service have its own intrinsic value? Do we really want to treat altar service as the first rung of an ecclesial ladder? If altar service has intrinsic value, and shouldn't be considered a first step on the road to ecclesial careerism, then why exclude a qualified candidate merely because that person can't "advance"?
I used to believe it could be a good thing to restrict altar service to boys—and for many of the same reasons Lu and other conservative Catholic women have offered. Now I think we do need altar girls for the sake of the altar boys, who need to learn that both men and women are called by the Church to collaborate in the public worship offered to God.

(Image: Altar servers in procession; iStock / Used with license.)