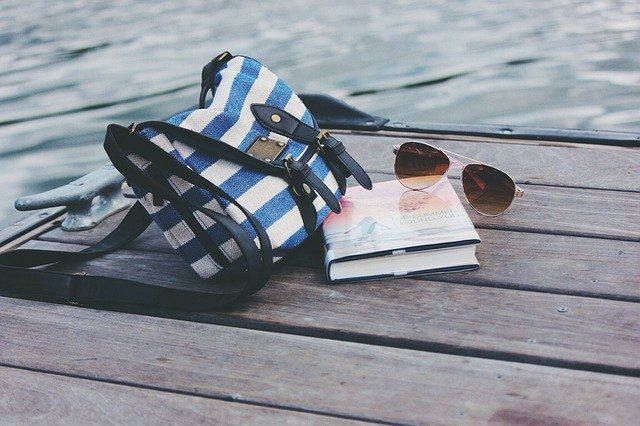 No one ever contacts me to ask me fun questions about my summer reading, so I decided to interview myself using the questions from a National Catholic Register interview with Catholic writer, Leila Miller (in edited form).

Summer Reading Suggestions

Who are you?

Michelle Arnold, a staff apologist for Catholic Answers.

When and how do you read?

I mostly read in the evenings, using my e-reader. I like printed books but I have no room in the house to store physical copies of all the books I buy.

Share a reading tip or hack.

Ebook stores offer lots of free books, and some of them are pretty good. On Nook, Barnes & Noble's ebook platform, you can find them by typing "0.00" in the search bar, plus the category of book you're looking for (e.g., "0.00 Christian fiction").

Recommend a favorite in the following categories and give a brief description of it.

Spiritual classic: The Practice of the Presence of God by Br. Lawrence of the Resurrection. Br. Lawrence was a seventeenth-century Carmelite religious lay brother from France, who encouraged the practice of placing oneself in the presence of God in the midst of everyday activities. His spiritual method was a precursor to St. Therese of Lisieux's Little Way.

Modern Catholic book: To Know Christ Jesus by Frank Sheed. Sheed's life of Christ is my favorite of the genre by a Catholic writer and, I believe, his best book. His theology is accessible to ordinary Catholics in the pews, but he doesn't stretch for theological speculation when a common-sense, pragmatic explanation will do. I particularly like his treatment of the infancy narratives in Matthew and Luke.

Non-Catholic book: The Immortal Life of Henrietta Lacks by Rebecca Skloot. It's a fascinating history of the origins of modern medicine, as seen through the life story of a poor woman of color whose cells were harvested before her death without her knowledge or consent. And it's a sobering analysis of how scientists placed the pursuit of discovery over the dignity of the human person.

Author you love: Ellis Peters, best-known for her historical mystery series The Cadfael Chronicles. Cadfael is a Benedictine monk and amateur sleuth in medieval England. Peters wasn't Catholic, but her series is respectful of the Catholic tradition. Start with the first book in the series, A Morbid Taste for Bones.

Article or short-form piece: "Frontier Apologetics" by Eric Sammons, an article in the latest issue of Catholic Answers Magazine. Sammons tells the story of a nineteenth-century debate between Bishop John Purcell, who became the first archbishop of Cincinnati, and Alexander Campbell, one of the founders of the Disciples of Christ. The debate was influential in dampening anti-Catholicism in the U.S. at the time.

Church document: Nostra Aetate, the Second Vatican Council's Declaration on the Relation of the Church to Non-Christian Religions. It's a short document but important reading, given the alarming rise of antisemitism and anti-Muslim sentiment in Europe and the United States.

Something for kids: Mrs. Frisby and the Rats of NIMH by Robert C. O'Brien, my all-time favorite children's novel. I first read it in fourth grade and I still re-read it every few years. The story can spark discussion of the limitations of science and the responsibility to live virtuously even under difficult circumstances.

Something you've written: I've written two booklets for Catholic Answers, which are included in their 20 Answers series: 20 Answers: Witchcraft and the Occult and 20 Answers: Judaism. Both are under one hundred pages in length.

Summer listening: I don't really follow podcasts, but I do like the YouTube channel "Today I Found Out" which digs into interesting historical questions. A couple of recent episodes were "The Vampire of Cinkota" and "That Time a Teenager Nearly Assassinated the Queen."
(Image: Purse, sunglasses, and book, Pixabay.)