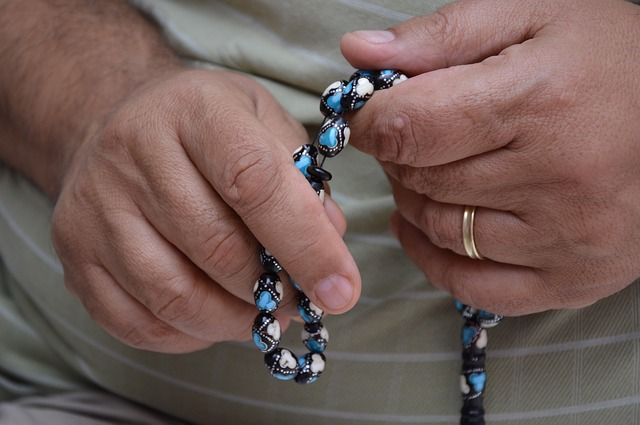 Confession time: I am not a fan of the rosary.

Well, let me be a bit more clear: I appreciate the wonderful history and heritage attached to the rosary; I was impressed and grateful when John Paul II gave Catholics the luminous mysteries of the rosary (I even wrote an article that event); I admire those who are have a devotion to the rosary. But I don't. It's always been a difficult prayer for me to pray. When I use my rosary beads, I usually use them to say the Divine Mercy chaplet, a prayer devotion that I personally prefer.

So, you can imagine my horror when a friend suggested that I pray a 54-day novena, a novena that entails saying five decades of the rosary for 54 days in a row! This friend is a spiritual mentor, so I didn't reject her suggestion out of hand. I thought about it.

Then I said no.

My friend, like a good spiritual mentor should be, was perfectly fine with that. Then she had a brainstorm. She knew of a particular intention for which I had been praying for years. She suggested that I offer up some of the trials I had experienced over this past year for that particular intention to be fulfilled. Sounded like a great idea. She never even mentioned the 54-day novena.

It did occur to me though that a 54-day novena would be a significant and, for me, sacrificial, means by which I could offer up those trials for that intention. I sighed and told both my friend and the Blessed Mother that they had won. I'd do the 54-day novena.

I've been doing it for the few weeks and have about twenty days left. The reason I tell this story to you is because of a side benefit that praying this novena has had for me.

At first I prayed the novena while sitting on my couch in typical couch-potato style. Then I had a brainstorm.

I had been wanting to establish a walking routine for some time now, but for various reasons this had proven a fruitless effort. Then I realized that the rosary usually takes me about twenty minutes to pray. If I walked while I prayed the rosary, I would be walking twenty minutes per day. Not exactly an Iron Woman regimen, but it would be a good place for me to start.

You might think that a Couch Potato like me would have difficulty doing the whole rosary before needing a break. The first night I only got through three decades before needing to sit down, but after that I could do all five. And so, for twenty minutes per night I've been pacing my living-room floor praying the rosary in this 54-day novena.

At this rate, and assuming I maintain my "rosary a day" after the novena is finished, I expect to reach China sometime in the next century.
(Image: Hands holding prayer beads, Pixabay.)