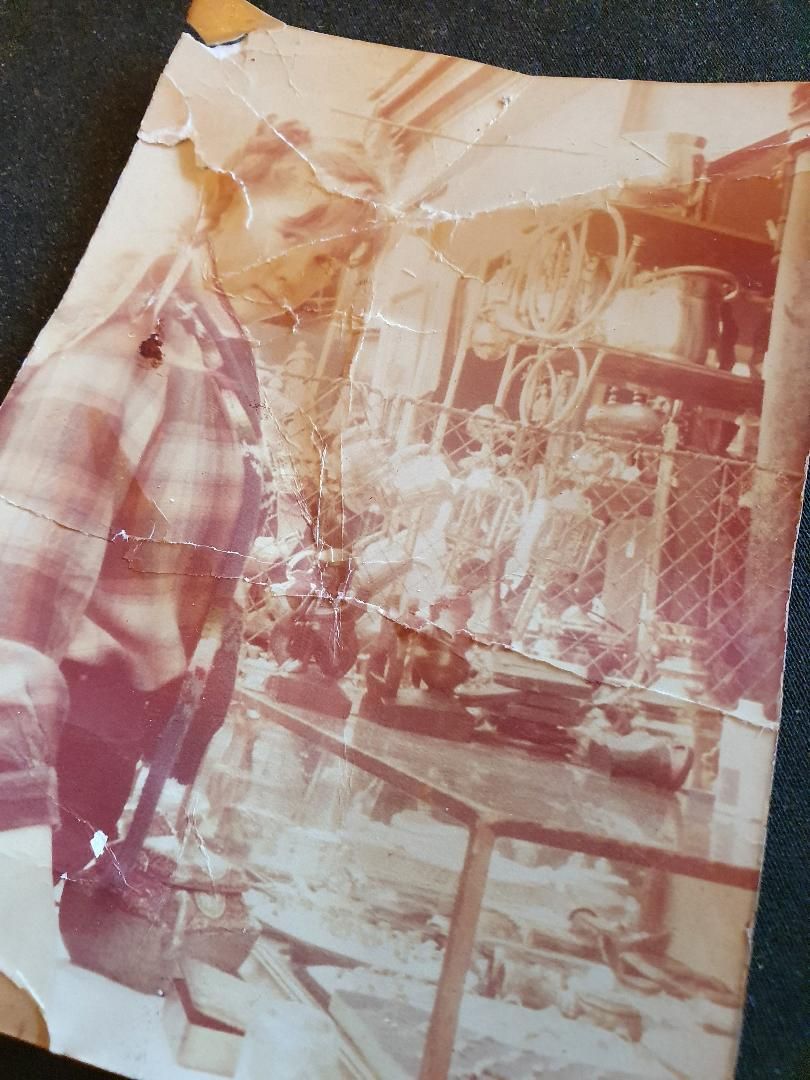 "This is all I want now – just comfort. I dress for comfort."
But MeDad's new cardigan isn't 'comfortable' yet... because he can't work out "how the buttons work".
To see MeDad – a man who used to express loud and utter distaste for 'old people' who 'give in' to wearing comfortable clothes or anything beige – perplexed and exhausted by buttons is heart-rending. But at least his new cardigan isn't beige.
For years, MeDad was constantly in search of The Perfect Jacket. He loved anything blue, and flirted with the idea of suit-cut denim, but occasionally expressed an interest in cream linen. Often, he'd recall that a friend from long, long ago had a jacket just like the one he wanted, or that he'd owned one in his twenties, and has no idea what happened to it (MeDad rarely has any idea about what happened to anything that he's lost in his life, including people.) The other day, he started reminiscing about a pair of Black Watch tartan trousers once worn by a friend of his named Yankel Feider – a very camp artist/antique dealer who I vaguely remember as being a bit like Larry Grayson. MeDad said he'd quite like trousers like that. I told him I'd order some for him, even though I knew I couldn't, and wouldn't even if I could, because what's the point? But MeDad used to have a certain sartorial elegance... but now there's little room in his life for elegance of any kind.
Tuesday afternoon, 2.40pm I arrive at his flat 20 minutes earlier than planned, so of course, getting in isn't going to be straightforward. After I've unlocked the front door I have to half open it so that I can reach in and remove the ancient walking stick that he places at an angle through the inside door handle: his 'security system', guaranteed to stop burglars in their tracks. Like so much of MeDad's day-to-day life, it's a flimsy, archaic, ridiculous system.

From the hallway, I can see him in the kitchen, doing something ridiculous at the sink (trying to 'clean up', I'm guessing, before I start actually cleaning up.) I know he won't have his hearing aid in. I know that if I approach him from behind, the shock could kill him. So once again, as usual, I phone him from his hallway while watching him through the half-open living room door.
"Fuck off, fuck off, fuck off!" he screams, over the sound of the extra-loud telephone bell. "I'm not answering!"
After 22 rings, his telephone automatically cuts off. I ring again. "Jesus wept, what does she want now?"
He shuffles across the living room, drying his hands on a tea towel as he goes, and picks up the phone.
"What do you want now?"
"Put your hearing aid in, MeDad! I'm in your house."
"Are you telling me you're not coming?"
"Dad – I'm here! Put your hearing aid in!"
"Who is it?"
"It's me, Melissa!"
"I know that, dear. What do you want?"
"Dad: I'm in your house!"
"Jesus wept!"
I walk into the living room, still on the phone. He looks at me, astonished.
"Put the phone down, MeDad; I'm here, look!"
"Jesus wept! I'm exhausted!"
He drops the receiver to the floor. I go to pick it up.
"Don't pick it up, this is all the stuff that I have to do on my own, when you're not here!"
I leave him to it because the tap is still running in the kitchen, filling a close-to-overflowing sink crammed with dirty dishes, banana skins, flakes of muesli, shards of half-finished pieces of toast and marmalade. Floating on the top of the morass, a broken cafetière: "Don't touch the cafetière, I keep my rhubarb in that!"
I make tea, and we sit at the table for a while, and he tells me how to stub a cigarette out correctly. I tell him I've bought him a cardigan, and he asks me to tell him about it later, because he's exhausted. He tells me his days are full of problems, and worries, and things he has to do. I tell him that he's got the day off today, and that all he has to do is sit in his chair by the window and let me get on with things, and have a sleep if he wants to.
"I sleep all the time," he says. "It's because of all the problems, and the worries. When did you last have a kebab?"
MeDad and I used to go to a little Turkish kebab house in Bath: Marmaris, where the oldest waiter was around the same age as MeDad is now, and one of the younger waiters once got arrested for sending an envelope full of fake ricin to his ex-girlfriend's new boyfriend. Dad would always have the Turkish lamb shank (Incik – he enjoyed saying it more than he enjoyed eating it), I'd always have a lamb kebab, and we'd always sit at a little table for two near the rear of the restaurant, in front of the peeling mural of a sunset over a Turkish beach, next to the rickety sweet trolley laden with dusty baklava and a huge bowl of fruit salad that always looked as though it had been made five days ago. We'd drink red wine (and lots of it), and when the obligatory complementary shot of Limoncello arrived with our coffee we'd both tip it, at exactly the same time, into the potted plastic chrysanthemums on the shelf beside us.
Afterwards, we'd stumble into our separate taxis home, him to his flat on the north side of Bath and me to mine, high up on the city's southern slopes.
Those were the good old days, after MeDad had put his London years behind him, but still long before either of us ever thought that our conversations about boyfriends (mine), books (which we'd both read) and opinions on art (mostly his) would be replaced by endless requests for help that nobody could ever fulfil, and ongoing, increasingly problematic dietary weirdness.
"I haven't had a kebab for years, MeDad," I say; "Not since I used to go to Marmaris, with you."
But he's asleep now, so I take the opportunity to tackle the pond of sink-soup and all the related mayhem around it while he dreams of kebabs, and late-night taxis, and when he used to have a life worth living. Now, the best I can do to help him make his life worth living is clean his kitchen.
Tuesday afternoon, 5.40pm The kitchen is as clean as I can get it, his bed's been changed, I've found an ancient photograph of me, taken in Portobello Road market when I was aged around 12 or 13, screwed up on the floor underneath a chair and I've picked up all the random laundry that's scattered randomly around the flat (underwear hanging over the living room door; a pyjama top on the bookshelf; a jumper on the ancient typewriter) and bundled it into laundry bags, ready for the laundry service to pick up tomorrow morning – if, that is, he answers his door when they arrive.
MeDad's eyes are flickering open so I make more tea.
"Wonderful!" he says; "what a wonderful day I've had!"
Just after lockdown ended, I took him a large-font print-out of my Four Quartets theatre review, because I thought he might have been interested in reading it. The two pages have lain folded up on the corner of his table for weeks, months on end, fading and dyed sepia by repeated coffee spills.
"Have you read that review yet, MeDad?"
"I'm going to, when I get my hearing aid fixed."
"You could read it now – or I could read it to you?"
"We'll do it when you get the lights fixed."
I make more tea.
"MeDad, would you like to try your cardigan and your new slippers on before I go home?"
"Have you ordered them yet?"
Tuesday afternoon, 6.40pm MeDad says his new slippers are perfect. It took him an hour to try them on. I think he's just exhausted again, and can't be bothered working out how slippers 'work' anymore.
"I've played my part!" he says; "I've shifted into the lean and slipper'd pantaloon, with spectacles on nose and pouch on side! Do I dare to eat a peach?"
Before I leave, I put his Big Soup into a pan, ready to heat up on the archaic, ridiculous, dangerous countertop stove in the kitchen. He doesn't want me to heat the soup up for him before I leave because he's exhausted from trying to work out how the buttons on his cardigan work.
"I'll see you tomorrow, MeDad – I love you, you know."
"Ah, Missy: I love you too, and I can't thank you enough for everything you've done today."
I leave him dozing in his chair, and wonder when he'll summon up the energy to put the walking stick back across the front door after I've gone. As I lock up, I can hear him carrying on with that soliloquy:
"...and his shrunk shank, and his big manly voice, turning again toward childish treble, pipes and whistles in his sound".
I'm aware that any moment like this could be the final scene of the strange, eventful history of me and MeDad as he sleeps his way into mere oblivion, sans teeth, sans eyes, sans taste... sans elegance.
I know that we're both letting go.