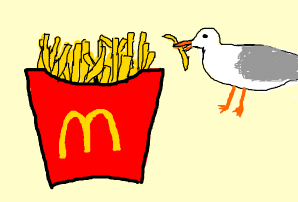 "The Moral Maze. The programme you're talking about is called The Moral Maze." "It's called what?"
"The. Moral. Maze."
"Bouffant? Bloody ridiculous, calling a radio programme bouffant!"
"No MeDad, not bouffant – how in the hell did you think I'd just said bouffant?"
"Handsome?"
"THE MORAL MAZE!"
"I've already heard Front Row, it was ridiculous. What day is it?"
"It's Saturday."
"Tuesday?"
"Saturday. It's Saturday."
"Thursday?"
"No, MeDad, not Thursday – S A T U R D A Y"
"Saturday! Why didn't you just say it clearly?"
"I did, MeDad."
"We went to McDonalds on a Saturday once, didn't we? Do you remember?"
Oh MeDad; we did, and I do. It must have been around 1987...
Foyles, Liberty, Dickins & Jones and a funny little shop on Vere Street that seemed to be selling Ferrero Rocher chocolates in Godiva boxes; MeDad and I had been walking for hours, occasionally stopping for coffee in various Italian sandwich bars but failing to eat, or even take a loo break. I was tired and MeDad was getting grumpy (some things never change) and suddenly we were on Oxford Street, surrounded by dazed tourists, fake designer handbag pedlars and hooded boys thrusting leaflets for language schools in our faces. And so it came to pass that I uttered a sentence that I'd never used before, or since: "MeDad: do you fancy trying McDonalds?"
MeDad is the only person I've ever seen, known or heard of to eat a McDonald's Meal Deal with a stainless steel knife and fork, which one of the staff miraculously sourced for him ("How else am I supposed to eat it – from the paper on the floor, like a bloody seagull?").
He couldn't get over the fact that his cheese burger wasn't made of cheese alone ("What the hell is this rubber thing, in the middle of it all?" "That's your actual burger, MeDad"). He told one of the guys emptying a bin next to our table that the fries were actually game chips, took one sip of my strawberry milkshake and declared that I'd been given "a remedial drink for prisoners who'd been on hunger strike" by mistake, and insisted that his coffee was Camp Coffee essence mixed with lukewarm water.
We had an absolute ball.
10 years on...
MeDad and I used to go to a little Turkish taverna/takeaway kebab takeaway place in Bath: Marmaris, where the oldest waiter was around the same age as MeDad was in 1997, and one of the youngest waiters once got arrested for sending an envelope full of fake Ricin to his ex-girlfriend's new boyfriend.
MeDad would always have Incik, I'd always have a lamb kebab and we'd always sit at a little table for two near the rear of the restaurant, in front of the peeling mural of a sunset over a Turkish beach, next to the rickety sweet trolley laden with dusty baklava and a huge bowl fruit salad that always looked as though it had been made five days ago. We'd have red wine too (and lots of it), and when the obligatory complimentary shot of sticky green liqueur arrived with our Turkish coffee, we'd both tip it, at exactly the same time, into the potted plastic chrysanthemums on the shelf beside us.
Afterwards, we'd stumble into our separate taxis home, him to his flat on one side of Bath and me to mine, high up on the city's southern slops. Occasionally, one of us would phone the other when we got in, to continue an unfinished debate, or share a funny comment from our cab driver (MeDad, on one occasion, crying tears of laughter down the phone: "and then he said... he said... in a really strong Bristol accent... 'moy wife and oy loike those restaurants that serve the vegetables on the soide'..... and he sounded like a bloody pirate!").
Those were the good old days, after MeDad had put his London years behind him but still long before either of us ever thought that our conversations about boyfriends (mine), books (which we'd both read) and opinions on art (his) would one day be replaced by long hours spent counting his socks in order to prove that his laundry service were stealing them, or trying to sort out his increasingly problematic dietary weirdnesses.
10 years on...
"D'you fancy another McDonalds, MeDad? I could get a takeaway!"
"They expect you to eat it like a bloody seagull! I'd rather have an Incik..."