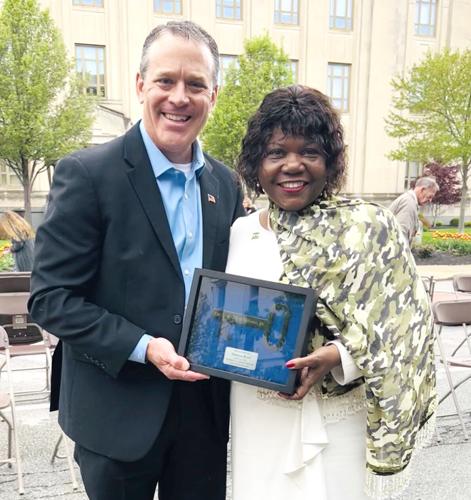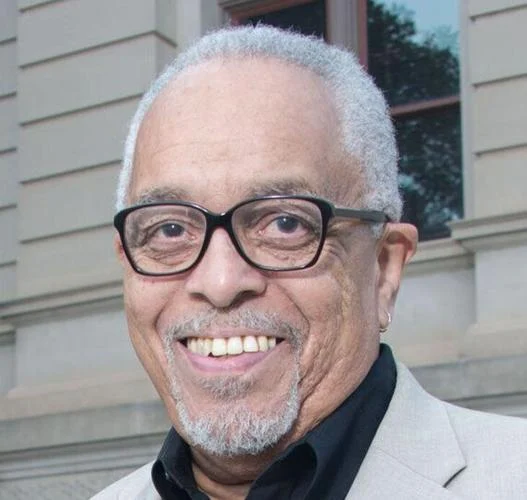 It was the 71st National Day of Prayer, and Sharon Reed's prayer was answered. As she requested in a previous Kokomo Tribune story, Reed, a quintessential community activist and religious leader, was awarded Kokomo's Key to the City by Mayor Tyler Moore at the conclusion of the 2022 National Day of Prayer Program on Thursday.
"I'd like to take an opportunity to recognize a trusted individual in our community," Mayor Moore told the estimated audience of 250 onlookers. "About three months back, an article was written in the Tribune about an individual, here with us today, listing her accomplishments, and her impact on this community, and obviously spoke to the trust that many in our community have had even though she is a transplant. Shortly after that article. (the) Rev. Michael Carson reached out to me and mentioned that this individual, as trusted as she is, should be granted a key to the city, and I wholeheartedly agreed. Pastor Sharon Reed, will you join me at the podium. It is my distinct honor to present to you a key to the great city of Kokomo."
The award presentation was warmly applauded. It is the highest and most prestigious honor the mayor of Kokomo can bestow.
"I accept the key, and also accept it on behalf of all the other transplants, which are many that come to our great city," Reed told the audience. "I appreciate it very much, and I will use it to continue to bless the city."
In a Black History Month profile story in the Tribune, "Pastor Sharon" — as she is routinely referred to — told this reporter: "There is a sector within our culture, in the Black community even, that if you are not from here, you are not validated," she grumbles. "I would always tease all the (Kokomo) mayors and laughingly say 'I'm still waiting on a key to the city.' So, I found myself just saying to myself, I am going to do my corner, whatever it is. And I've done a lot of things on my corner. I've been able to do a lot of things."
Mayor Moore agreed, and Reed, who emceed the National Day of Prayer program, is no longer waiting.
"To go back to your article, although she was not born and raised here, she came to Kokomo and fell in love with the community, and has given time and energy from the pulpit, from the Seiberling Mansion to the stage on this National Day of Prayer to bless this community," Mayor Moore told me. "Not only has God blessed her in her vocation, and every hat that she has worn, but also blessed the community through her."
As her daughter and confidant, Karon Lancaster has enjoyed a ringside seat to her mother's milestones.
"I've been a witness to almost all of the work my mother has done in this city," Lancaster said. "Beginning with the Toastmasters, Kiwanis, Women's Guild, NAACP, IBE, various churches or church committees, Sunday school teaching, Girl Scouts leader, to most recently the Kokomo Arts Guild, and Howard County Historical Society. And at the foundation of her good works: nearly 30 years of ministry. I have watched as my mother has served, helped, promoted, given, and worked."
Lancaster continued, "Today, her work and integrity, love and care were honored by the highest nobility bestowed upon a citizen. And for that, I am grateful for her recognition and exceedingly proud of her work!"
So, now that Pastor Reed's wish has come true, what does being a recipient of the Kokomo key mean to her, I ask.
"It means that I feel accepted on behalf of the city, and that it will motivate me to do more as I go forward. I want other people who come to this community to feel accepted too, and the work that they do. (The award) says a lot, and I am very honored and humbled by it."
The Maynard Report is written by Maynard Eaton. He is an eight-time Emmy Award-winning journalist now based in Kokomo, and national communications director for the Southern Christian Leadership Conference. He can be reached at eaton.maynard@gmail.com.