When it comes to street food there are three crucial factors; authenticity, tastiness and price. And we've hunted down the tastiest street eats in town. We've pounded parathas, conquered kebabs and shovelled back shawarma to bring to you ten of Abu Dhabi's most iconic street food.

Beef paratha at Mann O Salwa
Forget about your avocado and eggs on toast, big English breakfast fry-ups and simple fruit bowls and get yourself this Pakistani delicacy to start off your day. The flatbread, which contains layers of cooked dough, is filled from within with a variety of meats. At Mann O Salwa it's all about the beef paratha for Dhs4 that will have hunger well and truly locked up until lunch. Veggie? Plump for the potato paratha for Dhs3.
Dhs3 (potato), Dhs4 (beef). Bayed St, Muroor (02 448 3124).
Cheese and zaatar manakish at Gulf Pastry
One of the big guns when it comes to street food in Abu Dhabi – and the whole region – manakish (or man'oushe if you can contain yourself to one) is a carby street food that you will see many of the city's inhabitants munching away on at all hours of day and night. Our recommedation is from Gulf Pastry, fully loaded with tonnes of melted cheese and fragrant zaatar.
Dhs8. Gulf Pastry. Various locations including Muroor Road and Tourist Club Area, gulfpastry.com.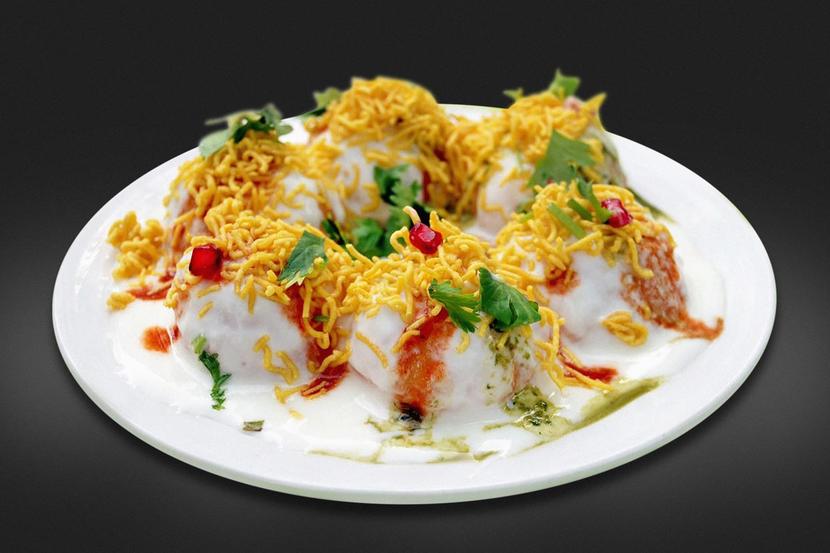 Dahi batata puri chaat at Salam Bombay
Meaning snack, an Indian street food that has been filling the bellies of Abu Dhabi's residents is chaat. At Salam Bombay, these savoury orbs are filled with potato, yoghurt, tamarmind chutney and chili
powder for a tasty flavour-packed bite.
Dhs14. Various locations including Al Nahyan and Najda, salambombay.net.
Stuffed falafel at Operation Falafel
Love falafel? This takes the chickpea snack to the next level. This deep-fried ball by Operation Falafel is a super-tasty morsel. Falafel is stuffed with onions, pine nuts, shatta and served with tarator sauce to dunk this popular street snack into.
Dhs10 (two pieces), Dhs17 (four pieces). Al Dhafrah, Madinat Zayed Area (04 350 2046).
Karak chai at Shay Madhboot
While it might not be a street food, it is undoubtedly one of the most popular (and cheapest) street drinks to find in Abu Dhabi. And ask any person where they get their cup and they most likely will say Shay Madhboot.
From Dhs5. Muroor Road (02 6217323).
Kulfi falooda at Lassi Shop
It's time for some dessert, and anyone with a sweet tooth will recognise this dish in an instant. A great shout on those toasty summer days in the capital, kulfi falooda is a refreshing and delicious drink thanks to its concoction
of vermicelli, rose syrup, sabja seeds, milk and cream.
Dhs10. Madinat Zayed (02 633 0904).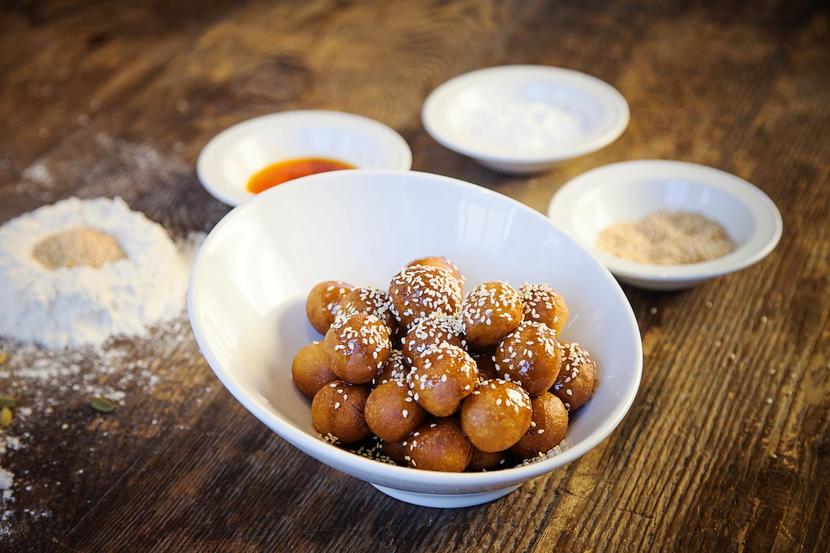 Luqaimat at Dar al Karak
It's time for some genuine home-grown Abu Dhabi cuisine with these gorgeous little fried dough balls. One of the most popular and famous Emirati desserts, a batter of sugar, saffron and cardamom joins milk, flour
and butter, before being deep-fried into golden spheres. Lathered in sticky-sweet date syrup, you'll almost certainly end up with it on your chin, but it will all be worth it.
Dhs12.60 (small box), Dhs36.75 (large box). Various locations including Al Dhafrah and Muroor Road.
Pani puri at Chhapan Bhog
This little orb of yumminess hails from the streets of Indian but has made a life of its own here in Abu Dhabi. Simple but oh-so-good, Chhapan Bhog's version is round in shape and hollowed out, before being filled with chutney, chaat masala, potato mash, onion
or chickpeas. Nom.
Dhs10. Various locations including Najda and Mussafah, chhapanbhog.me.
Paradise garden kulfi at Kulifilicious
Looking for a milkshake Abu Dhabi street food style? Similar to ice-cream, kulfi is a lot denser and certainly creamier (but we're not complaining as it's just as refreshing). The paradise garden kulfi is a blast of freshness and taste with apple, banana, strawberry, mango and kulfi crammed into a plastic
cup. Yum.
Dhs19 (small), Dhs23.25 (medium). Next to Sama Tower, Madinat Zayed (052 476 7123).
Shawarma at Bait Al Khetyer
Can you even say you are a street food connoisseur of Abu Dhabi if you haven't wolfed down your fair share of this wonderful wrap? From a quick lunch to the perfect way to round off a night out, shawarma's splendour is appreciated by all, whenever cravings come calling, and at Bait Al Khetyer you can get a delicious meat-filled wrap for Dhs7.
Dhs7. Bait Al Khetyar. Various locations including Al Markaziya and Najda.
Velvet gilati kebab at Kababs & Kurries
A street food that is something of a tradition for many people back home is also one of the go-to late night eats in the capital. While many are proud of their creation, the velvet gilati kebab is one to sample for all gyro fans. Minced chicken and peppers are cooked over charcoal and sprinkled with spices, making for a tidy, late-night chomp.
Dhs35. Various locations including Al Markaziya and Al Raha (02 552 6900).