Partner content: Plus your chance to win a toothsome prize
Are you a 'grammer of all things irresistibly sweet?

The toothsome treats being laid on by restaurants during Sweetest Things: Layali Ramadan deserve all the lens action they're getting this month – even if there is absolutely #nofilterrequired.

During Sweetest Things: Layali Ramadan, diners can get their hands on one of these baked cakes at cut prices or in different combos at nine various locations throughout the capital.

The campaign sees more than 70 restaurants, cafés and lounges across the capital are offering delicious deals on desserts and pastries until the end of Ramadan.

And to mark the unparalleled deliciousness of the occasion, Abu Dhabi Culinary has teamed up with Brooklyn Creamery to offer one lucky winner a year's supply of ice cream (oh my).

But's that's not all. The Sofitel Abu Dhabi Corniche is also offering a staycation for two people to stay at the classy five-star hotel. You'll get a half-board deal, too, and it's valid from May 12 until July 31.

All you need to do is take a picture of your chosen Sweetest Things dessert, post it on your Instagram feed and use the hashtag #mysweetestmoments.

The very best snaps will help form a mouthwatering gallery on Time Out Abu Dhabi, so give some serious thought to the composition of your candied treats to make them sparkle.

At the end of Ramadan, we'll pick one lucky winner. Ready to get yourself (and dessert) in the frame?

Until then, we're planning on leaving bottom lips glistening by delving into the tasty world of kunafa, one of the most popular Middle Eastern desserts of all time.

Here's where to pick up the best kunafa in town. Syrup?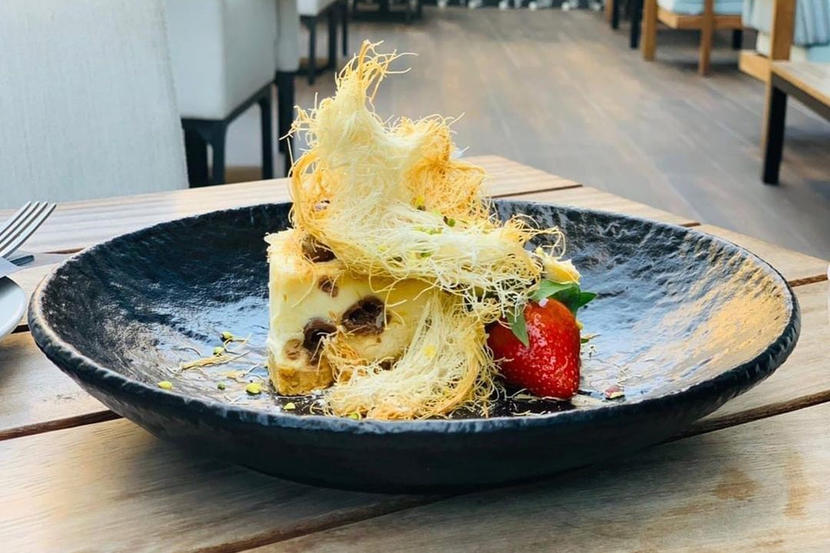 The venue, which is named after the optimum temperature for brewing an espresso, is conjuring up a top quality dessert of a baked kunafa and cream cheese in a chocolate sponge cake for the basement price of Dhs19 this Sweetest Things.
Dhs19. Grand Millennium Al Wahda Hotel (02 495 3968).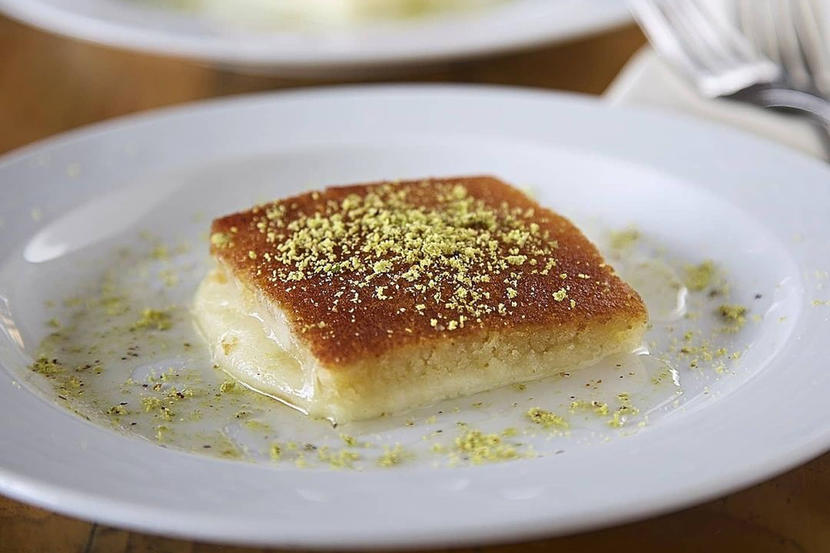 Want a dessert with a view? Looking out over Eastern Mangroves National Park, this picturesque mezze and seafood restaurant is offering its Arabic cheesecake kunafa for Dhs20 during Sweetest Things.
Dhs20. Eastern Mangroves Promenade, Salam Street (02 441 8244).
Mazaj Bab Al Bahr
One of the newest members of the Abu Dhabi culinary scene (formerly Maison Beirut) Mazaj Bab Al Bahr is celebrating its opening with a buy one kunafa get one free deal. Epicures can nibble away on this Turkish-style cheese dish made from shredded filo pastry and layered with cheese and topped with pistachio and Maras Ice cream while admiring the cool and sophisticated surroundings of this Lebanese-Mediterranean restaurant.
Dhs85. Fairmont Bab Al Bahr, Khor Al Maqta (02 654 3238).
This super sleek and chic venue in Al Bateen is giving a ten percent discount to customers on its kunafa, a vanilla cheesecake with caramelised pecans sprinkled on top. House rules say it is for two people but you know what they about rules.
Dhs35. Marasy Al Bateen, Bldg. 2 (02 441 6100).
This swanky rooftop restaurant on the 31st floor of the Grand Millennium Al Wahda Hotel is offer-ing diners a baked kunafa and cream cheese in a chocolate sponge cake for Dhs19.
Dhs19. Grand Millennium Al Wahda Hotel (02 953 3916).
This café is one of Abu Dhabi's most popular chains and the Aussie joint is serving up a platter of 14 Ramadan mini sweet treats at all of its branches for Sweetest Things. It includes two coffee mac-arons, two mouhalabieh, two stuffed dates, two kunafa baskets, two sticky date pudding, two pis-tachio domes and two carrot cakes throughout for Dhs65.
Dhs65. All location in Abu Dhabi, including Yas Mall, Dalma Mall, Abu Dhabi Mall and Al Bateen Wharf, thecoffeeclub.com.
Turf Café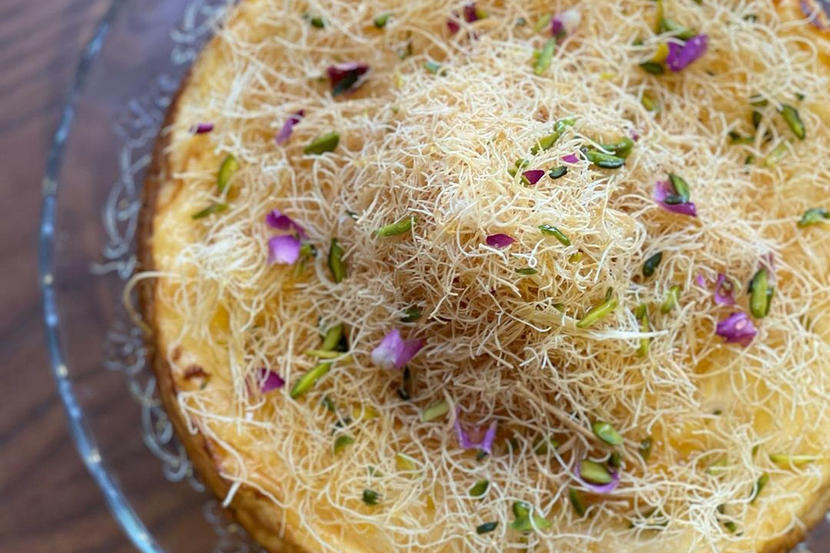 During Ramadan, this cool homegrown spot has a quite frankly incredible sounding new dessert on offer, and new Emirati chai, as well as reintroducing its kunafa cheesecake (available by the slice or whole) and Vimto mocktails. The new dessert is a twist on a traditional Emirati sweet, rice cake waf-fles, served with dulce de leche and drizzled with saffron sauce.
Dhs15 (chai), Dhs20 (Vimto juice), Dhs30 (rice cake waffle), Dhs27 (cheesecake slice), Dhs180 (whole cheesecake). Mubarak Bin Mohammad Street, United Square, Khalidiya (02 386 6742/050 386 6742).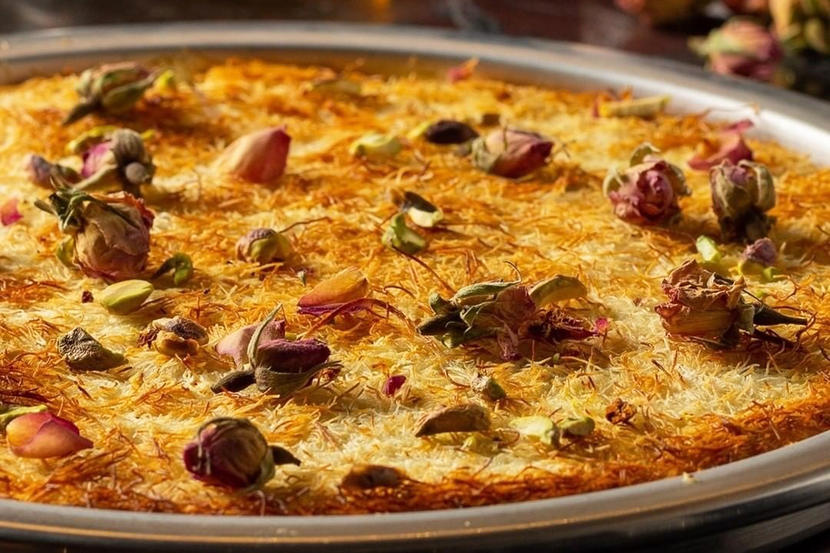 This health-focused joint is serving up a 700g low-fat cheese kunafa with two orders of speciality coffee thrown in for Dhs75.
Dhs75 The View Tower, Al Muroor Street (02 554 4455). Asharrij, Al Ain (03 767 6700).